Happy National Ice Cream Day!! This is the best food holiday all year long, I mean who doesn't love ice cream?! I've fallen in love with no churn ice creams lately, although this custard based ice cream has me convinced I need to make a few more of those as well. Well, this no churn chocolate peanut butter cup ice cream is no exception to the list of amazing no churn ice creams I've made.
Pin this no churn chocolate peanut butter cup ice cream for later!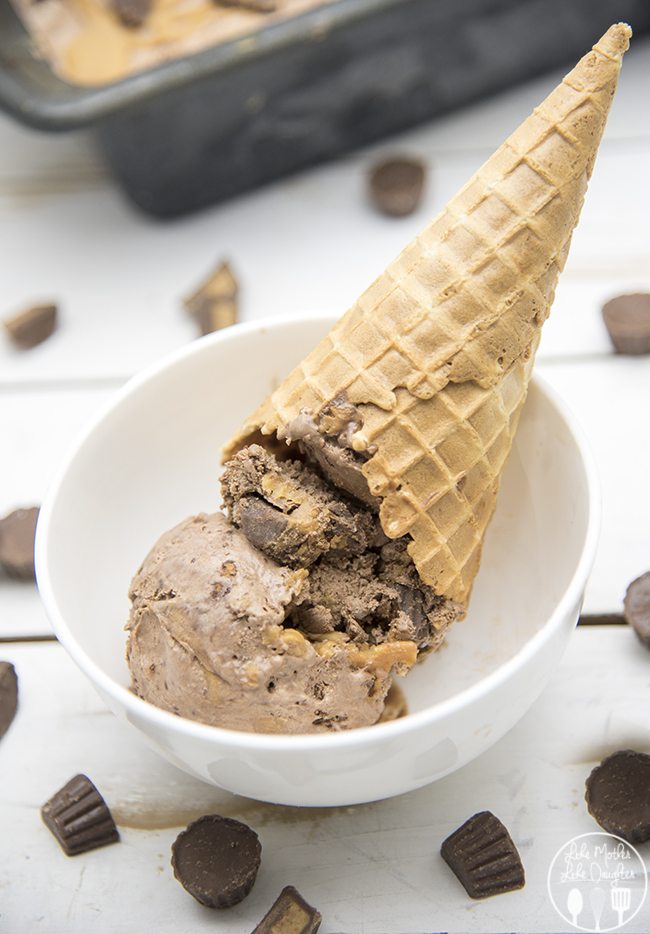 Its so hard to choose a favorite, but for today this one is my favorite. Its got a delicious chocolate ice cream made from a cocoa powder base, full of tons of peanut butter cup chunks and creamy peanut butter swirls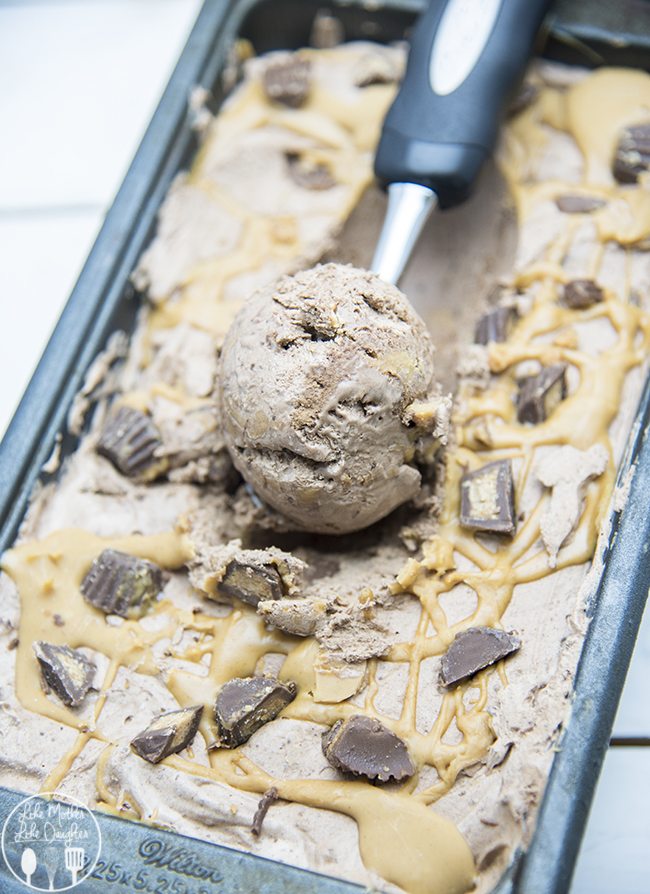 And like I've mentioned before, I always love the ease of no churn ice creams. Only 2 ingredients for the base, this one has 3 extra ingredients for a total of 5 ingredients and only about 10 minutes of prep time.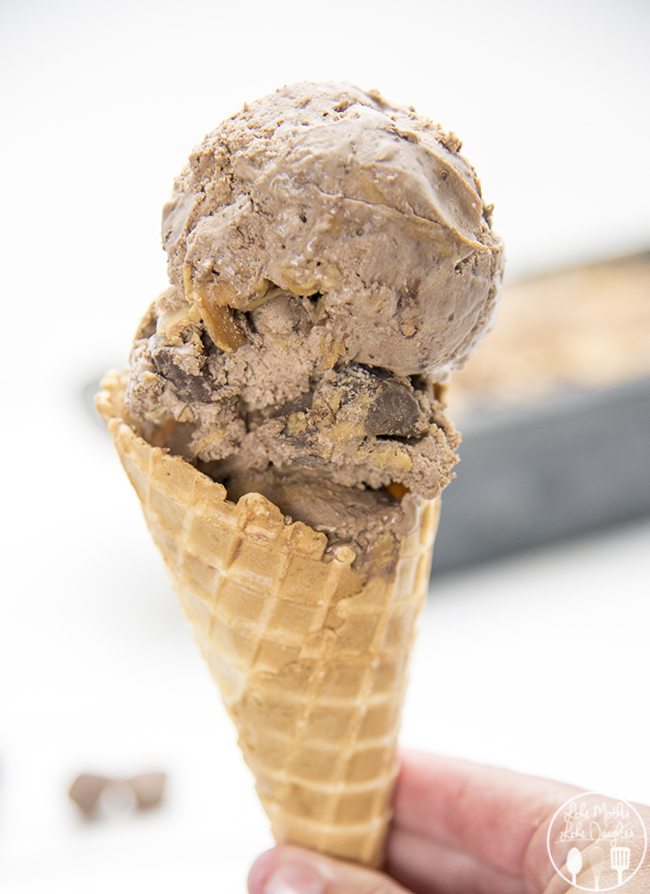 But really, chocolate and peanut butter is the best flavor combo – and if you love it as much as I do then you'll love this ice cream too.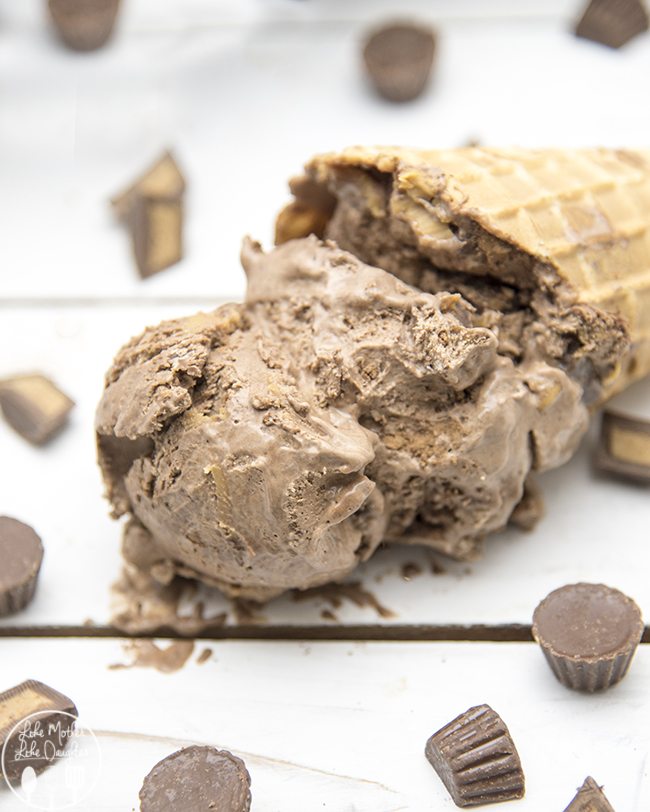 No Churn Chocolate Peanut Butter Cup Ice Cream
Ingredients
2 cups heavy cream
1 14 oz can sweetened condensed milk
½ cup cocoa powder
½ cup peanut butter
1 cup chopped peanut butter cups
Instructions
In a large mixing bowl, whip your heavy cream over medium high speed for about 5 minutes until stiff peaks start to form. (It may take longer or shorter depending how fast you're doing it, you want it stiff, but a few minutes too long and you'll turn it into butter)
In another bowl, combine your condensed milk and cocoa powder.
Pour your whipped cream into your chocolate condensed milk mixture and fold everything together till combined.
Melt your peanut butter in the microwave for about 30 seconds.
Pour one third of your ice cream into a 9x5in loaf pan. Drizzle one third of your peanut butter over the ice cream and sprinkle with a third of the peanut butter cup pieces. Repeat with another third ice cream, peanut butter and peanut butter cups. And then repeat with the final ice cream, peanut butter and peanut butter cup pieces.
Cover tightly and place in freezer for 6 hours, up to overnight.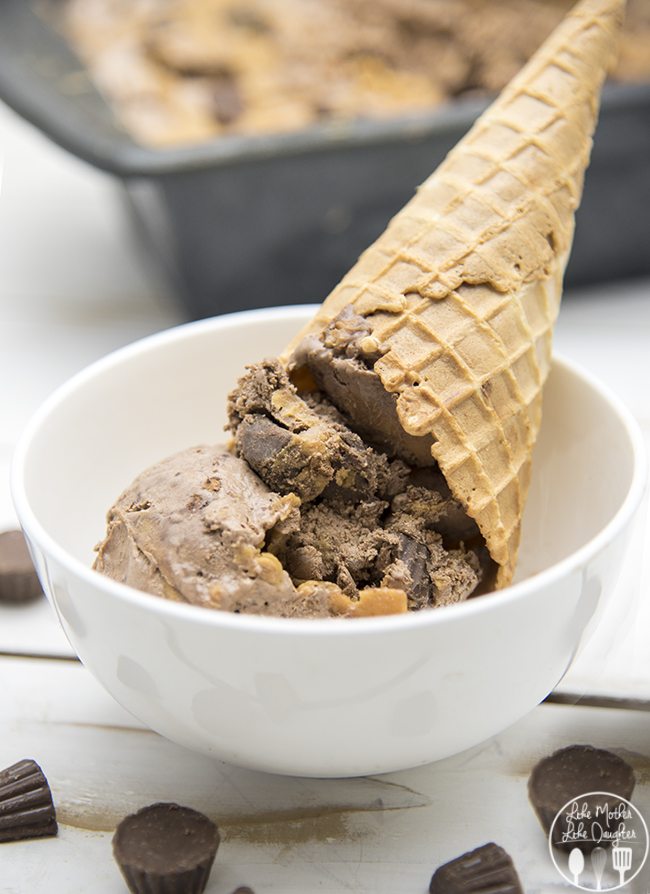 And since its national ice cream day, we've joined with some friends – here's a list of 26 other ice cream recipes!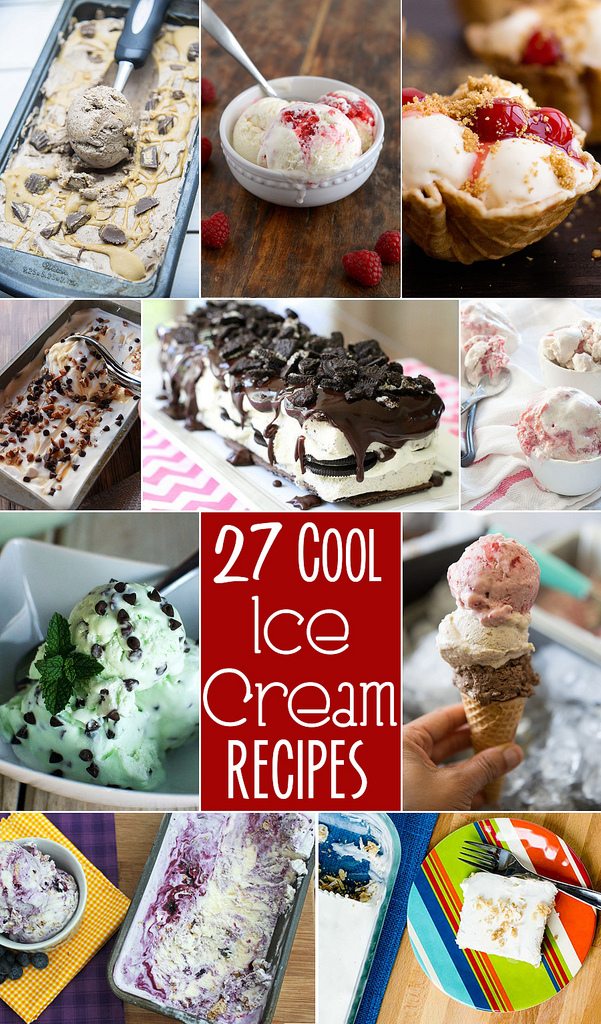 We've joined together with our friends once again, so here are some of the ice cream recipes they are sharing today:
No Churn Neapolitan Ice Cream on Tried and Tasty
Cheesecake Ice Cream on Ashlee Marie
Coconut Almond Ice Cream Squares on Real Mom Kitchen
Rhubarb Anise Dairy-Free Ice Cream on Happy Food Healthy Life
Blueberry Cheesecake Ice Cream on Jamie Cooks It Up
No Churn White Chocolate Raspberry Swirl Ice Cream on Creations by Kara
No Churn Mint Chocolate Chip Ice Cream on Cupcake Diaries
No Churn Turtle Ice Cream on Summer Scraps
Easy Oreo Ice Cream Cake on Butter With a Side of Bread
And here are 17 more Ice Cream Favorites:
No Churn Mint Chocolate Chip Ice Cream
Salted Caramel Pecan Ice Cream
No Churn Key Lime Pie Ice Cream
No Churn Chocolate Chip Cookie Dough Ice Cream
No Churn Pumpkin Pie Ice Cream
S'mores Ice Cream on Ashlee Marie
Cinnamon Ice Cream on Creations by Kara
Chocolate Ganache Ice Cream on Ashlee Marie
Cinnamon Ice Cream on Creations By Kara
Nutty Salted Caramel Coconut Ice Cream on Tried and Tasty
Milky Way Ice Cream on Real Mom Kitchen
Crazy Chunk Monkey Ice Cream on Real Mom Kitchen
Chocolate Banana Ice Cream on Butter With a Side of Bread