This delicious red velvet bundt cake is a delicious moist cake, full of a cheesecake like filling and topped with a homemade white chocolate ganache. This cake is perfect for any occasion and especially for the holidays!
Pin this cream cheese stuffed red velvet bundt cake for later.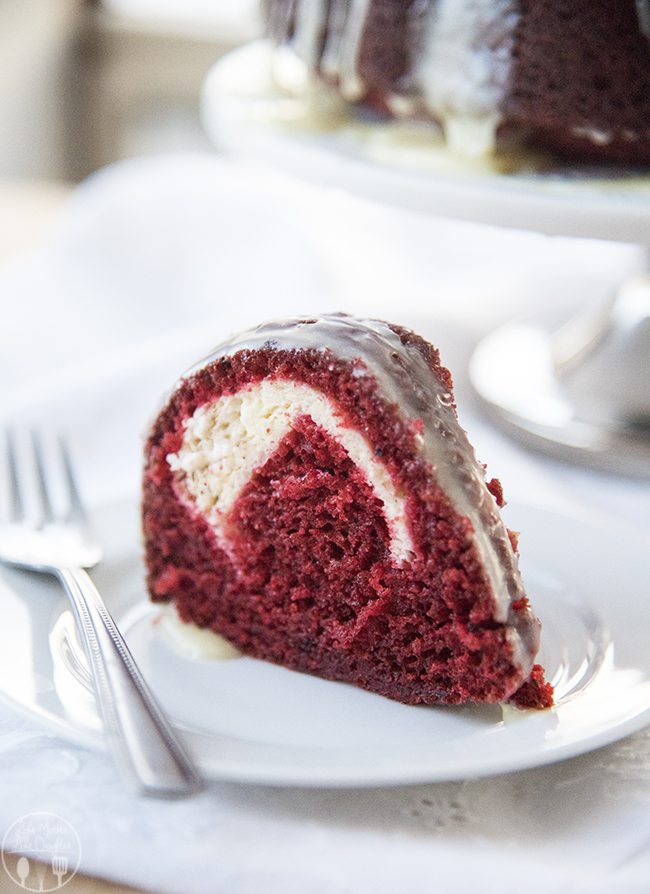 There are a couple times a year when I think red velvet is the perfect dessert, Christmas and Valentine's. With Valentine's day right around the corner, I knew I needed to squeeze in a tasty red velvet dessert. This cream cheese stuffed red velvet cake is seriously perfection.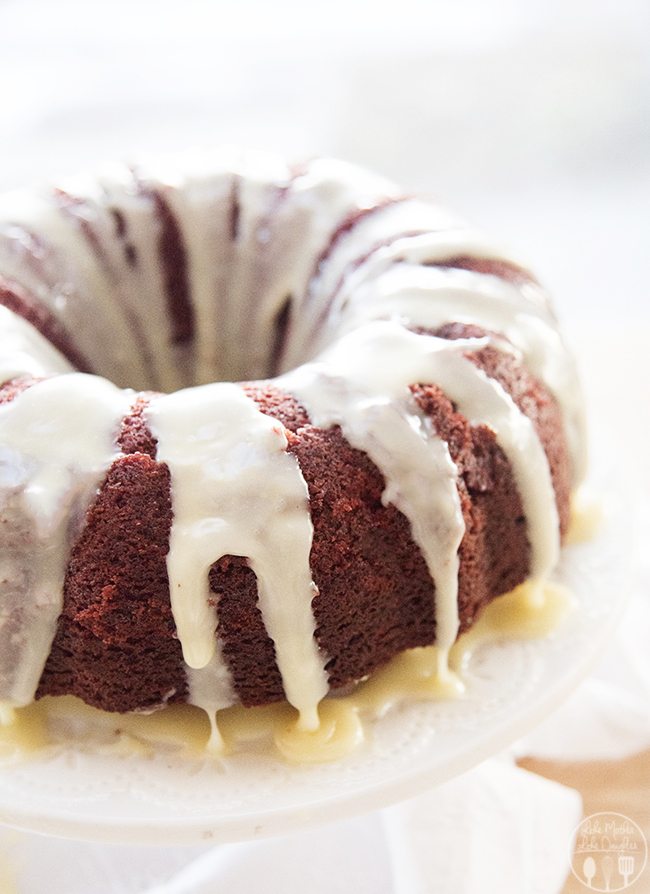 The cake is perfectly moist, with a perfectly tangy and sweet cream cheese/cheesecakey swirl in the middle. Top the cake with a simple white chocolate glaze and you have perfection, my friends.
This cake is made completely from scratch. I debated starting with a cake mix, but was short one egg for the cake mix, so I went with a from scratch version instead. You'll need flour, sugar, baking soda, salt and cocoa for your dry ingredients and eggs, buttermilk, vanilla, oil, and vinegar for the wet ingredients. Combine the dry ingredients in a bowl, the wet ingredients in a bowl and then slowly mix them all together.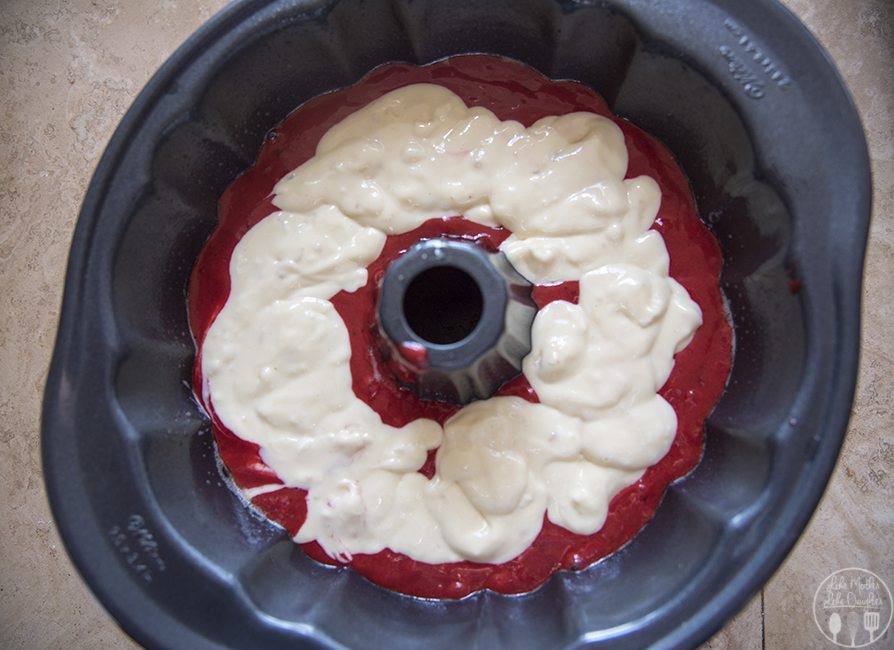 For the cream cheese swirl you'll combine cream cheese, sugar, an egg, vanilla and a little flour. Pour about 3 cups of your cake batter into a greased bundt cake, spread your cream cheese mixture all around over the cake batter. Spoon the remaining cake batter carefully over the top of the cream cheese and put the pan in the oven to bake. Make your easy white chocolate ganache and drizzle it over the top, allow the chocolate to set for a little and then you're ready to enjoy!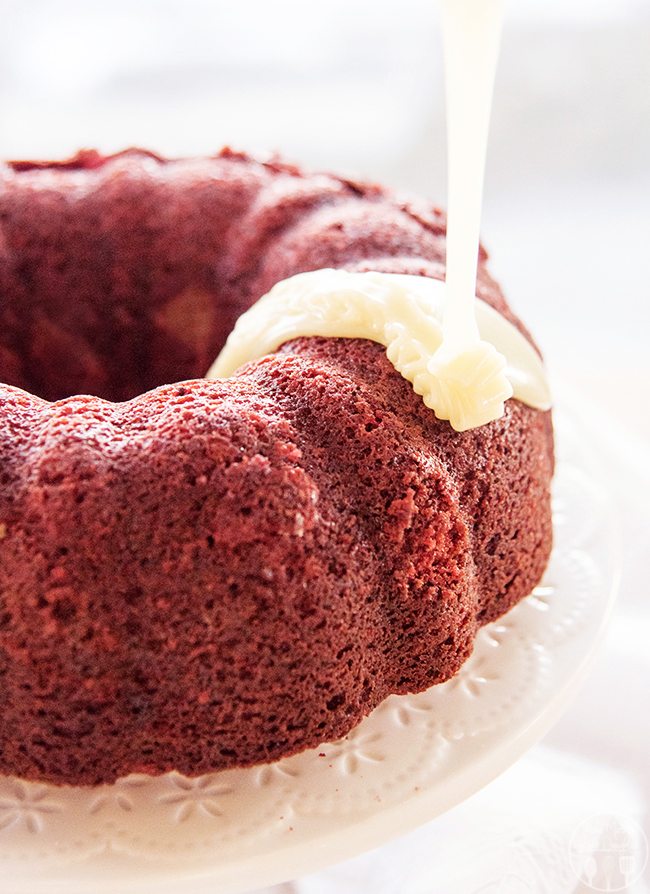 Cream Cheese Stuffed Red Velvet Cake with White Chocolate Glaze
Ingredients
For the cream cheese swirl:
8 oz cream cheese, softened
⅓ cup sugar
1 egg
½ tsp vanilla
2 TBS flour
For the Red Velvet Cake:
2½ cups flour
1¾ cup sugar
1 tsp baking soda
1 tsp salt
2 TBS cocoa
1 cup buttermilk
1 cup oil
2 eggs
1 tsp vinegar
1 tsp vanilla
1 TBS red liquid food coloring
For the White Chocolate Ganache:
1 cup white chocolate chopped (chips are fine)
¼ cup heavy cream
Instructions
Preheat your oven to 350 degrees.
Beat your cream cheese in a large bowl until soft. Add in the sugar an beat till light and creamy.
Mix in the egg, vanilla and flour until smooth. Set aside.
Combine your dry ingredients for your cake in a large bowl; flour sugar, baking soda, salt and cocoa.
In another bowl whisk together your buttermilk, oil, eggs, vinegar and vanilla.
Slowly pour your wet ingredients into your dry ingredients until just combined.
Add in your food coloring, and carefully fold into the batter.
Pour 3 cups of your cake batter into a greased bundt cake pan.
Spoon the cream cheese filling over the batter carefully. Try not to touch the edges of the pan anywhere.
Carefully spoon remaining batter over the top of the cream cheese mixture.
Bake for about 45-55 minutes until a toothpick inserted comes out clean.
Cool in the pan for about 10 minutes before transferring to a cooling rack to cool completely.
When cake has cooled completely prepare your white chocolate ganache.
Put your white chocolate chips in a medium sized bowl.
Microwave your heavy cream in another bowl for 30 seconds.
Pour cream over white chocolate chips and allow to sit for about 4 or 5 minutes.
Stir mixture gently until completely smooth. (If there are still lumps you can microwave for another 10 seconds together then stir again)
Allow ganache to cool in the fridge for 5 to 10 minutes to thicken a little. Stir again till smooth.
Drizzle ganache carefully over the bundt cake. Allow ganache to set and serve cake immediately.
Make sure to wrap any leftovers tightly with plastic wrap and keep in the refrigerator.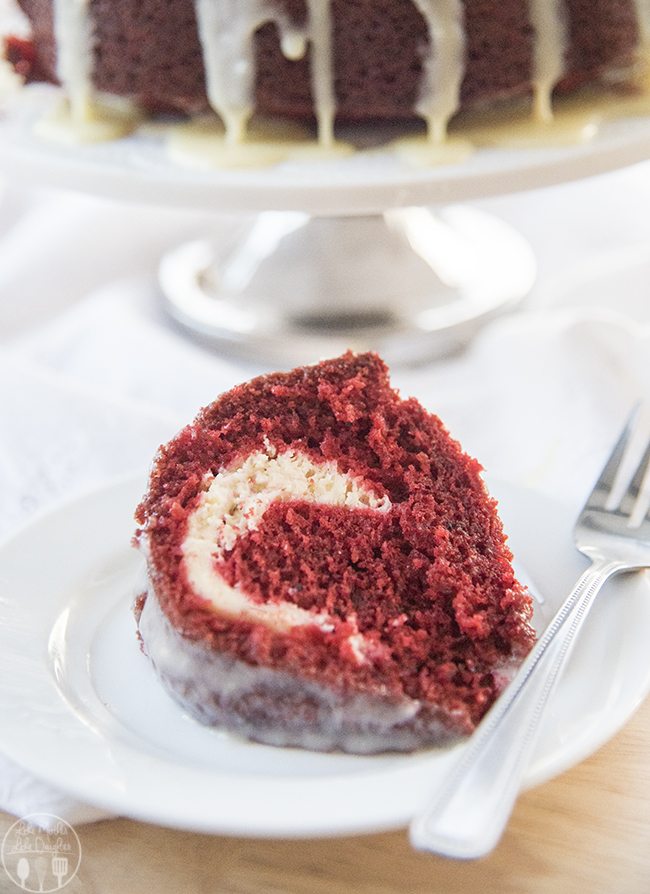 For more red velvet deliciousness, try these:
Red Velvet Better Than Anything Cake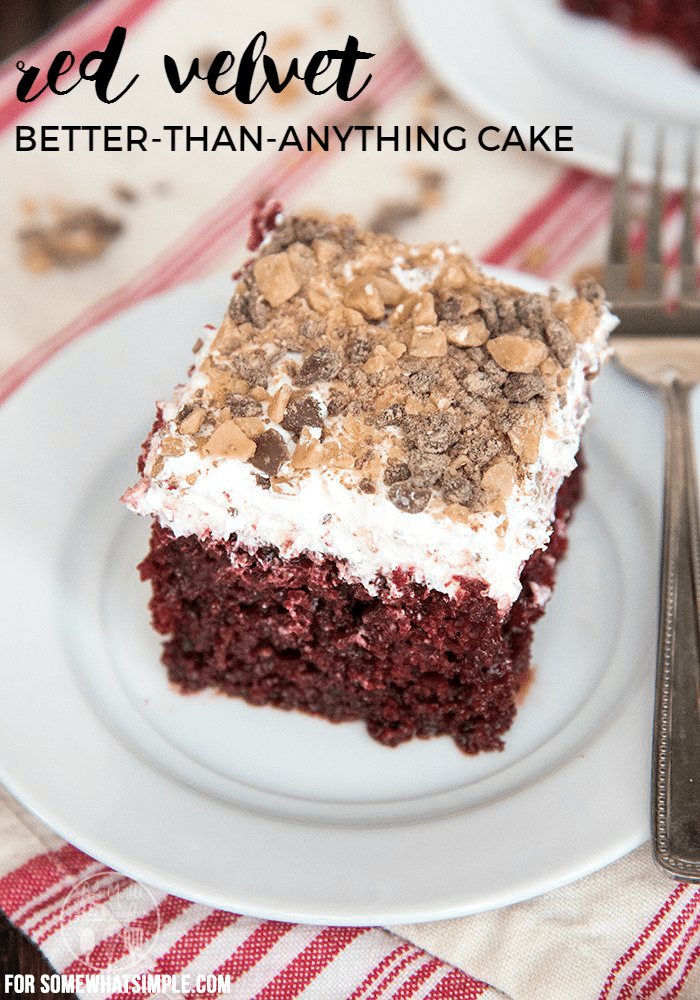 Nutella Stuffed Red Velvet Cookies