Red Velvet Cake Balls are easy to make with a red velvet cake mix and your favorite cream cheese frosting. Dip them in white chocolate for a delicious bite sized treat!
When I think of Valentine's day treats, I think of chocolate or red velvet. What's better for celebrating Valentine's day with your loved one than a delicious treat to share. And of course chocolate, cause I mean, its chocolate – and red velvet is nice and red and Valentine like, right? These red velvet cake balls would make a perfect Valentine's day treat!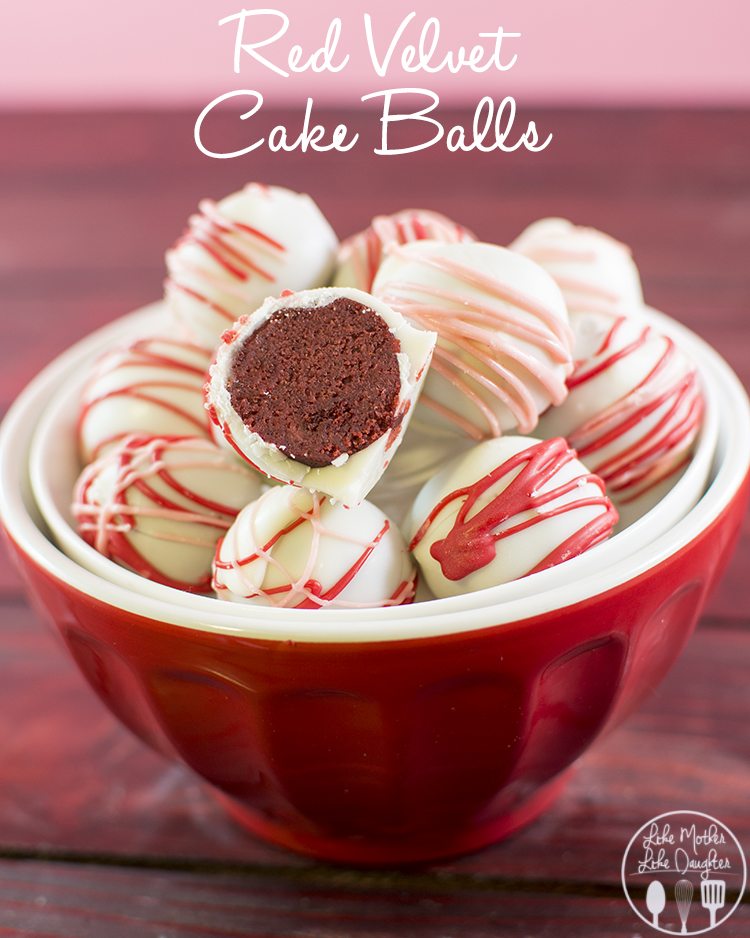 These cake balls are super easy to make too. You just need to bake up a red velvet cake, mix it with a delicious cream cheese frosting, roll into little balls and dip in white chocolate. I used homemade cream cheese frosting cause its amazing, but you could use some from the store too. And I just used a box mix red velvet cake.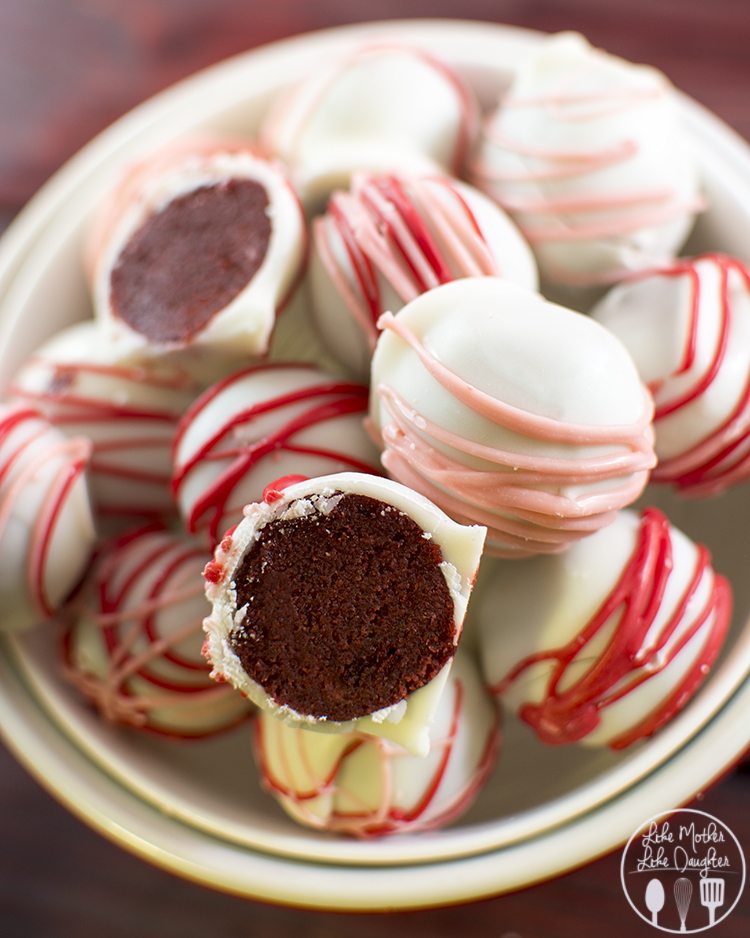 These red velvet cake balls are like a red velvet cake mixed up into a perfect little bite sized cake ball, dipped in white chocolate. Perfection. Nate and I couldn't stop eating these little bites of goodness!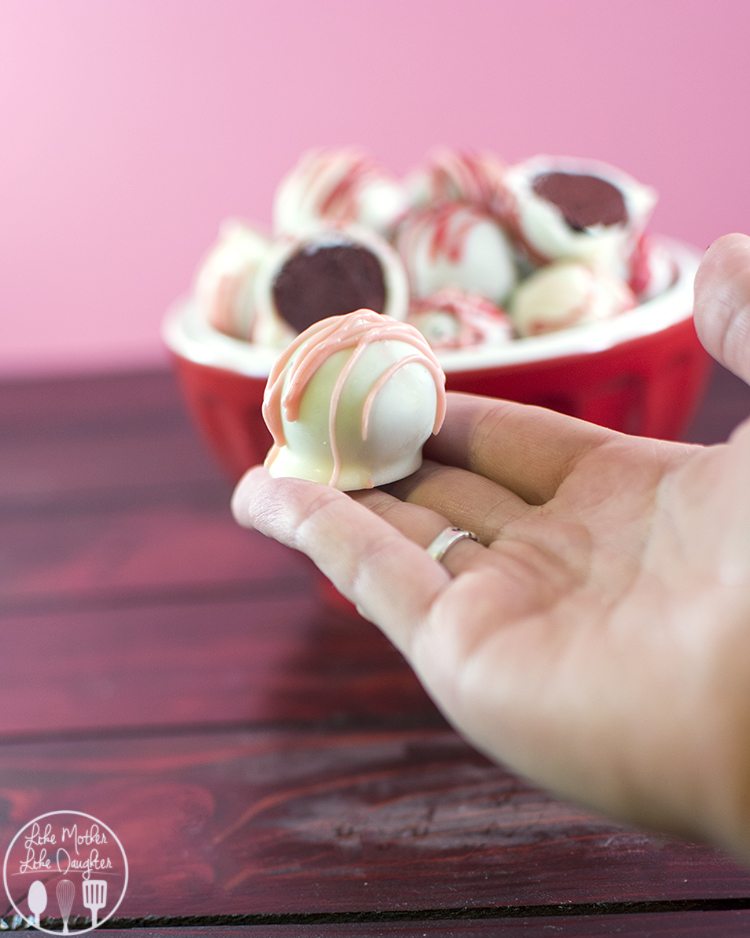 How to make cake balls?
Its so easy to make homemade cake balls! All you need is a cake, and frosting. Mix them together and roll them into little balls and dip in chocolate! Easy and delicious bite sized treats!
You can make any flavor you want!

Red Velvet Cake Balls
Ingredients
1 box red velvet cake mix (and ingredients called for on box)
1 cup cream cheese frosting
2 cups white chocolate chips
1 TBS coconut oil
pink candy melts
red candy melts
Instructions
Make cake and bake according to box instructions.
Crumble up your cake into a large bowl.
Add your cream cheese frosting to your crumbled cake and stir everything together till blended.
Shape mixture into about 50 cake balls and place on a lined cookie sheet.
Place in freezer for 15 minutes.
Put white chocolate chips and coconut oil in a small bowl and microwave for 30 seconds, then stir, then an additional 30 seconds, then stir, then another 30 seconds if needed till creamy.
Stick a toothpick into each cake pop and dip them into white chocolate covering completely. Allow excess to drip off back into the bowl.
Place caked balls back on lined cookie sheet and let rest till chocolate hardens.
Melt candy melts in small microwavable bowl in microwave till smooth.
Drizzle candy melts over the top of cake balls to decorate.
Enjoy these delicious little bites of red velvet cake!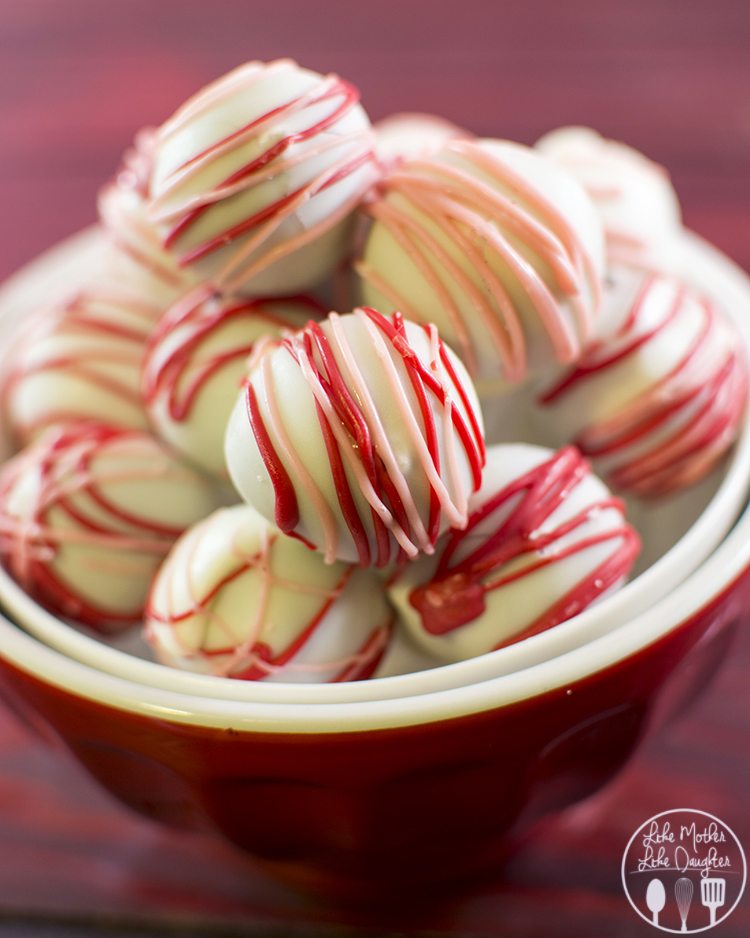 For more red velvet favorites, try these:
Cream Cheese Stuffed Red Velvet Bundt Cake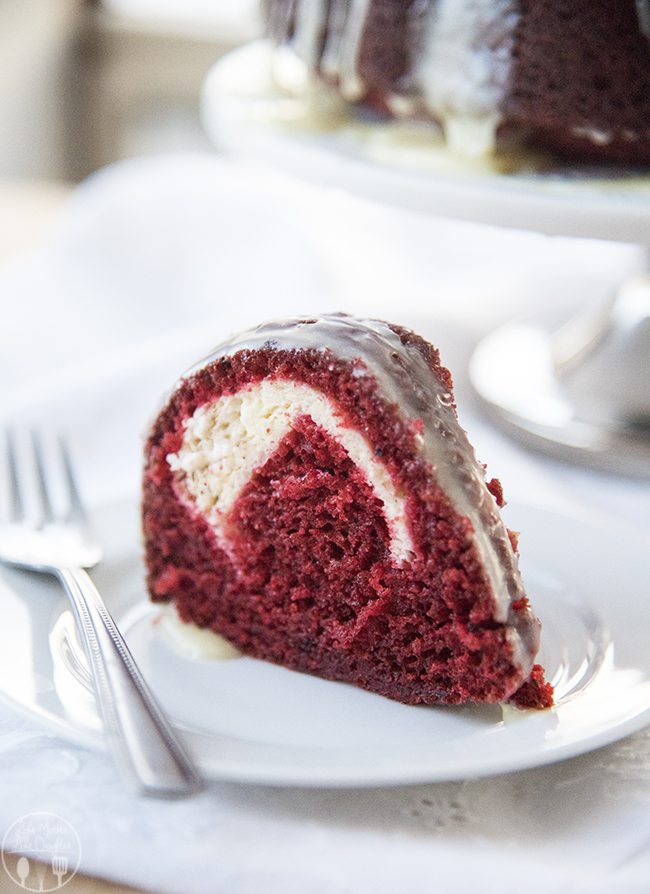 Red Velvet Better Than Anything Cake
Nutella Stuffed Red Velvet Cookies