These tangy lemon blueberry sweet rolls have a perfectly soft and fluffy roll, bursting full of blueberries and topped with a lemon glaze. They have lemon throughout, with zest in the rolls, lemon sugar in the middle and a lemon glaze! These sweet rolls are irresistible!
Pin these lemon blueberry sweet rolls for later.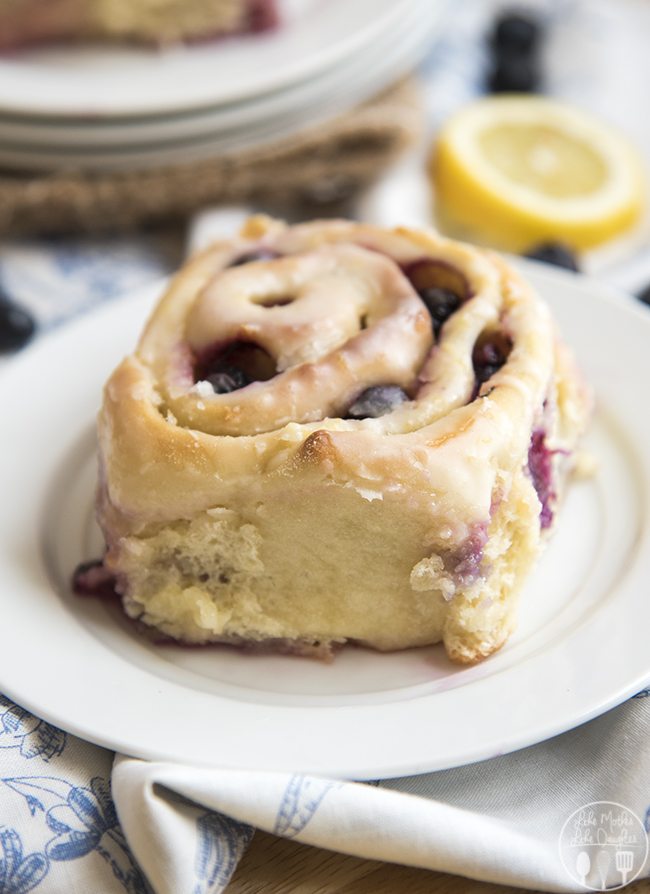 These lemon blueberry sweet rolls are perfectly sweet and tangy. They have a light lemony dough, are stuffed with a lemon sugar, fresh (or frozen) blueberries, and are topped with a tangy lemony glaze! They're perfect for spring or summer (or any time of the year since you can use frozen blueberries!) and they're great for a refreshingly tangy dessert, brunch or breakfast.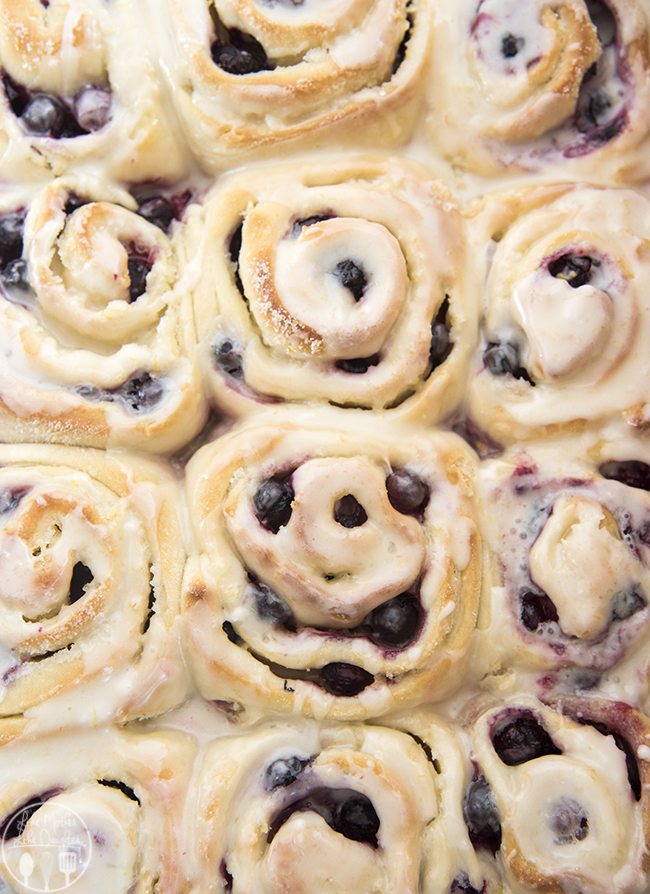 I told you yesterday that I was on a citrus kick, so here is citrus recipe number 2. These lemon blueberry sweet rolls are SO GOOD! These sweet rolls start with the same dough base as all my sweet roll recipes – because when you have the best sweet roll dough, why change it, right?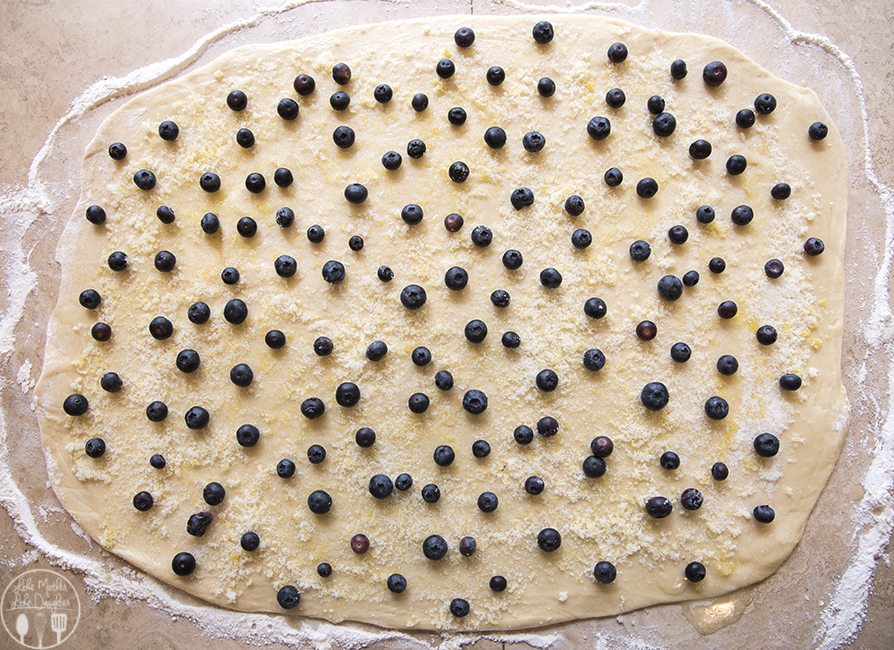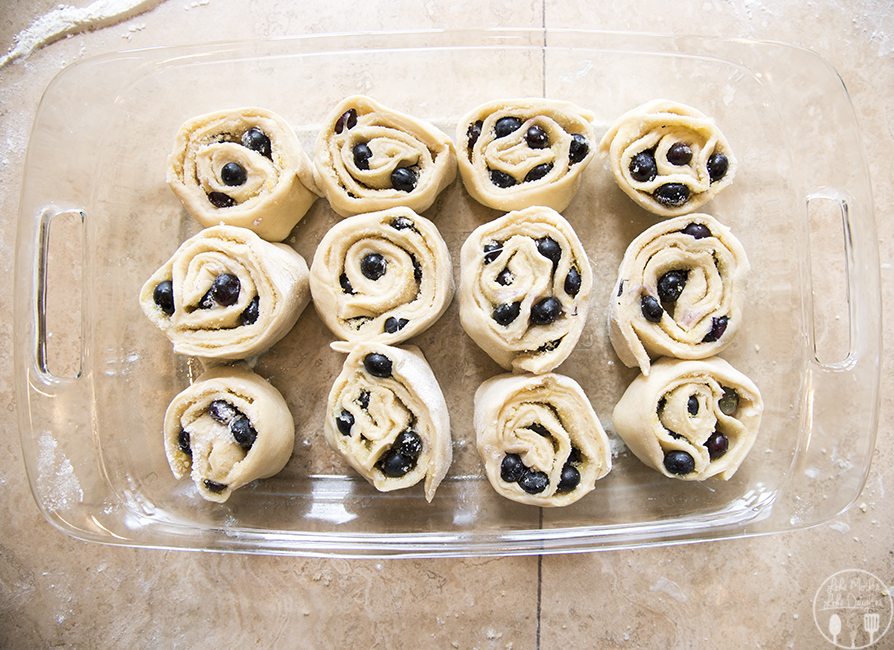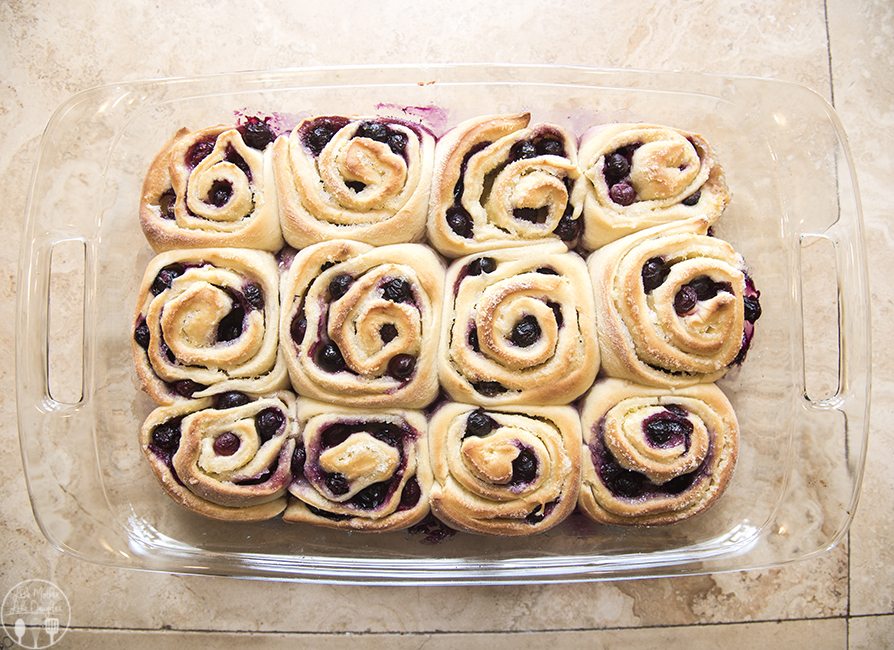 And the glaze on these babies?? Perfectly smooth, tangy and delicious. The perfect end to these sweet rolls.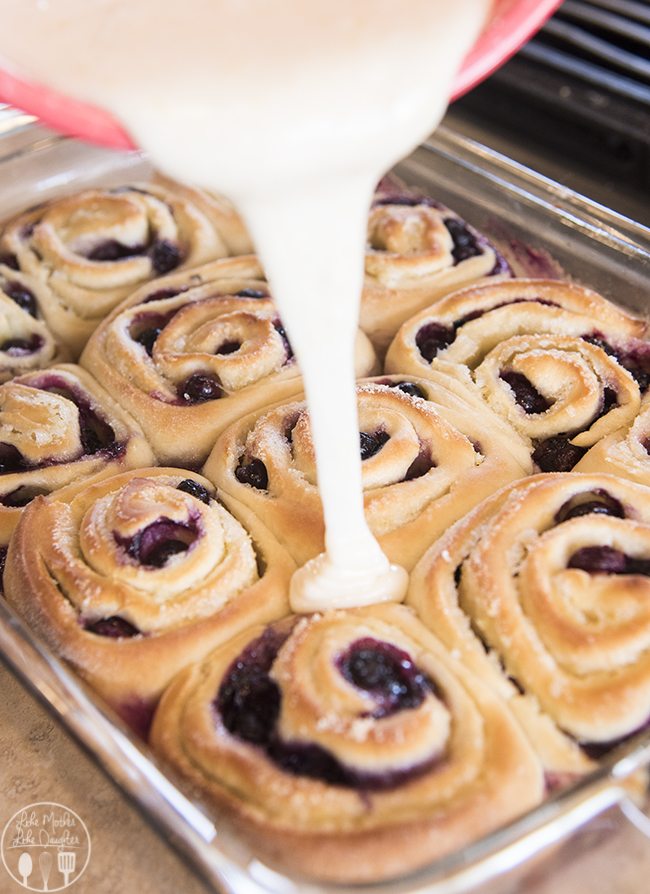 Don't be scared of using yeast for these rolls. I've made these rolls dozens of times without any problems and I promise you can too! Make sure you have fresh yeast (I keep mine in the freezer) and I like to use rapid rise yeast so there is less waiting time. So you can eat these  bad boys sooner!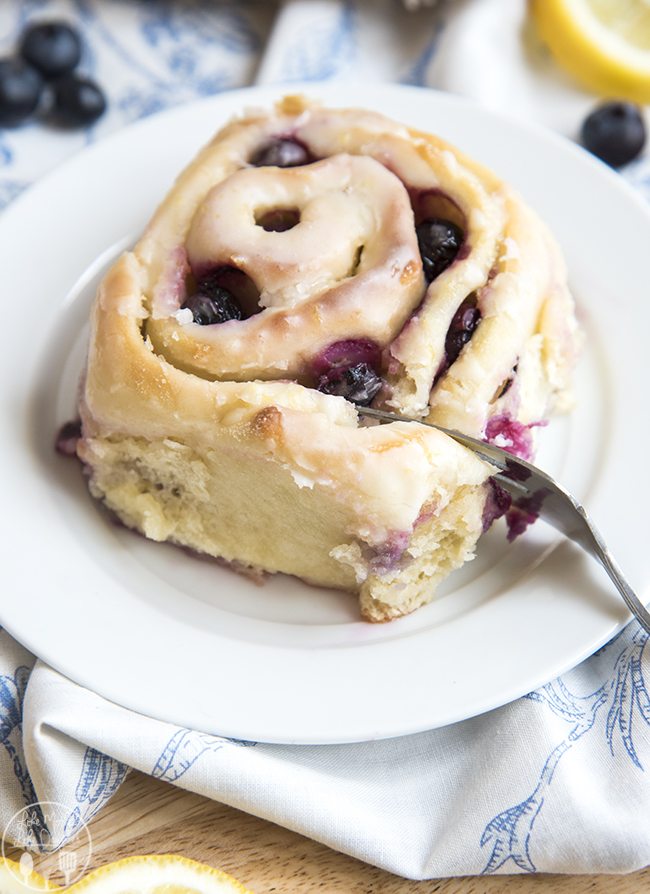 I love the combo of lemon and blueberry together, and these sweet rolls bring those together perfectly.  These rolls are perfectly soft and fluffy and bursting full of sweet blueberries!
Now who's ready to dig into one of these sweet rolls? They're irresistible!

Lemon Blueberry Sweet Rolls
Ingredients
For the Dough:
2½ tsp yeast
1 cup warm milk
2 eggs
⅓ cup sugar
½ cup softened butter (1 stick)
1 tsp salt
4 cups flour
1 tsp lemon zest (from 1 medium sized lemon)
For the Filling:
2 tsp lemon zest (from 2 medium sized lemons)
⅔ cup sugar
¼ cup melted butter
1½ cups blueberries
For the Lemon Glaze:
2 cups powdered sugar
2 TBS lemon juice
2 TBS heavy cream (or milk, or half and half)
1 tsp lemon zest (from 1 medium sized lemon)
1 tsp vanilla
Instructions
Dissolve your yeast in the warm milk in a large mixing bowl. Allow to proof for about 5 minutes.
Add in the eggs, sugar, butter, salt, flour and zest and mix everything together.
When the dough begins pulling away from the edges of the bowl, knead it for about 5 minutes (with your hands or a dough hook)
Remove the dough from the bowl and spray it with nonstick spray. Return dough to the bowl and cover with a towel.
Allow to rise for about 45 minutes until the dough doubles in size.
Lightly flour the counter top and roll the dough out into a large rectangle about ¼ in thick.
Preheat your oven to 400 degrees.
Mix together your lemon zest and sugar to make your lemon sugar, set aside.
Spread your melted butter evenly over the top of your dough.
Sprinkle the lemon sugar evenly of the top.
Spread blueberries evenly over the top of the dough.
Carefully roll the dough from the top edge to the bottom edge to form a long roll.
Cut into 1½ in slices.
Lightly grease a 9x13in baking pan.
Place rolls into the pan and bake for 28-30 minutes until they are a light golden color.
Remove rolls from oven and allow to cool for about 5 minutes before covering in glaze.
Combine all the ingredients for your lemon glaze until you get a nice frosting consistency. Add more powdered sugar or milk if needed.
Apply glaze generously to the top of the rolls evenly and serve.