Owl cupcakes are adorable cupcakes topped with chocolate frosting, oreo cookies and m&ms that are perfectly fun and delicious to eat!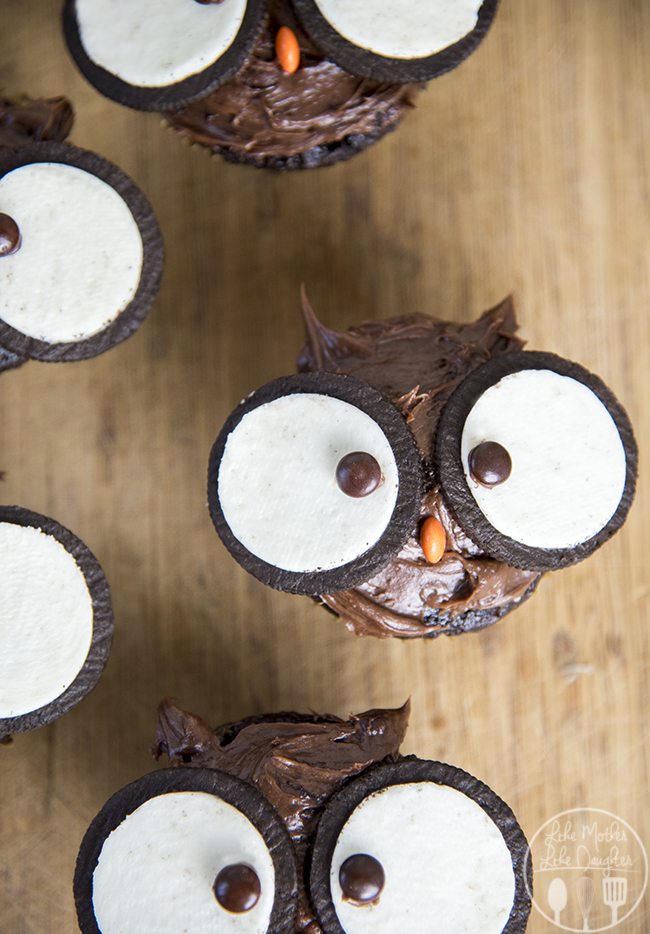 These owl cupcakes are so easy to make and would be such a fun treat for your kids to come home to after school. You'll definitely win the best parent award and your kids don't even have to know how easy they were for you!
These cute owl cupcakes can be made with any cupcake recipe, and frosting recipe, I used a chocolate boxed cake mix, and a can of chocolate frosting. Seriously its that easy. But you could use your favorite frosting and your favorite cupcake recipe too.
My owls are brown, but I think they'd be cute made as white, yellow, blue, or whatever fun color you have in mind.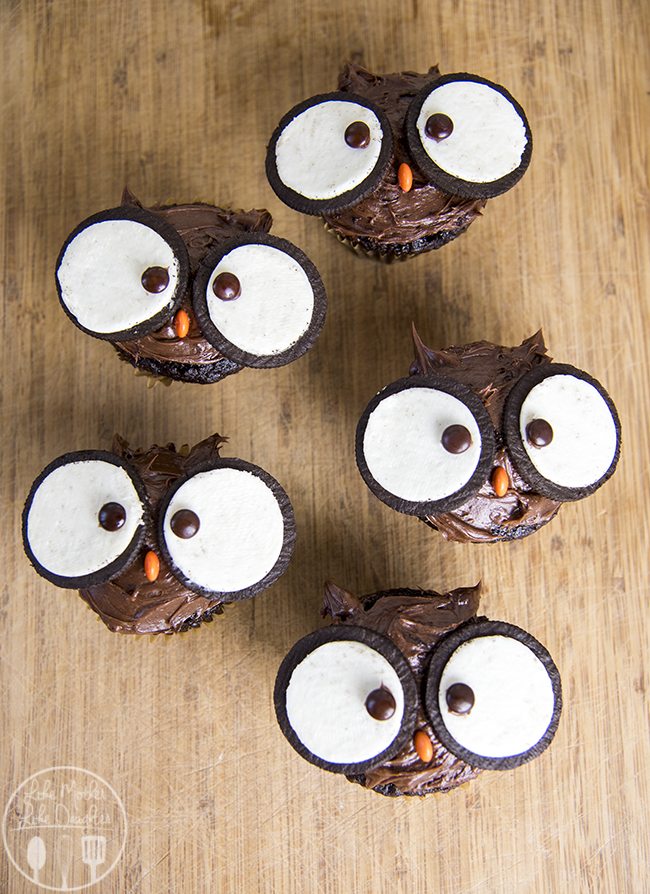 Then to decorate your owl cupcakes, you'll just need some regular sized oreos and some m&ms.
Owl Cupcakes
Ingredients
1 box cake mix
eggs, oil, and water as called for on cake mix
1 can chocolate frosting (or homemade chocolate frosting)
oreos
brown and orange m&ms or reeses pieces
Instructions
Preheat your oven according to your cake mix box.
Mix together your cake mix, eggs, oil and water in a large bowl.
Fill a muffin pan with cupcake liners.
Fill cupcake liners about ⅔ full and bake in preheated oven according to package directions.
Repeat with additional batter (if you dont have 2 muffin pans)
Allow cupcakes to cool completely.
Frost cupcakes with chocolate frosting, using your finger or a knife make little "ears" with the frosting at the top of the cupcakes.
Open oreos in half and place two of the oreos, with the frosting on the cupcakes.
Take a little extra frosting on the back of your m&ms and place 1 brown m&m in the middle of each for the eyes.
Stick one orange m&m in between the oreo eyes (up and down).
And enjoy!
Make some
homemade thin mints
with the unfrosted extra Oreo halfs.