These potato rolls have mashed potatoes added right into the dough to make them extra soft and fluffy. They're the most delicious rolls and your family will love them with any dinner you serve them with!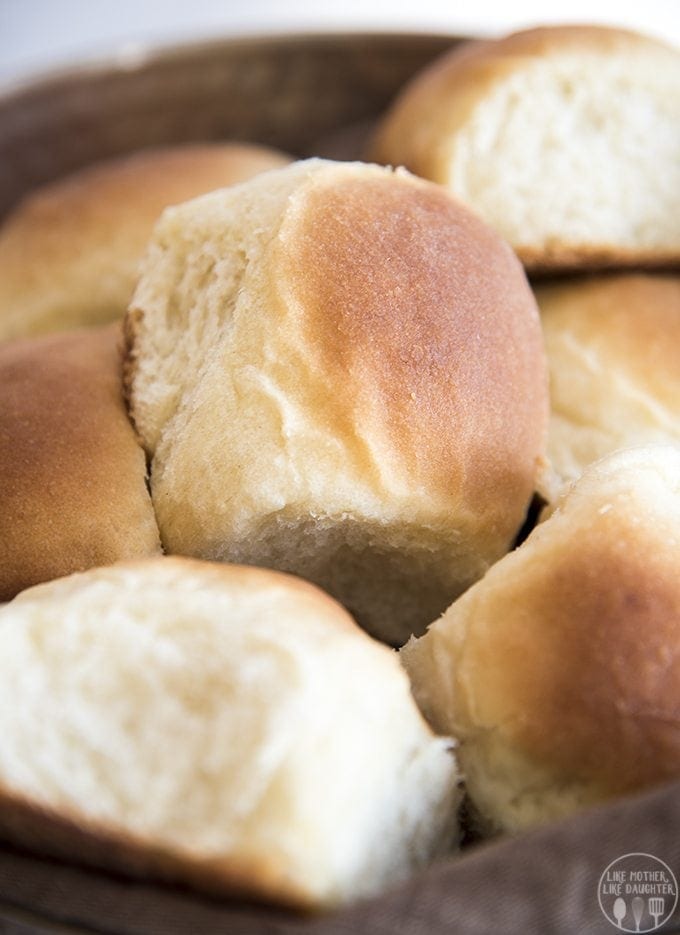 There isn't much better than a warm roll, spread with butter and honey or jam. But these potato rolls take it to the next level.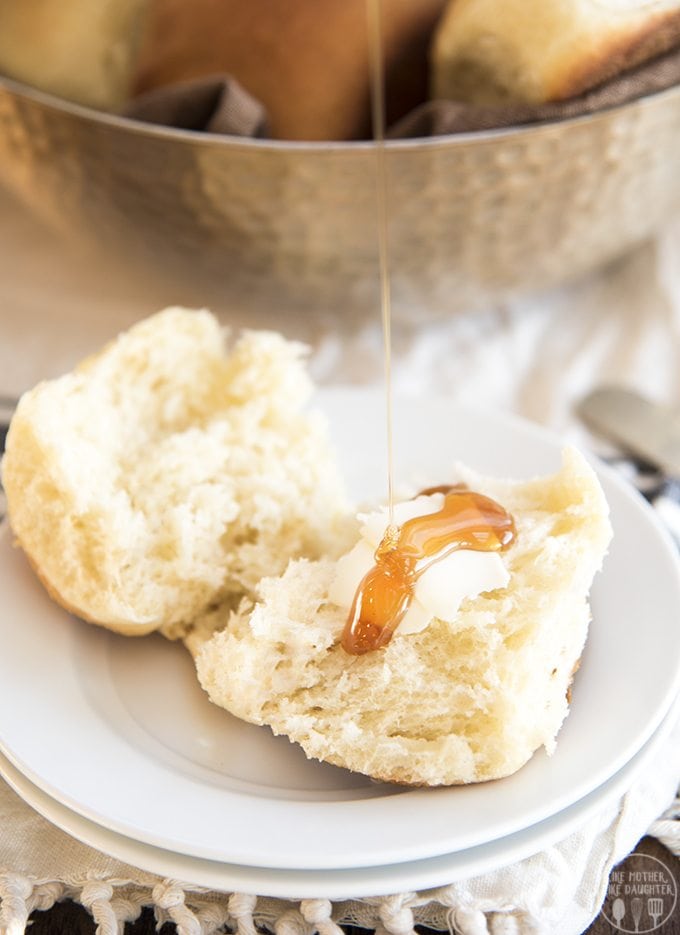 These potato rolls have actual mashed potatoes in the dough itself, which makes them extra soft and fluffy, and extra delicious!
They're perfect served with dinner, for breakfast or just as a quick snack. I mean, who can resist a hot roll straight out of the oven?
And these rolls aren't even difficult to make, the recipe is very similar to any dinner roll recipe except with the mashed potatoes added right into the dough! (Make sure your mashed potatoes aren't seasoned with garlic or herbs – only mixed with a little butter and milk to make them creamy)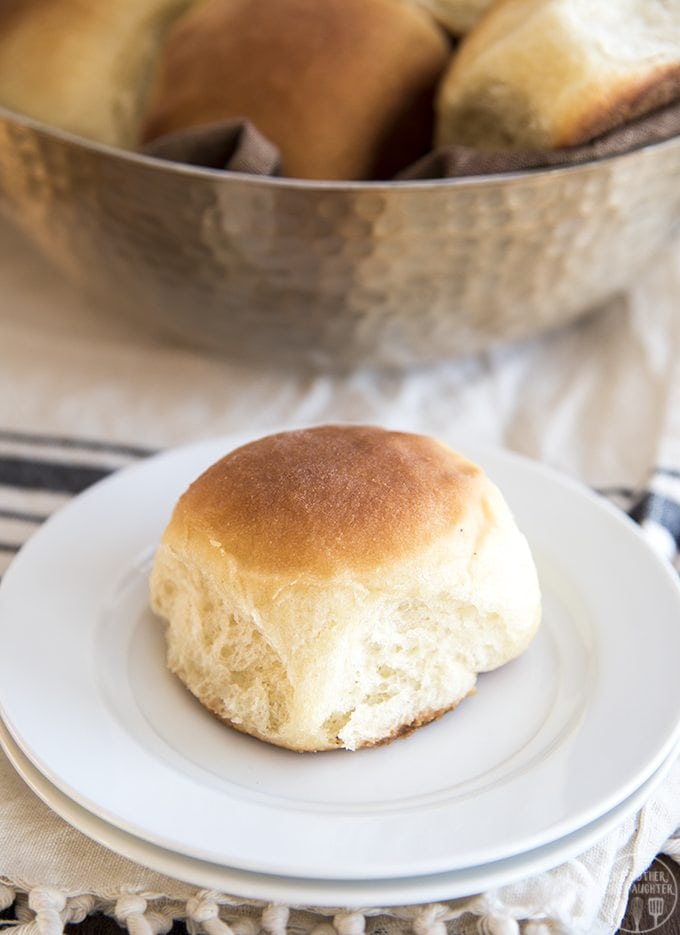 You probably already have your Thanksgiving dinner planned out, but might I request that you add these babies to the menu? They're so soft and fluffy and I just know you'll love them as much as we do!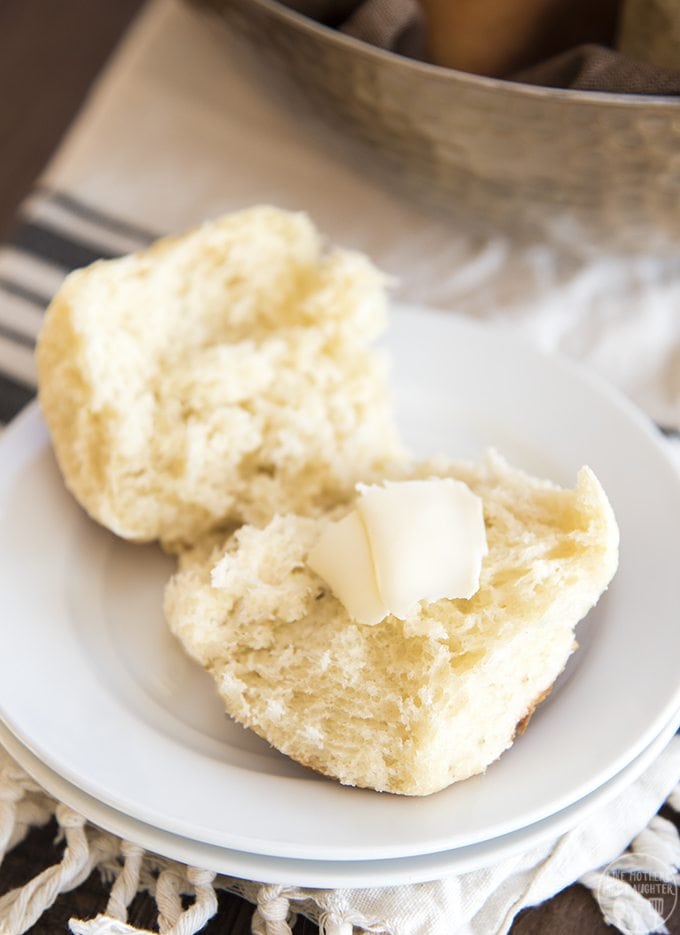 The only problem is you might have to make two or three batches, because you'll be surprised at how quickly these rolls disappear. You'll all just want to eat one after another, whether you cover them in butter or dip them in a side of gravy! You and your family will love these rolls with any dinner you serve them with.

Potato Rolls
Ingredients
1 TBS yeast
1 cup warm water
½ cup softened butter
½ cup sugar, + 1 TBS sugar, divided
1 tsp salt
2 eggs
1 cup mashed potatoes
5½ to 6½ cups flour
Instructions
Dissolve the yeast in the warm water in a large mixing bowl. Sprinkle with 1 TBS sugar. Allow to proof for about 5 minutes till a nice foam is there.
Add in the butter, remaining sugar, salt and eggs and mix well.
Add in the mashed potatoes and stir to combine.
Add in the flour, mixing well, after 5½ cups add about ¼ cup at a time until the dough is not so sticky and pulls from the edges.
Knead for about 5 minutes.
Cover the dough with a towel and allow to rise for 45 minutes to 1 hour until it has doubled in size.
Punch down the dough and separate into 24 balls, rolling one at a time and placing into either two greased 9x13 baking sheets or onto 1 large greased cookie sheet.
Cover with a towel and allow to rise for 30-45 minutes.
Preheat oven to 350 degrees.
Bake for 20-25 minutes until the rolls are golden brown.
Spread tops with butter and bake for 1-2 additional minutes.
And enjoy.
Today is national bread day, so here are 15 other amazing bread recipes from my blogger friends that I just know you'll love!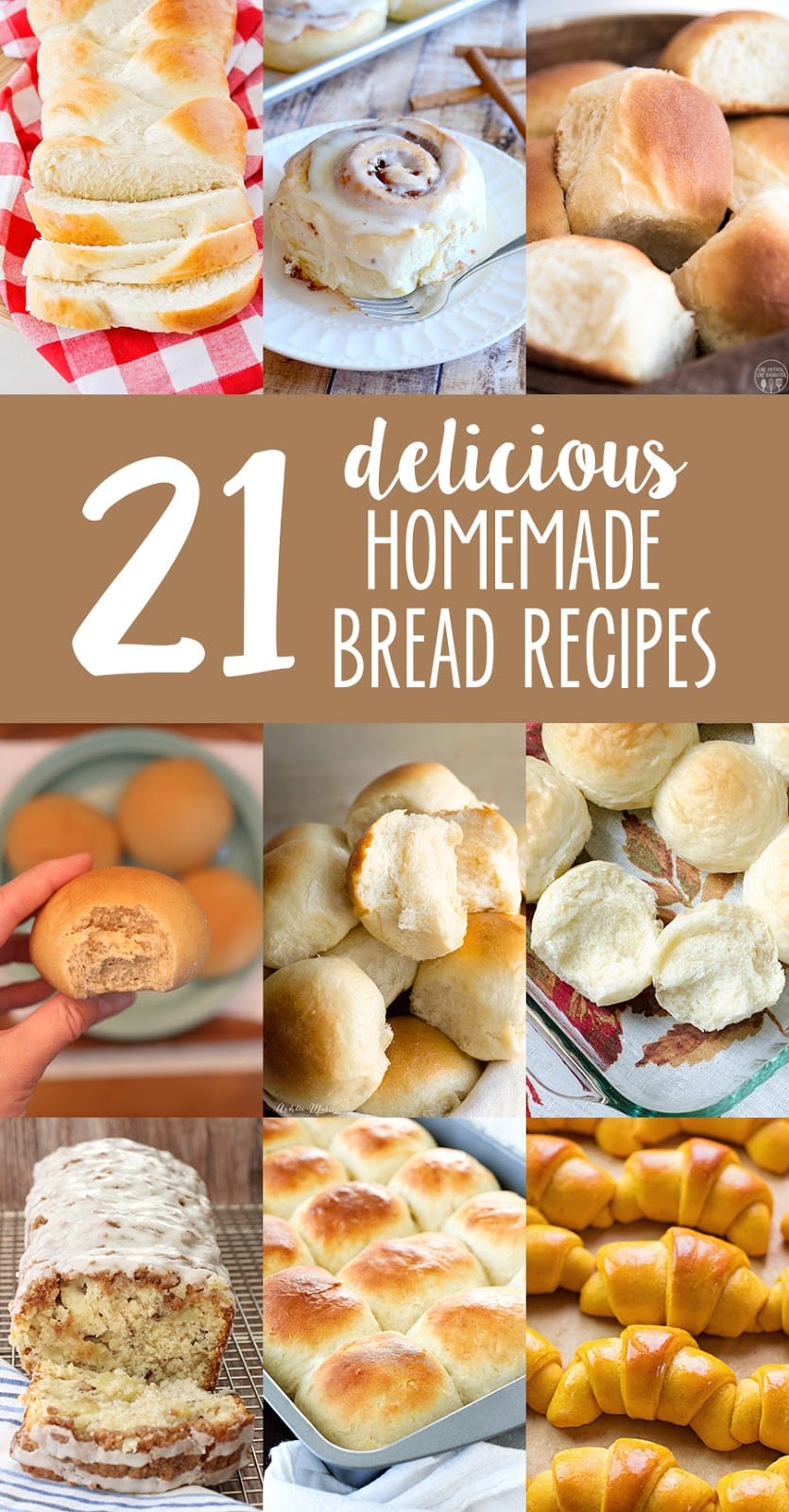 Copycat King Hawaiian Rolls on Ashlee Marie
Braided Sweet Bread on The Baker Upstairs
Small Batch  30 Minute Easy Dinner Rolls on Yummy Healthy Easy
Dutch Apple Bread on Butter with a Side of Bread
100% Whole Wheat Rolls on 365 Days of Slow Cooking
Overnight Refridgerator Rolls on Real Mom Kitchen
One Hour Cinnamon Rolls on Creations by Kara
Pumpkin Honey Butter Crescent Rolls on Life Made Simple
Peasant Bread on Yummy Healthy Easy
English Muffin Bread on Real Mom Kitchen
Perfect White Sandwich Bread on The Baker Upstairs
Easy Cheesy Breadsticks on Butter with a Side of Bread
Homemade Croissants on Ashlee Marie
Sweet and Chewy Pretzel Rolls on Creations by Kara
Buttermilk Biscuits on Life Made Simple
Gluten Free Sandwich Bread on Meaningful Eats