Homemade strawberry cheesecake ice cream with a creamy cheesecake ice cream base, and a sweet strawberry sauce and buttery graham cracker crust swirled throughout. Its like a delicious slice of strawberry cheesecake all wrapped up in a big bowl of ice cream!
Save this amazing strawberry cheesecake ice cream for later!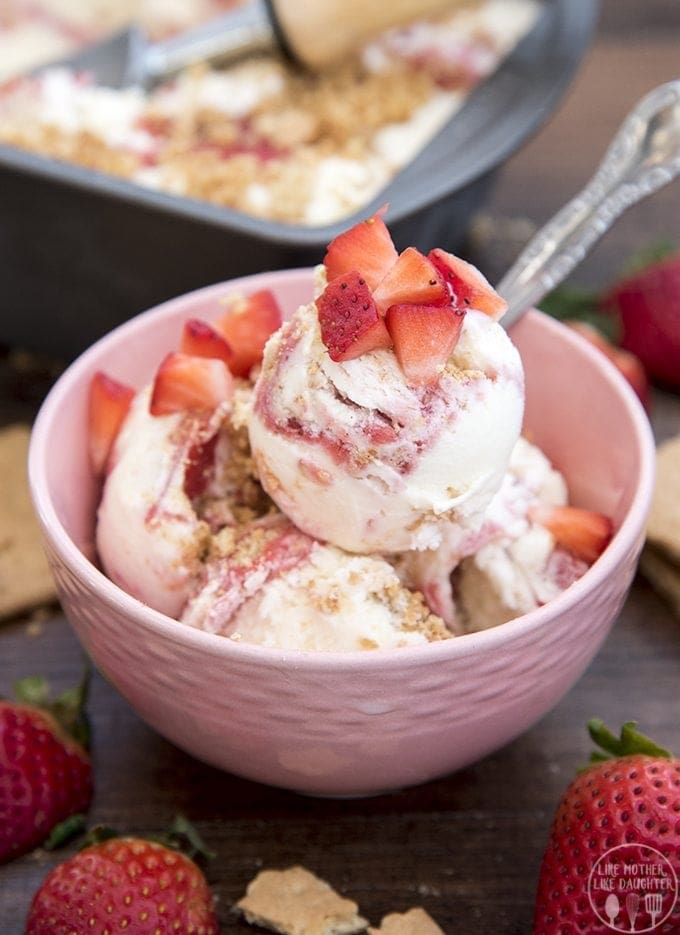 I am so excited today. I'm excited because today I might be sharing with you the best homemade ice cream ever made. Now, I don't take this thought lightly but this strawberry cheesecake ice cream is incredible. I don't take this lightly, but of the dozens of homemade ice creams I have made, and even more I have eaten, I think this might be my favorite yet.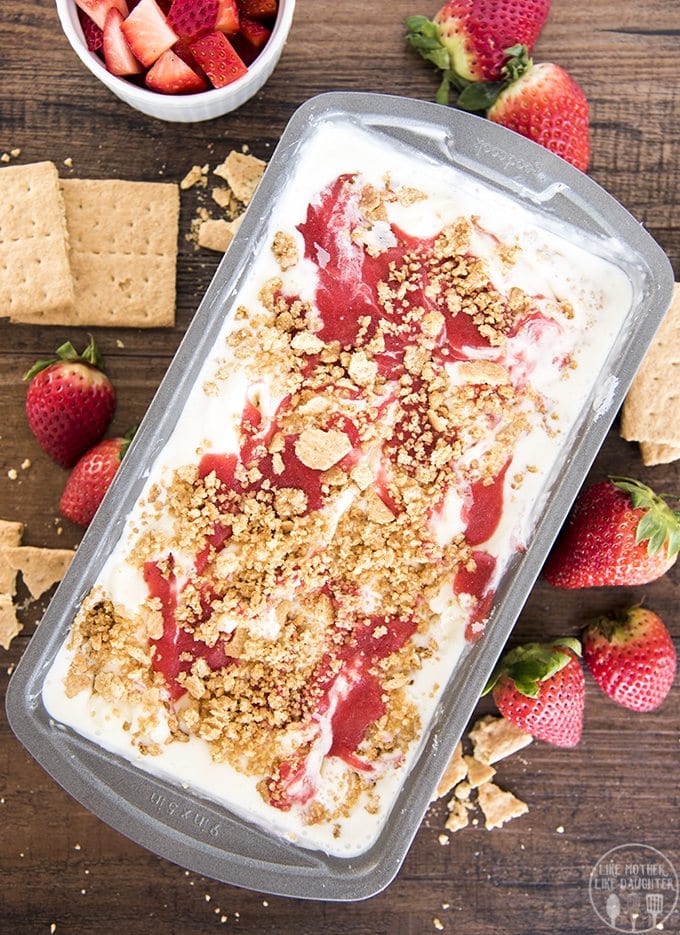 This ice cream is inspired by Ben and Jerry's strawberry cheesecake ice cream. I've got two go to flavors when grabbing a pint of Ben and Jerry's ice cream, strawberry cheesecake and half baked. Although I haven't eaten them side by side, I dare say that my homemade strawberry cheesecake ice cream is as good (or even better) than Ben and Jerry's. If you've never had the flavor, or swear by it like I do – I promise you'll love this homemade version.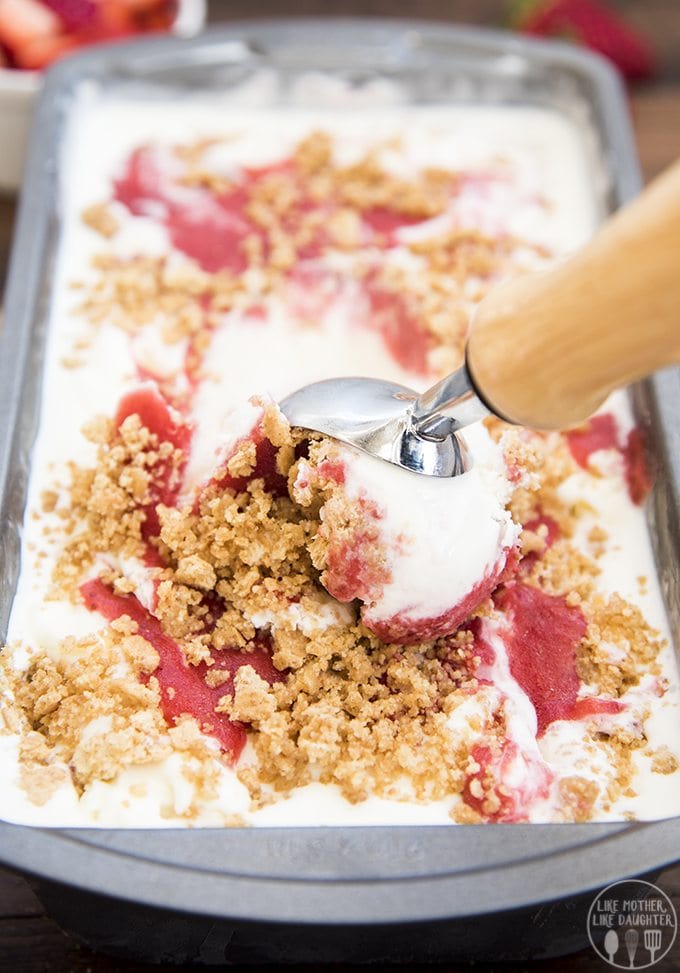 I mean, what could be better than a homemade cheesecake based ice cream, with straight up cream cheese in the ice cream, swirled with a sweet strawberry sauce and a buttery graham cracker crust. Its deliciousness and sweet flavor in every single bite.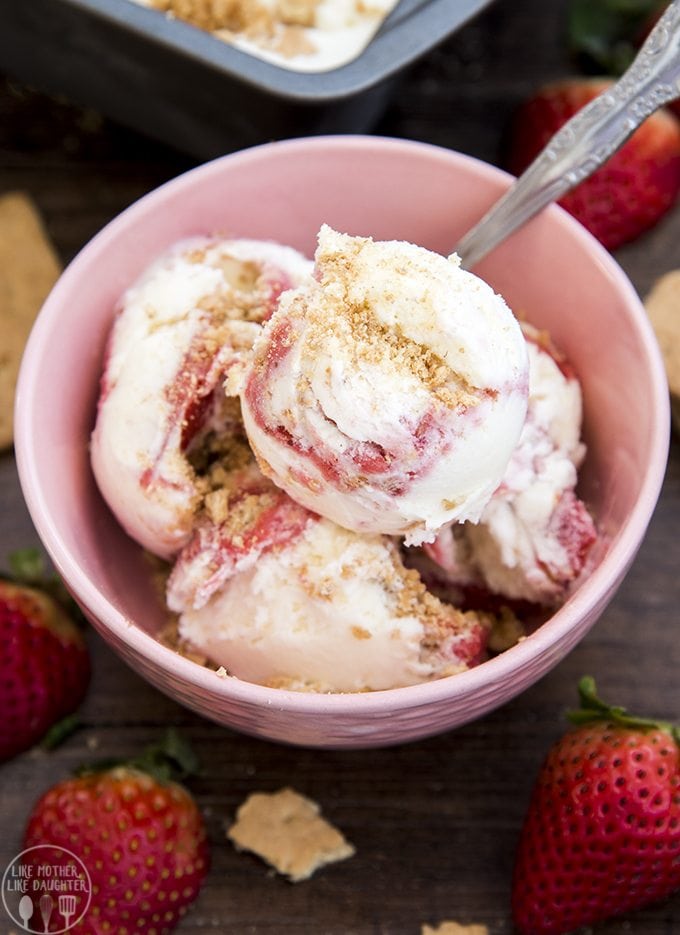 It is like you took the best strawberry cheesecake and turned it into a delicious bowl of creamy ice cream instead.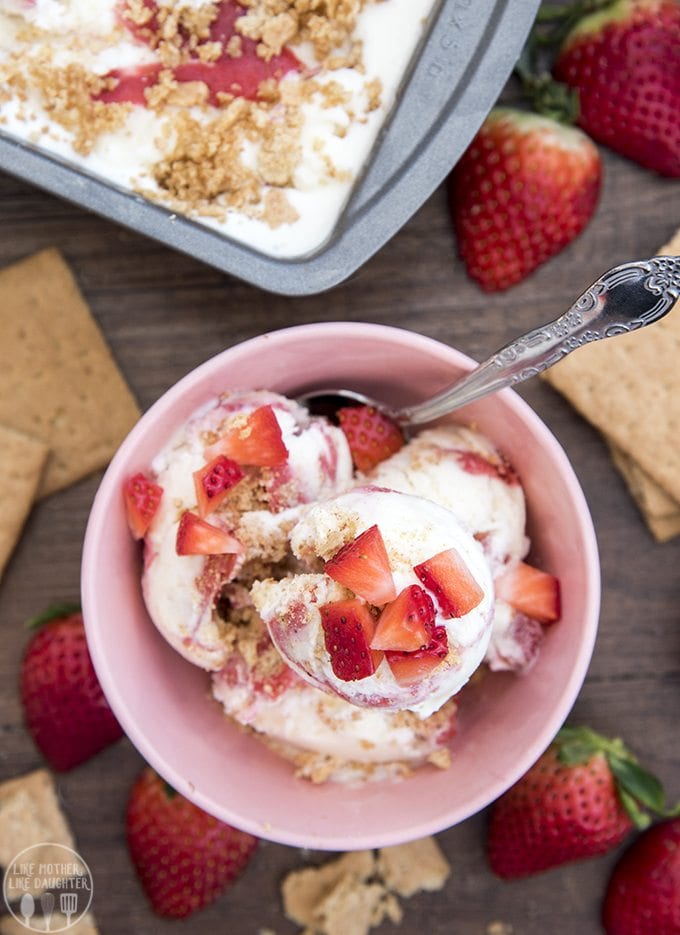 You'll want to eat this ice cream every day, all year long, no matter what season it is. Its great for a twist on a Valentine dessert, or to cool down with on a hot day.
This recipe does require an ice cream maker, so make sure to put your freezer bowl in the freezer at least 24 hours in advanced so that it is completely frozen.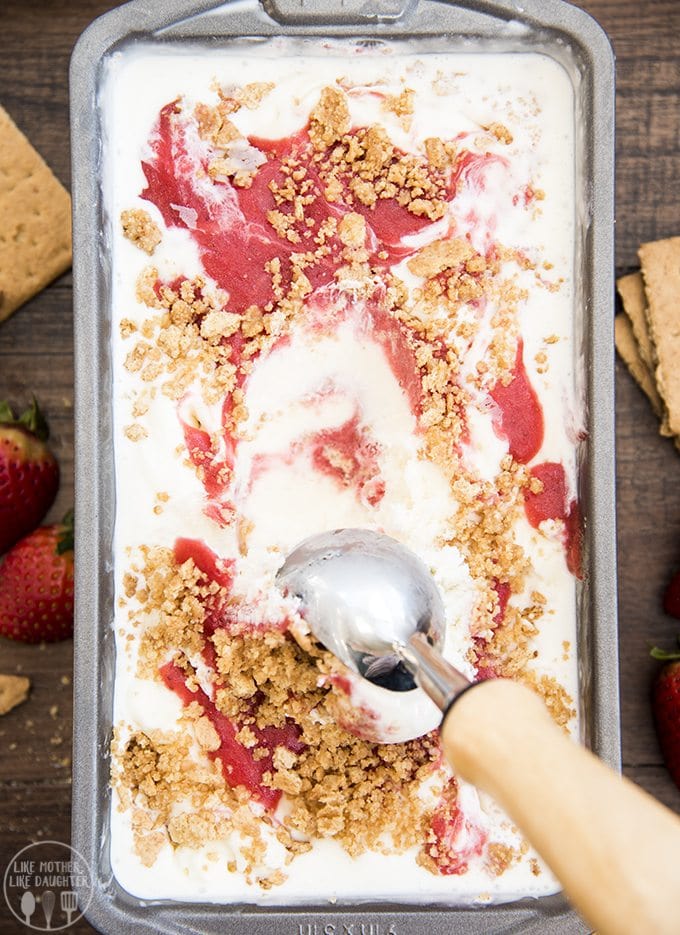 Look at those swirls of goodness throughout. 😍 😍 😍
This post contains affiliate links.

Strawberry Swirled Cheesecake Ice Cream
Ingredients
For the Strawberry Swirl:
1½ cups chopped strawberries
¼ cup sugar
½ TBS corn starch
For the Graham Cracker Crust Swirl:
4 graham cracker cookies
½ TBS sugar
2 TBS melted butter
For the Cheesecake Ice Cream:
8oz cream cheese, softened
1 cup white sugar
2 cups heavy cream
1 cup whole milk
Instructions
For the Strawberry Swirl:
Blend up the strawberries until smooth.
Pour strawberry puree, sugar and cornstarch into a medium sized sauce pan and cook up for a few minutes until a thick sauce is made.
Pour into a bowl and refrigerate for 1 hour.
For the Graham Cracker Crust:
Crush your graham crackers into a fine crumb.
Combine the graham cracker crumbs, sugar and melted butter. Set aside till needed.
For the Cheesecake Ice Cream:
Whisk together your cream cheese and your sugar until smooth.
Add in the heavy cream and milk and whisk until mostly combined. **
Pour mixture into your prepared ice cream mixer. Allow to churn according to manufactures instructions.
Scoop ⅓ of the ice cream mixture into a 3QT pan (a bread pan is perfect for this)
Scoop ⅓ of the strawberry puree, and sprinkle ⅓ of the graham cracker crumbs over the top of the ice cream.
Swirl together with a knife. (Swirl well, any thick strawberry sauce areas will become a bit icy)
Repeat with the second third, and final third of the ice cream, sauce and graham crackers.
Cover with plastic wrap and place in your freezer to harden for 6 hours, up to overnight.
Notes
**Alternatively you could blend up your cream cheese, sugar, heavy cream and milk in a blender until smooth.

***Prep time does not include freezing time.
Things you might need for this recipe: