For a while now I have been hearing about something called "Bountiful Baskets". Basically you pay about 16.50 a week to get a variety of 6 different fruits, and 6 different vegetables. And its a surprise – so you have no idea what will be in your basket each week. You have to sign up by Tuesday night at 10PM and you will pick your basket up on Saturday morning, our time is 7AM. And everything is as organic as possible (you can pay 10 more for completely organic) and as local as possible too.
We have participated in this for the past 2 weeks, and we have been happy with what we have gotten. We are trying to eat healthier and we figured getting more fruits and veggies was a great place to start. Anyway, you get a lot of stuff and since its a surprise its a fun way to try new things. We actually haven't gotten anything too weird yet, and we're okay with that.
Our first week we got green peppers in our basket and I had actually purchased a red and a green pepper from the store a week before (the hope is also we won't have to buy fruits and vegetables from the grocery store). Well, we needed to use our peppers and we also had onions and tomatoes to use and so I came up with this recipe.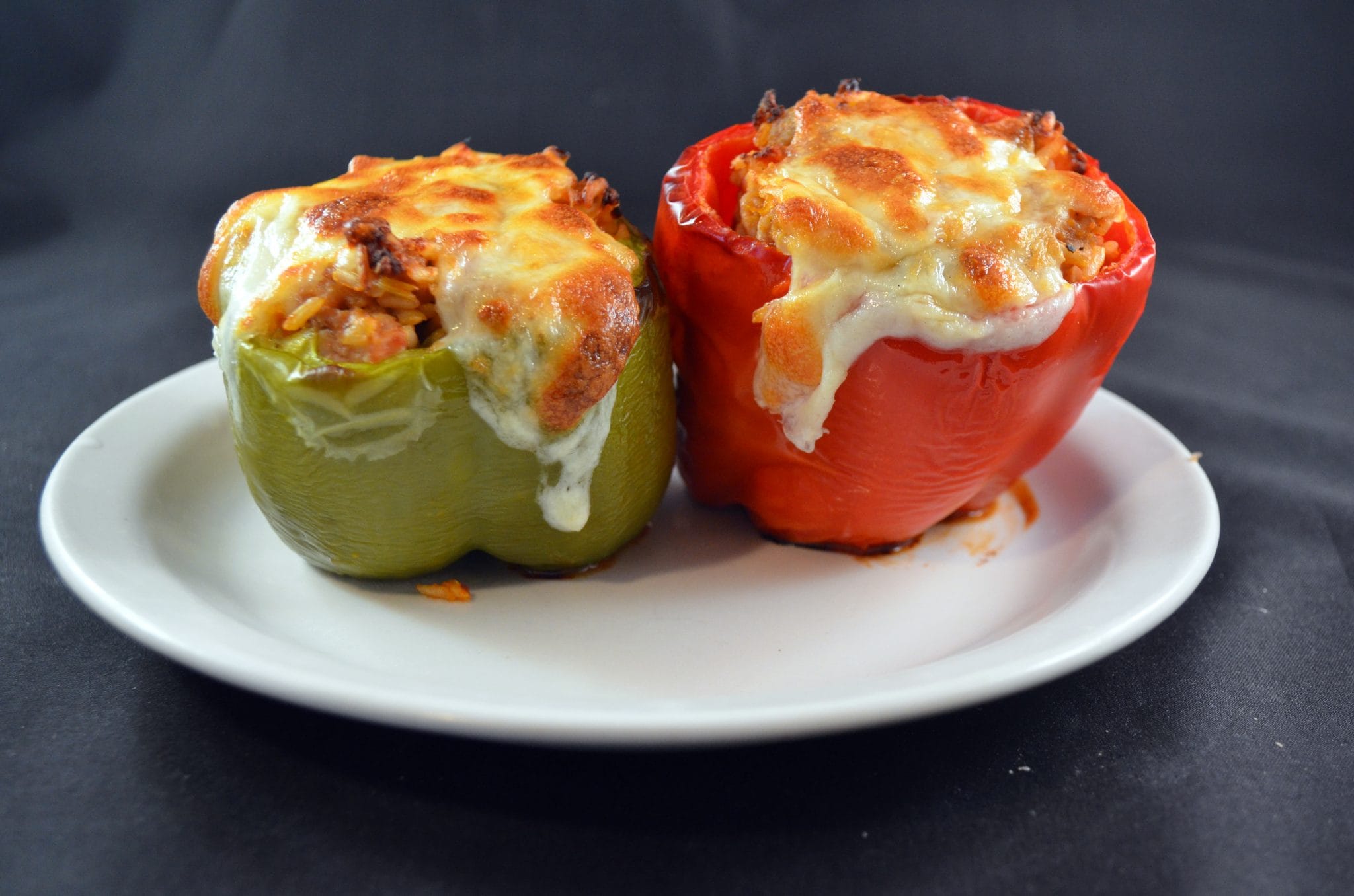 1 onion, diced
1 tomato, diced
12 mushrooms, diced**
1 TBS minced garlic
1 TBS oil
1 1/4 lbs ground Italian seasoned turkey (you could use pork or beef as well)**
8 oz tomato sauce
1 tsp oregano
1 tsp basil
1 1/2 tsp salt
2 cups whole grain rice, cooked
1/2 cup Parmesan**
3/4 cup mozarella
6-8 peppers
**optional
1. Cut tops of peppers off and remove seeds. Dice pepper tops.
2. Add diced pepper, onion, tomato, mushrooms, garlic and oil to a saute pan.
3. Saute the vegetables and garlic for about 10 minutes, stirring occasionally until soft.
4. Meanwhile in another pan brown ground turkey.
5. Add tomato sauce, oregano, basil and salt to vegetables and simmer for about 5 minutes.
6. Add ground turkey, rice and parmesan to vegetable mixture. Stir well.
7. Stuff as much of the mixture into each pepper. Keeping the tops level with the top of the peppers.
8. Put stuffed peppers on a cookie sheet.
9. Bake for 30 minutes in an oven preheated to 375 degrees.
10. Top each pepper with mozzarella. Bake for an additional 10-15 minutes till mozzarella is golden brown.