We've made stuffed peppers a couple of times now, and every time we make them I remember how good they are and wish we ate them more often. These are mexican stuffed peppers because they are seasoned with taco seasoning, enchilada sauce and stuffed full of tomatoes, corn, black beans and more.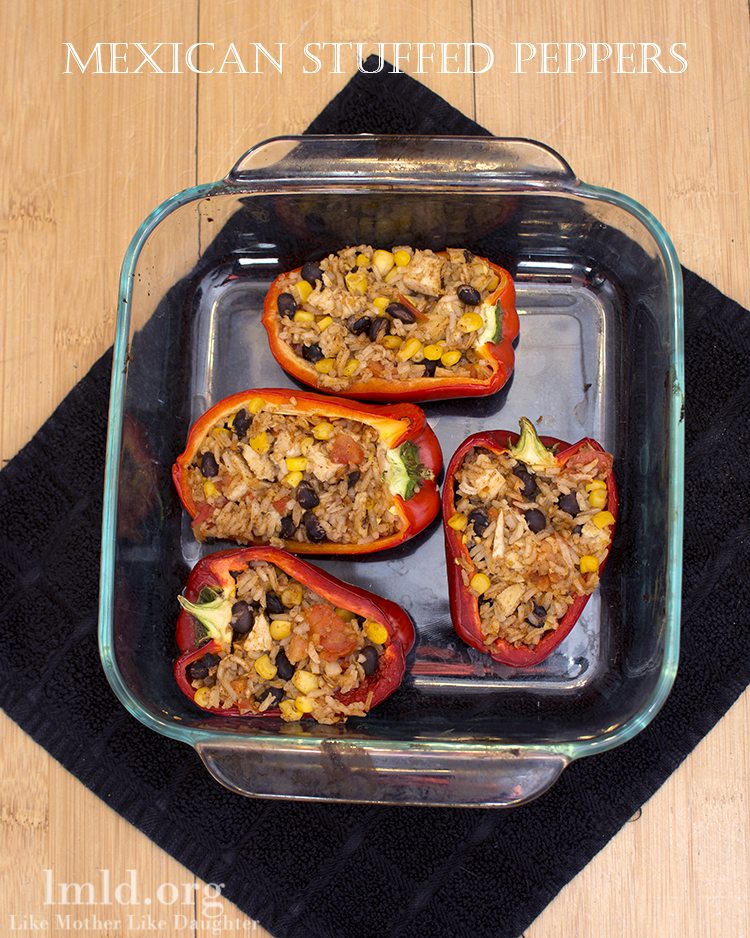 For this recipe we decided to leave off the cheese to save the calories because there is plenty of flavor without it. We did both top our peppers with a little fat free sour cream and a little salsa, but they didn't need it.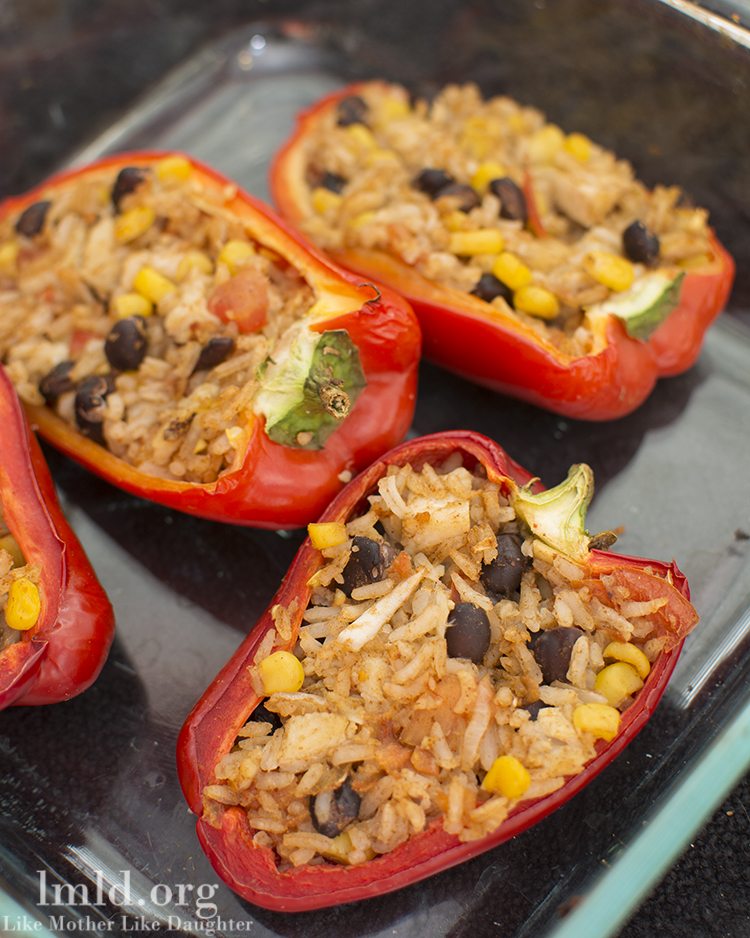 We added some precooked grilled chicken to the peppers, but if you are a vegetarian you can leave it out easily as well.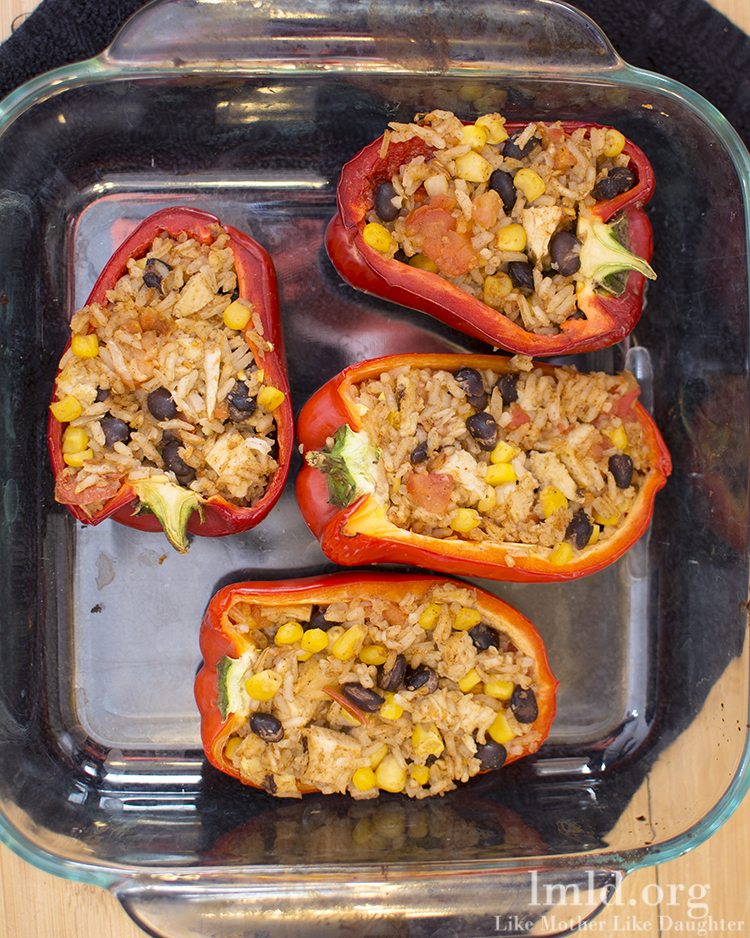 The great thing about these and other stuffed peppers is they are flavorful, delicious and healthy too! The bad thing, is I never know actually how much rice and other ingredients to make, so I end up with way more filling than I actually need – but its really not SO bad, because we are going to eat the leftover filling in tacos.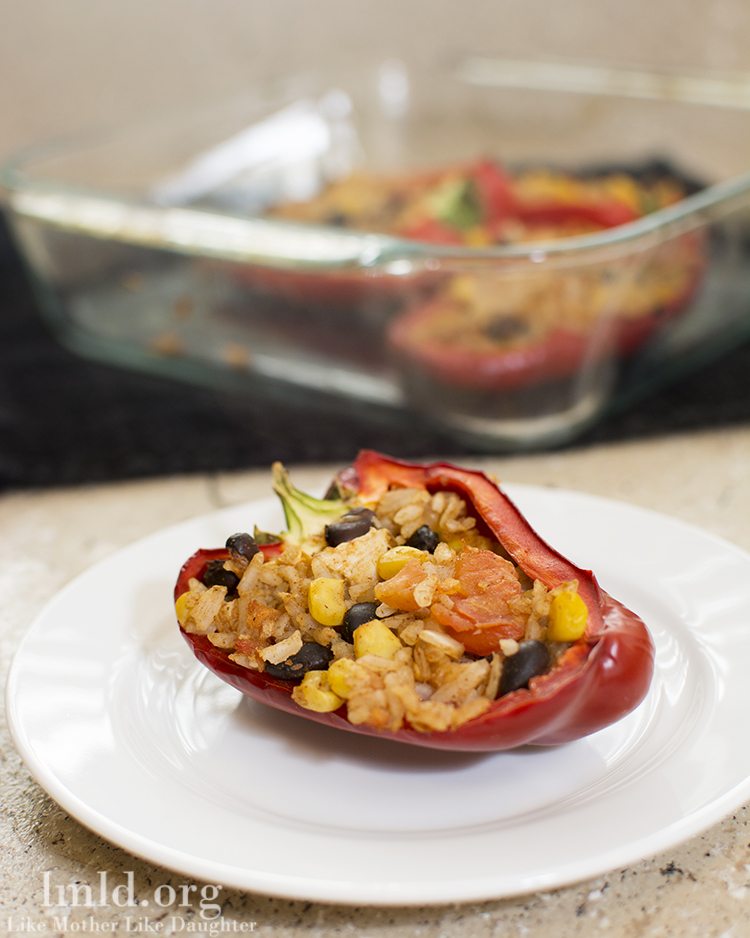 Mexican Stuffed Peppers
Ingredients
2 cups cooked rice
1 cup corn, drained and rinsed
1 cup black beans, drained and rinsed
½ cup tomatoes, chopped
½ cup onions, chopped
1 cup grilled chicken, chopped
1 TBS taco seasoning
⅓ cup red enchilada sauce
8 medium sized stuffed peppers
Instructions
Preheat oven to 375 degrees.
Combine your rice, corn, beans, tomatoes, onions, chicken, taco seasoning and enchilada sauce in a medium sized bowl. Mix everything together well.
Cut peppers in half from bottom to top.
Scoop out the seeds of each pepper half and rinse.
Scoop rice filling into each pepper to fill.
Place filled peppers into a glass baking pan.
Bake for about 25-30 minutes.
Enjoy these healthy and delicious stuffed peppers for dinner!