I am so excited to share this recipe with you today. By now if you're a regular follower of our blog you should know that I love desserts, but most importantly I love simple desserts. And this recipe is exactly that. Fruit Pizzas can be made any way you like them to make them your own, with a variety of different fruit options, or even dough options. But to make things perfect for Memorial Day (or Fourth of July) we are going with a red, white and blue fruit pizza today. Still delicious, but even more festive and cute than just a normal fruit pizza.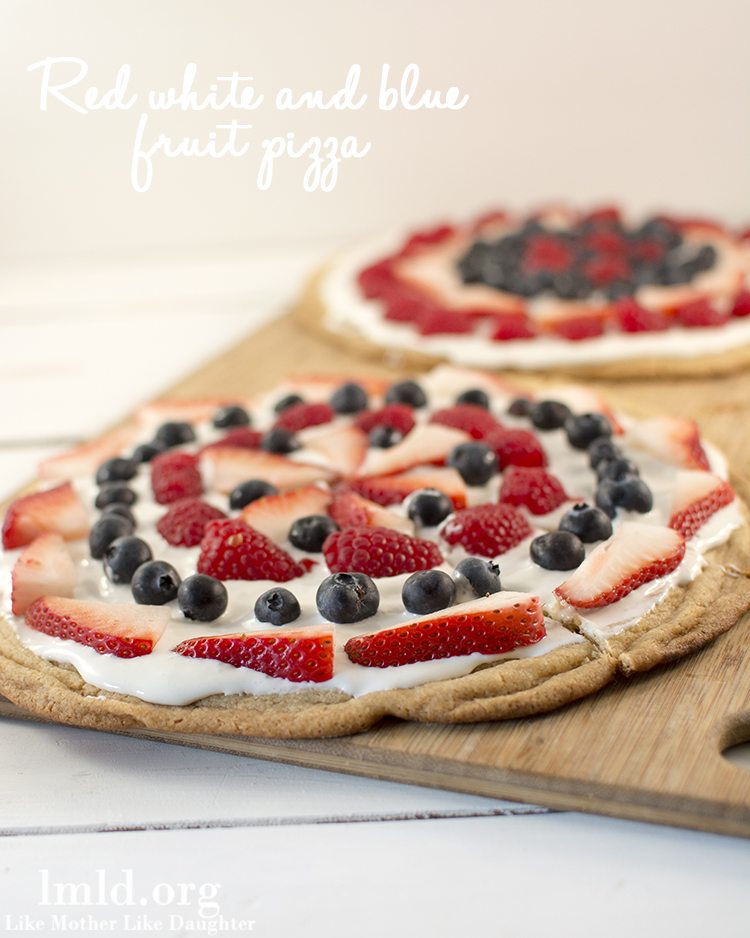 And guess what else?  Today is Day #1 of Kick Off to Summer Week, a multi-blogger event co-hosted by Lauren of From Gate to Plate and Summer of Summer Scraps. With summer quickly approaching and Memoria l Day in just a few weeks, we wanted to make sure you had plenty of ideas for your Memorial Day activities and eats. Each day we will be serving up a variety of different Memorial Day centered ideas – from appetizers, main dishes, and desserts, to decor, printables and more.We hope you enjoy all of these wonderful ideas. Tune in each day starting today Monday, May 12 and ending Saturday, May 17. We also have great prizes up for grabs throughout the week so make sure to check in each day so you don't miss out! Follow #KickOffToSummerWeek2014 on Twitter to keep up to date with all of our spectacular ideas and giveaways!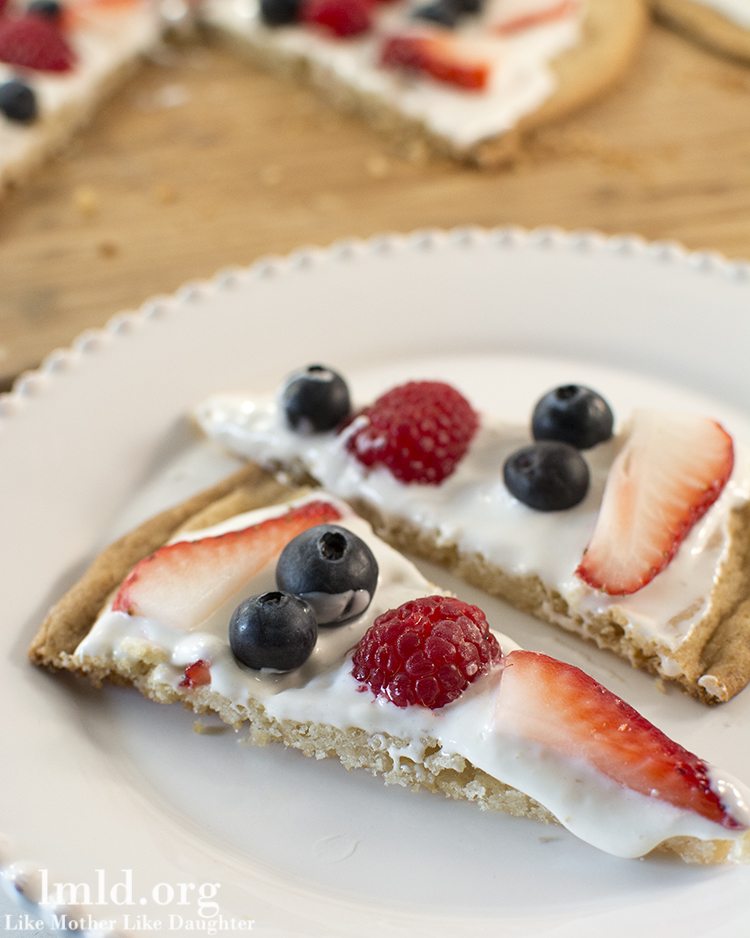 Now onto our delicious and easy and festive recipe!
Red White and Blue Fruit Pizza
Ingredients
about 16 oz Sugar cookie dough
4 oz cream cheese
4 oz cool whip
1 1/2 cups powdered sugar
Strawberries
Blueberries
Raspberries
Directions
Preheat oven to 350 degrees.
Roll cookie dough out into 1 or 2 giant cookies about 1/4 inch thick. Place on sprayed cookie sheets.
Bake for about 12 minutes until cookie just starts to turn golden.
Allow to cool.
Combine cream cheese, cool whip and powdered sugar in a medium size bowl.
Rinse fruit and cut into slices if desired.
Spread cream cheese mixture over the top of each cookie to the edge.
Top with fruit. Decorate however you want.
http://lmld.org/2014/05/12/red-white-blue-fruit-pizza/
Enjoy this festive and delicious treat at your next BBQ.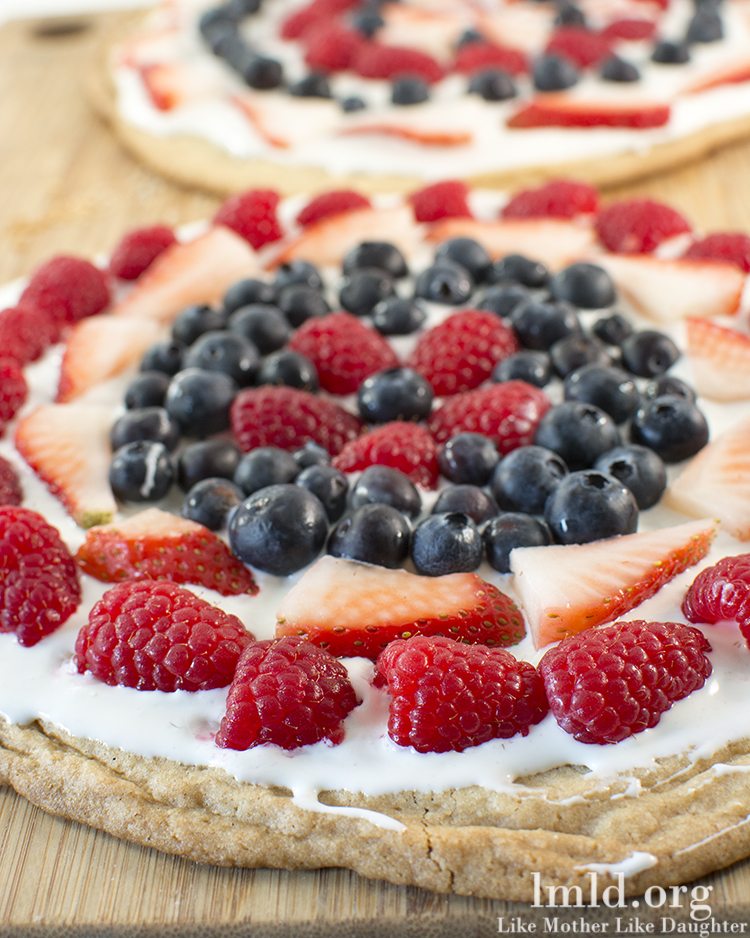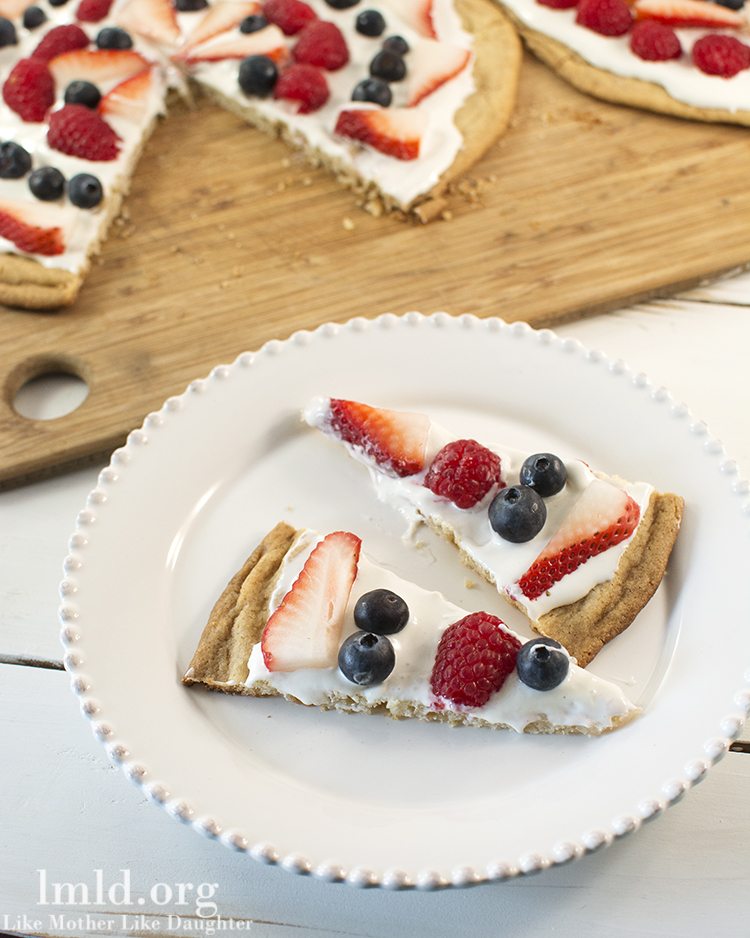 And like I said, we've got a bunch of other great ideas for you to help you get planned and ready for your Memorial Day Festivities. Here are the other participants posts for today:
Margarita Grilled Shrimp Skewers by From Gate to Plate
Cherry Limeade by Summer Scraps
Turkey and Grilled Pineapple Burger by Keep it Simple, Sweetie
Place of Honor by Lil Huckleberries
Edible Patio Table Centerpiece by Bits of Ivory
Easiest Ever Grilled Chicken by Forty Eighteen
Ranch Burgers by Lady Behind the Curtain
Strawberry and Candied Almond Spinach Salad by We Like to Learn as We Go
BBQ Banner Printable by My Daylights
Star-Spangled Muffins by Food Lust People Love
German Potato Salad by Denise Designed
And now, what you've all been waiting for, our awesome giveaway for today.
Our sponsor for Day 1 of Kick Off to Summer Week 2014 is Pick Your Plum! We are so excited they have joined us today. Pick Your Plum is an amazing deal site that features products from all over the world. New deals occur every morning at 7:00 AM Mountain Time. Some of these fabulous deals go so fast, so make sure to check in early because you don't want to miss out. Pick Your Plum features clothing, home decor, crafting, and party supplies and other fun surprises! You can follow Pick Your Plum on Facebook, Pinterest, Instagram, and Twitter.
Today's Pick Your Plum Prize Pack includes TWO $50 Plum boxes full of PYP awesomeness! (Seriously I wish I could enter in this too because this prize is totally awesome!)
**Giveaway is open to US Residents only. Winner must be 18 years or age or older. No cash value available.**
**Disclaimer: This giveaway is being sponsored by Pick Your Plum. #KickOffToSummerWeek2014 bloggers have not received product or been compensated as part of this giveaway**