**This post is sponsored by Cans Get You Cooking through the Mom it Forward Network. All opinions are my own

Pin this no churn pumpkin pie ice cream for later!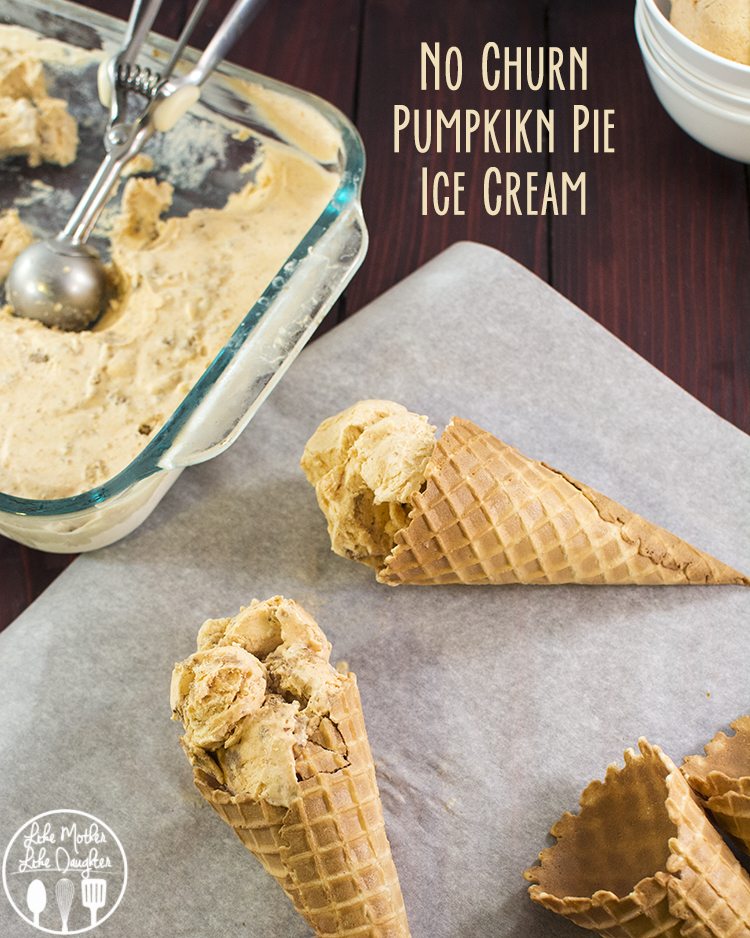 One thing that I like to keep stocked in my pantry all season long is canned pumpkin. Pumpkin is finally acceptable to eat and cook with and its one of my favorite fall flavors. Canned foods are great  because they seal in the freshness, the flavor and the nutrition so I can cook with them anytime and know they will make my food turn out great! Plus using canned ingredients makes my prep time so much shorter that I can have a delicious dish on the table in no time! (Unfortunately this pumpkin pie ice cream takes 6 hours to freeze, but only a few minutes of actually work, and its totally worth waiting for).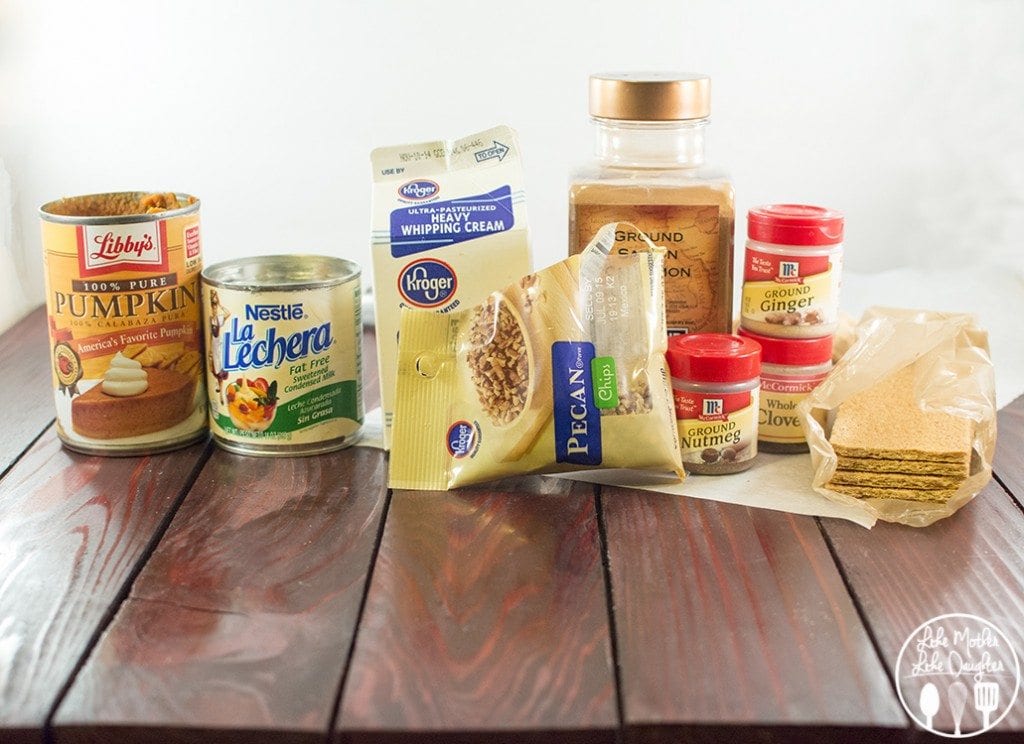 This ice cream is "no churn" which means you don't even need an ice cream maker to make it. You just need a couple simple ingredients to make no churn ice cream – heavy whipping cream and sweetened condensed milk (another thing I like to always have in my pantry!) and then of course to get the pumpkin pie flavor for this version I used Libby's Canned Pumpkin, cinnamon, ginger, cloves, nutmeg and of course don't forget the pecan graham cracker crust pieces in the middle!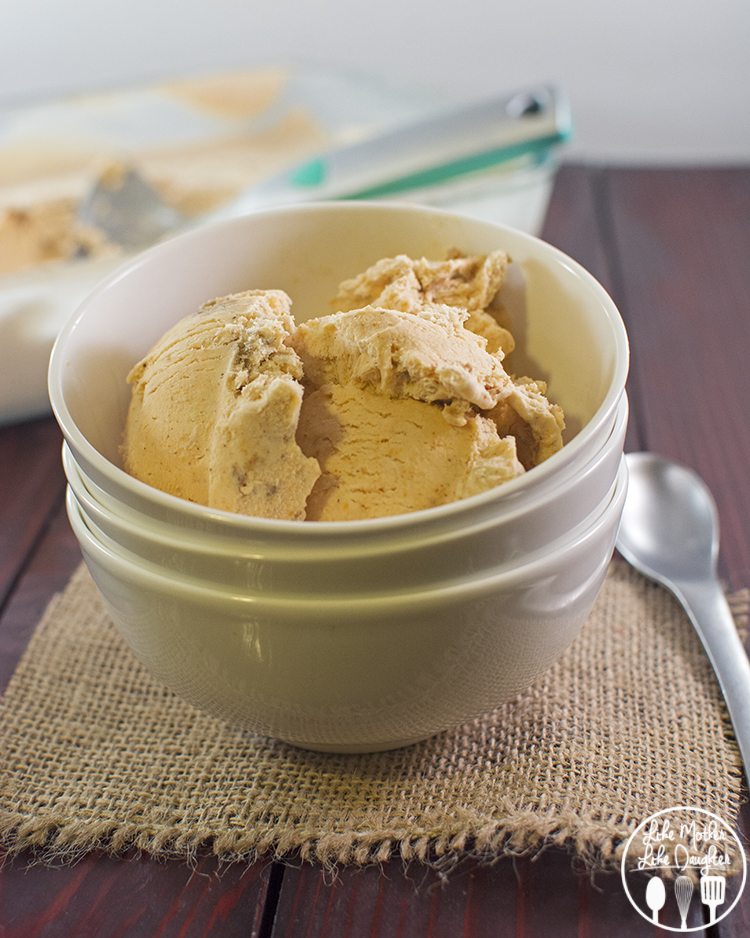 This delicious easy to make ice cream tastes just like pumpkin pie only its easier to make and its icecream. Who doesn't love ice cream?!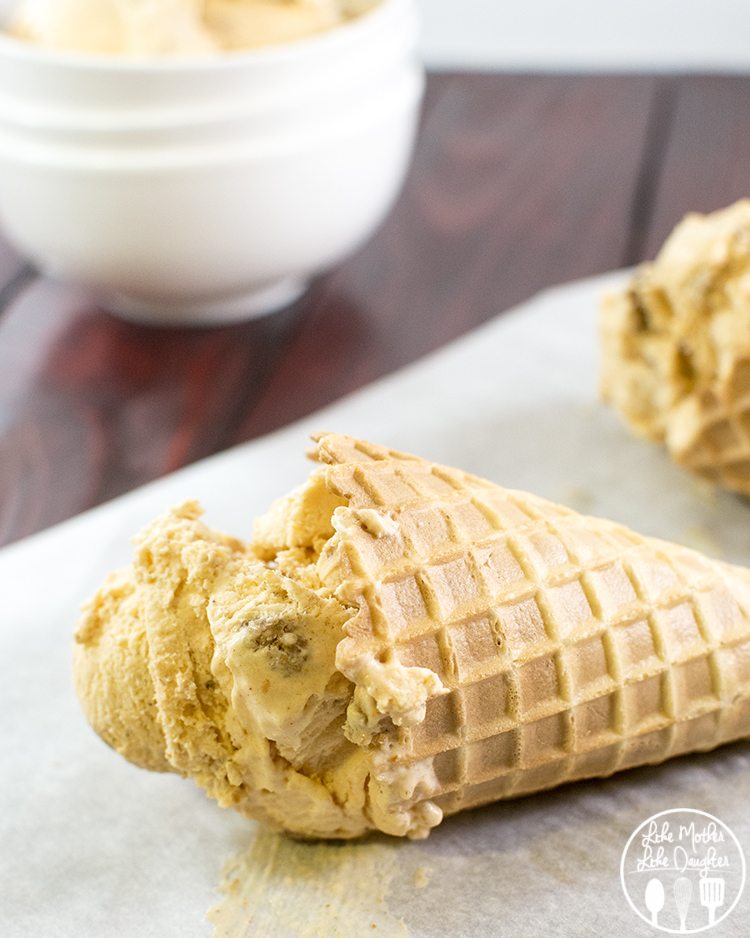 No Churn Pumpkin Pie Ice Cream
Ingredients
1 pint heavy cream
14 oz sweetened condensed milk
⅔ cup canned pumpkin
½ tsp cinnamon
⅛ tsp ground cloves
⅛ tsp ground ginger
⅛ tsp nutmeg
For the graham cracker pecan crust crumb:
3 graham cracker sheets
⅓ cup pecans
2 TBS softened butter
½ TBS sugar
Instructions
Pour your heavy cream into a large mixing bowl and whip until it becomes whipped cream, with stiff peaks (about 15 minutes).
Combine your sweetened condensed milk, canned pumpkin, cinnamon, cloves, ginger and nutmeg in another large bowl and mix well.
Grind your graham crackers and pecans to make a fine crumb.
Mix your butter and sugar with your graham cracker pecan crumb. Set aside.
Scoop your heavy cream in with your sweetened condensed mixture and fold together until thoroughly mixed.
Pour ⅓ of your ice cream into a 3 qt container. Sprinkle half of your crumb mixture over the top. Pour additional ⅓ over and spread out to even, sprinkling the last of the crumb on top, and finishing with the last third of the ice cream on top.
Cover and place in freezer for at least 6 hours.
Enjoy this delicious pumpkin pie in ice cream form!
And this month Cans Get You Cooking has teamed up with Zynga's hit mobile game, FarmVille 2: Country Escape. Until October 5th there is a new in game feature that allows you to harvest fruits and vegetables and then lock in their freshness, flavor and nutrition by canning them. You can also create recipes which can be canned too. FarmVille 2 is a unique learning experience that allows you to learn about the benefits of canned foods and Cans Get You Cooking. Be sure to can while you can! You can download the app here.
And to learn more about Cans Get You Cooking, be sure to check them out on Facebook, Twitter, Pinterest and YouTube.
For more delicious pumpkin recipes, try one of these: