Pumpkin ice cream tastes just like a slice pumpkin pie topped with whipped cream, and there is no ice cream maker required, its creamy, perfectly spiced, and so delicious you'll want to have this ice cream for Thanksgiving and all year long.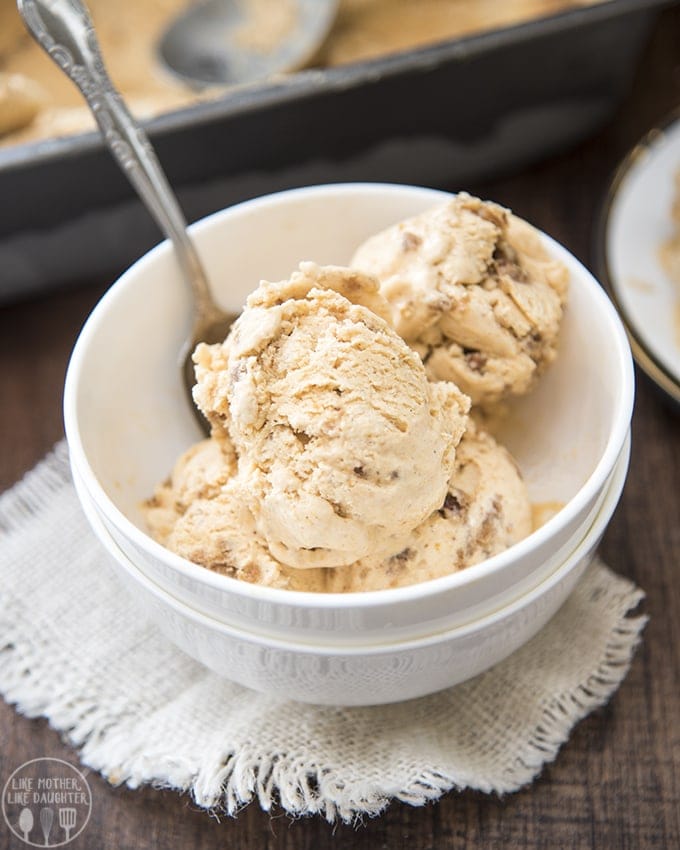 **This pumpkin pie ice cream was made in partnership with Cans Get You Cooking through the Mom it Forward Network. All opinions are my own
This homemade pumpkin ice cream is so easy to whip up, its packed full of ingredients you most likely have on hand already, and only calls for a few ingredients even if you do have to run to the store. You only need 2 ingredients to make a homemade no churn ice cream, heavy whipping cream and sweetened condensed milk. For this pumpkin pie ice cream you'll need the extra ingredients to get the pumpkin pie flavor throughout. You'll need canned pumpkin, cinnamon, ginger, cloves, nutmeg (or pumpkin pie spice!) and of course don't forget the pecan graham cracker crust pieces throughout!
This ice cream is "no churn" which means you don't even need an ice cream maker to make it. There is no cooking, and no special equipment needed, which means that anyone and everyone can and should make this delicious pumpkin ice cream.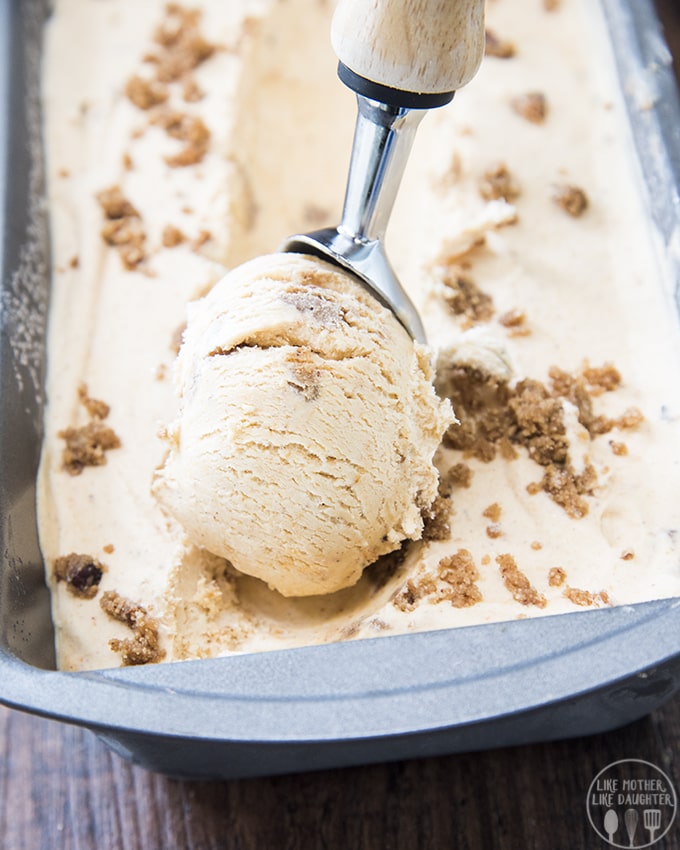 It whips up in just a few minutes, the only hard part is you have to wait a few hours while the ice cream hardens up in your freezer. Its hard to be patient for something that tastes this good.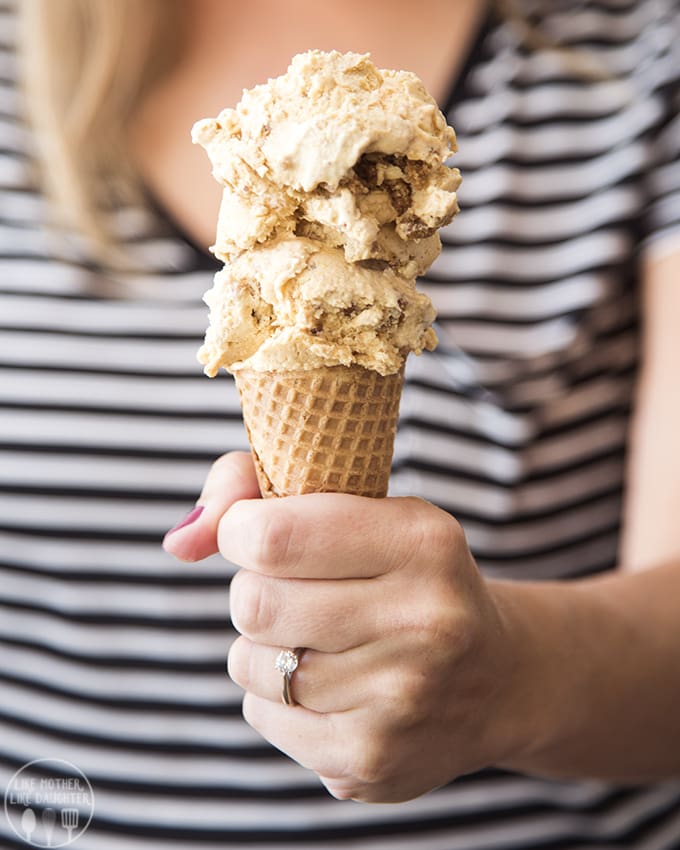 Because the ice cream is made with heavy whipping cream it tastes just like a slice of pumpkin pie with whipped cream on top, just how pumpkin pie should be 😉 Its perfectly spiced with a homemade pumpkin pie spice assortment of spices and you'll love biting into the pie crust crumble throughout too!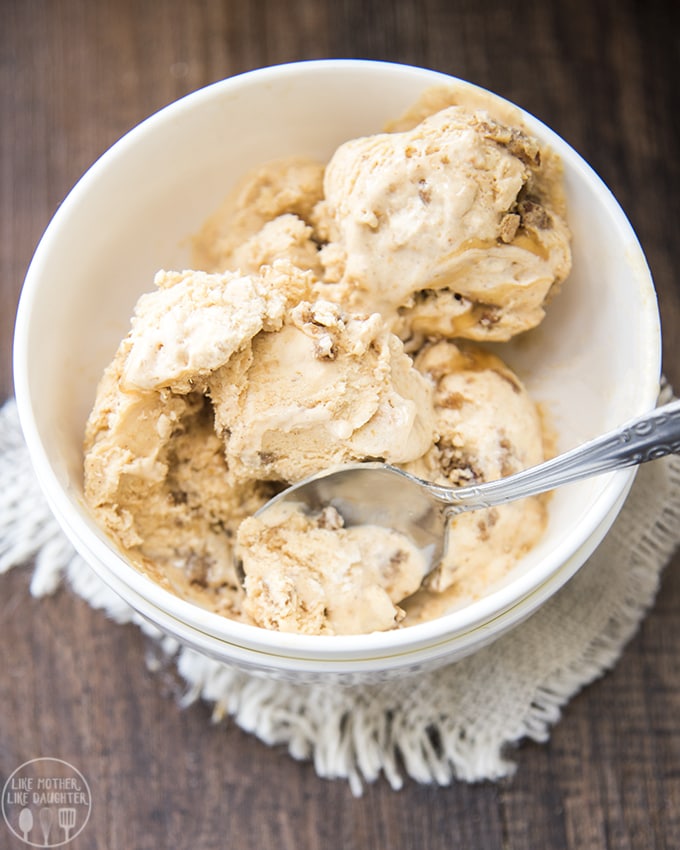 No Churn Pumpkin Pie Ice Cream
Ingredients
1 pint heavy cream
14 oz sweetened condensed milk
⅔ cup canned pumpkin
½ tsp cinnamon
⅛ tsp ground cloves
⅛ tsp ground ginger
⅛ tsp nutmeg
For the graham cracker pecan crust crumb:
3 graham cracker sheets
⅓ cup pecans
2 TBS softened butter
½ TBS sugar
Instructions
Pour your heavy cream into a large mixing bowl and whip until it becomes whipped cream, with stiff peaks (about 15 minutes).
Combine your sweetened condensed milk, canned pumpkin, cinnamon, cloves, ginger and nutmeg in another large bowl and mix well.
Grind your graham crackers and pecans to make a fine crumb.
Mix your butter and sugar with your graham cracker pecan crumb. Set aside.
Scoop your heavy cream in with your sweetened condensed mixture and fold together until thoroughly mixed.
Pour ⅓ of your ice cream into a 3 qt container. Sprinkle half of your crumb mixture over the top. Pour additional ⅓ over and spread out to even, sprinkling the last of the crumb on top, and finishing with the last third of the ice cream on top.
Cover and place in freezer for at least 6 hours.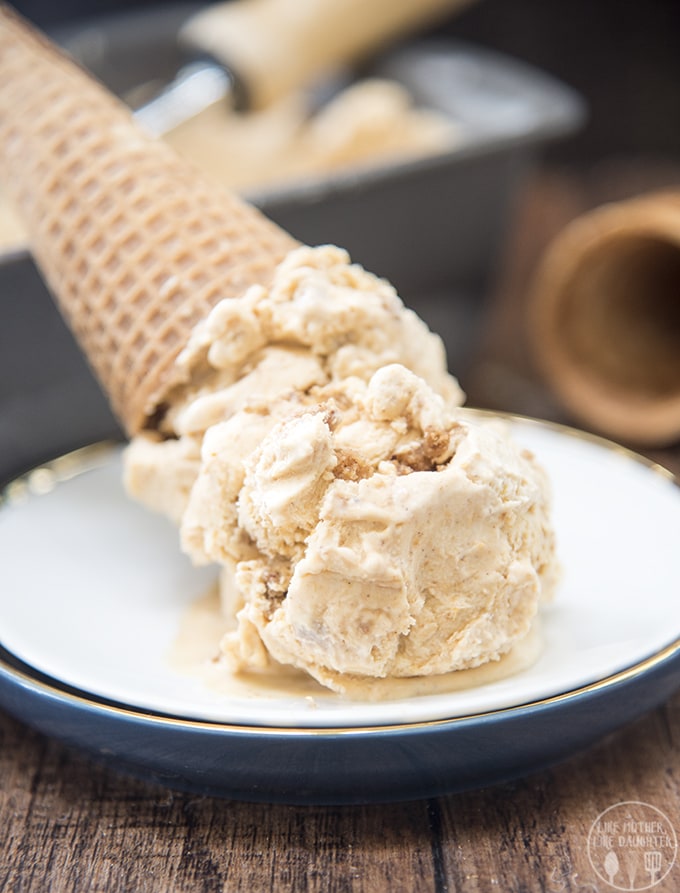 Enjoy this delicious pumpkin pie in ice cream form!
And this month Cans Get You Cooking has teamed up with Zynga's hit mobile game, FarmVille 2: Country Escape. Until October 5th there is a new in game feature that allows you to harvest fruits and vegetables and then lock in their freshness, flavor and nutrition by canning them. You can also create recipes which can be canned too. FarmVille 2 is a unique learning experience that allows you to learn about the benefits of canned foods and Cans Get You Cooking. Be sure to can while you can! You can download the app here.
And to learn more about Cans Get You Cooking, be sure to check them out on Facebook, Twitter, Pinterest and YouTube.
For more delicious pumpkin recipes, try one of these: