These gender reveal cupcakes are so easy to make, with a cake mix and filled with colored m&ms to reveal the sex of the baby when you bite right in!  Topped with the best thick and creamy homemade buttercream frosting!
Pin these cute gender reveal cupcakes for later!
If you follow us on instagram you may have seen that I am pregnant with baby number two! I'm almost 22 weeks along, due in the beginning of March, and grateful to be more than half way done with this pregnancy. We found out the gender of the baby a few weeks ago, and waited till our 20 week ultrasound to confirm, and I wanted to share it with you too!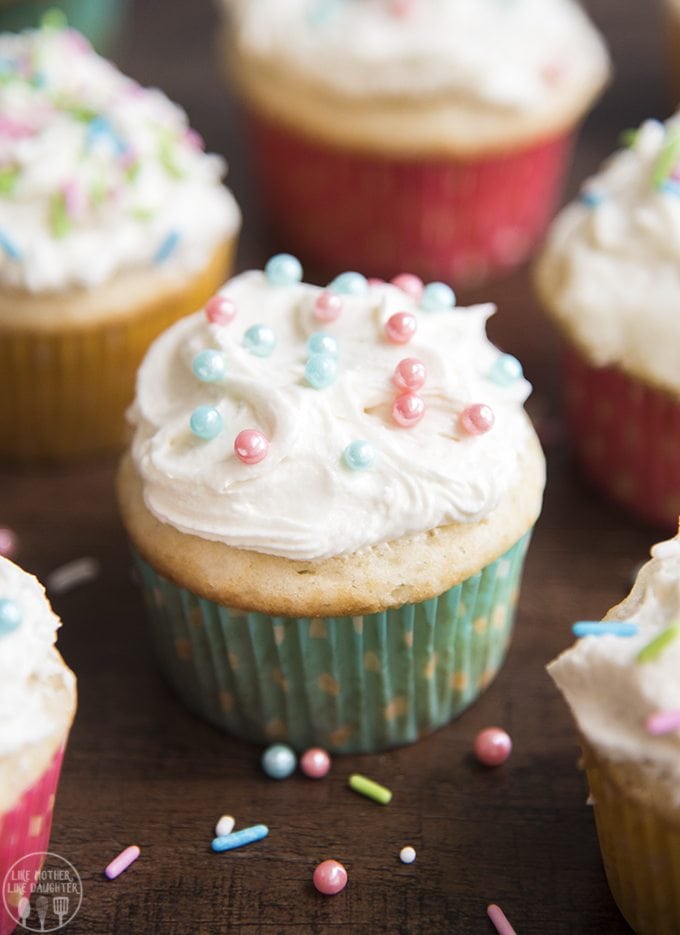 So I made these adorable and did I mention super easy gender reveal cupcakes to share on the blog, and to tell you our news!
These cupcakes start with a white cake mix, you'll mix it and bake it up according to the directions on the box. After the cupcakes are baked, you'll let them cool completely. Then you'll cut the centers out of the cupcake with a small knife, trim off the bottoms of the center piece, and keep the tops as a lid. Fill the cupcake with your colored m&ms (choose blue or pink, depending on the sex of the baby – if you can find mini m&ms, even better!) and put the center lid piece back onto the cupcake. Frost however you want and sprinkle with pink and blue sprinkles!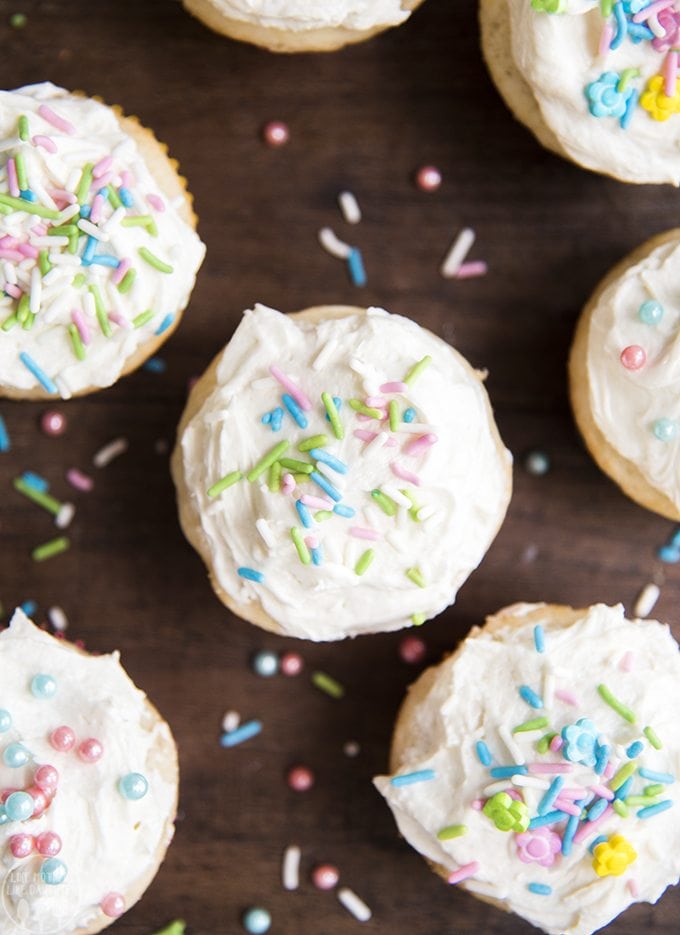 I used an amazing, but simple, homemade buttercream frosting to top my cupcakes. You can use canned frosting, or your favorite recipe too. Frost in any pattern, which I am terrible at, if you can't tell, so I went for a thick messy look and hope that the sprinkles on top will distract enough from the messy frosting on top.
For this buttercream frosting you just need butter, powdered sugar, heavy cream, vanilla extract, almond extract, and a dash of salt. This frosting is perfection, its creamy, buttery, and sweet and I'll be using this recipe again and again.
Now back to the cupcakes! I am excited to announce that baby 2 is another BOY!!! We can't wait to have another little adventurous boy join our family and hope that our two little boys can be the best of buds!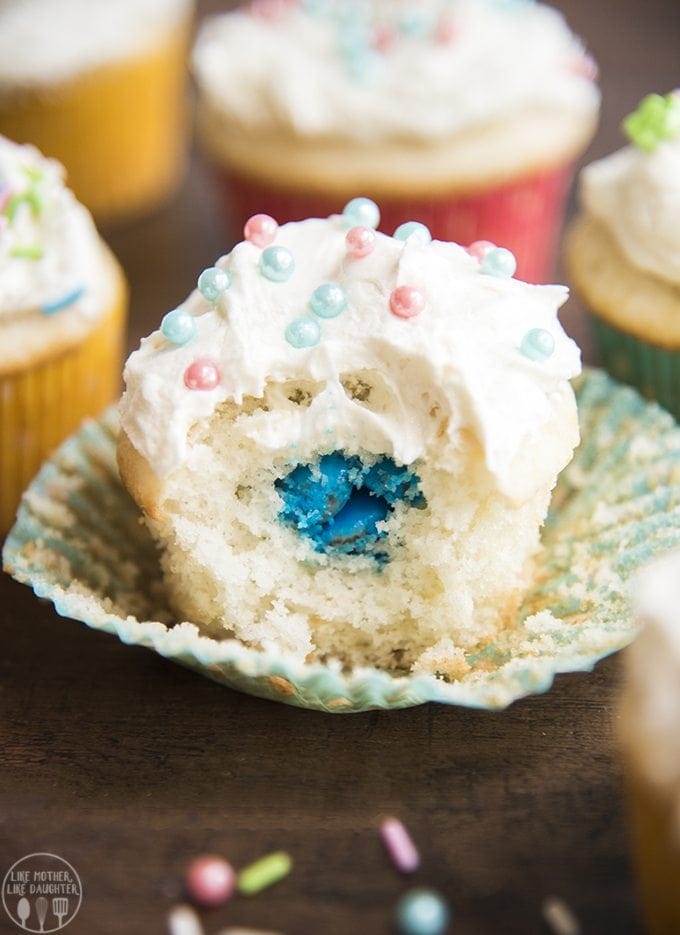 Gender Reveal Cupcakes
Ingredients
1 box white cake mix (eggs, oil and water as called for on the box)
blue or pink m&ms
2 cups white frosting
blue and pink sprinkles
Instructions
Mix cake mix, eggs, oil and water as called for on the box.
Bake according to package directions.
Allow to cool completely.
Cut the center out of the cupcake top, remove the bottom of the piece and keep the top like a lid.
Fill the whole with your color of m&ms.
Return the top over the m&ms.
Frost however you want.
Decorate frosting with blue and pink sprinkles.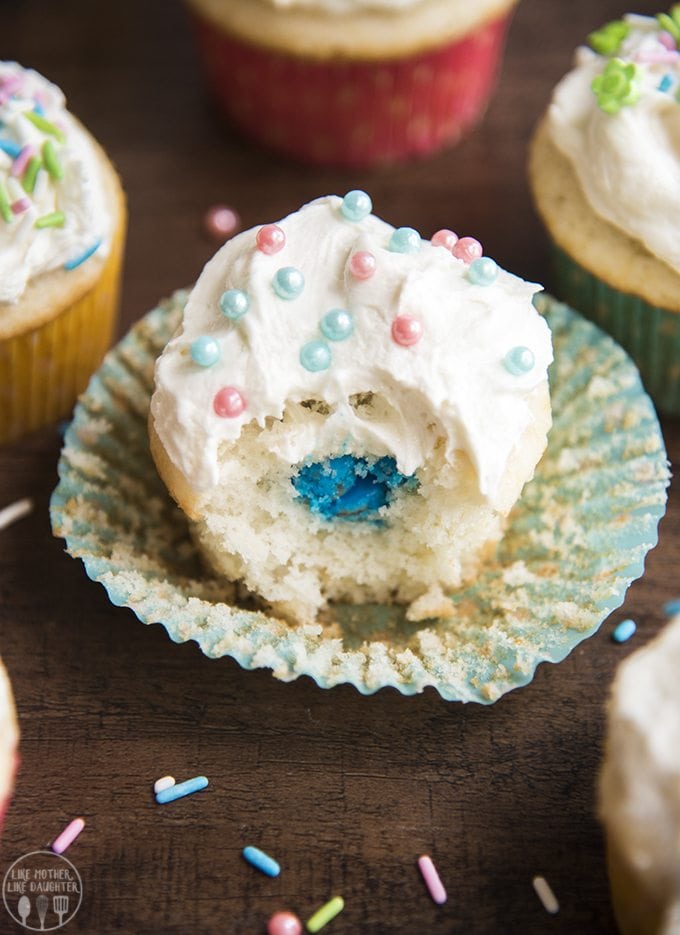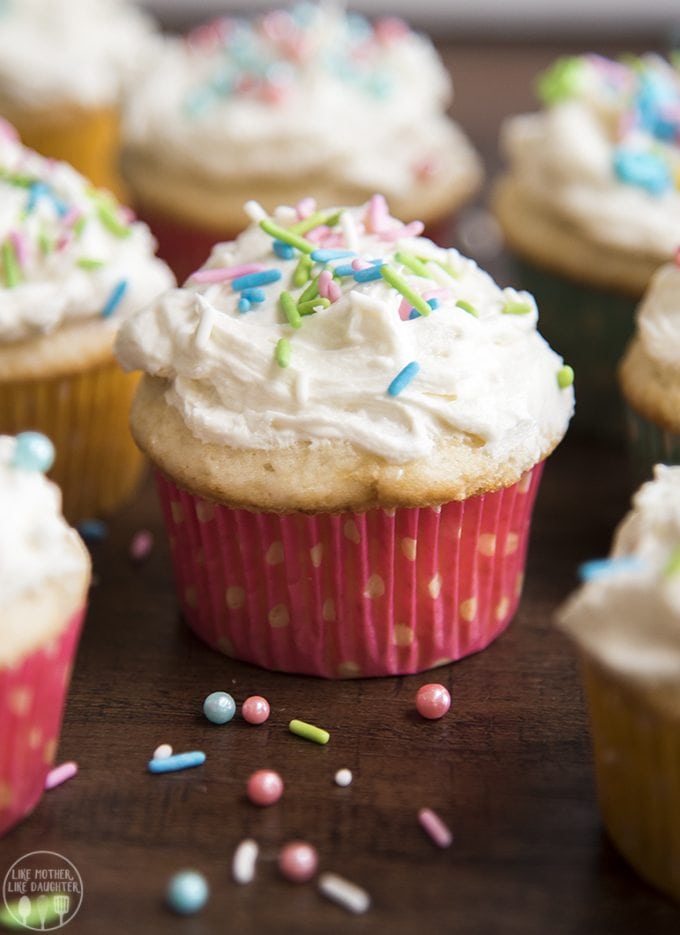 Buttercream Frosting
Ingredients
1 cup butter, softened (2 sticks)
3-4 cups powdered sugar
2 TBS heavy cream
1 tsp vanilla extract
½ tsp almond extract
1 dash of salt
Instructions
Cream together the butter and powdered sugar on low until well blended.
Add in the heavy cream, vanilla, almond and salt and beat on medium speed until mixed.
Beat for another 3-4 minutes until the frosting is light and fluffy.
Spread onto your desired cake, cookies, or cupcakes