Greek gyro lamb burgers have the same great flavors of a gyro in burger form. With a perfectly seasoned grilled lamb burger topped with homemade tzatziki sauce.
Have you ever tried a Greek gyro? This Greek gyro lamb burger is a fun and delicious twist on the traditional gyro,. Instead of a pita you've got a bun and instead of slow roasted meat from a spit, ground lamb made into a flavorful burger patty.
These flavorful burgers are made with Australian ground lamb, seasoned with oregano, salt and pepper, garlic, olive oil and Worcestershire sauce. Top the patty with lettuce, sliced tomatoes, sliced red onions a homemade cool and creamy tzatziki sauce.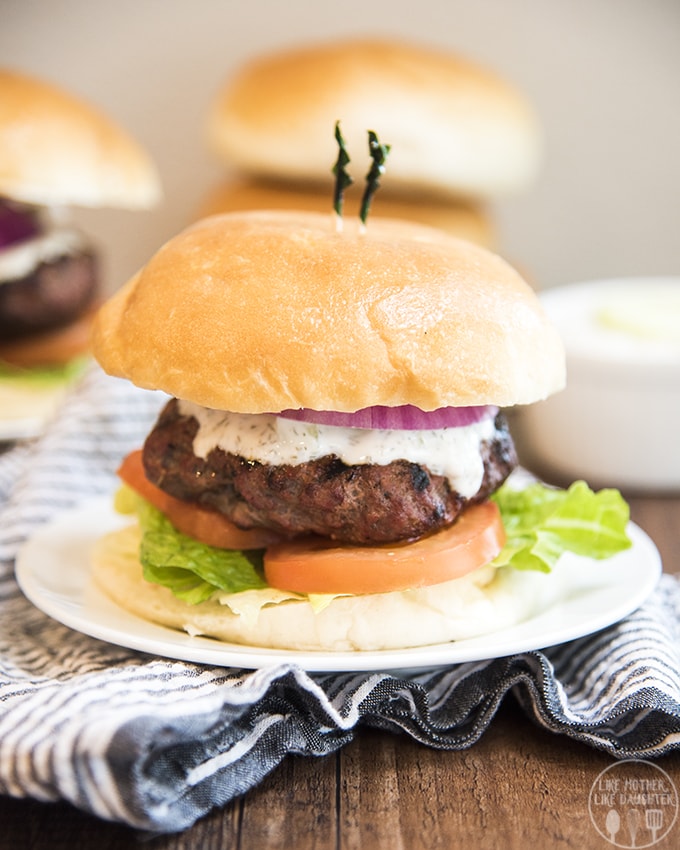 Aussie Grassfed Lamb is high quality, and delicious. Its 100% grass-fed, with no hormones, antibiotics or GMO's. Lamb is a perfect high protein option, and is a great source of iron and zinc.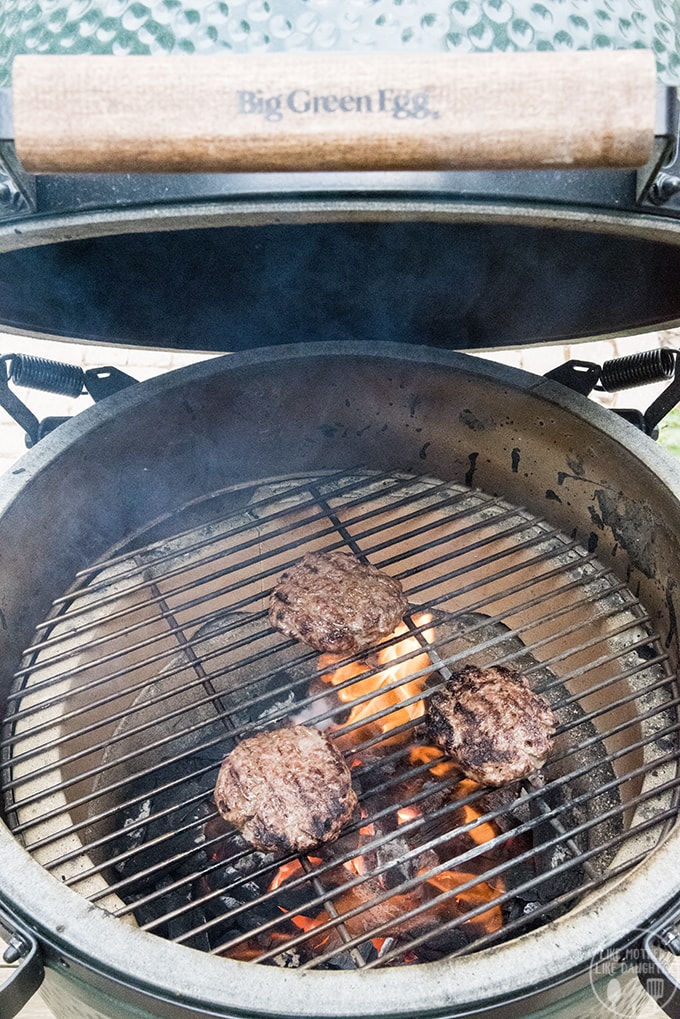 This burger is made in just a few minutes, cooked up on the grill, for a perfectly easy and delicious dinner. This is one of my most favorite burgers ever now!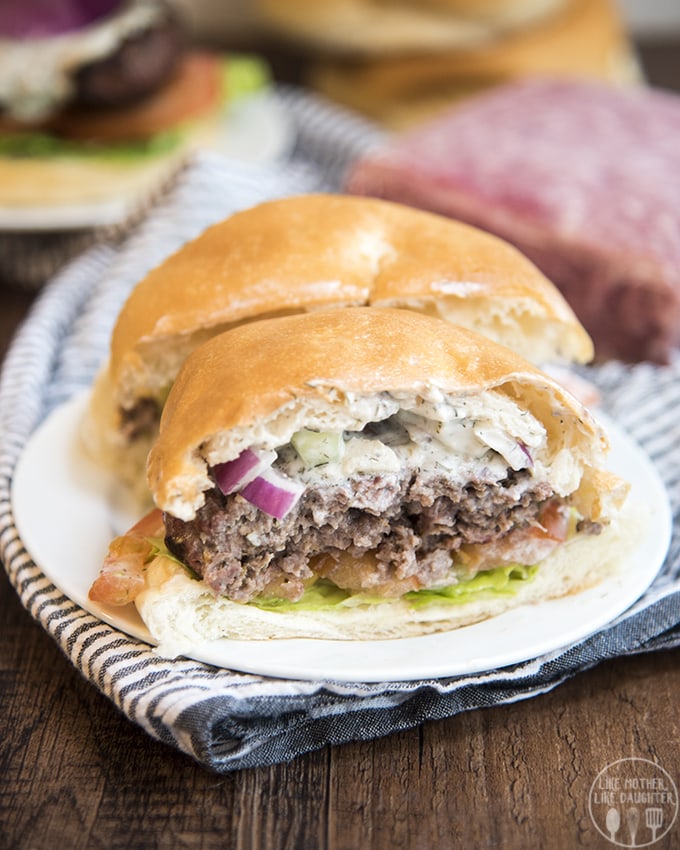 I recommend cooking your burgers in a Big Green Egg. I am obsessed with mine and we have used it dozens of times for many different types of recipes, like these amazing burgers in the month that we've owned it.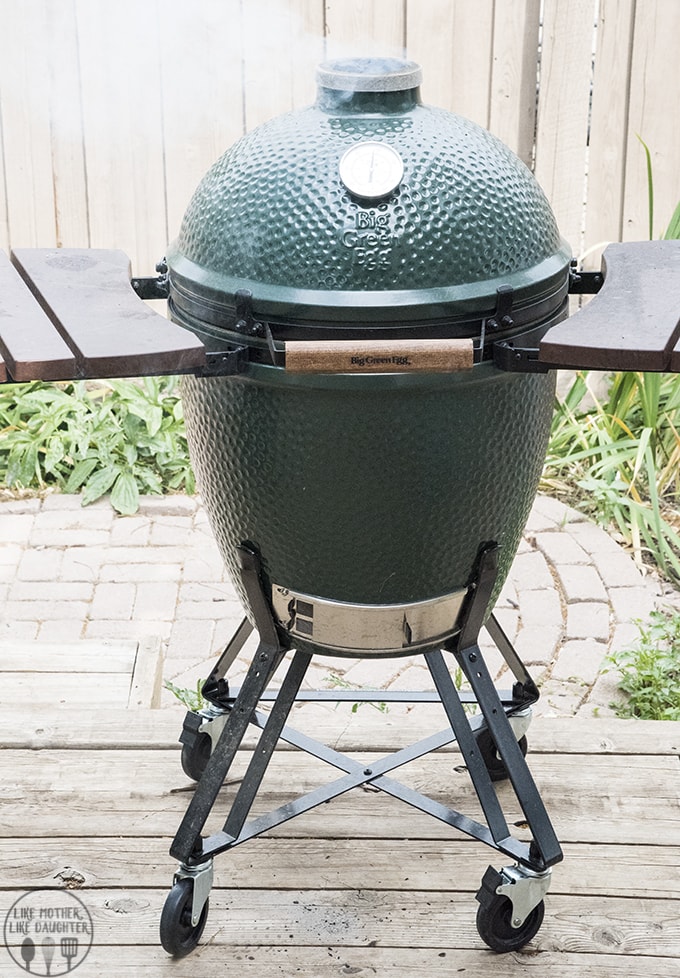 You can enter to win your own Big Green Egg too, sponsored by True Aussie Beef and Lamb. Make sure to scroll through and let them know that we sent you from Like Mother, Like Daughter and Good Luck!!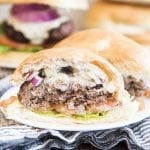 Greek Gyro Lamb Burgers
Ingredients
For the Tzatziki Sauce:
1

cup

plain greek yogurt

1/2

cucumber

peeled and diced

2

tsp

minced garlic

1

TBS

fresh squeezed lemon juice

1

TBS

dried dill

1/2

tsp

salt

1/4

tsp

pepper
For the Burger Patty:
1

pound

ground Aussie lamb

grass fed ground beef can be subbed

2

TBS

Worcestershire sauce

1

TBS

olive oil

1

tsp

salt

1

tsp

oregano

1/2

tsp

pepper

1

tsp

minced garlic
For the Burger:
3-4

buns

1/4

red onion

sliced

1 to

mato

sliced

lettuce
Instructions
Mix together greek yogurt, cucumber, garlic, lemon juice, dill, and salt and pepper for tzatziki sauce in a medium sized bowl.

Cover and place in the fridge till needed.

Combine the ingredients for the burgers in a large bowl. Mix well with your hands until ingredients are all blended together well.

Divide meat into 3 1/3 pound or 4 1/4 pound burgers.

Flatten into burger patties.

Fill Large Big Green Egg with charcoal, use fire starter to preheat. Ours was heated to about 550 degrees**

Cook on one side for 3-4 minutes for medium burgers.

Flip and cook for the same amount of side on the second side.

Toast buns.

Open bun and place lettuce, tomato, burger patty, a spoonful of tzatziki sauce, and 2 slices of red onion and top with bun.

Enjoy.
Recipe Notes
**Other charcoal or gas grills will work to cook the meat as well, but may take 1 extra minute or so on each side to cook.