Have I told you in my church I work with young ladies ages 12 and 13? Every week we have a nightly activity;  either with other young women 14-18 and/or other young men ages 12-18 or just our small group.  These activities all should be planned and directed by the young women themselves with guidance by their adult leader. in this case me.  This Sunday morning, I invited my 4 young Beehives, for that is what we call them, over for breakfast and a planning meeting.  It was successful in 3 ways; one – I got to know these beautiful girls better, two – we did some great planning and scheduling with activities and three – we ate a delicious breakfast of baked apple French Toast.  So delicious in fact that I wanted to share with you the recipe. 
I often debate and hold off on sharing recipes because they are not my own, but this one was inspired by Favorite Family Recipes with a little tweaking of my own accord.  I really liked this recipe because you make it the night before and bake it the morning of.  It takes a little time to assemble mostly because of the peeling, coring and slicing of the apples and does require all night in the fridge and one hour bake time; so do plan ahead.  But if you have done your preparation this is a perfect breakfast to not have to do much the morning of.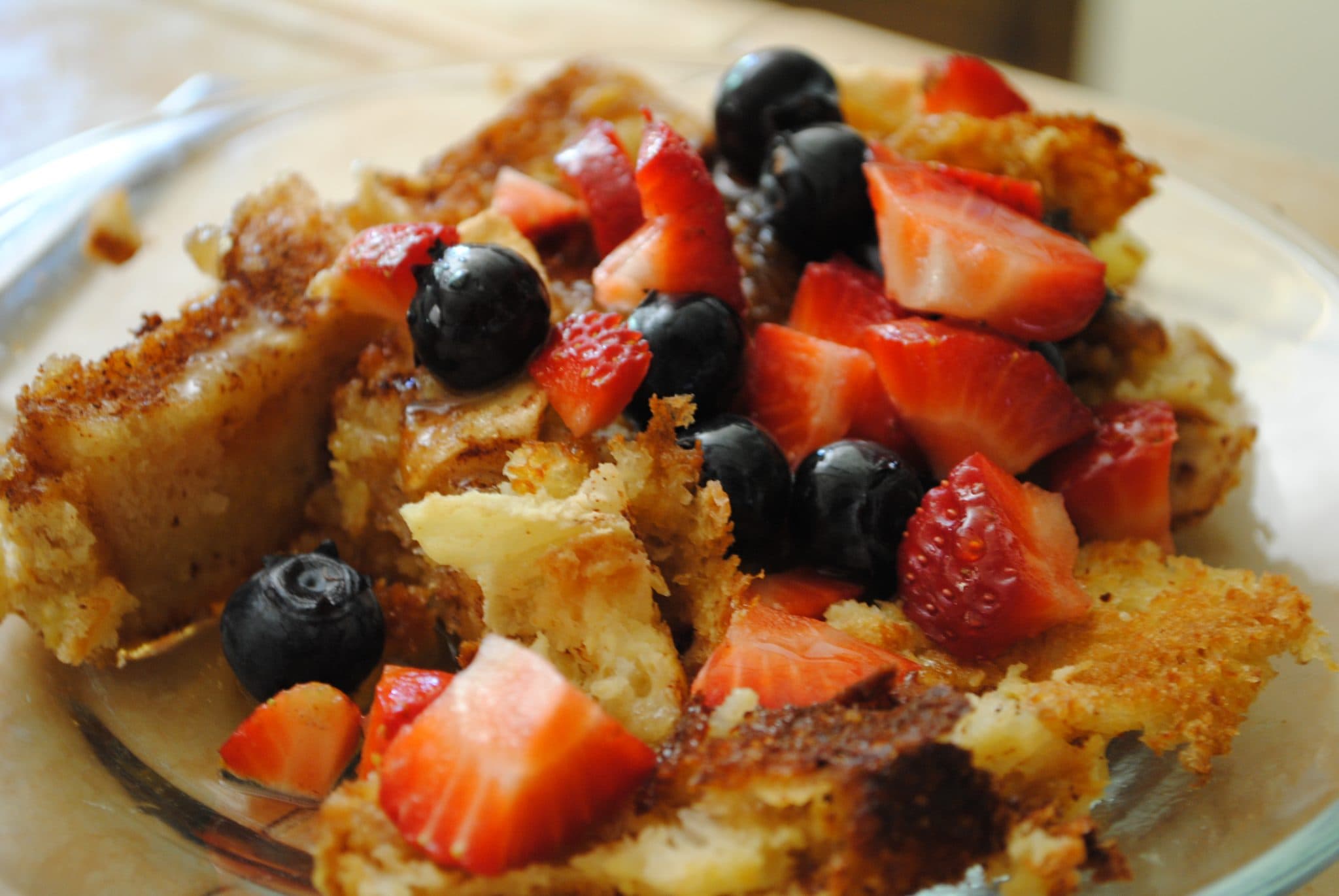 Baked Apple French Toast
Ingredients
1 loaf French bread (I baked my own following Aimee's French Bread recipe)
6 eggs
1½ cup milk
⅓ cup sugar
1 Tbs. vanilla
½ to ¾ cup apple sauce
3 apples (peeled, cored and cut into bite size pieces) use a tart apple - mine was Braeburn
cinnamon, nutmeg, white sugar, brown sugar to taste
Instructions
Spray a 9 x 13 pan with cooking oil (don't miss this part, I forgot to and it took quite a bit of soaking and scrubbing to clean up afterwards).
Slice your loaf of French bread into 1½ inch slices and lay them flat inside your pan.
Break eggs into a mixing bowl and beat with a whisk
Add milk, ⅓ cup sugar, and vanilla. Beat to incorporate with the whisk.
Add apple sauce and stir to mix in.
Pour over the bread.
Sprinkle your apples all over the top of the bread.
Sprinkle lightly the nutmeg over the apples and bread.
Sprinkle the cinnamon over the apples and bread to give a nice coating (less if you don't like a lot of cinnamon)
Sprinkle about 2 spoonfuls of white sugar over the top of the bread and apples.
Sprinkle very generously about 3 handfuls of brown sugar all over the top of the bread and apples.
Cover with foil and set in the fridge overnight.
In the morning, preheat your oven to 350 degrees.
Remove pan for the fridge, uncover and place in the oven to bake for 1 hour.
Serve warm with buttermilk syrup (this tastes like melted caramel sauce - lots of butter and sugar).
Add fresh strawberries and blueberries if desired.