These BBQ Pork Tacos are topped with a delicious creamy broccoli slaw, tomatoes, shredded cheese and your favorite taco toppings! It's like a pulled pork sandwich wrapped up in a delicious tortilla!
*These BBQ Pork Tacos are made in partnership with Sargento Cheese as part of TapInfluence. All opinions are my own.
Pin these bbq pork tacos for later!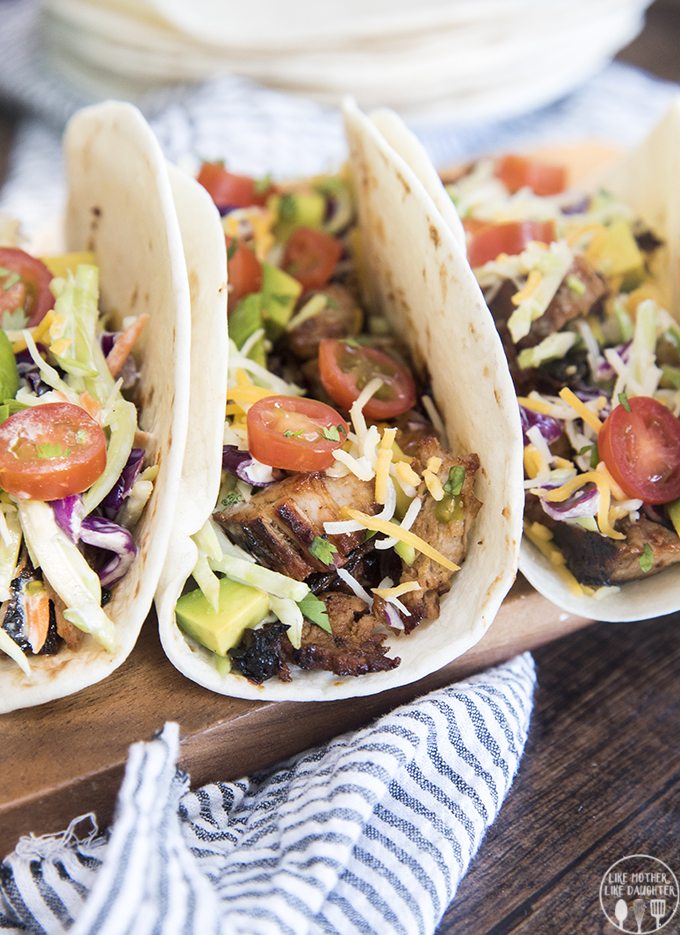 This recipe is inspired by some of my favorite flavors. I love bbq pork sandwiches with coleslaw on top, so I thought it would be delicious wrapped up in a tortilla as well. And with some of my other favorite taco toppings no less. But this recipe was also inspired by the Sargento Chopped At Home Challenge.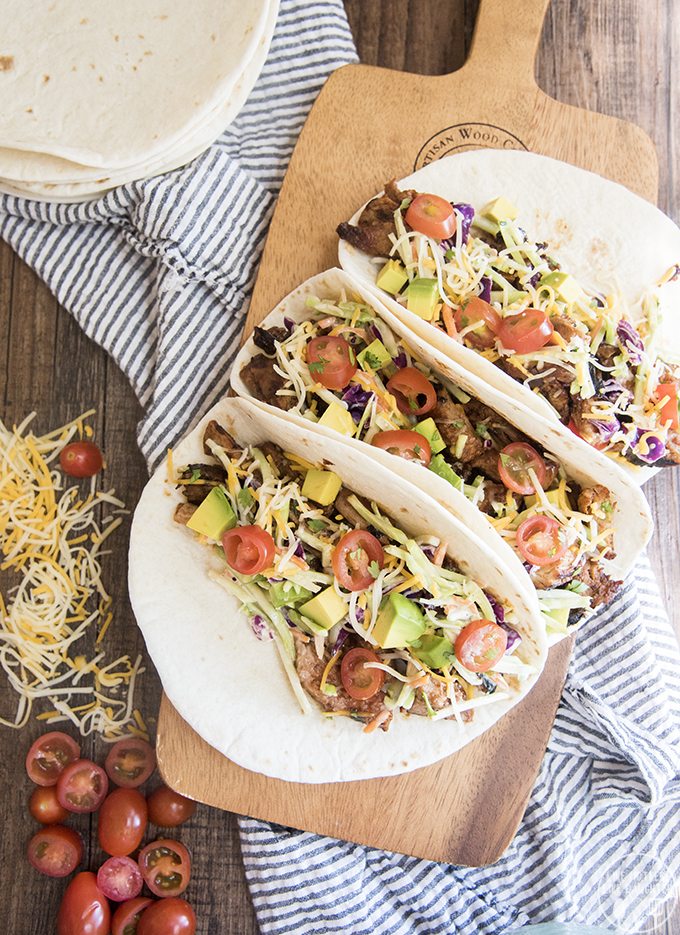 You can submit your own recipe to the challenge for a chance to win cash prizes of up to 5,000$ and a trip to New York City to compete in an actual televised chopped cooking challenge. The ingredient requirements for this round were: pork tenderloin, broccoli, cherry tomatoes and Sargento cheddar cheese. And the recipe has to be grilled.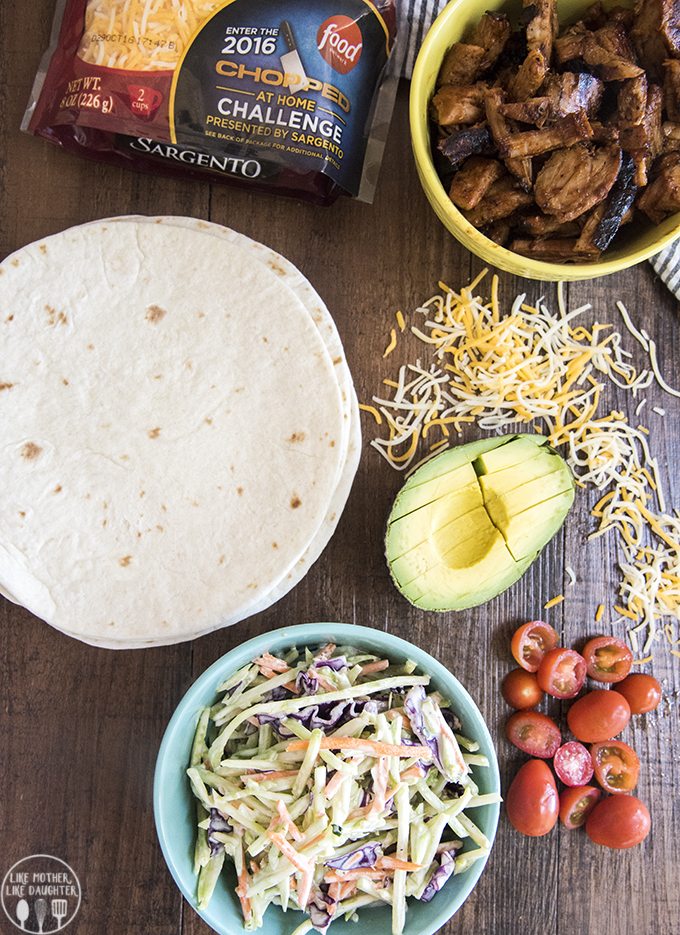 These tacos have them all. You've got the tacos full of tender bbq pork, broccoli slaw, and topped with cherry tomatoes and shredded cheddar cheese. I also topped mine with avocado and cilantro!
You should enter too using your own recipe. The round goes from July 5th through August 1st. Good luck!!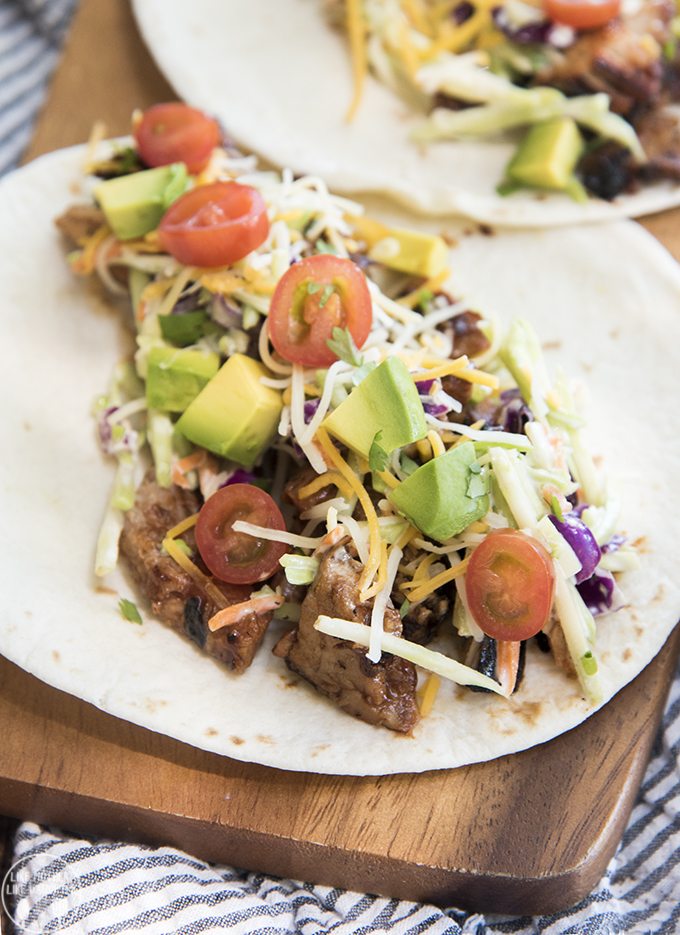 The pork tenderloin is marinated in a sweet and tangy barbecue sauce then grilled to perfection, to give it a bit of a smoky taste with a crunchy outside pieces and tender middle. The creamy and cool broccoli slaw is the perfect contrast to the pork.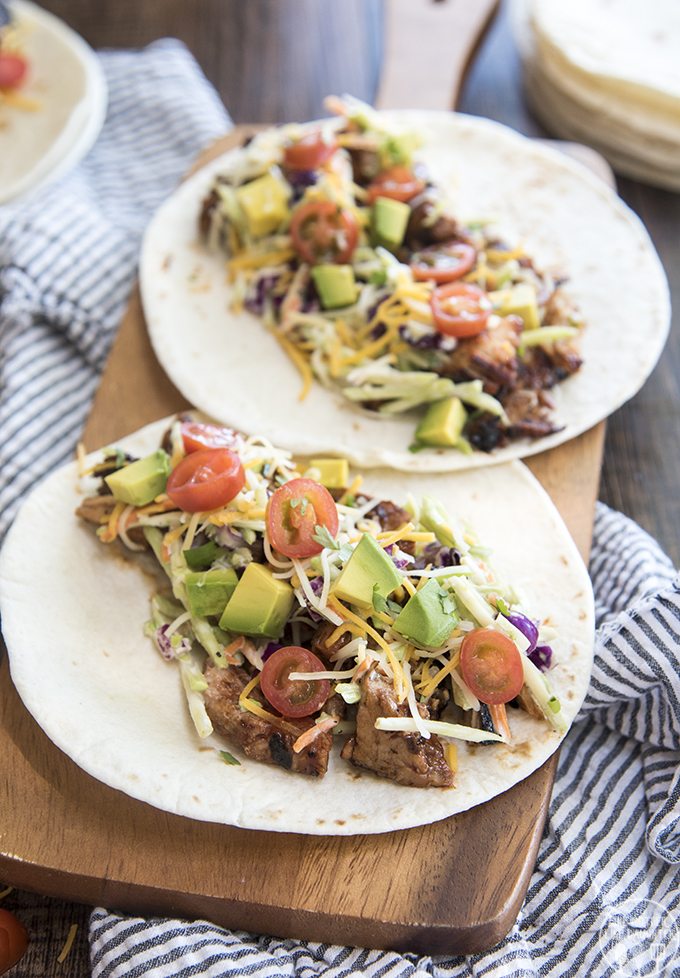 These tacos are jam packed full of so much flavor. They're the perfect summer recipe, with a bbq pork sandwich in delicious taco form!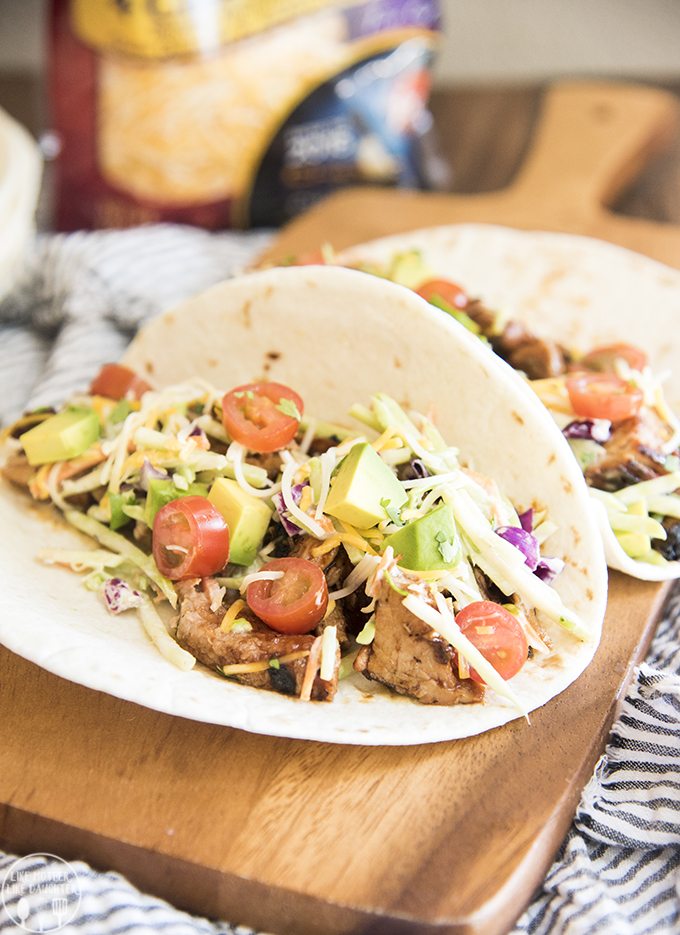 BBQ Pork Tacos With Broccoli Slaw
BBQ Pork Tacos With Broccoli Pineapple Slaw
Ingredients
For the Pork:
¾ cup bbq sauce
¼ cup brown sugar
¼ cup water
¼ cup apple cider vinegar
1 Pork Tenderloin
1 TBS minced garlic
For the Broccoli Slaw:
¼ cup mayo
1 TBS apple cider vinegar
½ TBS sugar
salt and pepper, to taste
1 12oz bag broccoli slaw
For the Tacos:
tortillas
diced cherry tomatoes
Sargento Chef Blends 4 State Cheddar
avocado
cilantro
other taco toppings
Instructions
For the Pork:
Mix pork marinade ingredients together in a small bowl.
Put marinade and pork tenderloin in a gallon sized ziplock bag. Close and place in fridge to marinate for 1 hour, up to overnight.
Grill pork over a grill heated to high for about 30 minutes, or until pork reaches a temperature of 155 degrees, flipping half way through
Let pork rest for 10 minutes.
Slice pork into bite sized pieces.
For the Broccoli Slaw:
Combine the mayo, vinegar, sugar and salt and pepper in a small bowl.
Pour over the broccoli slaw in a medium sized bowl and mix together.
For the Tacos:
Take one small tortilla and top it down the middle with pork.
Top the pork with about 1-2 TBS of broccoli slaw.
Top slaw with shredded cheese, tomatoes and other taco toppings.
Enjoy.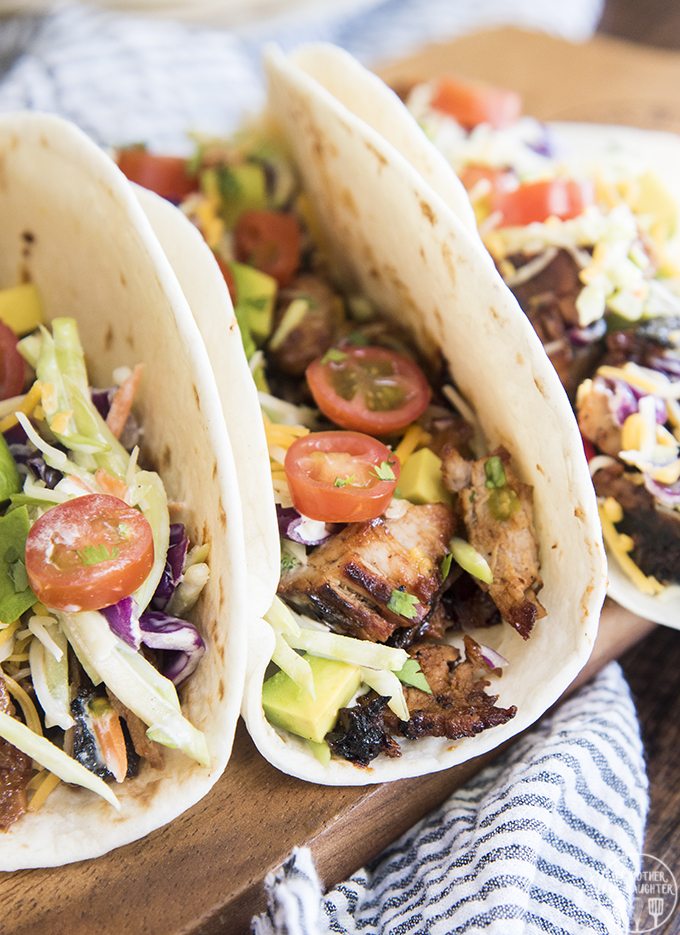 For more inspiration, check out the Sargento Pinterest page.
This is a sponsored conversation written by me on behalf of Sargento. The opinions and text are all mine.