These soft and chewy chocolate peanut butter cup cookies are stuffed full of Reese's pieces and peanut butter cups. The perfect cookie for peanut butter cup lovers!
Pin these chocolate peanut butter cup cookies for later.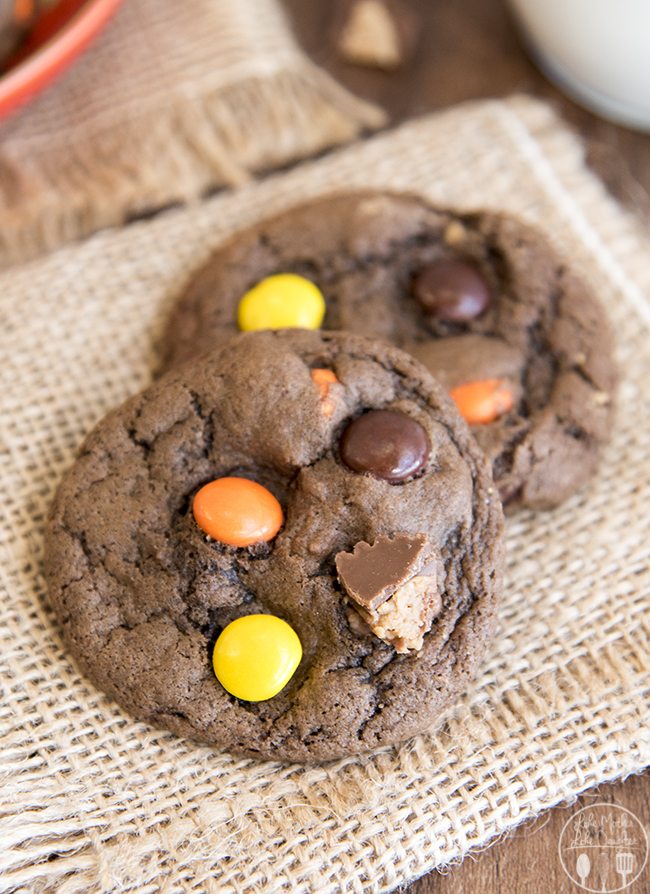 I've said it before and I'm sure I'll say it again and again, but I love chocolate and peanut butter together. I think they may be the best combo in the world, though its hard to argue against a few of my other favorites as well.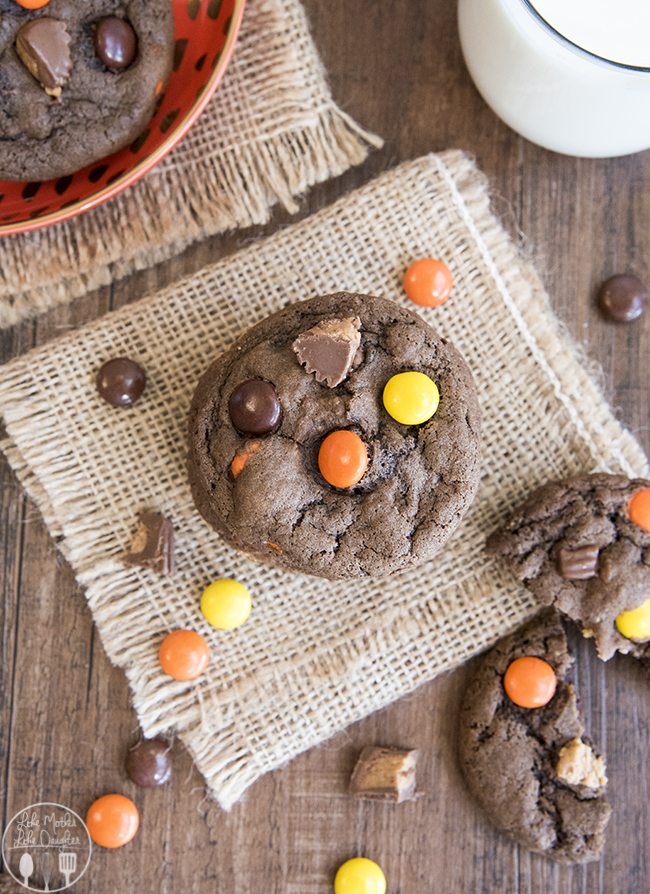 These chocolate peanut butter cup cookies start with the same chocolate cookie base as my double chocolate chip cookies. They are one of the most popular recipes on our site, and for good reason. They are delicious! But because a couple people have complained about them not flattening when baked I messed around with the recipe a few times to see if a little less flour would help that problem. And it worked perfectly. But, the dough is really sticky because of it, so you'll want to keep your hands wet or sprayed with nonstick spray when forming the cookie dough balls. (Or use a cookie scoop sprayed liberally with nonstick spray)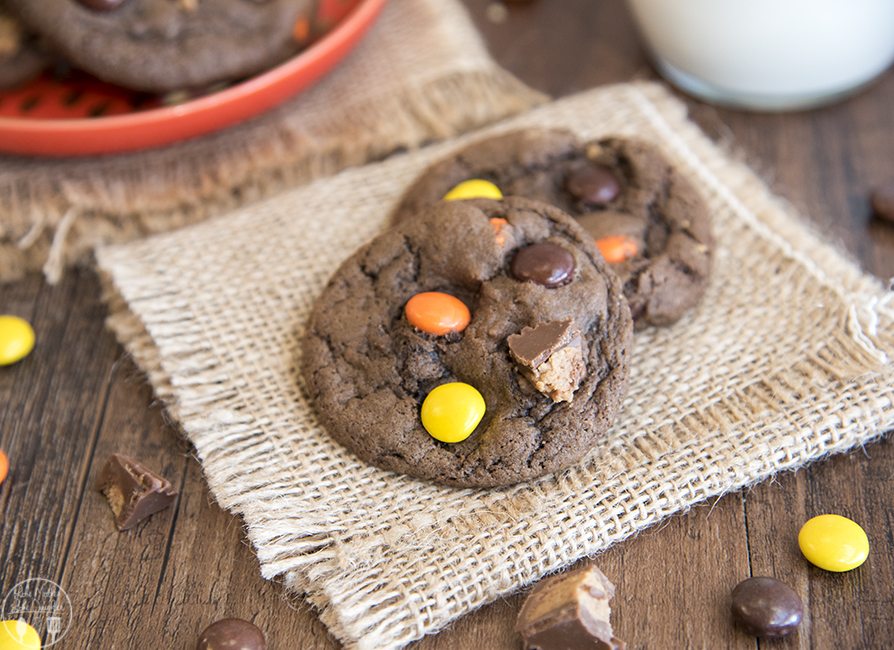 Anyway, this time instead of stuffing my cookies full of chocolate chips, I stuffed them full of chopped up peanut butter cups and Reeses pieces. Two delicious candies on their own that take these cookies to the next tasty level and give them that perfect peanut butter cup flavor.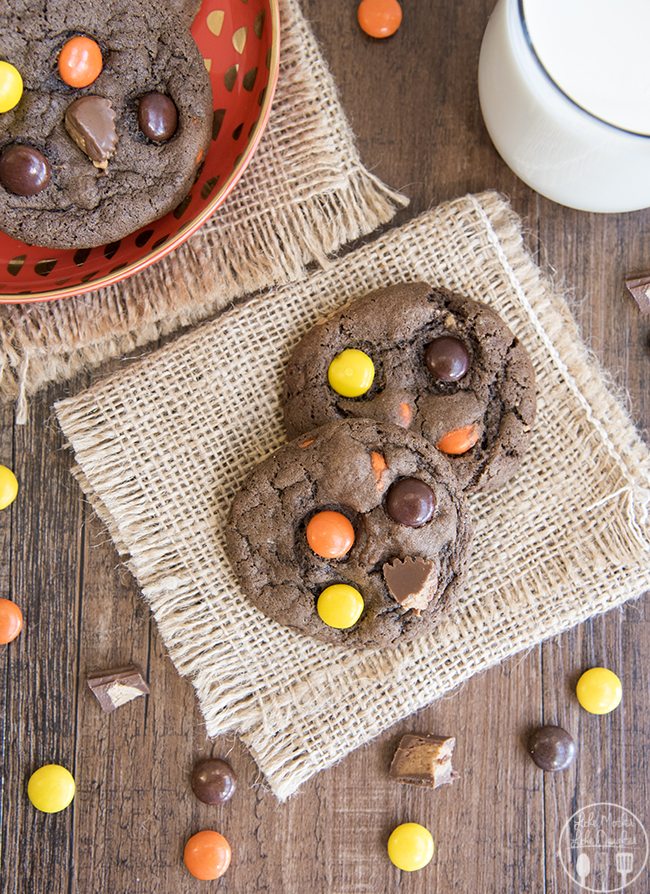 These cookies are perfectly soft and chewy, similar in texture to a soft chocolate chip cookie. They are baked for 7 to 9 minutes. They'll be fudgier in the middle if they're undercooked a little, so that's up to you – but I definitely recommend not overcooking them. They'll keep cooking on the pan for a couple minutes after you remove them from the oven, so it's okay if they still look a little underdone when you pull them out.
Now who's ready to whip up a batch of these tasty cookies. I promise you'll get a delicious taste of chocolate and peanut butter in every bite!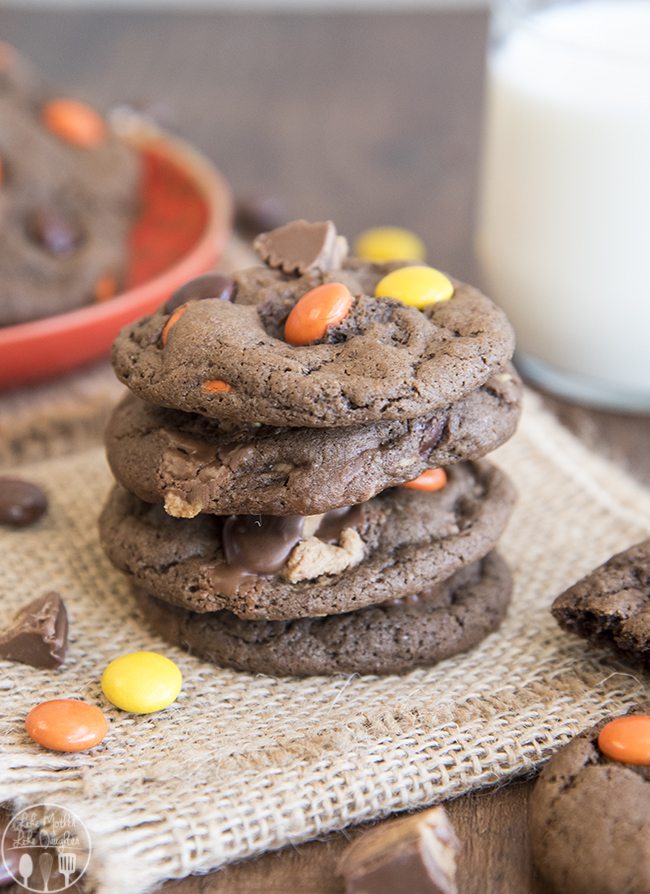 Don't forget to serve them up with a big glass of cold milk!

Chocolate Peanut Butter Cup Cookies
Ingredients
½ cup softened butter
½ cup brown sugar
½ cup white sugar
1 tsp vanilla
2 large eggs
1 tsp baking soda
½ tsp salt
½ cup cocoa powder
1¾ cup flour
1 cup Reeses Pieces
1 cup chopped peanut butter cups
Instructions
Preheat the oven to 350 degrees.
Cream together your butter and sugars in a large bowl until light and creamy.
Mix in the vanilla and eggs.
Dump in the baking soda, salt, cocoa powder, and flour and stir together until everything is mixed.
Fold in the reeses pieces and peanut butter cup pieces.
Scoop cookie dough by the tablespoonful onto a lined baking sheet or sprayed with nonstick spray.
Bake cookies for 7-9 minutes until they start to look done.
Allow cookies to sit on the cookie sheet for about 3 minutes before removing to a cooling rack.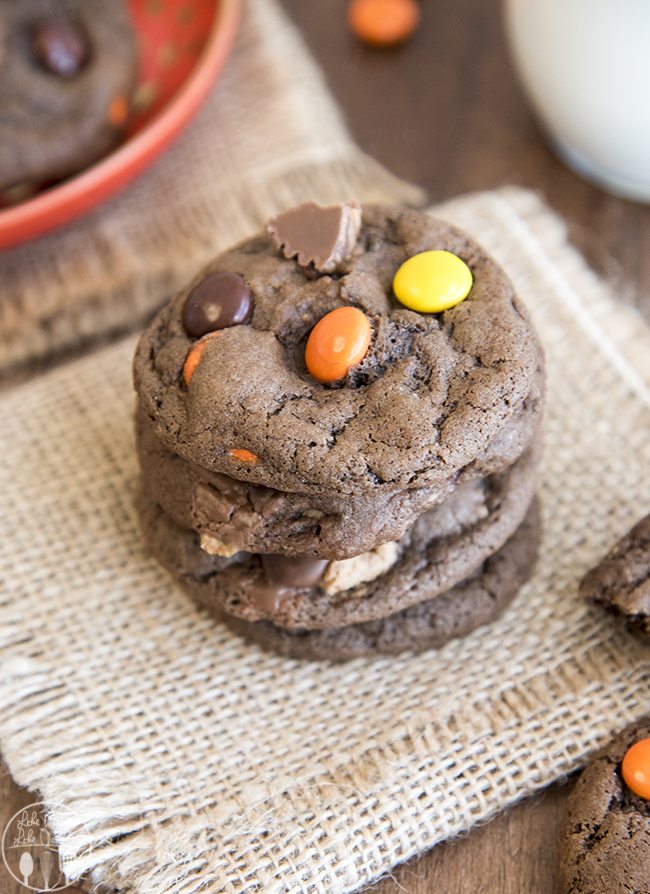 For more desserts with the chocolate peanut butter combo, try these:
Chocolate Peanut Butter Bundt Cake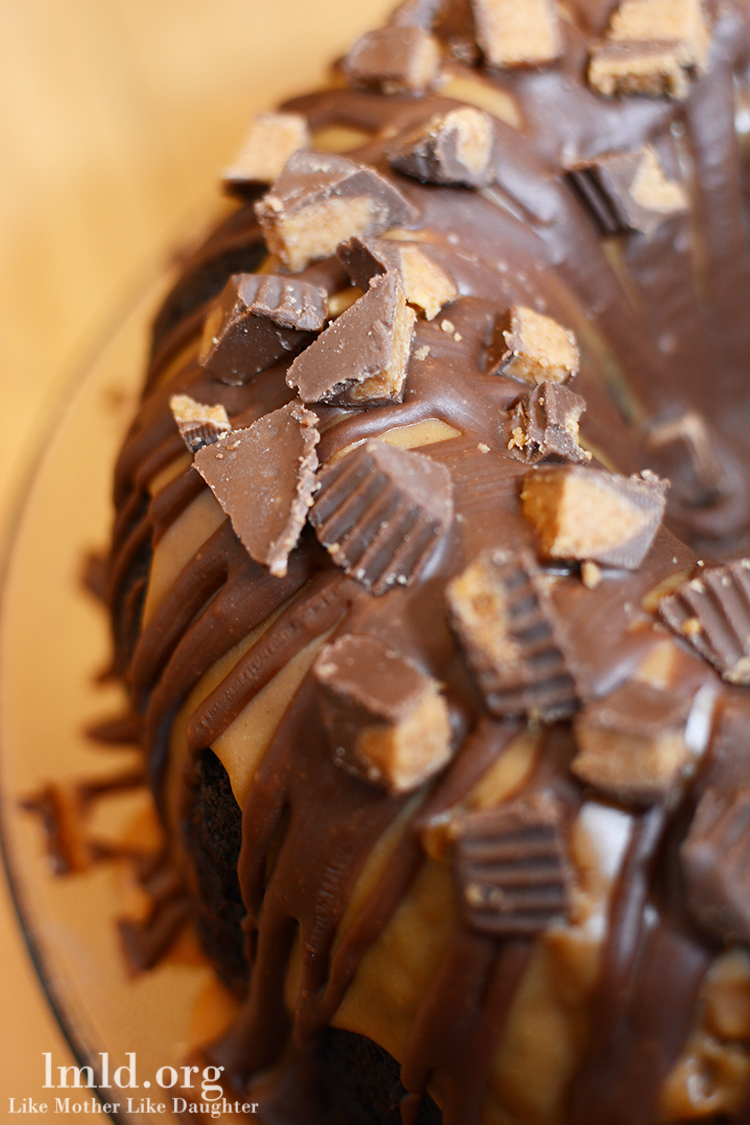 Peanut Butter Chocolate Chip Cookies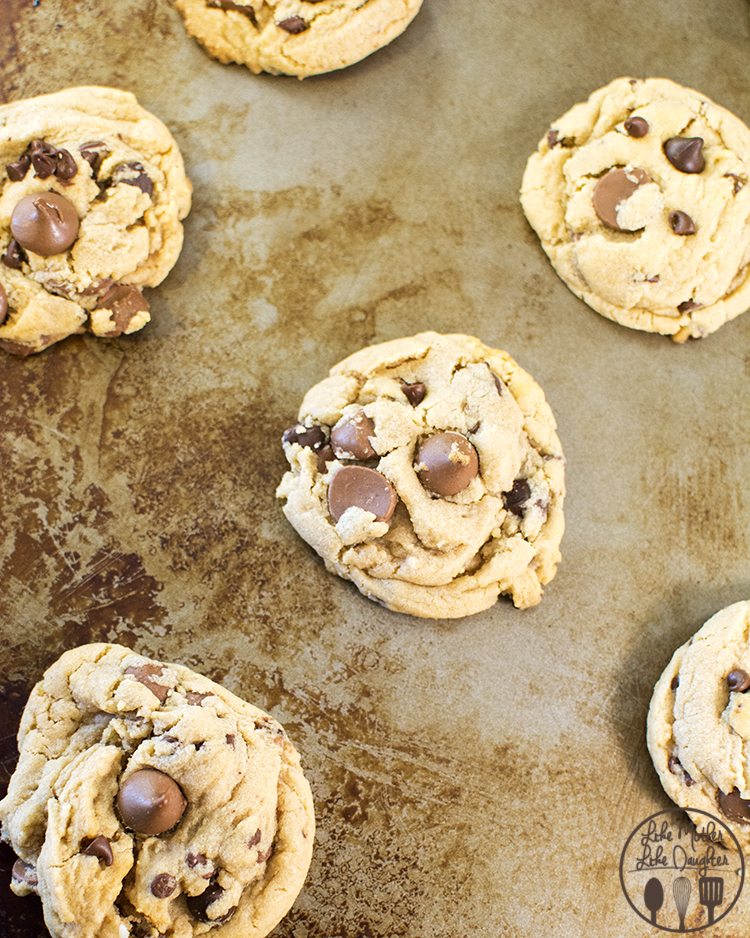 No Churn Chocolate Peanut Butter Cup Ice Cream
'