I always have to try to one up an amazing chocolate cake with peanut butter frosting that my husband made for my birthday a couple of years ago. It was one of the best cakes I've ever had in my life. This year for Nate's birthday I sent him a few cake ideas I had and ultimately he chose this chocolate peanut butter swirl bundt cake from Betsy Life. Nate loves all things chocolate and peanut butter, especially reeses, so this cake was perfect to celebrate his day.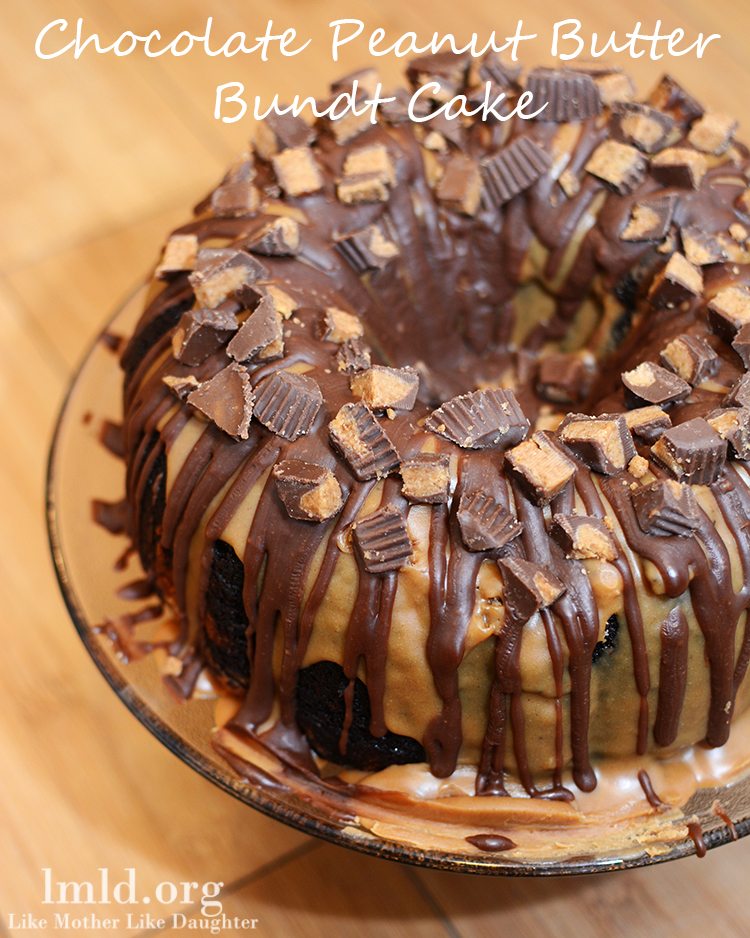 Basically this cake combines a chocolate and a peanut butter cake batter. (Don't worry when the chocolate batter seems a lot thinner than your peanut butter batter, they raise up the same and combine together well). And then its topped completely with an amazing peanut butter ganache. And then drizzled with a chocolate ganache. Plus, to make it even more peanut butter and chocolatey I added some pieces of reeses cups on top too. That my friends is the recipe for a good cake.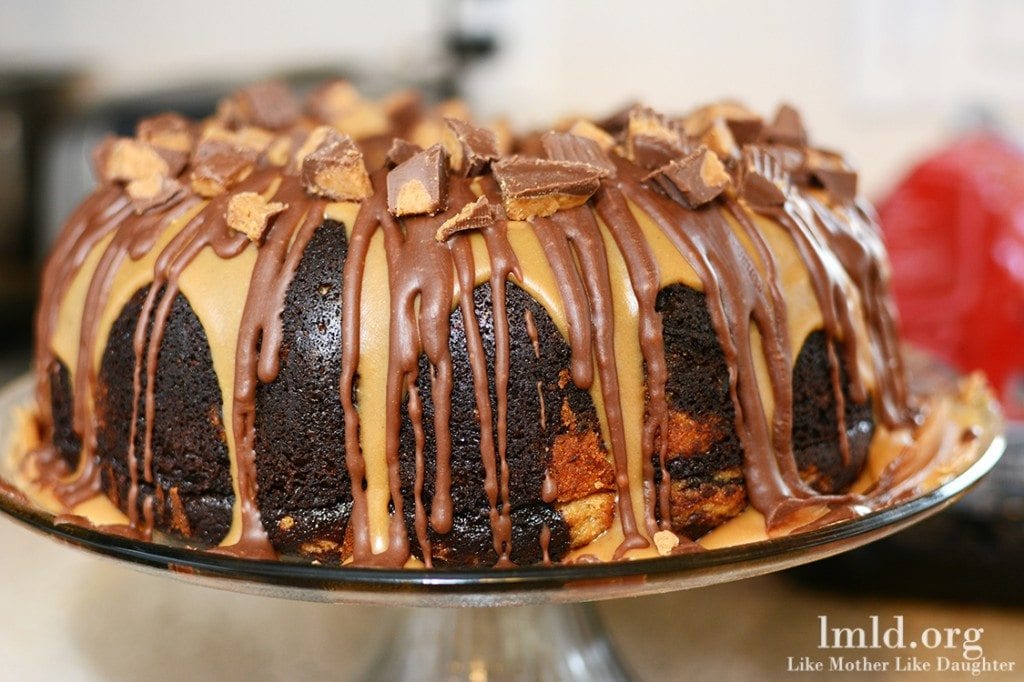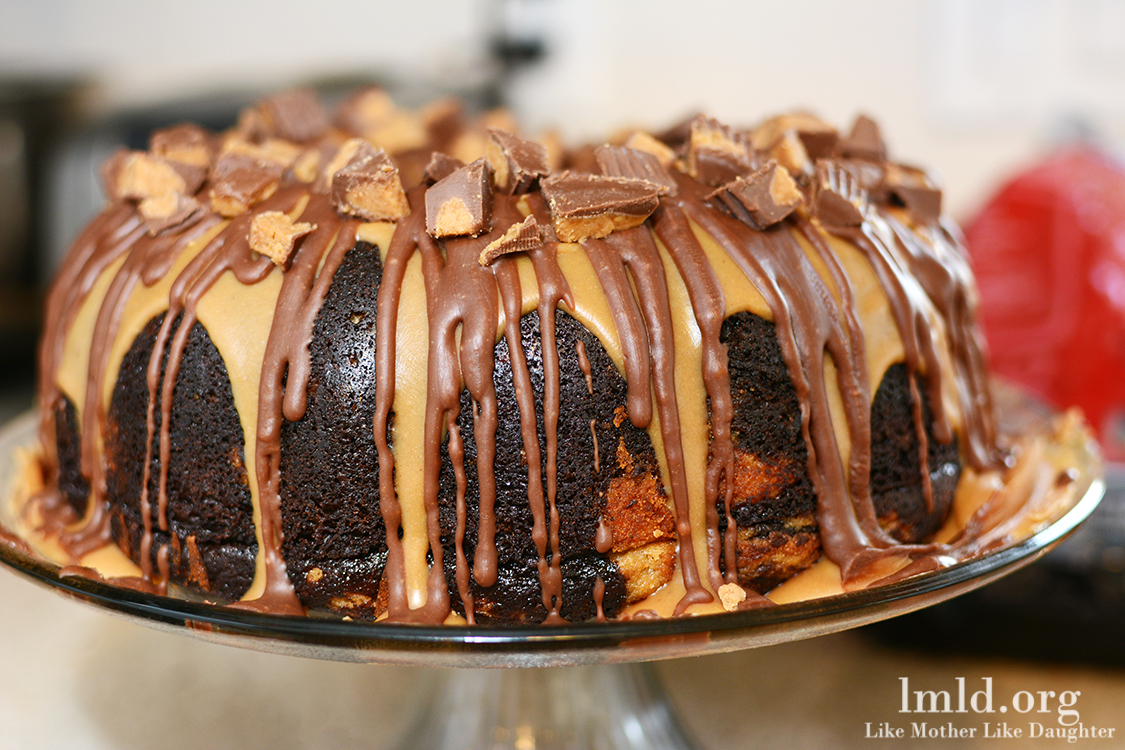 So this cake takes a little bit of time to make because it has two batters and two ganaches, but if you like chocolate and peanut butter as much as we do in our household then this is the perfect cake for you. I mean seriously, perfect.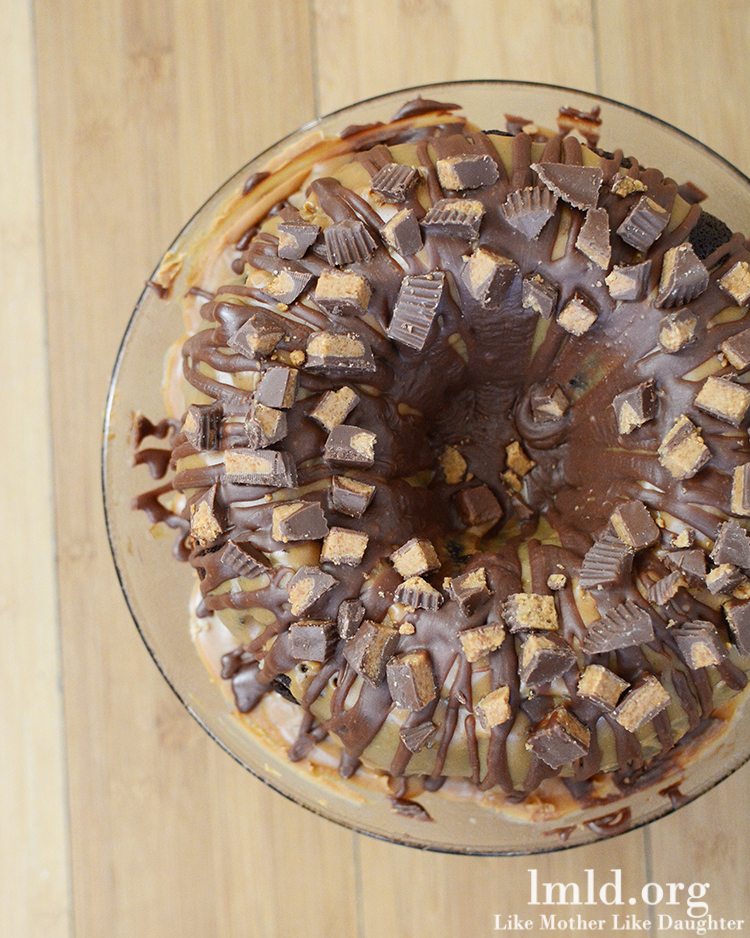 The only problem with birthday cakes is we always have a few friends over and so once I cut the cake we eat it all up before I can get any pictures of it really. I got some of it pre-sliced so you can see how beautiful and impressive this cake looks (have a convinced you to make it yet?). But I didn't get any of the cake slices which show the beautiful swirl of the chocolate and peanut butter batter together. Just trust me that it looked great. And trust me that the cake was too delicious to stop and take a picture while we were serving it up for Nate's birthday. That's how good it really is.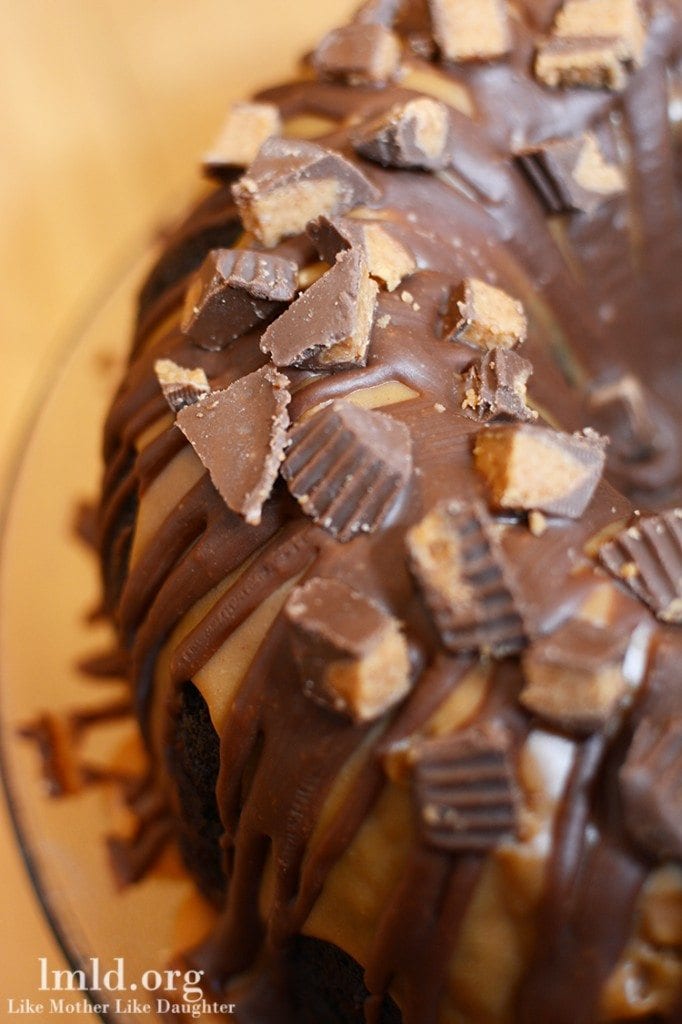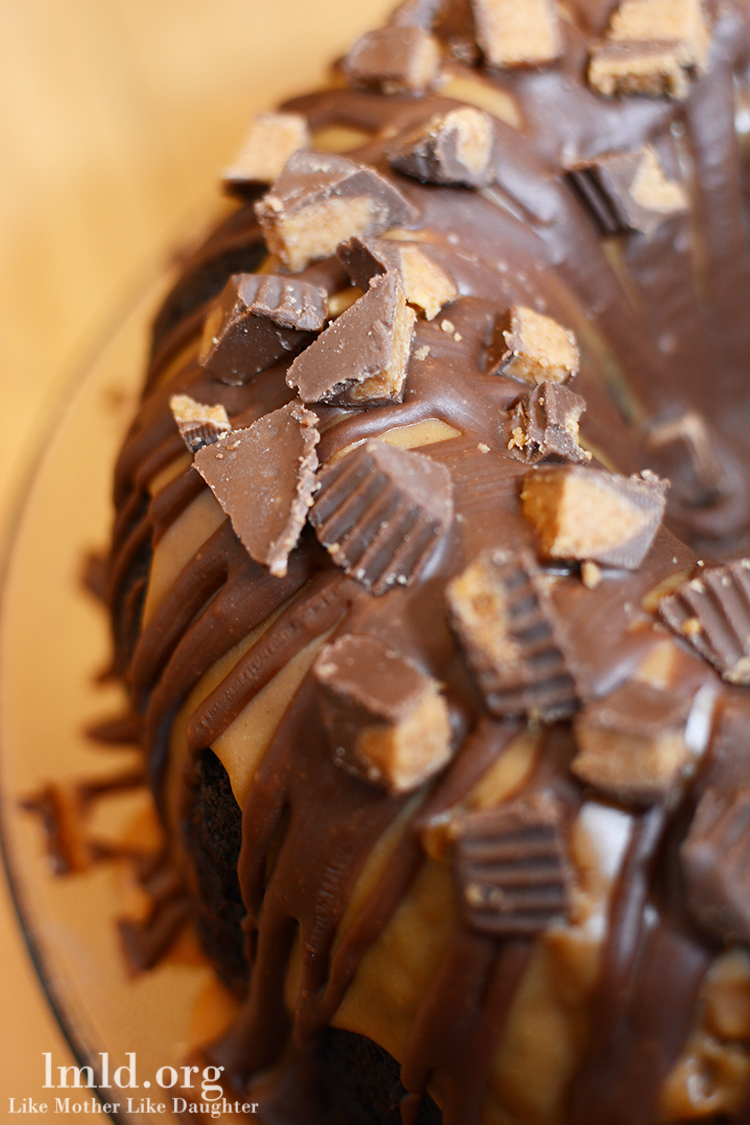 Chocolate Peanut Butter Bundt Cake
Ingredients
For the Chocolate Batter:
1 cup sugar
¼ cup oil
1 egg
1 tsp vanilla
½ cup milk
¾ cup + 2 TBS flour
½ cup +2 TBS cocoa powder
¾ tsp baking powder
½ tsp baking soda
½ tsp salt
½ cup boiling water
For the Peanut Butter Batter:
¼ cup butter, room temperature
¾ cup peanut butter
1 cup sugar
1 egg
1 tsp vanilla
1⅓ cups flour
2 tsp baking powder
½ tsp salt
1 cup milk
For the Peanut Butter Ganache:
8 oz peanut butter chips
½ cup heavy cream
⅓ cup peanut butter
For the Chocolate Ganache:
4 oz milk chocolate chips
3 TBS heavy cream
Optional:
6 regular sized reeses cups, chopped
Instructions
Preheat your oven to 350 degrees.
Prepare a 9 inch bundt pan with nonstick spray and then sprinkle it with flour. Set aside.
For the chocolate batter:
Cream together your sugar and oil in a large bowl.
Mix in your egg, vanilla and milk.
In a separate bowl combine your flour, cocoa powder. baking powder, baking soda and salt.
Slowly add your dry ingredients to your wet ingredients while stirring until combined.
Mix in your boiling water.
For the peanut butter batter:
Cream together your butter, peanut butter and sugar in a large bowl.
Mix in your egg and vanilla.
In a separate bowl combine your flour, baking powder and salt.
Mix in ⅓ of your flour mixture until mixed. Followed by ⅓ of your milk. Alternate until everything is added.
For the cake:
Pour some of the chocolate batter into the prepared bundy pan.
Pour peanut butter batter over the chocolate batter.
Continue alternating until both batters are completely used.
Bake for about 45 minutes or until a toothpick comes out clean.
Allow to cool before removing from pan.
For the peanut butter ganache:
Put your peanut butter chips, heavy cream and peanut butter into a double boiler.
Heat over medium low heat stirring often until creamy and smooth.
Pour over your cake.
Allow to mostly harden before adding the chocolate ganache.
For the chocolate ganache:
Combine your chocolate chips and heavy cream in a double boil.
Heat over medium low heat, stirring often until creamy.
Pour into a small ziplock bag and cut off a small piece of one corner.
Drizzle over the cake.
Sprinkle with chopped up reeses cups if desired.
Enjoy this chocolatey peanut butter goodness for a birthday or just any occasion!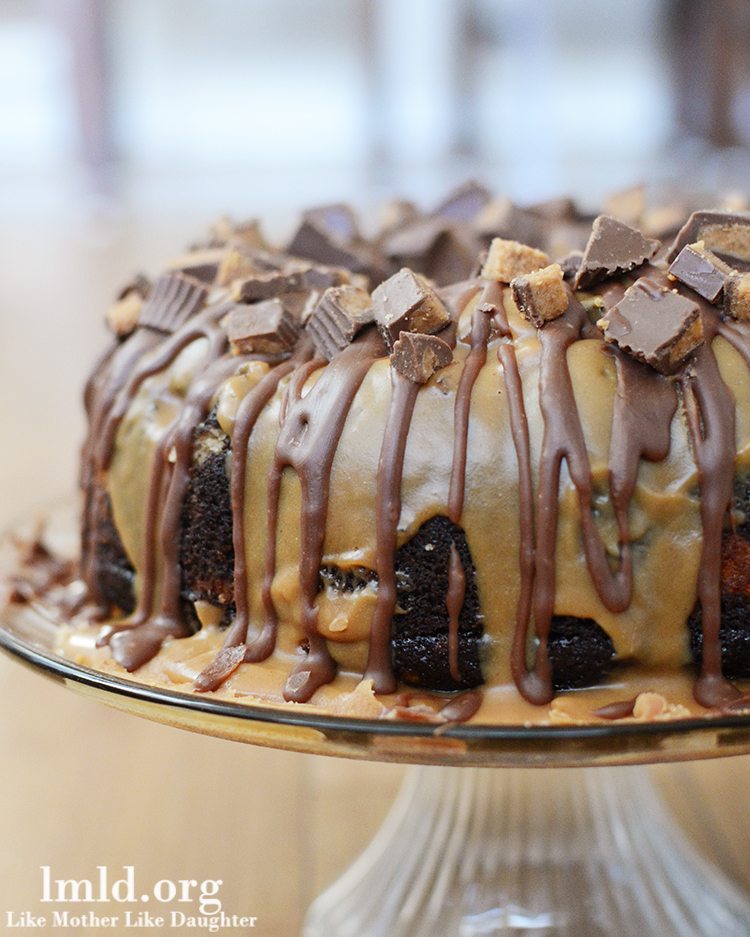 If you like this, you'll like these other desserts too!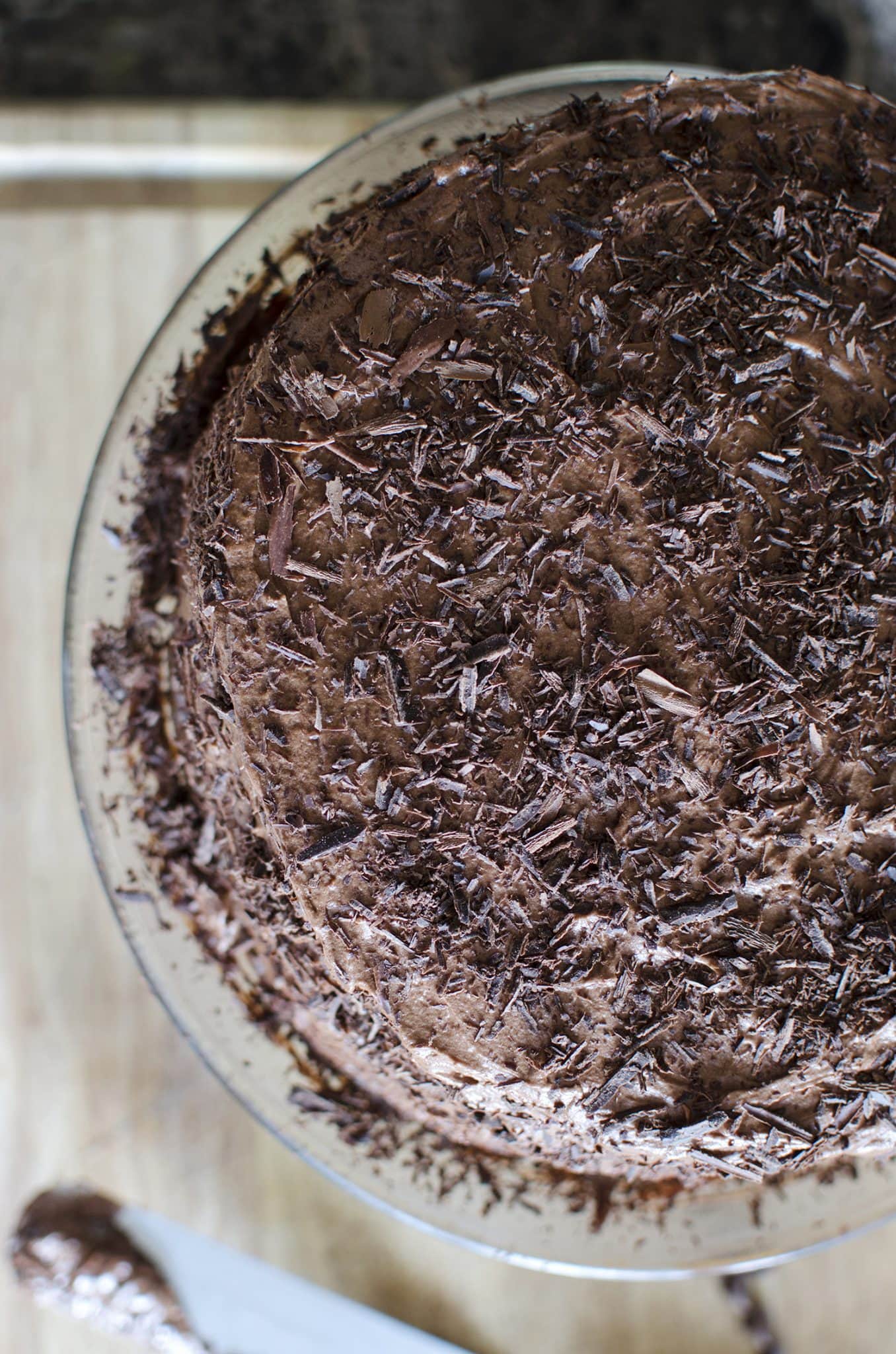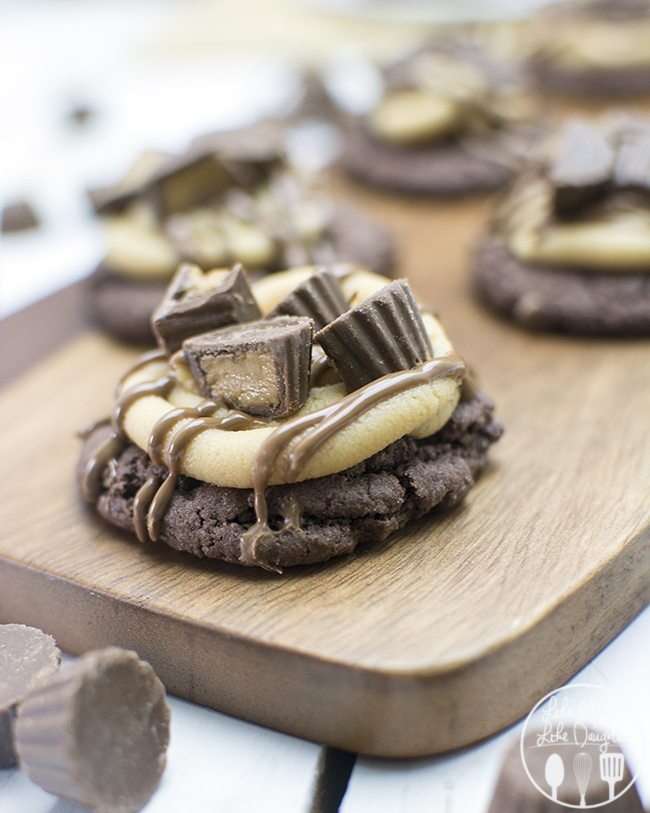 Peanut Butter Chocolate Chip Cookies