This cinnamon sugar crusted banana bread is perfect moist banana bread with a cinnamon swirl through out and crunchy cinnamon sugar edges!
Pin this Cinnamon Sugar Crusted Banana Bread for Later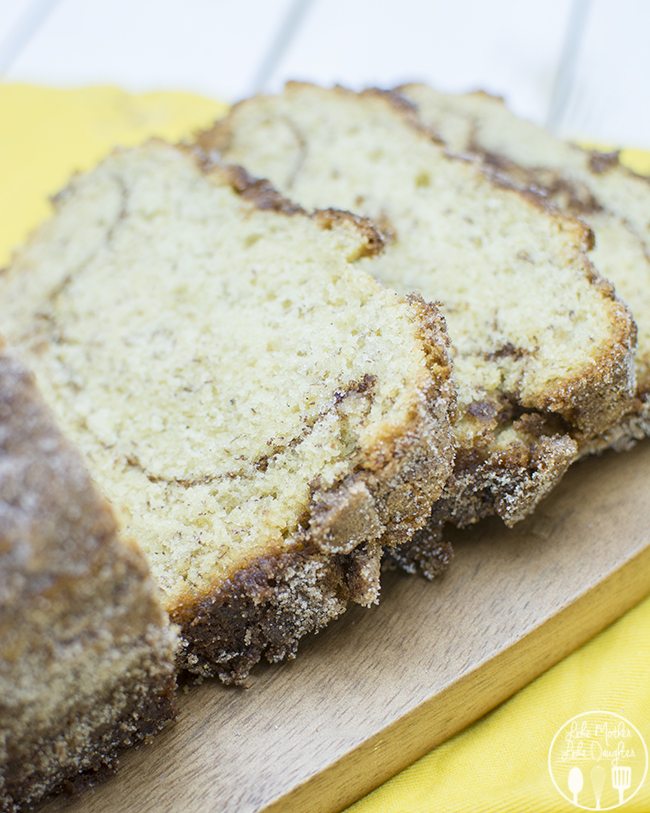 I love me some banana bread and when I have bananas that are starting to get over ripe I squeal a little bit inside because I'm so excited to be able to make banana bread! I usually put chocolate chips in it, but this cinnamon sugar crusted banana bread is another amazing alternative! (Don't forget to head to the bottom of this post for a $400 Amazon Gift Card Giveaway)
The cinnamon sugar flavor goes great with the banana bread, the cinnamon sugar swirl, plus the cinnamon sugar crust on the outside. Especially the crust, it adds a delicious crunchiness that I love and I know you will too.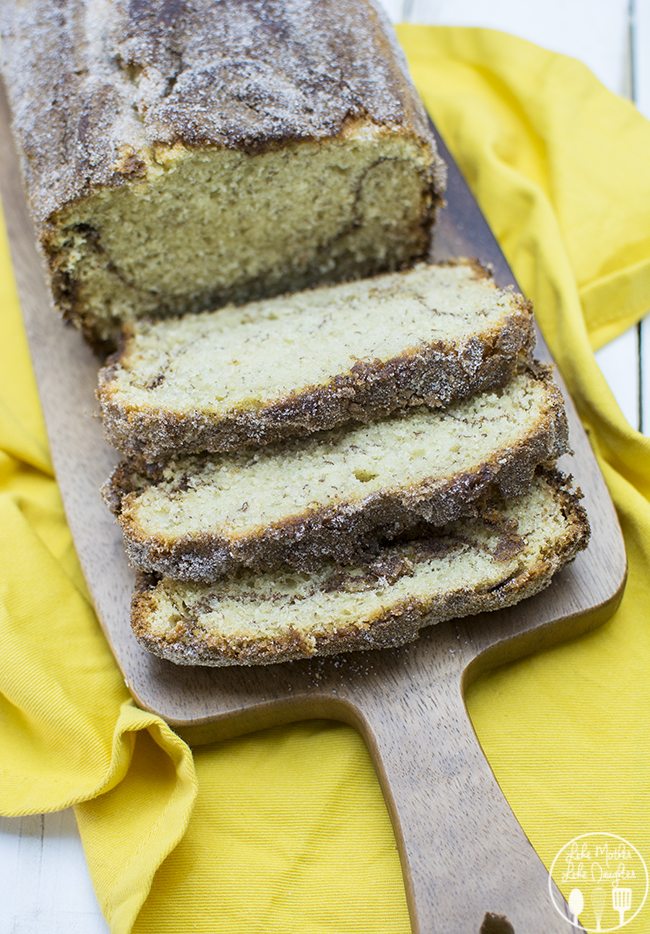 I just love a warm slice of banana bread fresh from the oven, topped with butter!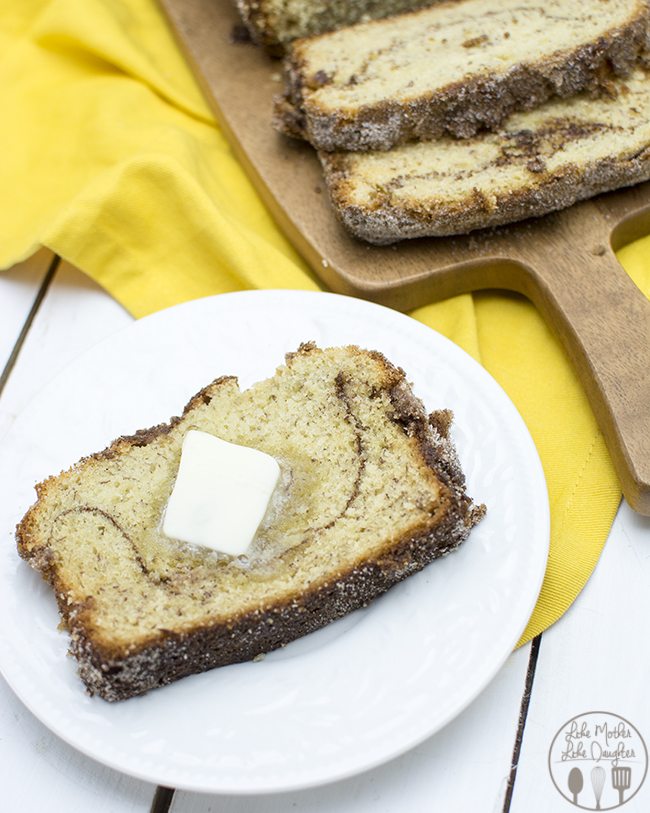 Cinnamon Sugar Crusted Banana Bread
Ingredients
½ cup (1 stick) butter, softened
1 cup sugar
2 large eggs
2 large over ripe bananas
1 tsp vanilla
2 cups flour
1 tsp baking powder
½ tsp baking soda
½ tsp salt
For the Cinnamon Sugar Swirl and Crust:
1 TBS cinnamon
⅓ cup sugar
Instructions
Heat oven to 350 degrees.
Grease a 9x5 pan and set aside.
Beat your butter and sugar together in a large bowl until light and creamy.
Add in your eggs one at a time till blended.
Mix in your bananas and vanilla.
Mixing slowly, add in your flour, baking powder, baking soda and salt until just combined.
Pour half of your banana bread mixture into your prepared pan.
Mix your cinnamon and sugar in a small bowl.
Sprinkle half of your cinnamon sugar over your batter.
Spread your remaining batter in the pan. Sprinkle the remaining cinnamon sugar over the top.
Bake for about 50 minutes until a toothpick comes out clean.
Cool on a cooling rack for about 5 minutes, before careful removing bread from pan to cool completely!
Enjoy this amazing cinnamon sugar banana bread!
And yay for you – we're helping Five Heart Home celebrate her 2nd blogiversary by giving away a $400 amazon online gift card. It will run till June 10th.