This deep fried strawberry shortcake is a delicious spin on traditional strawberry shortcake, with a deep fried cinnamon sugar donut for the cake!
Pin these Deep Fried Strawberry Shortcakes for Later!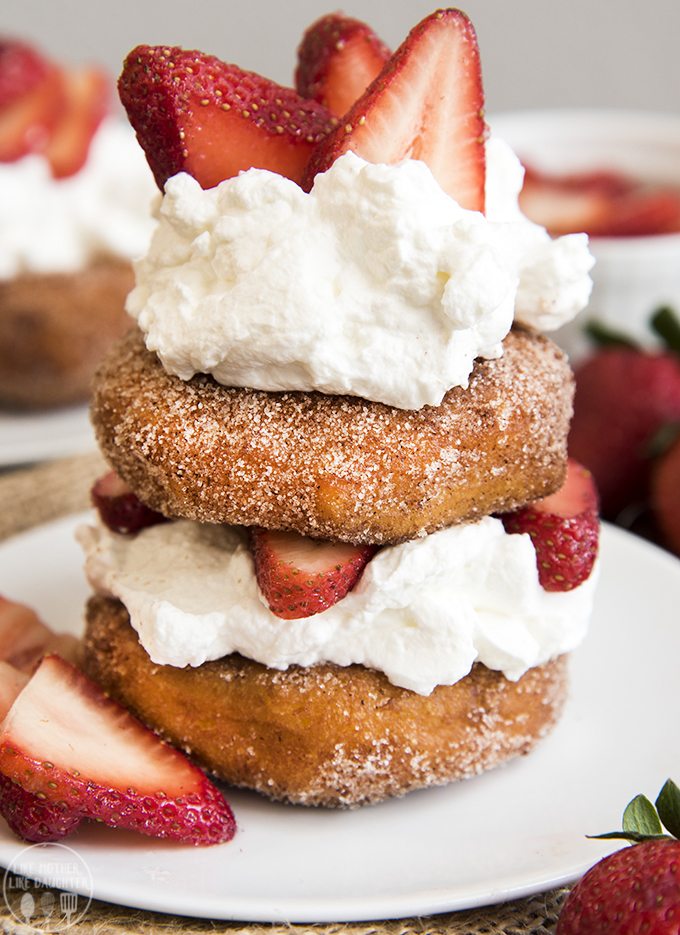 Oh my goodness, you guys!! These deep fried strawberry shortcakes combine two of my favorite desserts, traditional strawberry shortcake and donuts!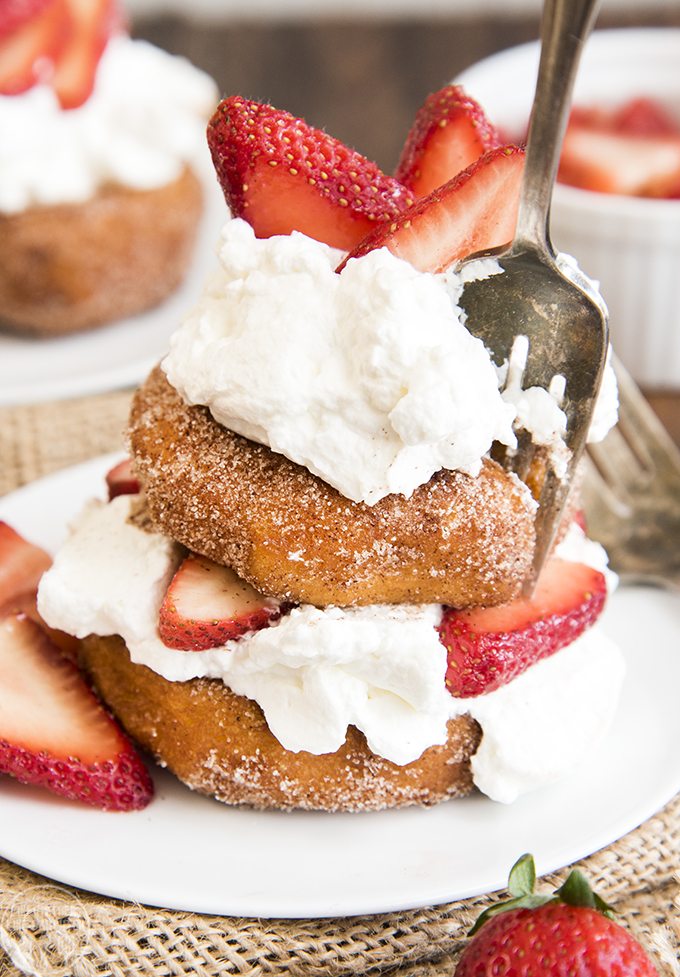 These deep fried strawberry shortcakes start with an easy "homemade" donut made with canned biscuits, topped with homemade fresh whipped cream and sliced strawberries. It takes strawberry shortcake to the next level!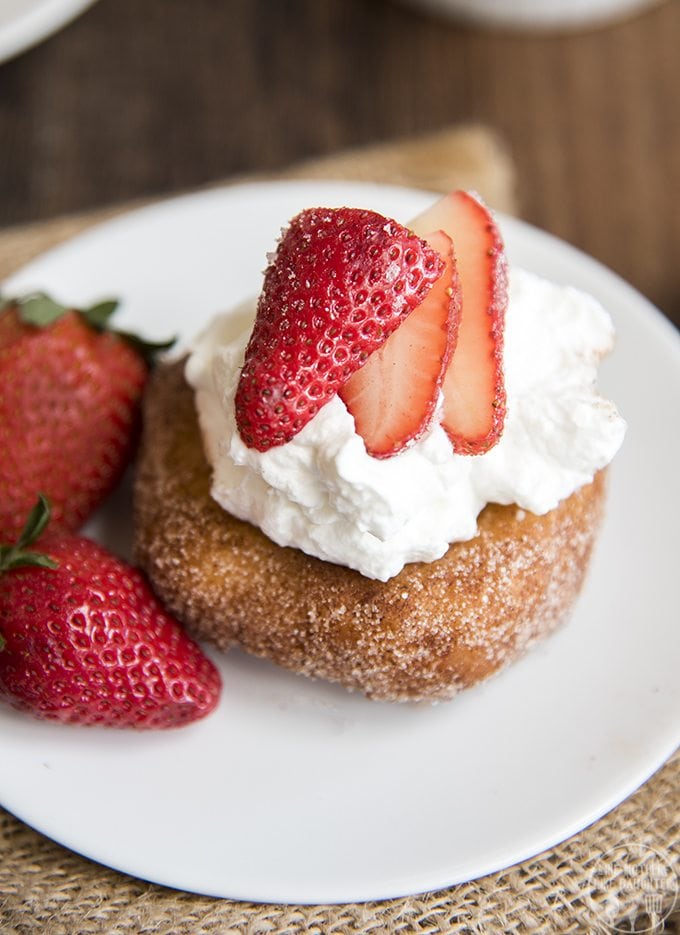 And for those of you who are crazy enough to not love angel food cake, or traditional shortcake, then this is the dessert for you! Instead of the spongey crumbly cake you get a warm donut covered in cinnamon sugar. What's not to love about that?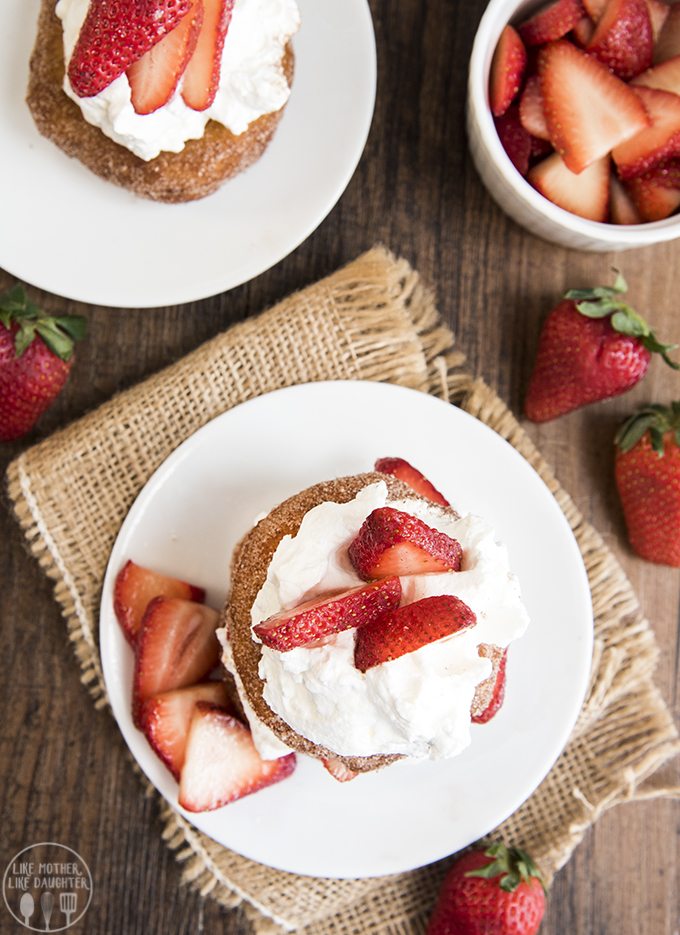 This recipe is just one of the amazing recipes from the new Our Sweet Basil Kitchen cook book from my friend's Carrian and Cade over at Oh, Sweet Basil! It was so hard for me to decide which recipe to make and share with you because there are so many of them that look amazing!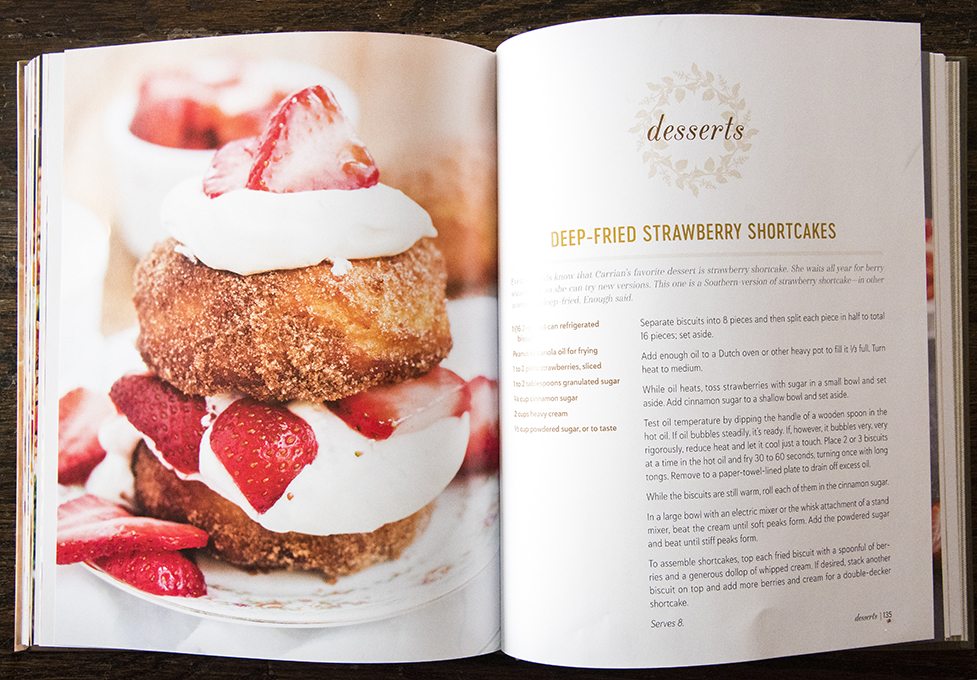 The cookbook is full of amazing fresh twists on family favorite recipes, and I can't wait to make more of them! Some of the other recipes I can't wait to try are the Heirloom Tomato Tart, Chicken Cordon Bleu Lasagna, Dutch Apple Pie with White Chocolate Butter Sauce, Million Dollar Cookie Pie, Breakfast Fruit Pizza, Mango Chicken Salad and more!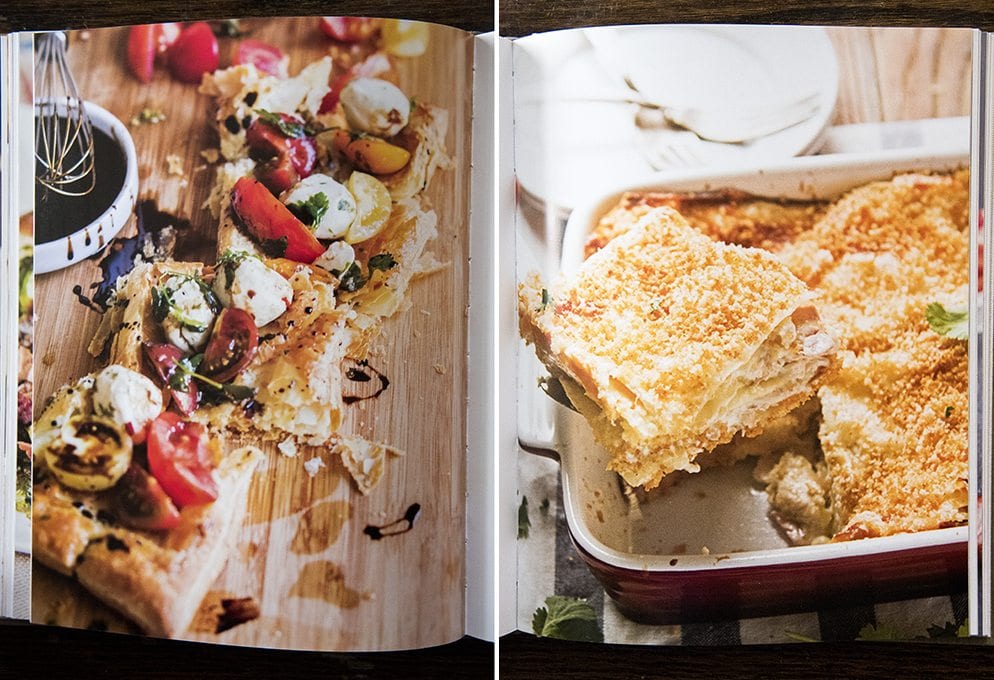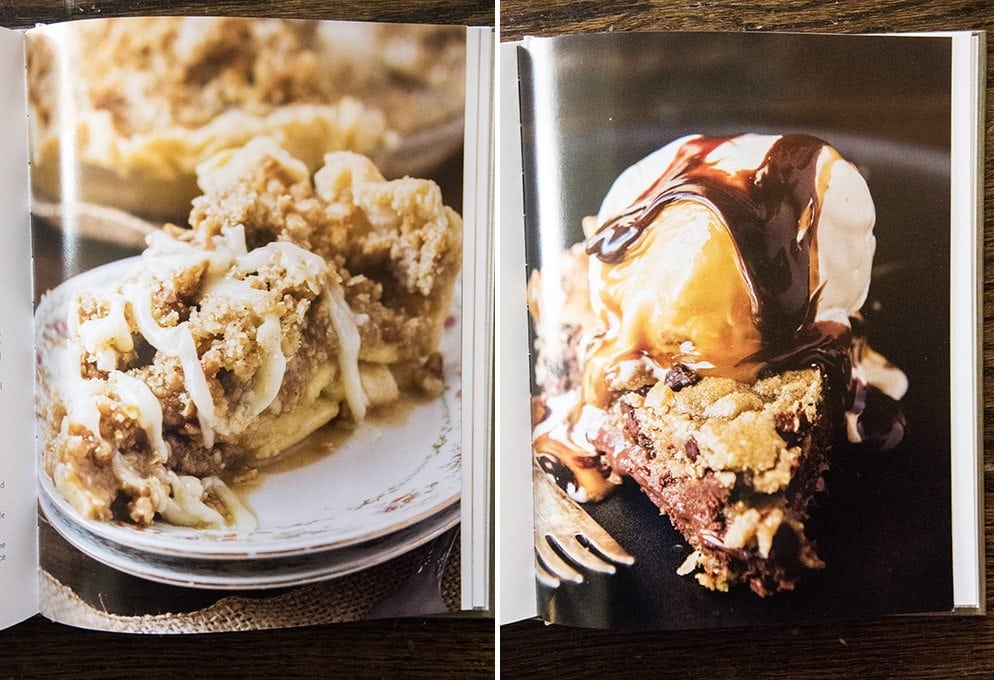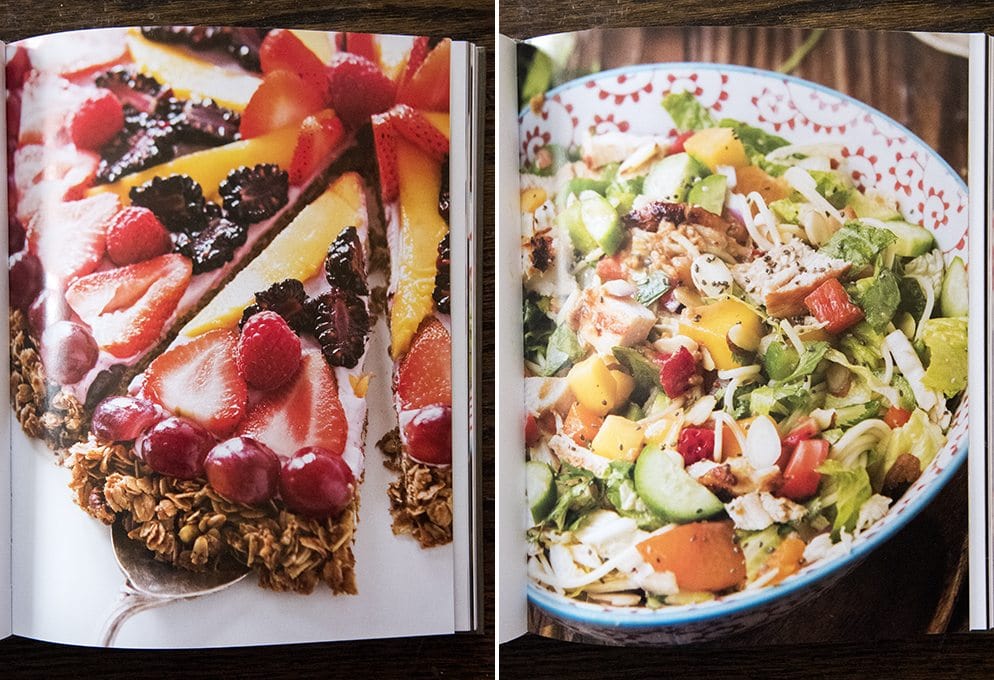 Now back to these amazing deep fried strawberry shortcakes! You only need 7 ingredients to make this amazing dessert. So, lets go!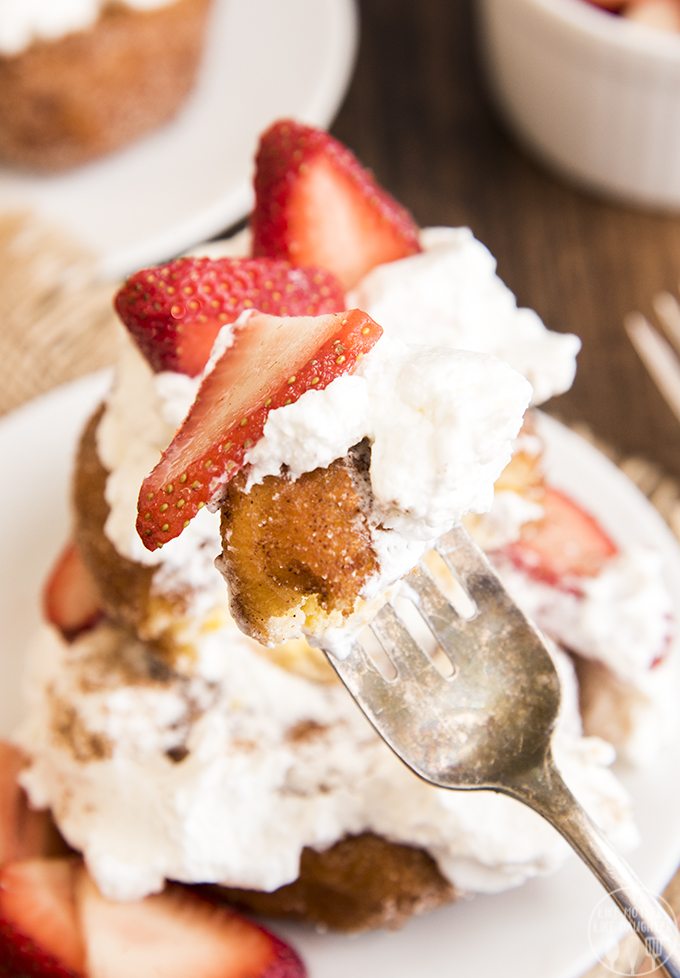 Deep Fried Strawberry Shortcakes
Ingredients
1 16.3oz can large refridgerated biscuits
oil for frying (peanut, canola, vegetable, etc.)
1 pint strawberries, sliced
1 TBS sugar
For the cinnamon sugar:
1 TBS cinnamon
6 TBS sugar
For the whipped cream:
2 cups heavy cream
½ cup powdered sugar
Instructions
Separate biscuits into 8 biscuits, and then split each one in half down the middle to make 16 pieces.
Heat oil in a large pot filled about 2 inches deep, over medium heat.
While oil heats, mix strawberries and sugar in a small bowl. Set aside.
Mix cinnamon and sugar in another small bowl and set aside.
Place 2 to 4 biscuit pieces into the oil once its heated and fry for 30 seconds to 1 minute, flipping over half way in between until they reach a golden brown color.
Remove donuts to a paper towel lined plate to drain off extra oil.
While the biscuits are still warm, roll them all over in the cinnamon sugar.
In a large bowl, beat the heavy cream with a stand mixer, or electric hand mixer until soft peaks form.
Add in the powdered sugar and beat until stiff peaks form.
On a plate, assemble shortcakes with a fried donut, topped with whipped cream, and then fresh berries. (If desired repeat with another stack for a double decker shortcake)
Don't forget to snag your own copy of
Our Sweet Basil Kitchen
!