I'll be the first to admit that I love cookie dough. Half the joy of making a batch of cookies is eating a couple spoonfuls (or handfuls of cookie dough), in fact I love it so much sometimes I'm just craving the cookie dough without the cookies – so for that situation, this recipe for eggless peanut butter chocolate chip cookie dough is perfect!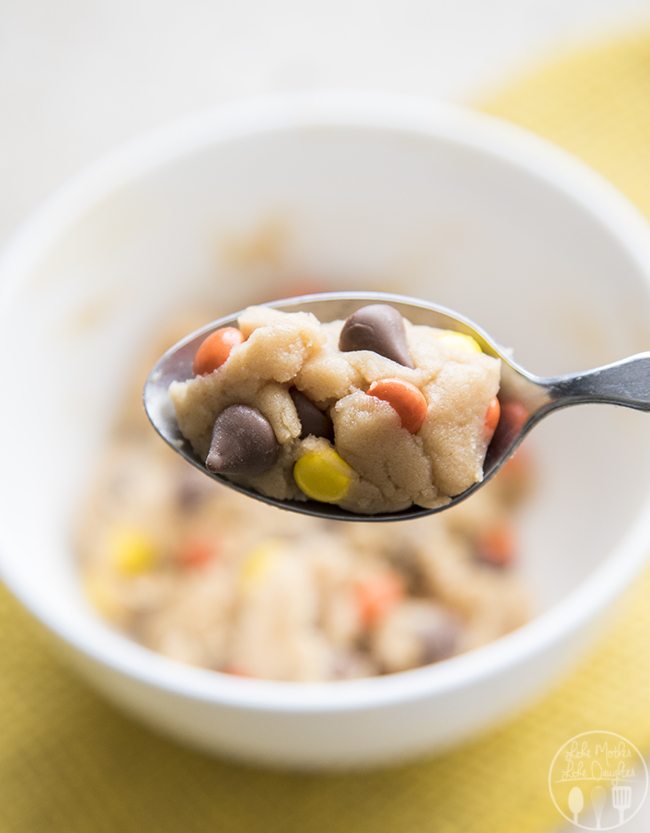 Plus it makes just a small batch, so its just a small bowlful perfect just to satisfy your craving but not end up with a stomachache because of it. And speaking of stomachaches this peanut butter cookie dough is eggless so that you don't have to worry about getting sick from eating raw eggs (woohoo!).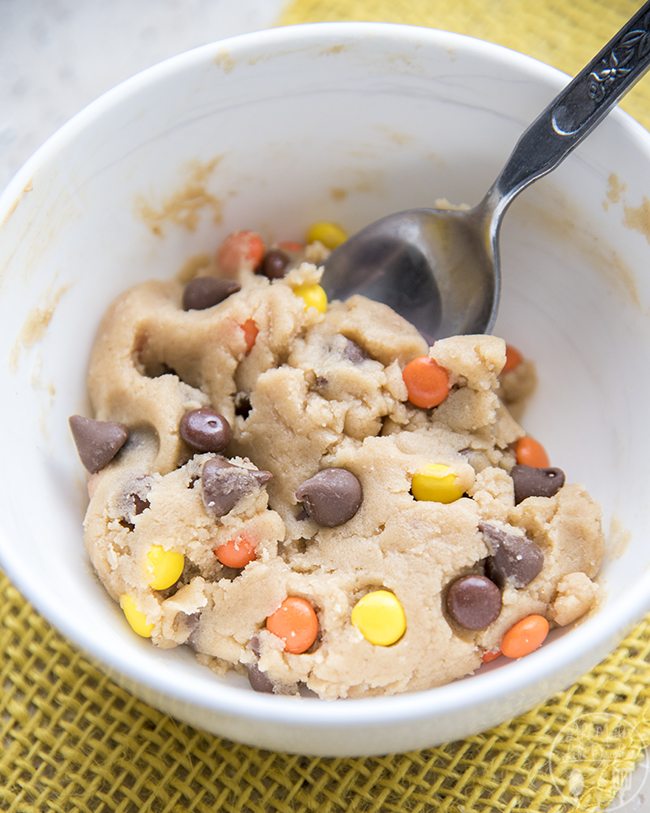 I like eating frozen cooking dough, so keeping balls of dough in the freezer for baking up later can be dangerous, but so delicious at the same time. But I love it frozen in little balls, so I rolled this dough up into little balls and stuck them in the freezer for a few minutes, but you can eat it warm by the spoonful too – whichever way you prefer.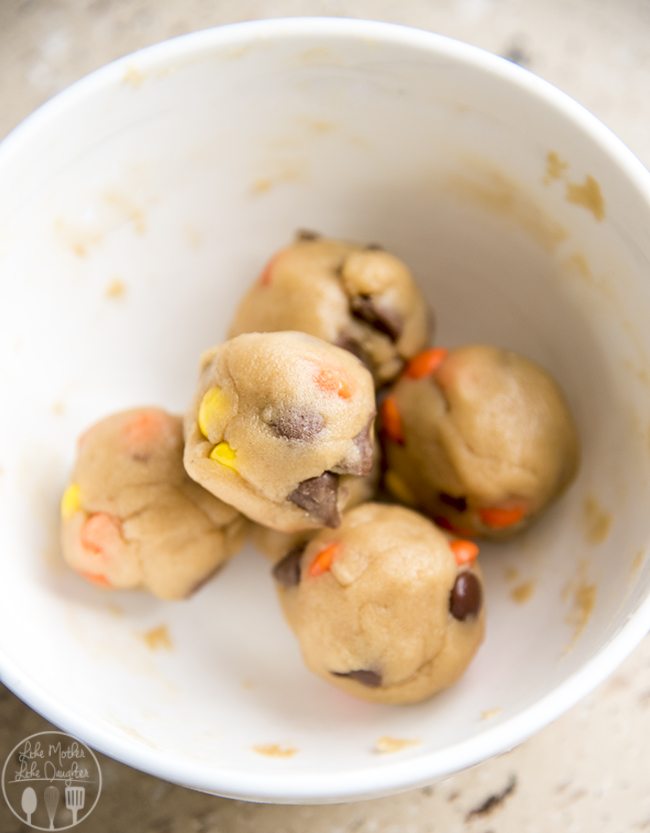 Are you ready to whip up a bowlful? It literally takes just a couple minutes and then you can just enjoy this scrumptious peanut butter cookie dough. Or if you want regular cookie dough try my eggless chocolate chip cookie dough recipe (You can cut the batch in half if you want it just for one)
I'm about ready to make another "batch" of this stuff today! Who's with me? (You can stuff it full of just chocolate chips, or chocolate chips and reeses pieces like I did)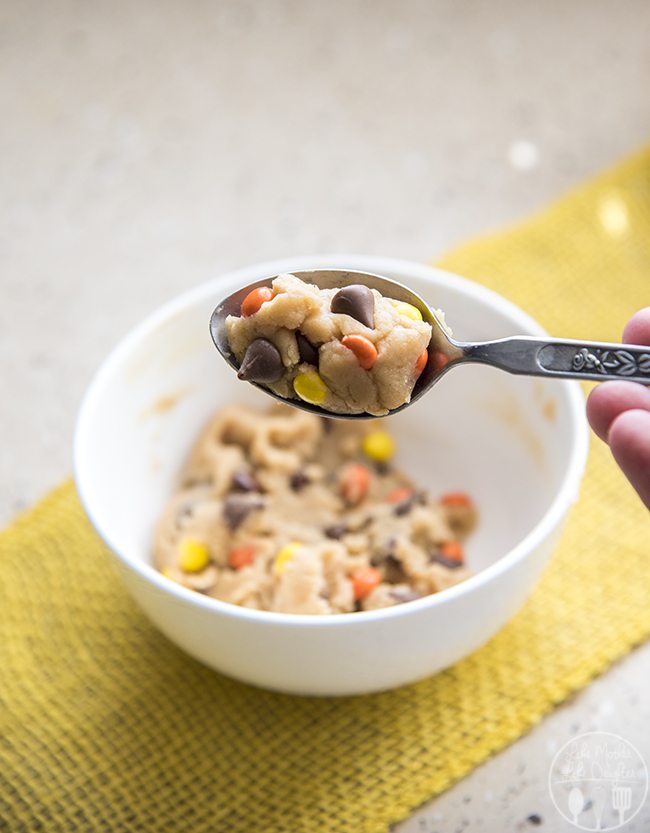 (Eggless) Peanut Butter Chocolate Chip Cookie Dough for One
Ingredients
1 TBS unsalted butter, softened
1 TBS peanut butter
1 TBS brown sugar
1 TBS sugar
a dash of vanilla
a dash of salt
½ TBS milk
3 TBS flour
2 TBS chocolate chips
1 TBS mini reeses pieces, optional
Instructions
In a small bowl, cream together your butter, peanut butter, brown sugar and white sugar until mixed.
Add in your vanilla, milk, salt and flour and mix until all combined. (Add a little more flour if mixture is too wet)
Dump in your chocolate chips and reeses pieces and fold them into the cookie dough.
Enjoy warm, or roll into balls and place in freezer for 15 minutes before eating.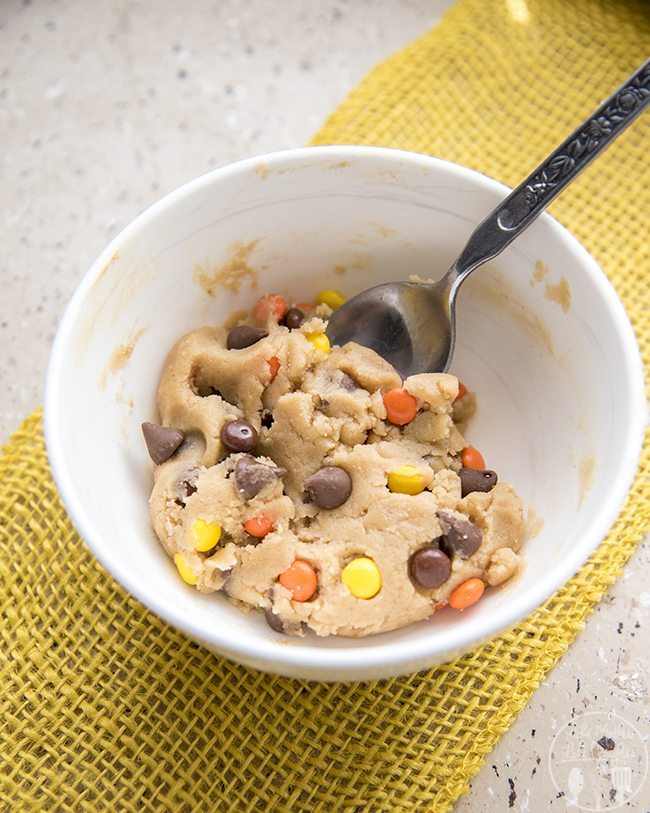 Don't believe me that its just minutes to whip up? Watch this!