Can you tell yet that I am in love with no churn ice creams? Now don't get me wrong, I love our ice cream maker, but I have found myself forgetting to put the freezer bowl into the freezer with enough time to spare, so this no churn ice cream is the perfect solution. Plus, for those of you who don't have ice cream makers then its the perfect solution for you too. Today's ice cream is in celebration of another food holiday today – national chocolate chip day, so I decided to make a simple no churn chocolate chip cookie dough ice cream to share with you.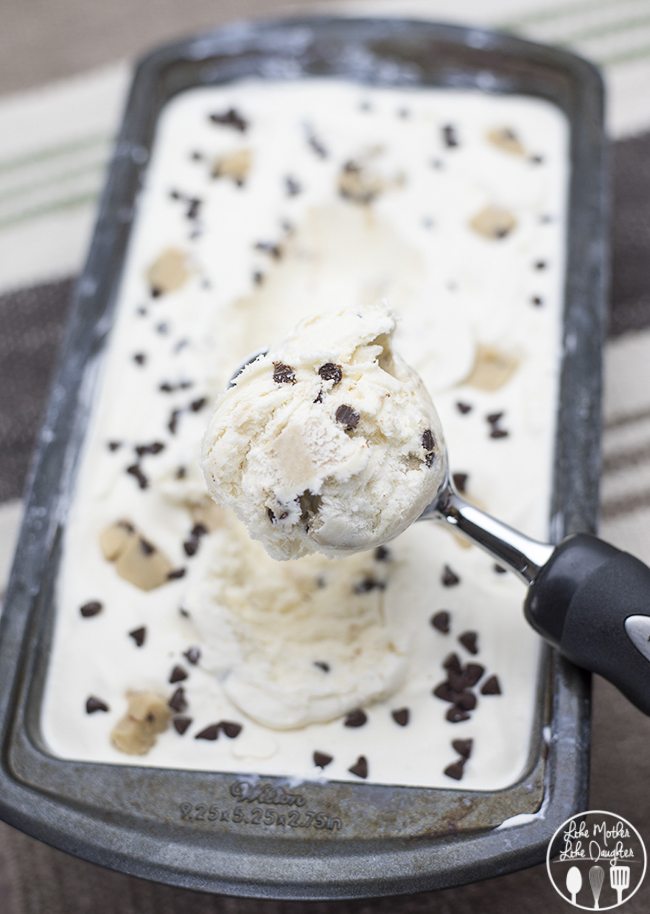 This ice cream starts with a simple no churn vanilla ice cream base, with a quick homemade eggless cookie dough. So first I doubled my eggless cookie dough for two because I wanted to have lots of cookie dough chunks in the ice cream. Then I flattened the cookie dough and let it freeze for about 30 minutes to harden just a little. Cut it up into chunks then prepared my vanilla ice cream, by mixing my sweetened condensed milk and vanilla and whipping my heavy cream. Then you'll layer your  ice cream and cookie dough and a few chocolate chips in a 9×5 loaf pan and put it all into the freezer for 6 hours, or overnight and voila.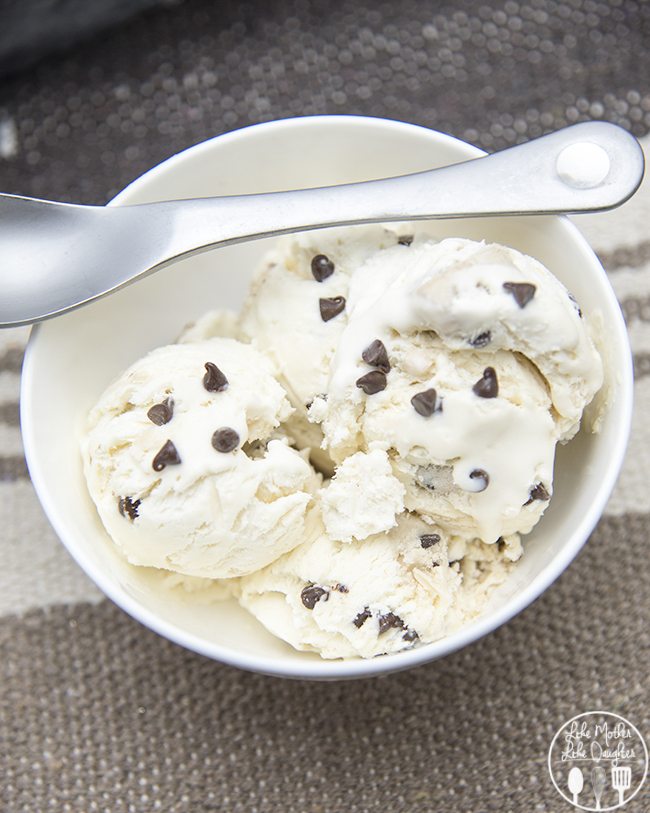 Cookie Dough ice cream is one of my favorite flavors of ice cream ever. What's your favorite kind?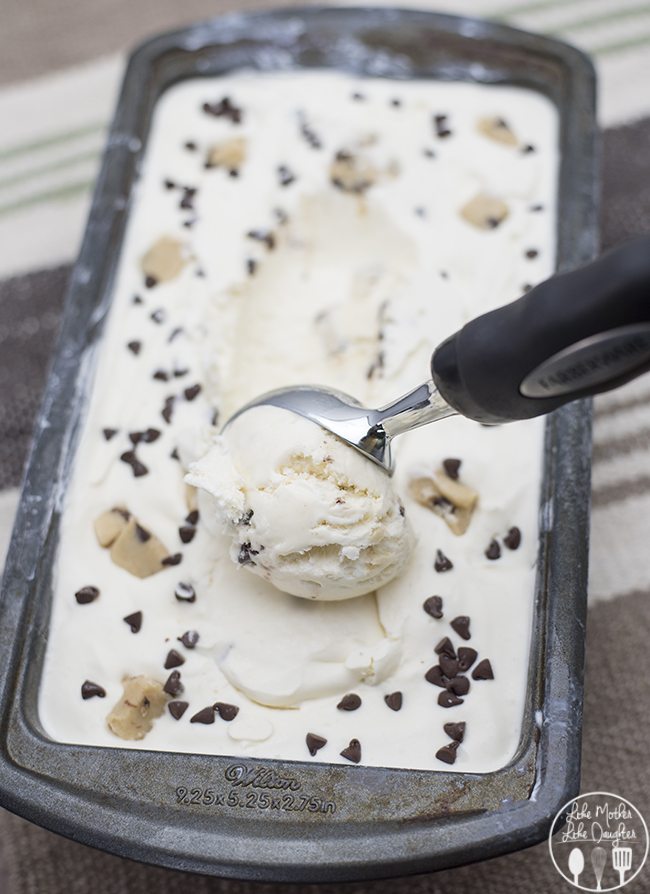 This post contains affiliate links

No Churn Chocolate Chip Cookie Dough Ice Cream
Ingredients
For the Chocolate Chip Cookie Dough:
¼ cup (1/2 stick) butter, softened
¼ cup brown sugar
2 TBS white sugar
½ tsp vanilla
2 TBS milk
¼ tsp salt
¾ cup to 1 cup flour
6 TBS mini chocolate chips
For the Ice Cream:
1 14oz can sweetened condensed milk
2 tsp vanilla extract
2 cups heavy whipping cream
6 TBS mini chocolate chips
Instructions
For the Chocolate Chip Cookie Dough:
Cream together your butter and sugars until mixed and light.
Add in your vanilla and milk and stir to combine.
Add in your salt and flour until all combined. Start with ¾ cup and add additional flour by the ½ TBS if needed to get mixture a little drier.
Spread your cookie dough out on a piece of waxed paper in a thin layer.
Place in freezer for about 30 minutes.
Remove from freezer and chop into small squares.
For The Ice Cream:
In a large bowl combine your condensed milk and your vanilla extract.
Whip your heavy cream in a large bowl until stiff peaks are formed, about 5 minutes on high.
Fold your whipped cream into your sweetened condensed milk.
Pour about ⅓ of your ice cream mixture into your 9x5 inch pan.
Sprinkle some of your cookie dough pieces on top of your ice cream mixture. Swirl the cookie dough pieces through, so they are spread throughout the ice cream. Add a few more pieces on top if needed.
Sprinkle with about 2 TBS of your mini chocolate chips, and swirl those throughout too.
Repeat with another ⅓ of ice cream, ⅓ of cookie dough and 2 TBS chocolate chips.
Repeat with final layer.
Cover with plastic wrap or foil and place in freezer for 6 hours, or overnight.
Things you might need for this recipe: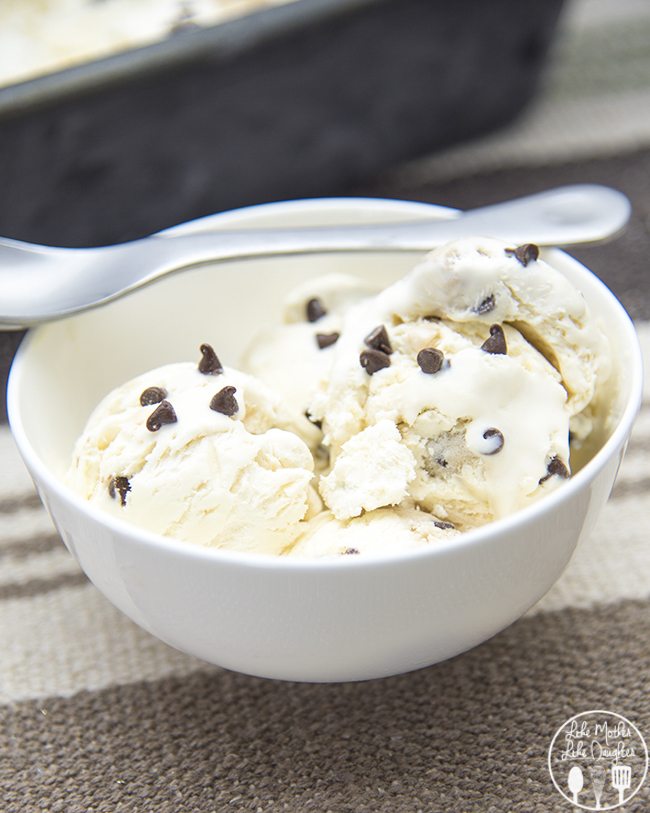 Now, since its National Chocolate Chip Day, don't forget to check out some of these other recipes for more ideas!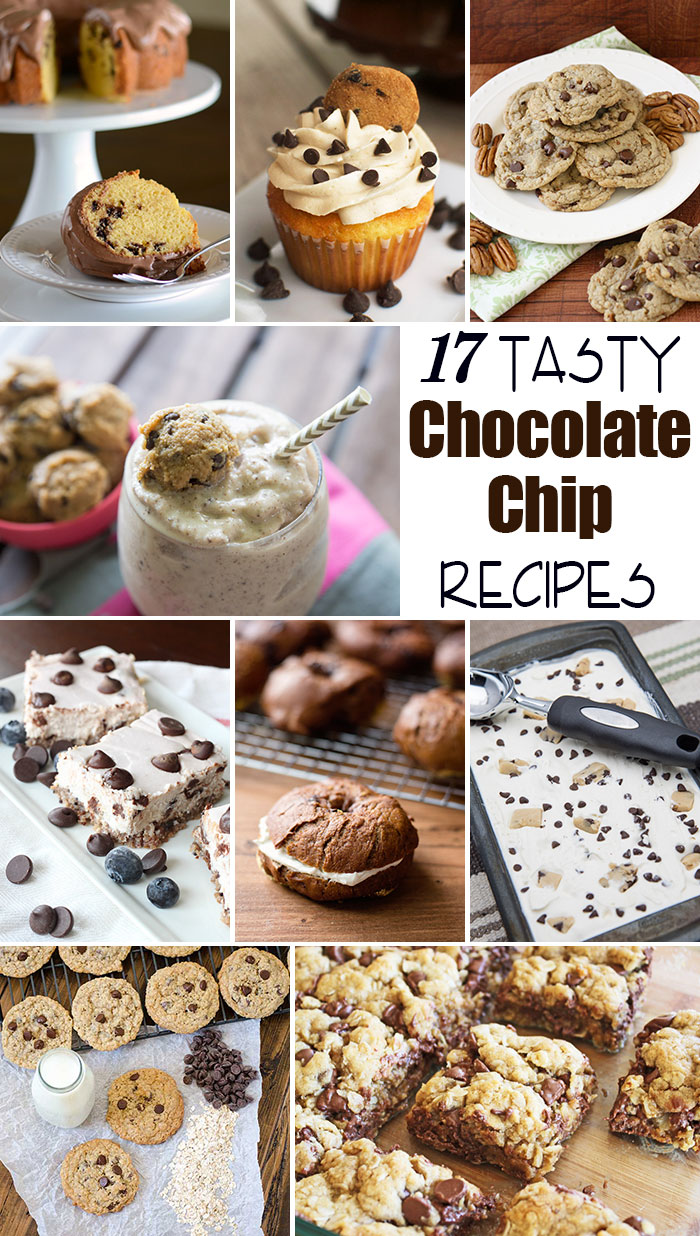 Gluten Free Cookie Dough Blizzard on Tried and Tasty // Chocolate Chip Bundt Cake on Creations by Kara // Chewy Chocolate Chip Oatmeal Bars on Jamie Cooks It Up! // Chocolate Chip Cookie Dough Cupcakes on Cupcake Diaries // Light Berry Dark Chocolate Chip Cheesecake Bars on Happy Food Healthy Life // Vanishing Chocolate Chip Oatmeal Cookies on Real Mom Kitchen // Butter Pecan Chocolate Chip Cookies on Butter with a Side of Bread // Chocolate Chip Bagels on Ashlee Marie // Chocolate Chip Pecan Caramels on Creations by Kara // Chocolate Chip Scones on Ashlee Marie // Banana Chocolate Chip Muffins on Cupcake Diaries
And for a few more recipes on Like Mother, Like Daughter that you might like, try these: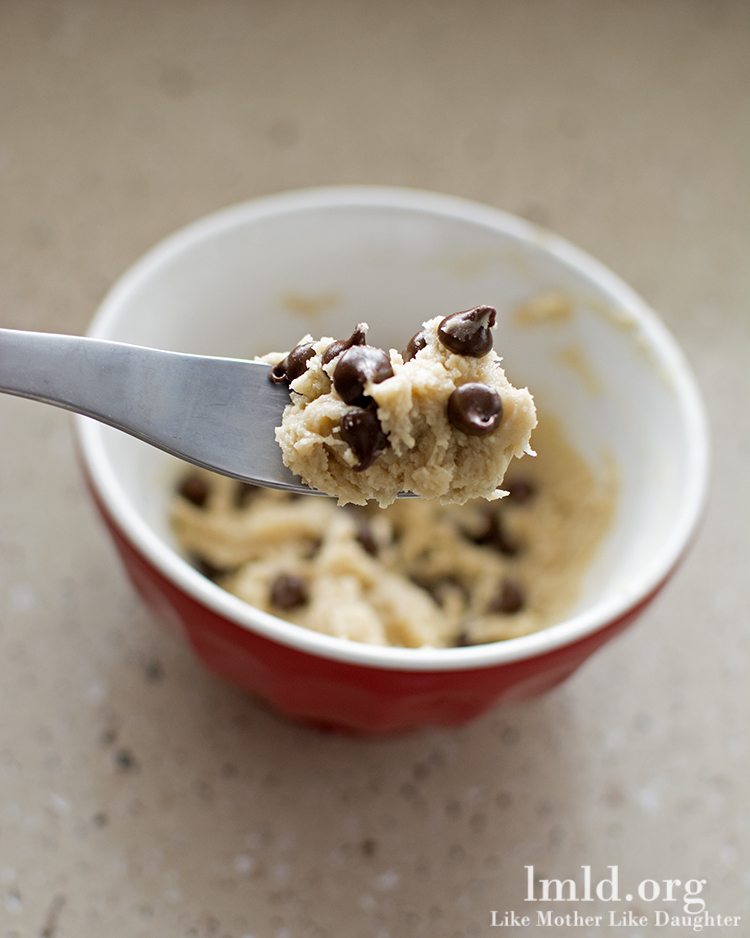 Chocolate Chip Cookies with Sea Salt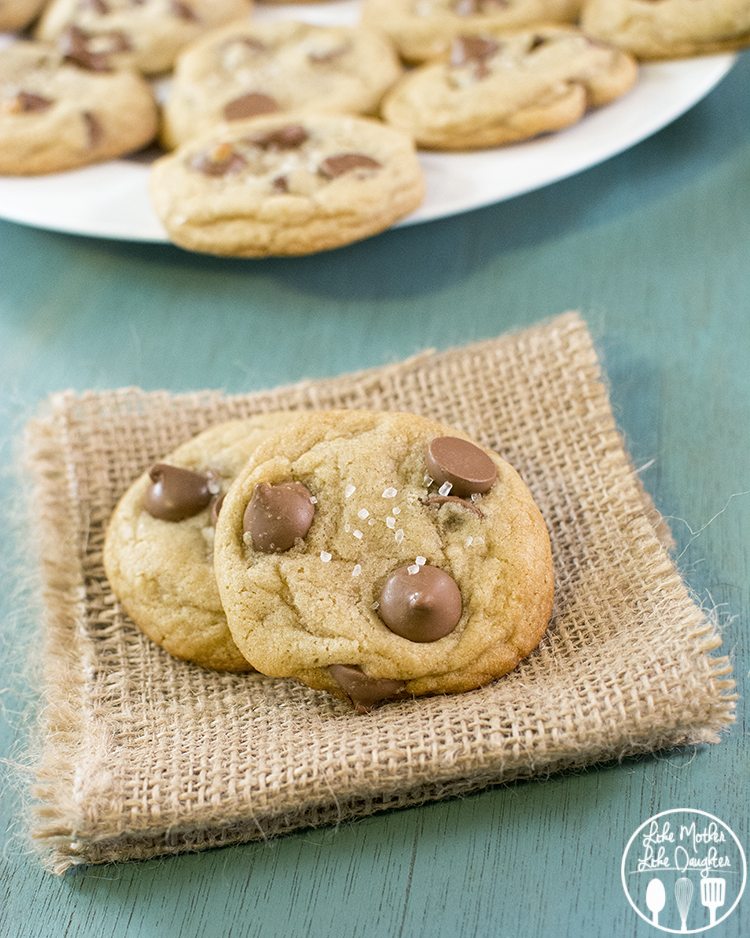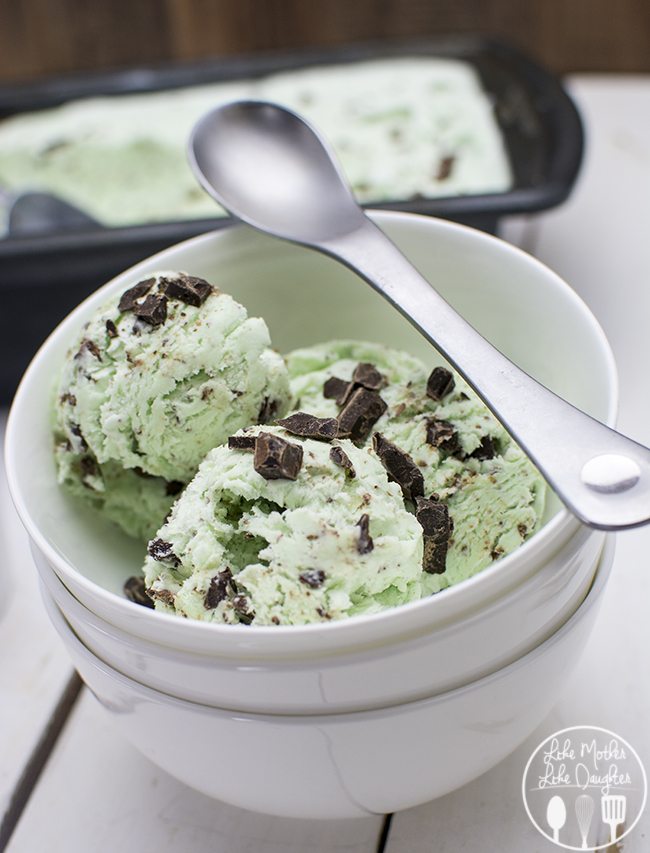 Peanut Butter Chocolate Chip Pancakes