These garlic parmesan oven roasted potatoes are the perfect 30 minute side dish. Crispy tender potatoes seasoned to perfection these are the perfect side to any of your favorite dinner recipes!
**Sponsored post written by me on behalf of Smithfield® Marinated Fresh Pork. The opinions and text are all mine. #CookingwithSmithfield
Pin these Garlic Parmesan Oven Roasted Potatoes for Later!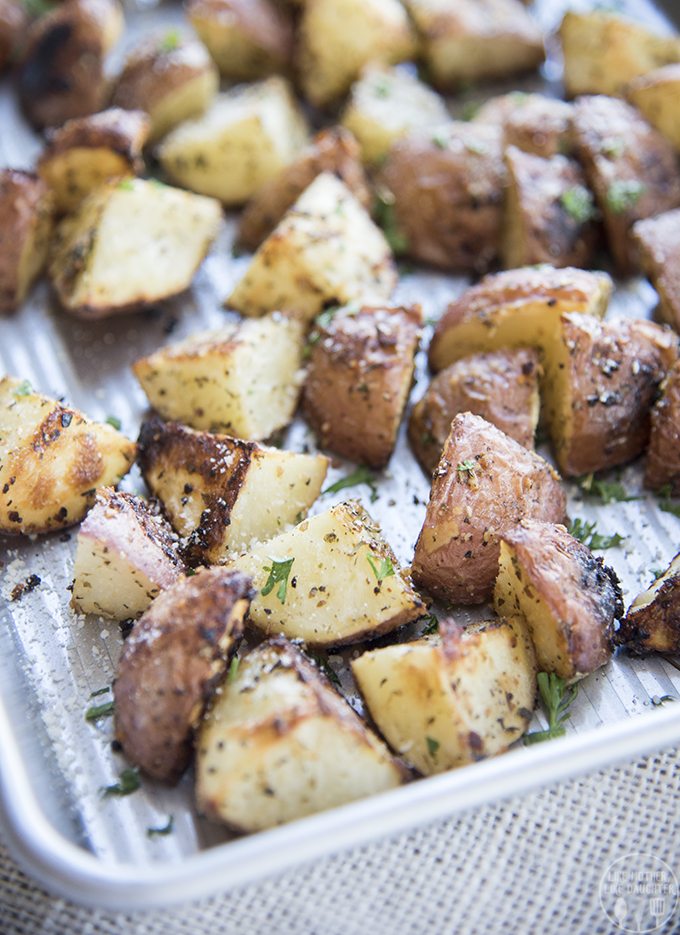 My favorite kind of dinner recipe is the kind that only takes about 30 minutes in the kitchen from start to finish, so I can have a delicious hot meal at home without a lot of time spent in the kitchen.
With a toddler who loves playing with mommy, I don't get the chance to spend a lot of time fussing over dinner in the kitchen. Dinner needs to have minimal prep and take minimal time so I can spend that time running around the house and building train tracks with my 2 year old. That is why Smithfield Marinated Fresh Pork is the perfect dinner solution. I chopped up and quickly seasoned some tasty red potatoes and roasted them both in the oven for about 30 minutes, and voila dinner was served.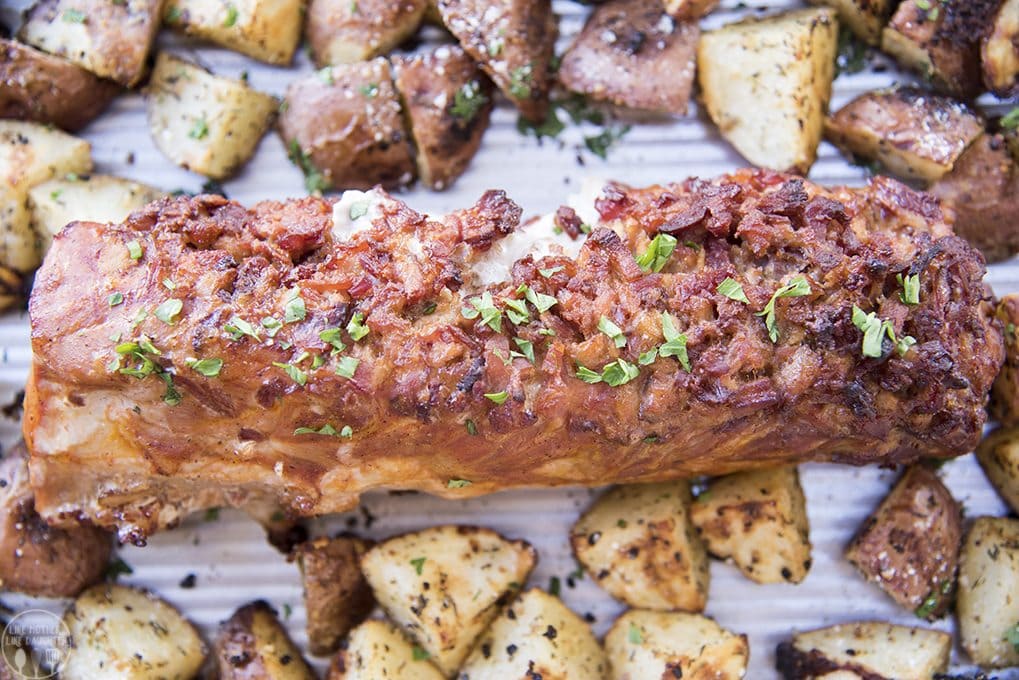 I grabbed the Smithfield Marinated Applewood Smoked Bacon Pork Loin Filet from WinCo, and it made the perfect delicious dinner for my family! Its the perfect way to get Real Flavor, Real Fast.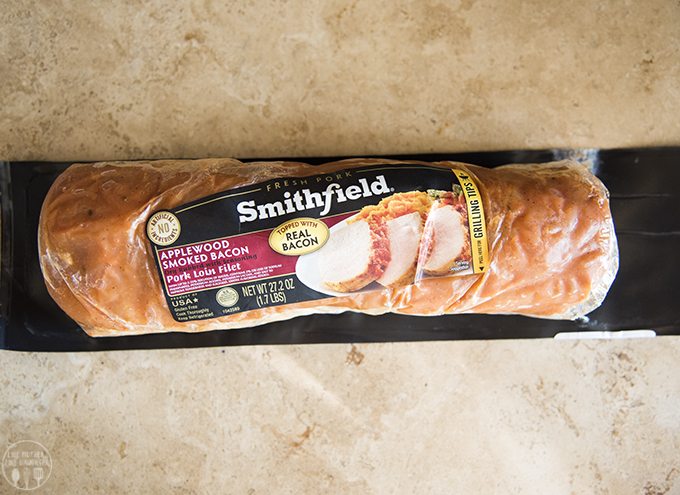 And the perfect side dish for any Smithfield pork loin are these roasted, oven baked potatoes. You'll need small red potatoes, that you will either slice in quarters or in eighths. Coat the potatoes all over in an oil, herb, minced garlic, parmesan, and salt and pepper mixture.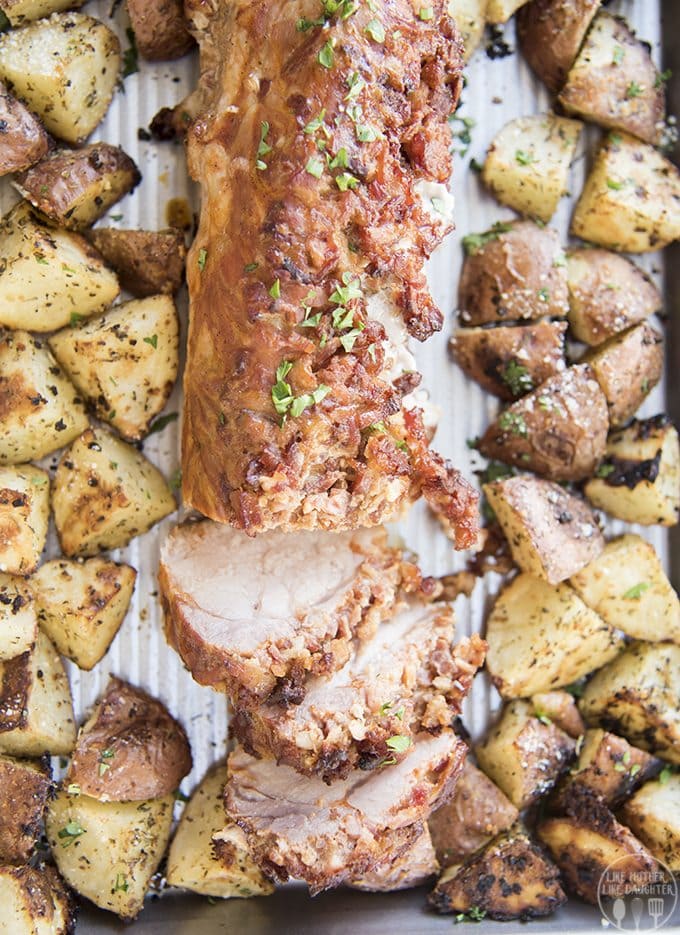 The potatoes are baked up in the oven with a higher temperature to make sure they cook throughout and get those nice crispy edges. They'll take about 30 minutes to bake, maybe a few minutes less or more, depending on the size of your potato pieces, so make sure to check them occasionally – and stir the pan a couple times throughout as well.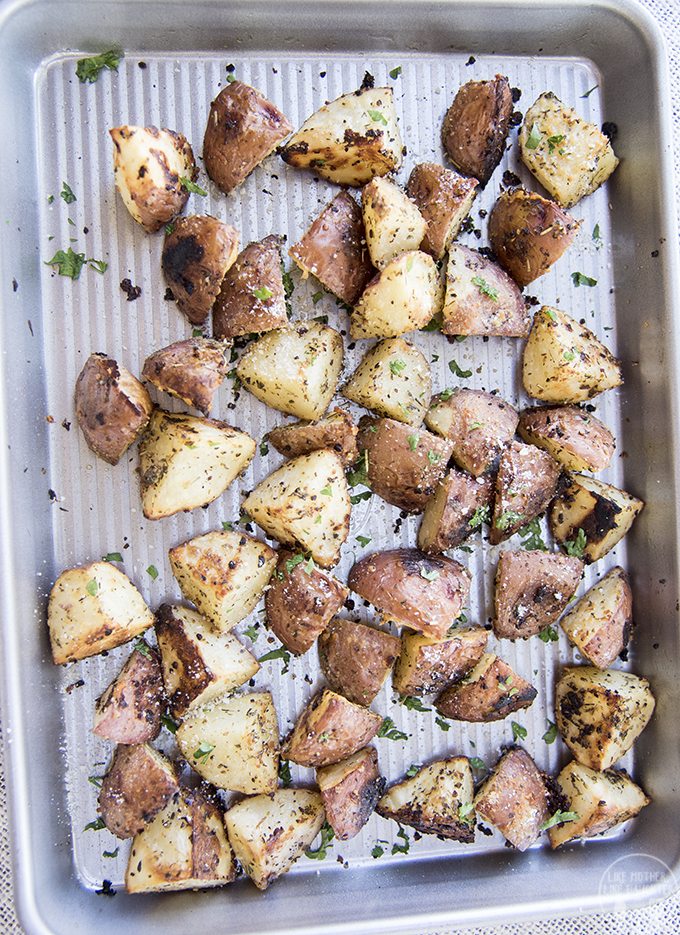 They bake up perfectly tender in the middle and crispy on the outside, you'll want these potatoes with every meal – but I can't recommend enough that you serve them hot with the freshly cooked pork loin and you'll have your new favorite 30 minute dinner!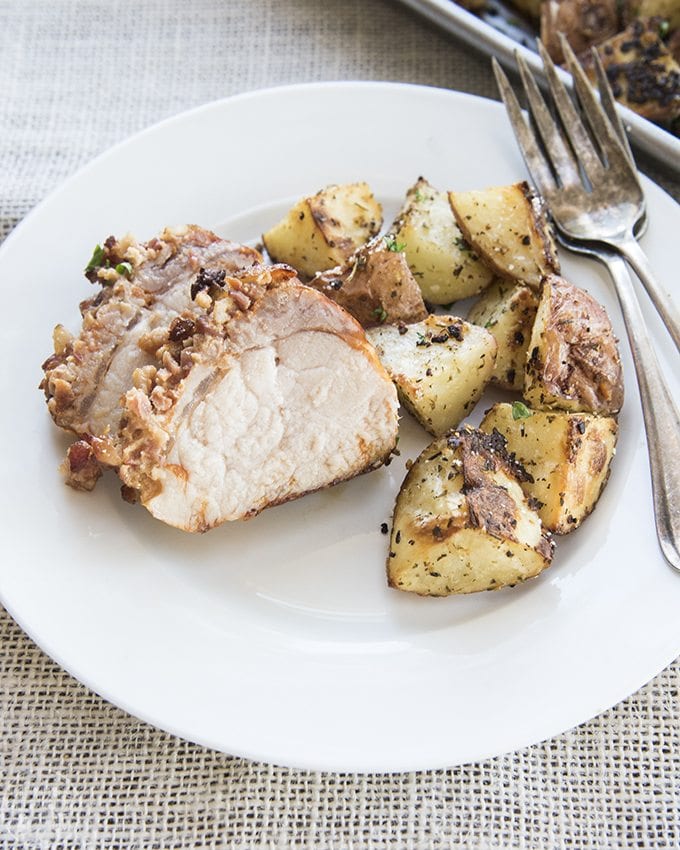 Garlic Parmesan Oven Roasted Potatoes with Applewood Bacon Pork
Garlic Parmesan Oven Roasted Potatoes
Ingredients
6 red potatoes, cleaned
2 TBS olive oil
1 TBS Italian herbs
1½ TBS minced garlic
3-4 TBS parmesan cheese
1½ tsp salt
¼ tsp black pepper
3-4 TBS parmesan cheese
1 Smithfield Applewood Bacon Pork Loin Filet
Instructions
Preheat the oven to 450 degrees.
Cut the potatoes into quarters or eighths (depending on their size)
Place in a bowl and toss with olive oil, herbs, minced garlic, parmesan, and salt and pepper.
Transfer the potatoes to a baking sheet.
Place the pork loin in the middle of the potatoes on the pan.
Bake together in oven for 25 to 30 minutes until potatoes are browned and crispy, stirring twice throughout. And pork loin reaches an internal temperature of 165 degrees.
Serve hot.
Smithfield Marinated Pork is available in 4 different flavors: Roasted Garlic and Herb, Applewood Smoked Bacon Pork, Roasted Garlic and Cracked Black Pepper, and Hardwood Smoked Bacon and Cracked Black Pepper. For more dinner recipe ideas, try these. Don't forget to head over to WinCo Foods to get their latest Smithfield Foods coupon offer, available now through 10/15 while supplies last.
.