This giant chocolate chip cookie cake is the new best way to eat a chocolate chip cookie! Slice it up and its a great easy weekday dessert, or fun enough for a birthday!
Pin this giant chocolate chip cookie cake for later!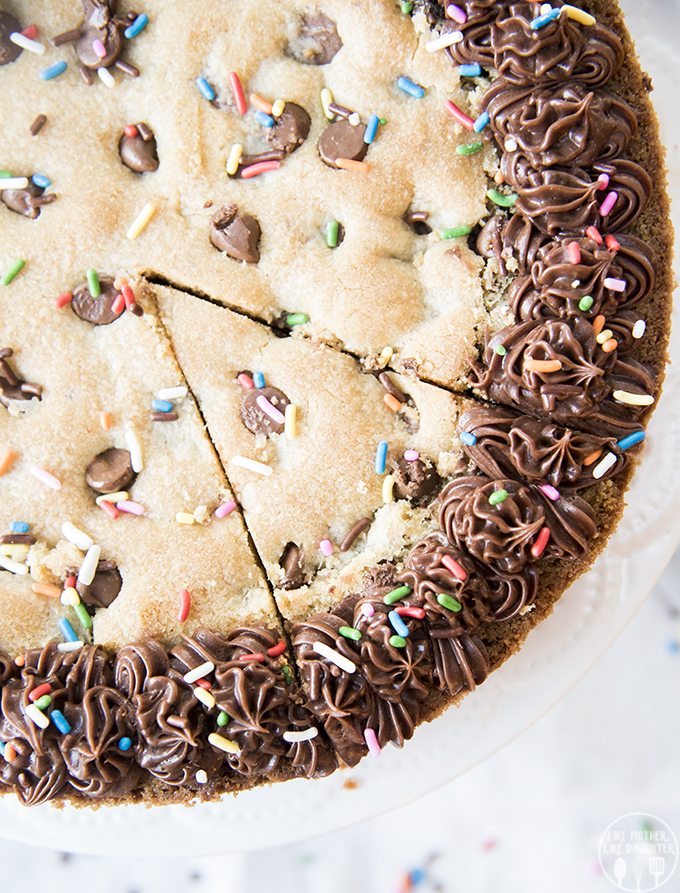 Today is national chocolate chip day, so what better way to celebrate than with a giant chocolate chip cookie that you can share?!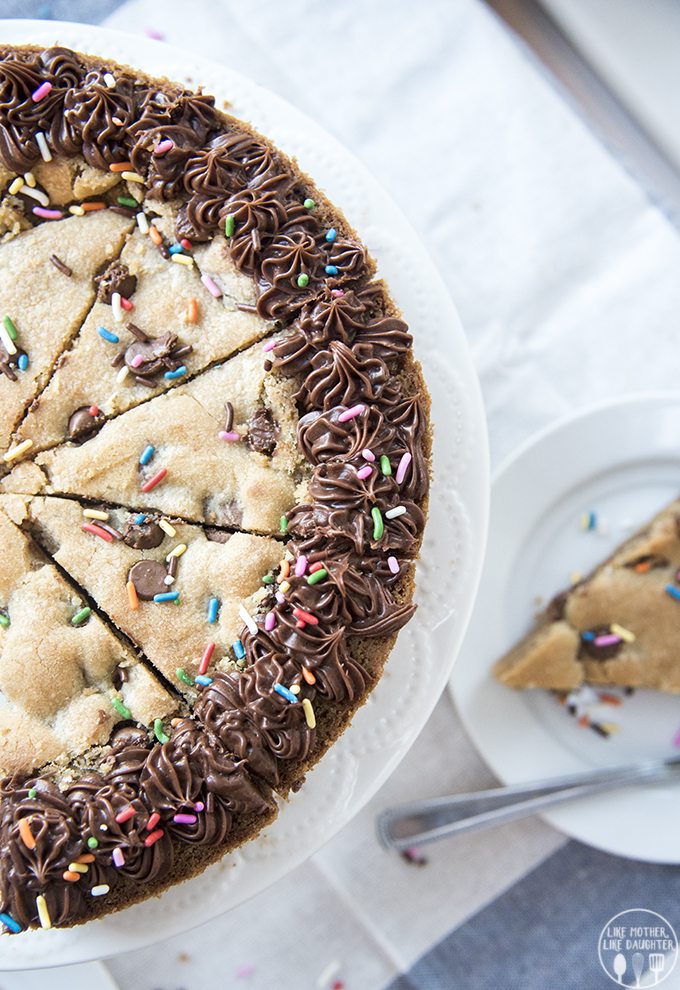 This cookie is perfect served up with a little frosting on the edge, and sliced up just like a cake so you can share it with your friends or family, or just eat a few slices yourself. It's easy enough to make for a weeknight dessert, but fun enough you could serve it up with a few candles on top and call it a birthday cake.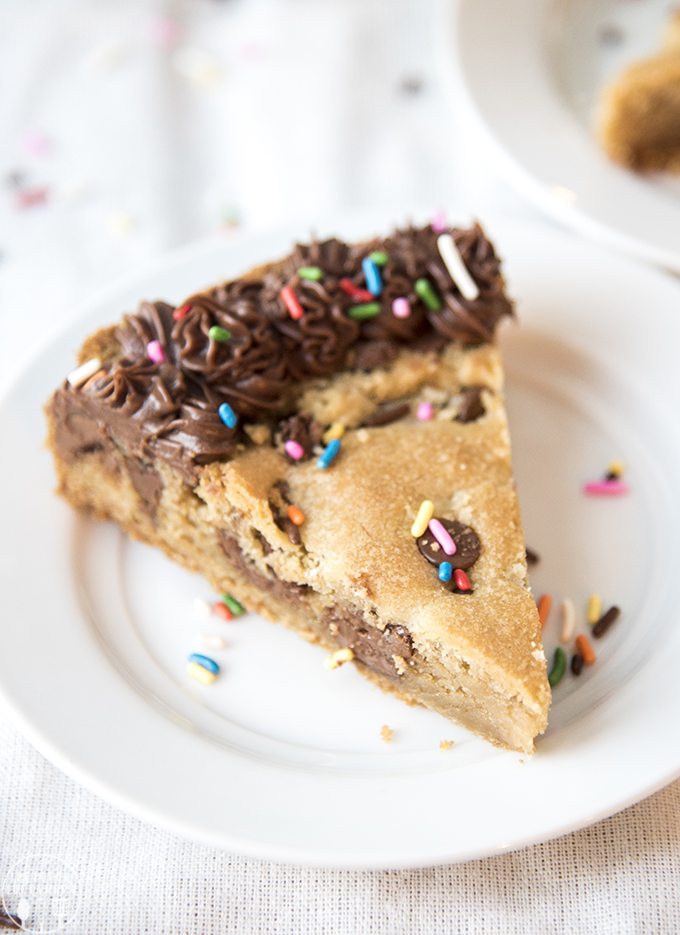 The whole thing is like a thick and giant chewy cookie throughout, bursting full of chocolate chips. Top it with your favorite chocolate frosting, and a few sprinkles for fun.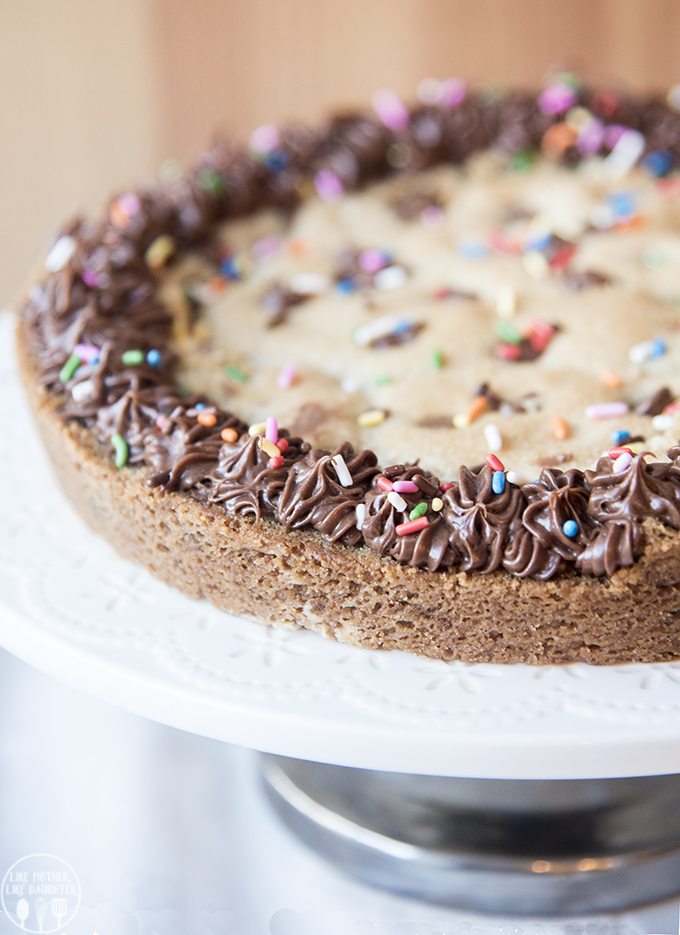 I altered my favorite chocolate chip cookie recipe, and cut it to about 3/4 the recipe and baked it up in a 9inch cake pan.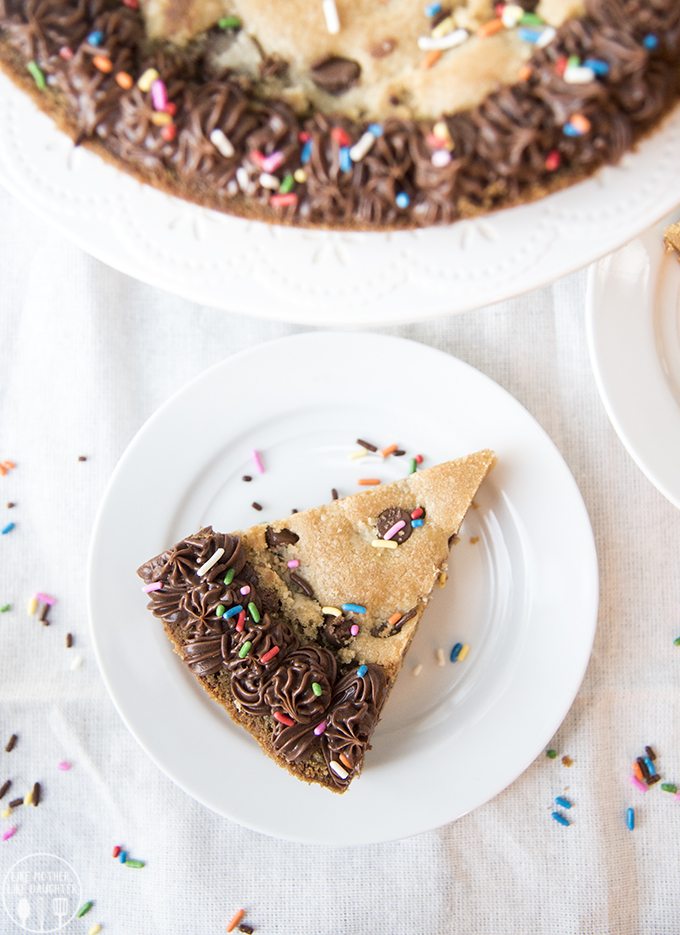 In case your cake sinks a little in the middle, it'll still taste just as good, and if you really want to you can cut the crust off a bit to level it out. The frosting on the edge covers it up either way.
I promise you will fall in love with this cookie cake and everyone will be requesting it for their birthday cake! Just remember to serve it up with a big glass of milk!
This post contains affiliate links.

Giant Chocolate Chip Cookie Cake
Ingredients
¾ cup butter, softened
¾ cup brown sugar
¼ cup sugar
1 egg + 1 yolk
1½ tsp vanilla
2 - 2 and ¼ cup flour**
1 tsp baking soda
¾ tsp salt
1½ cups chocolate chips
1 cup chocolate frosting (I used canned frosting)
sprinkles
Instructions
Preheat the oven to 350 degrees.
Spray a 9in cake pan with non stick spray. Set aside.
Cream together your butter and your sugars in a large bowl.
Add in the egg and egg yolk and the vanilla and stir in.
In another bowl mix together your baking soda, salt and flour.
Add your dry ingredients to your wet ingredients and stir everything together till just combined.
Add in your chocolate chips and fold into the batter.
Press the cookie dough into the prepared cake pan.
Bake in preheated oven for 20-25 minutes until the cookie is golden brown.
Allow to cool for in the pan. Loosen the sides with a knife and put cake onto a platter or serving dish.
Decorate cookie edges with chocolate frosting using a 1M tip.
Top with sprinkles, if desired.
Slice and serve.
Notes
**Start with 2 cups of flour and if dough feels like a good texture then stop. If it feels wet add up to 2¼ cup till dough texture feels good.
Things you might need for this recipe:
And here are 25 more chocolate chip cookie recipes from my blogging friends that I think you will love!!
Chocolate Chip Cookie Ice Cream Cone on Ashlee Marie
No Bake Peanut Butter Chocolate Chip Cookie Dough Bars on The Stay at Home Chef
Caramel Stuffed Chocolate Chip Cookies on Butter with a Side of Bread
Slow Cooker Chocolate Chip Cookie Bars on 365 Days of Slow Cooking
Chewy Peanut Butter Chocolate Chip Cookies on Real Mom Kitchen
Smores Chocolate Chip Cookies on Life Made Simple
Snickers Chocolate Chip Cookies on The Baker Upstairs
Coconut Oatmeal Chocolate Chip Cookies on Creations by Kara
Vanilla Pudding Chocolate Chip Cookies on Yummy Healthy Easy
Chocolate Chip Cookie Pizza on Jamie Cooks it Up
Chocolate Chip Cookies for Two on Like Mother Like Daughter
Chocolate Chip Cookie Granola Bars on The Bake Upstairs
Raspberry Chocolate Chip Cookies on Butter with a Side of Bread
Nutella Cream Chocolate Chip Sandwich Cookies on The Stay at Home Chef
Candy Stuffed Chocolate Chip Cookie Cups on Creations by Kara
Oatmeal Chocolate Chunk Cookies with Coconut and Craisins on 365 Days of Slow Cooking
Mint Chocolate Chip Cookies on Yummy Healthy Easy
Rolo Stuffed Chocolate Chip Cookies with Sea Salt on Like Mother Like Daughter
White Chocolate Coconut Cookies on Jamie Cooks it Up!
Peanut Butter Banana Chocolate Chip Cookies on Real Mom Kitchen  20