Birthday's are one of the best occasions for celebrating, and of course that means a special birthday dessert is always in store. From birthday cakes to cake batter inspired desserts, we've got every dessert you could ever need for celebrating that special someone!
We've got a quick compilation of 36 delicious birthday dessert ideas for that special day in your life! We've got cake batter flavored desserts with lots of EXTRA sprinkles, and a bunch of delicious birthday cakes too. These treats would be fabulous for any birthday celebration, but they're all so good they'll be fantastic for any day of the year too.
Cake Batter Flavored Desserts
First off, we have cake batter desserts. From cake batter ice cream, to cake batter cookies. All I can say is they're all delicious, and all slathered and filled with lots and lots of rainbow sprinkles.
Cake Batter Ice Cream // Like Mother Like Daughter
This cake batter ice cream is made with actually cake mix, giving it the perfect flavor in a creamy frozen ice cream, of course filled with lots of sprinkles!
Cake Batter Blondies // Like Mother Like Daughter
The perfect cookie bar starting with a cake mix, and filled with white chocolate, chocolate chips, and sprinkles!
Cake Batter Cheese Ball // Like Mother Like Daughter
A delicious dessert cheeseball that is perfect served up with pretzels, or graham crackers. It would be perfect for serving up at a birthday party for a crowd.
Cake Batter Muddy Buddies // Like Mother Like Daughter
Muddy buddies get a birthday twist with this cake batter flavor. They're coated in dry cake mix in addition to the traditional powdered sugar.
Cake Batter Dip // Like Mother Like Daughter
This tasty dip is perfect served with strawberries, graham crackers, pretzels and more. It's such a fun dip, and only 5 ingredients!
Cake Batter and Sprinkles Chocolate Bark // I'm Topsy Turvy
This delicious chocolate bark is so fun and tasty. How cute would it be wrapped up in cellophane bags and given as party favors.
Cake Batter Cinnamon Rolls // Chef in Training
Start the birthday morning off right with a fun birthday cake themed breakfast like these amazing cinnamon rolls.
Cake Batter Popcorn // Spicy Southern Kitchen
A yummy way to jazz popcorn up for a birthday, this cake batter popcorn is so tasty, and would be perfect for a birthday party movie, or just a yummy snack to munch on.
Funfetti Cake Batter Rice Krispie Treats // The Gold Lining Girl
I love this twist on rice krispie treats, with dry cake mix added right in with the marshmallows, and topped with white chocolate. They're the perfect no bake birthday themed treat.
Cake Batter Oreo Cookies // Sally's Baking Addiction
A fun cookie filled with sprinkles, Oreos, and chocolate chips. What could be better?!
Cake Batter Truffles // Sweet C's
These yummy truffles are only three ingredients and they have the delicious taste of cake batter in every bite. How good would they be dipped in white chocolate too?
Cake Batter Fudge // Sugar Spun Run
These colorful and delicious fudge is so easy, and so fun. And each piece is bursting with the taste of cake batter!
Birthday Cakes
You can't have a birthday celebration without cake, right? We've got so many amazing cake recipes here, and everything you could need for a birthday party with family or friends. From German Chocolate Cake, to the classic yellow cake, to strawberry and more!
Chocolate Peanut Butter Bundt Cake // Like Mother Like Daughter
This might be my favorite cake ever. It has both peanut butter and chocolate cake batters swirled together, and is topped with peanut butter and chocolate ganaches, and peanut butter cups. Yum!
German Chocolate Cake // Like Mother Like Daughter
A delicious German chocolate cake with that gooey coconut pecan frosting and chocolate buttercream. Perfect for chocolate and coconut lovers!
Red Velvet Cake // Live Well Bake Often
A classic red velvet cake with cream cheese frosting. This cake is moist, and isn't just for Valentine's anymore. It's perfect for birthdays too!
Triple Chocolate Layer Cake // Like Mother Like Daughter
Calling all chocolate lovers, this is the cake for you. With three kinds of chocolate in the cake and two more in the frosting. It's perfectly chocolatey in every bite.
Classic Yellow Cake // Tastes Better from Scratch
You can't beat a classic yellow cake with chocolate frosting. It's a birthday cake classic.
Carrot Cake // Like Mother Like Daughter
Who says that carrot cake is just for Easter? You'd love this amazing moist, perfectly spiced carrot cake with cream cheese frosting for a birthday celebration too!
Lemon Cake // Sally's Baking Addiction
This lemon cake would be so perfect for a spring or summer birthday. It's so refreshing and has the best cream cheese buttercream frosting on top!
Fresh Strawberry Cake // The Baker Upstairs
This strawberry cake has fresh strawberries in both the cake batter and the frosting. And doesn't it look so pretty too?
Funfetti Cake // Sugar Spun Run
If you want sprinkles, and birthday cake, this funfetti cake is the one for you!
Banana Cake // Like Mother Like Daughter
This banana cake is perfect for banana lovers. It's got a peanut butter frosting, and chocolate ganache, and is oh so yummy.
The Perfect White Cake // I Am Baker
Everyone needs a classic white cake in their repertoire, and this one would be so yummy for a birthday dessert.
Strawberry Shortcake on Once Upon A Chef
A birthday cake doesn't have to look traditional, but these strawberry shortcakes are so good. With sugar crusted biscuits, lots of fresh berries, and whipped cream.
Mint Chocolate Cake // Dinner then Dessert
A sweet decadent chocolate cake, topped with a simple mint frosting. This cake would be great for St. Patrick's Day, or a birthday!
Ice Cream Cake // Like Mother Like Daughter
Ice cream cake is one of my favorite cakes for a birthday, and now we can make it at home!!
Caramel Cake // Grandbaby Cakes
If you love caramel then you will love this caramel cake with a perfect caramel frosting on top.
Birthday Cheesecake on Broma Bakery
Some people love cheesecake for their birthday, and this one makes it extra special with fun sprinkles throughout!
Giant Chocolate Chip Cookie Cake // Like Mother Like Daughter
Incase you or someone you love doesn't like traditional cake, this giant birthday cookie cake is the solution. Who doesn't want a slice of cookie for their birthday?
Chocolate Peanut Butter Cup Cake // Tornadough Alli
This chocolate peanut butter cup cake would make any chocolate and peanut butter lover happy for their birthday. It's a tasty, and indulgent cake, that everyone will love!
White Texas Sheet Cake // Like Mother Like Daughter
This white Texas sheet cake is a delicious, moist, vanilla sheet cake that is topped with a decadent icing. It's a great dessert for a crowd.
Coconut Cake // Like Mother Like Daughter
A beautiful coconut frosted and coconut topped cake, it's a great cake for coconut lovers!
Tres Leches // Like Mother Like Daughter
This isn't a typical birthday cake flavor, but it sure is delicious. It's easy, moist, and tasty – and who can say no to whipped cream and cinnamon!
Chocolate Swiss Roll Cake // Drive Me Hungry
This delicious fluffy chocolate cake is swirled with cream cheese filling and coated in chocolate ganache. It's a chocolate lovers dream, and is such a great cake option!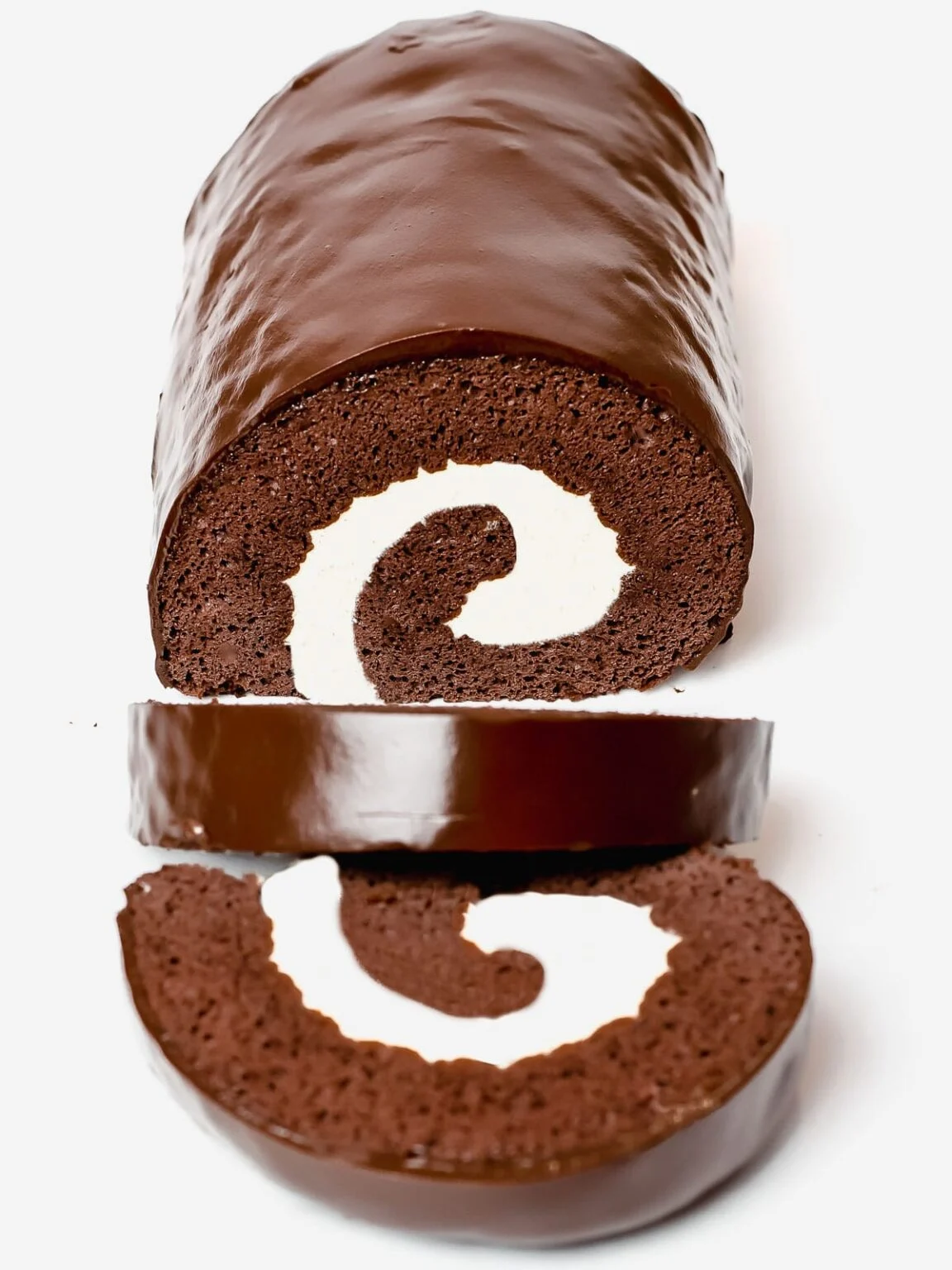 Angel Food Cake // Life, Love and Sugar
This is the best angel food cake, with only 6 ingredients. It's light, airy, and so much better than any you'd get from the store. It's so good for a birthday with your favorite fruits and whipped cream on top.
There are so many choices for a birthday celebration. These birthday desserts are all delicious and would be such delicious treats for a dessert table, or a birthday celebration. Hope we helped you find one you love so you can have a happy birthday, or have fun celebrating your friend's birthdays.
Who doesn't love making the day special with a fun sweet treat, or some colorful sprinkles, these fun desserts are all winners. A tasty dessert is the perfect way to take a birthday to the next level.
What's your go to birthday dessert?
These birthday dessert ideas were first posted on July 2, 2014. The post was updated on Aug 3, 2020.