This layered carrot cake has two thick layers of moist, perfectly spiced carrot cake topped with the best cream cheese frosting. Everyone will be begging you for the recipe!
Pin this layered carrot cake for later!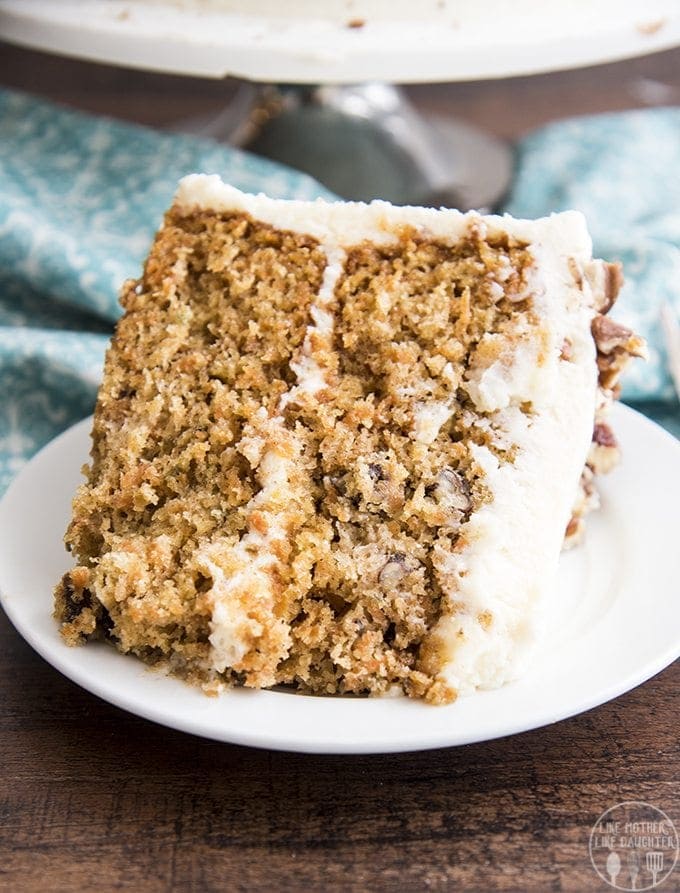 Carrot cake is my favorite Easter dessert, and its the perfect thing to serve after Easter dinner. But whether you're getting ready for Easter dinner, or just want a delicious spring dessert this layered carrot cake is a winner.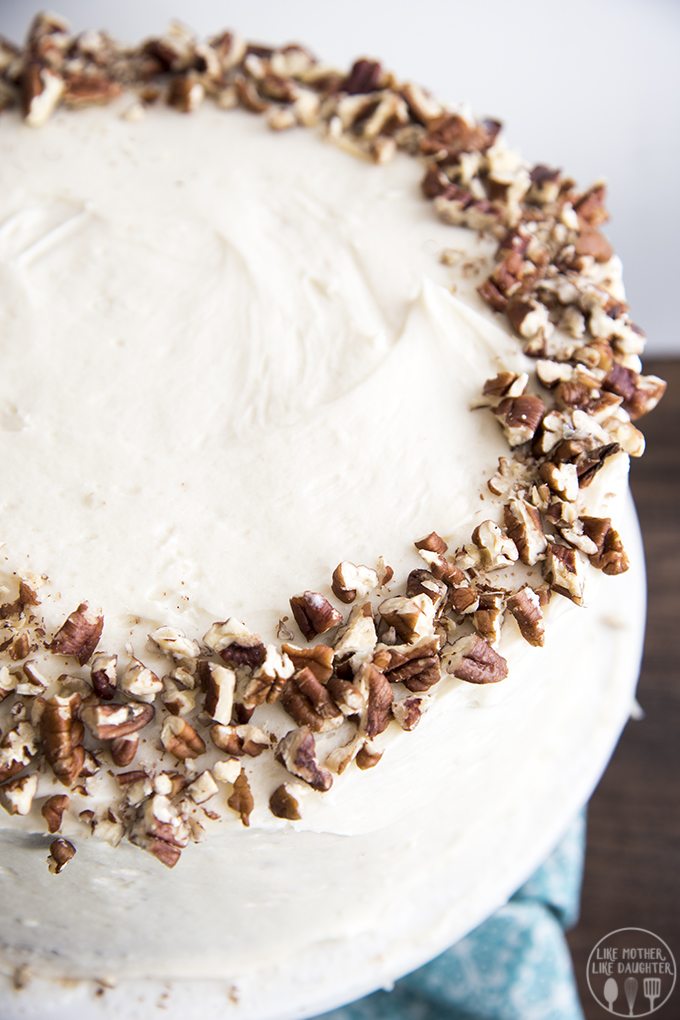 This layered carrot cake is super moist, bursting with that favorite cinnamon carrot cake flavor, and covered in the most amazing cream cheese frosting.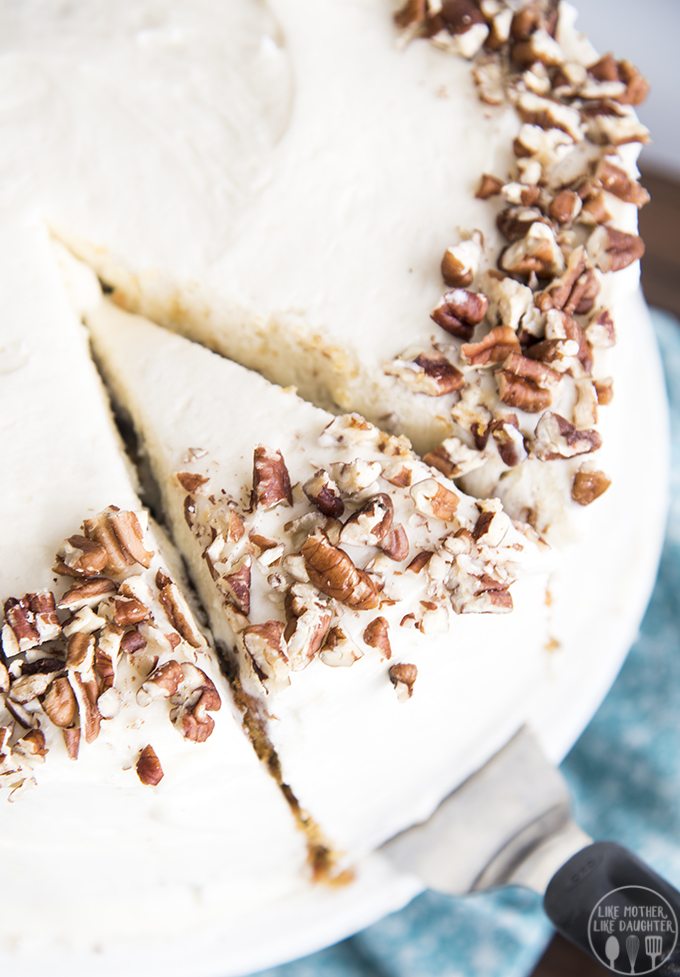 I adapted this recipe from my lighter carrot cake recipe. I multiplied the recipe by about 1.5x to make sure I had enough batter to do 2 thick layers.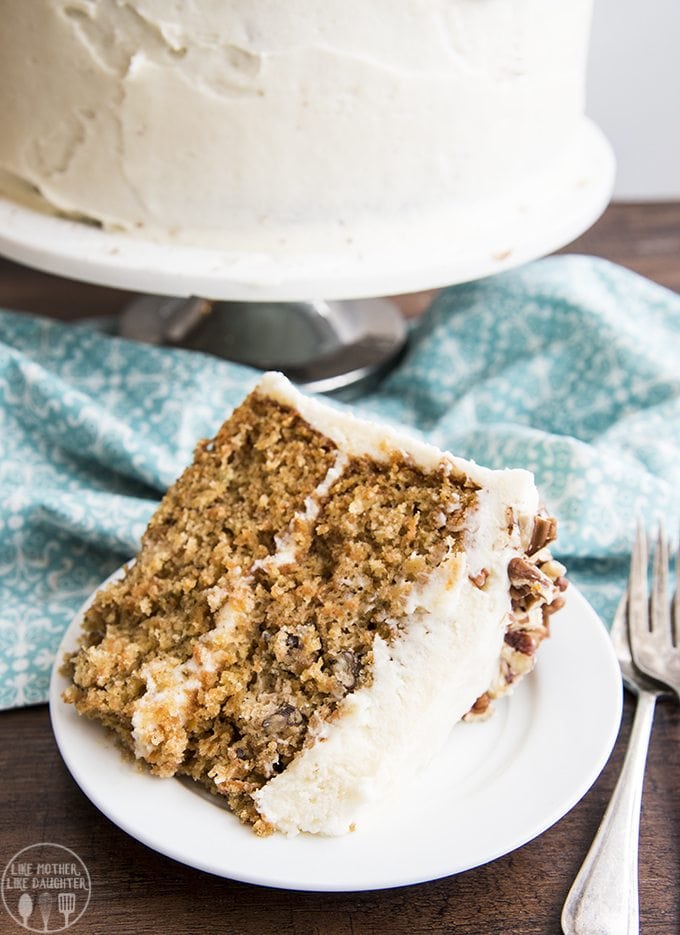 This cake is packed full of moisture throughout thanks to the oil, greek yogurt, crushed pineapple (you could also use applesauce instead), and of course 3 cups of grated carrots!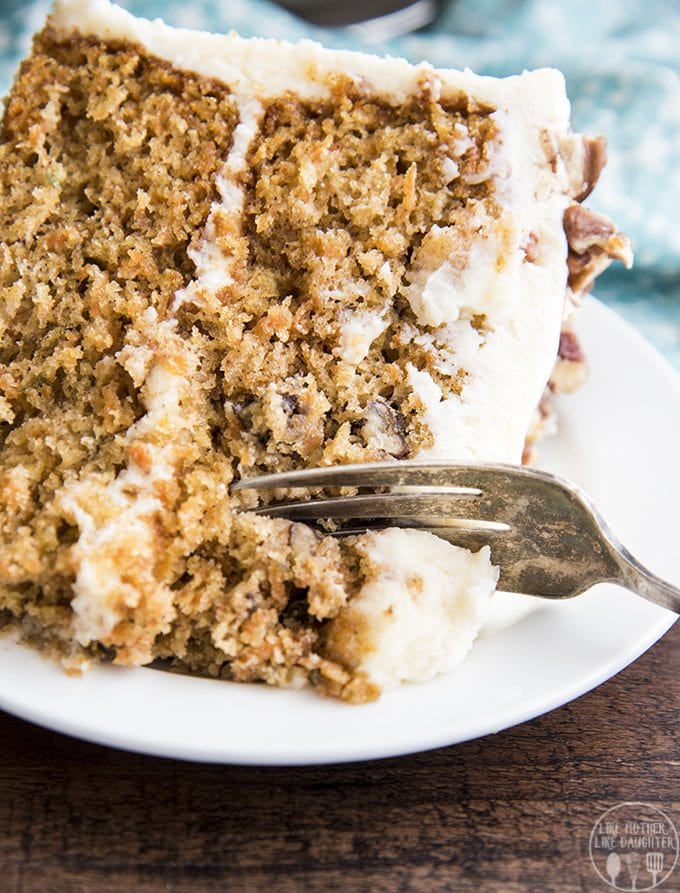 The cream cheese frosting on this cake is my favorite ever, its the best cream cheese frosting ever. Its perfectly sweet and tangy throughout and perfectly creamy too. Its the best contrast to the flavors in the cake. And a must have on any carrot cake, I think.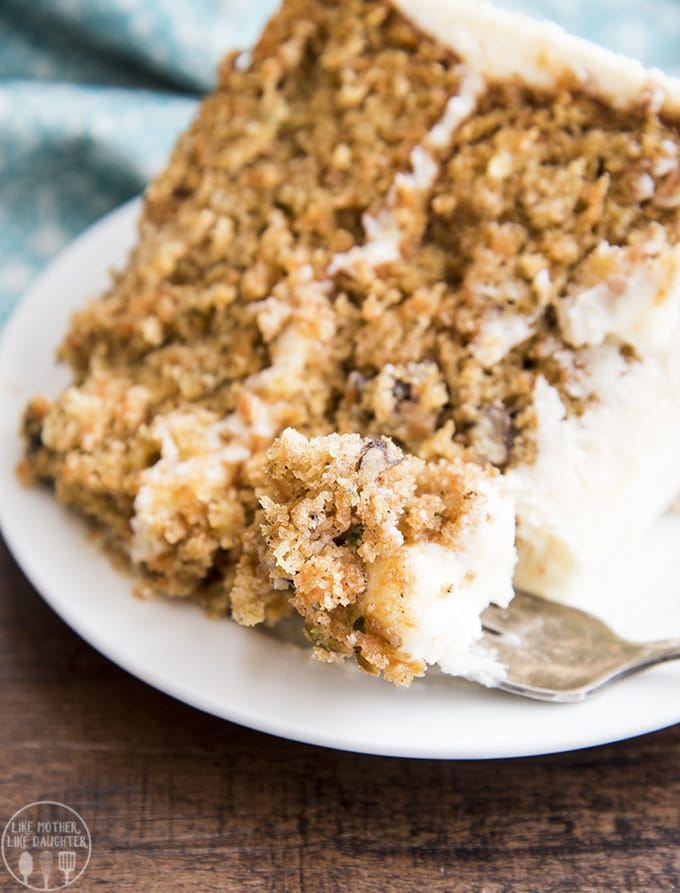 Layered Carrot Cake
Layered Carrot Cake
Ingredients
1 cup brown sugar
1 cup sugar
1 cup oil
¼ cup greek yogurt (or ¼ cup more oil)
3 eggs
¾ cup crushed pineapple
1½ tsp baking powder
1½ tsp baking soda
3 cups flour
2 tsp cinnamon
½ tsp nutmeg
¾ tsp salt
3 cups grated carrots
1½ cups chopped pecans, divided (optional)
For the Cream Cheese Frosting:
16 oz cream cheese, softened
1 cup butter (2 sticks), softened
3 cups powdered sugar
2 tsp vanilla
Instructions
Preheat the oven to 350 degrees.
Combine the brown sugar, white sugar, oil, yogurt, eggs and crushed pineapple in a large bowl.
In another bowl combine the baking powder, baking soda, flour, cinnamon, nutmeg, and salt.
Add the flour mixture to the wet mixture and stir together.
Fold the grated carrots into the batter.
Add ¾ cup of the chopped pecans into the batter.
Pour the batter into 2 greased and floured round 9in pans.
Bake for 30-35 minutes until a toothpick comes out clean.
Allow cakes to cool completely before removing from pans.
For the Cream Cheese Frosting:
Put the cream cheese into a large mixing bowl and beat over medium speed until smooth.
Add in the butter 2 TBS at a time, while mixing. Continue mixing till smooth.
Add in the powdered sugar and vanilla and continue to blend the frosting till completely smooth and creamy.
Place 1 layer of the cake on a cake stand or plate. Using a knife cut off the top of the cake if needed to make it flat.
Evenly cover the top with frosting.
Top with the 2nd layer of cake and flatter with a knife if needed.
Spread frosting evenly over the top and sides of the cake.
Decorate the top edges of the cake with remaining chopped pecans.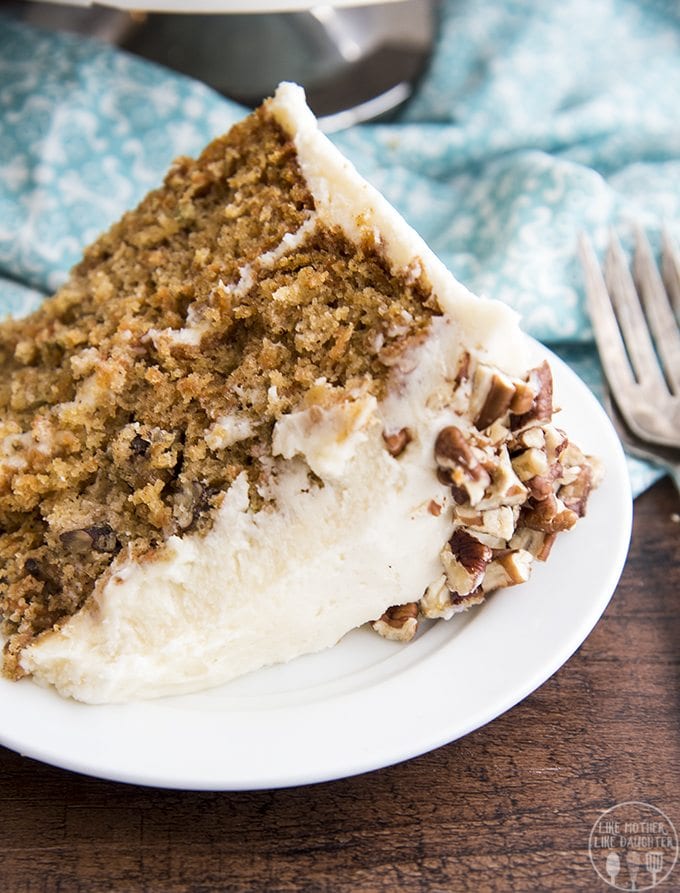 This cute mini Easter wreath was made my sister in law! You can get it, or some like it from her shop Marmalade Floral.