These lemon meringue pie cookie cups start with a sugar cookie base, lemon curd filling and a quick meringue topping for a perfect refreshing dessert. You won't be able to stop after just one! 
Pin these Lemon Meringue Pie Cookie Cups for Later.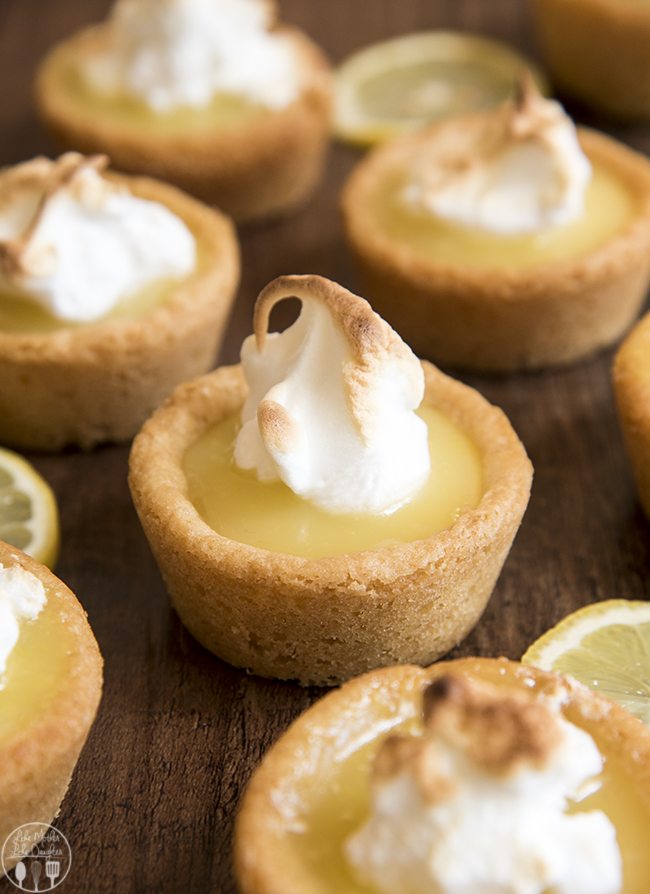 If you love lemon, or lemon meringue pie you will love these amazing mini lemon meringue pie cookie cups. Wow, that name is quite a mouthful, isn't it? 🙂 Well I promise you'll want to stuff your mouth full of these tasty cookie cups, I know I did!
These lemon meringue cookie cups start with a sugar cookie cup base, just like the other cookie cups I've shared this month – (check out the banana cream pie cookie cups and cheesecake sugar cookie cups if you haven't already) – can I tell you, I'm obsessed. You better believe I'm thinking up a million more ways to make cookie cup goodness, so stay tuned! And if you have any you've tried and love before send them my way.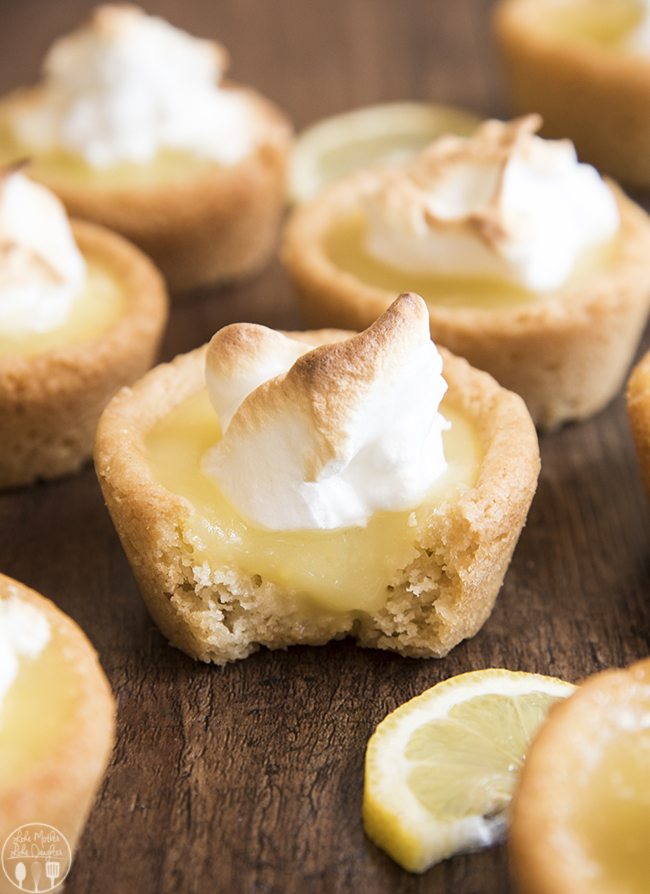 Next the cookie cups are filled with lemon curd, you can use a store bought lemon curd, or my amazing 4 ingredient microwave lemon curd! Then you'll whip up a 2 ingredient meringue using egg whites and a little sugar. Toast it up till the meringue gets that nice brown crust and then let them cool for a bit and then enjoy!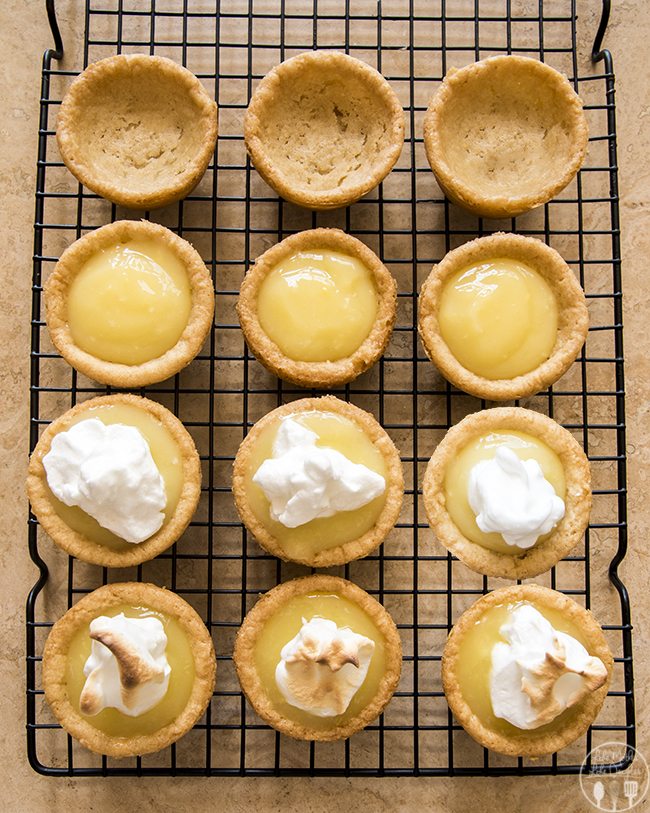 Did I mention that we have chickens now? Every one keeps wondering how I'm going to use up all those eggs – but I think they forget that I'm baking desserts obsessively for the blog (and to eat) several days a week. Also, we love breakfast and breakfast for dinner, so I don't think it'll be a problem. Especially because I think I'll be making these lemon meringue pie cookie cups every couple weeks all summer long, because YUM! And start to finish with the homemade lemon curd and meringue, you'll need 5 eggs, so voila 😉
Anyway, back to the important stuff – this recipe:

Lemon Meringue Pie Cookie Cups
Ingredients
1 package sugar cookie dough
For the Meringue:
Instructions
Preheat your oven to 350 degrees.
Cut sugar cookie dough into 12 slices.
Press each slice into a greased muffin tin. Press into the bottom and up the sides about ⅔ of the way, to create a little bowl.
Bake for about 15-18 minutes until the edges just start to turn a golden brown color.
Allow to cool for 5 minutes. Transfer to a wire rack to cool completely. (The easiest way for me was just by inverting the pan and tapping the bottom so they'd fall out)
Fill each cookie cup with about 1½ TBS of lemon curd. Set aside
Beat egg whites on high until they are nice and foamy.
Add sugar 1 tablespoon at a time until added, and keep mixing on high until stiff peaks are formed.
Top each cup with meringue.
Place cups on a baking sheet and broil in oven, watching super closely until the tips are browned! Mine only took about 15-18 seconds until the tips were browned, and they burn quick.
Remove from oven and move to a cooling rack to cool completely.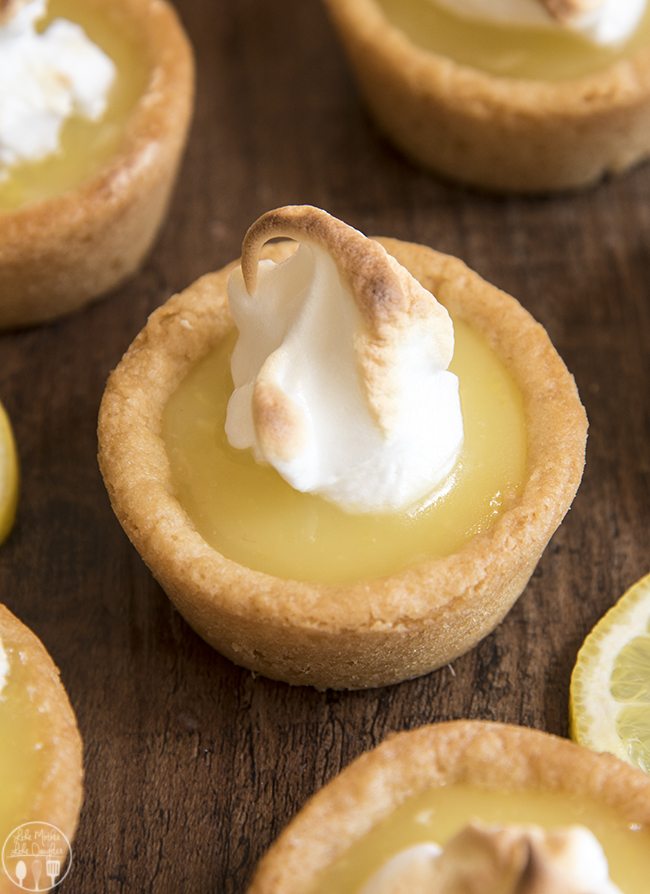 For more lemon recipes I think you'll love, try these: