These loaded potato skins are crispy potato skins loaded with creamy mashed potatoes, sour cream, butter, and cheese, topped with bacon bits, green onions, chives, and more cheese. Baked potatoes at their best, a perfect appetizer or side dish!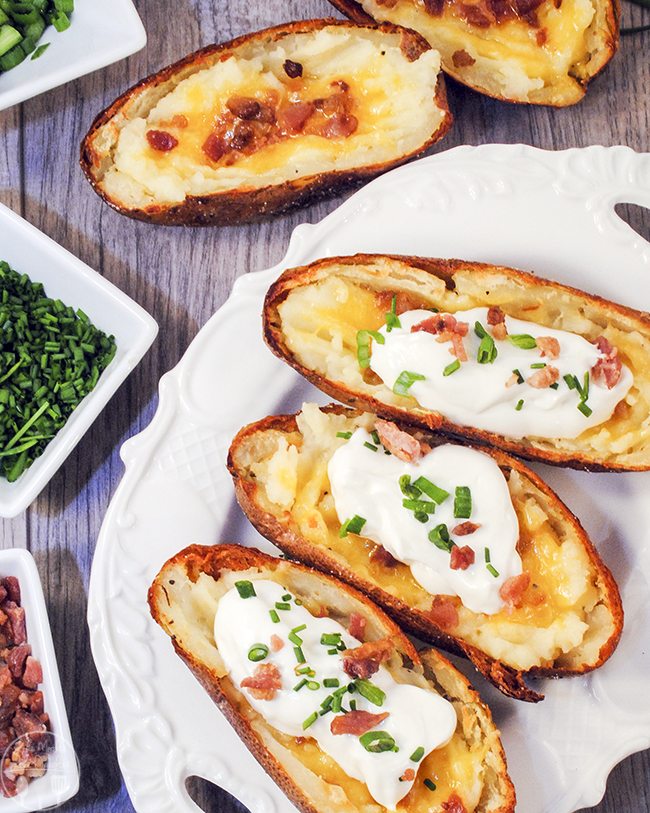 Photo Update 1/20/16
I grew up in Idaho, my high school mascot was a Russet potato (hilarious I know).  My hometown was surrounded by potato fields and the schools closed every fall for 2 weeks so everyone could harvest the potatoes.  So it probably is no surprise that one of my favorite foods in the whole world is a baked potato, add a little butter and sour cream and it is even better.  I could eat them almost daily but I don't. I rarely made mashed potatoes for my family but I would be happy to make a baked potato any time. I am even happy to eat them for breakfast.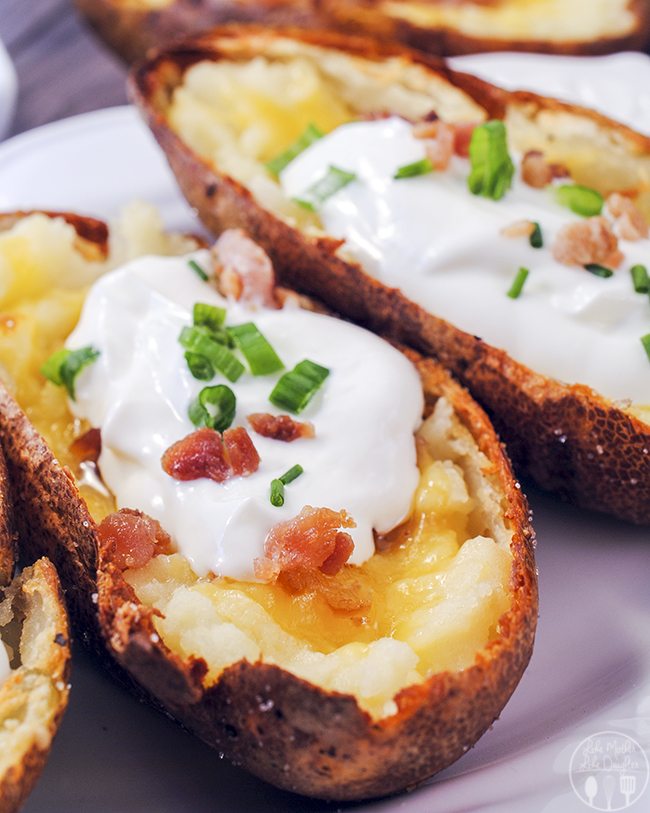 I discovered a little secret to making a baked potato even better, add a little olive oil and salt to the scrubbed skins before roasting. After roasting top your potato with butter, sour cream, and a few green onions or chives – the combination is wonderful.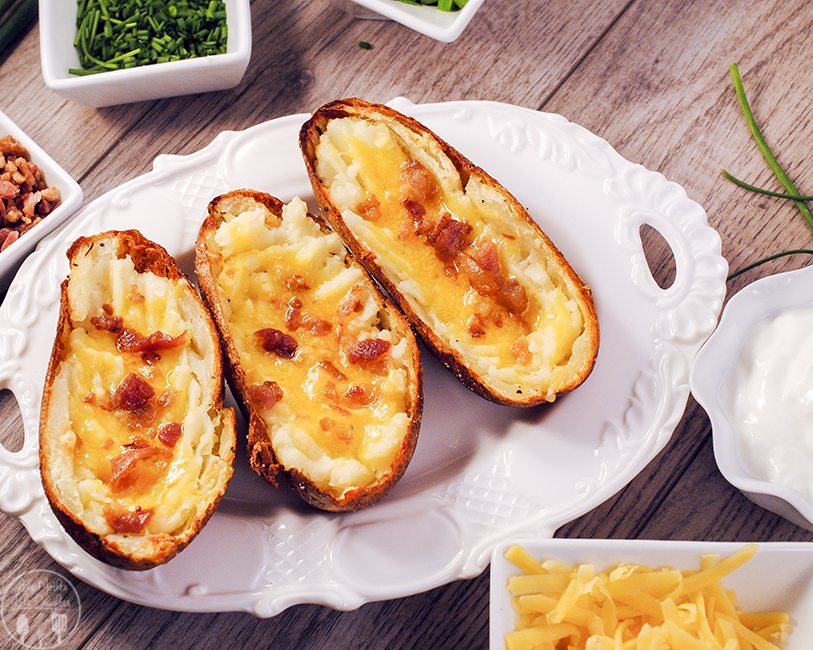 These loaded potato skins are potatoes that are baked to perfection, with a crispy skin. Then you'll scoop out the insides of the potato together with butter and sour cream. Return some of the mashed potatoes to the skins, and top with cheese, bacon bits, sour cream, or any other baked potato toppings you love.
I'll admit, we have these for dinner sometimes, but they're perfect for an appetizer or side dish too. They'd be so great for the superbowl coming up too!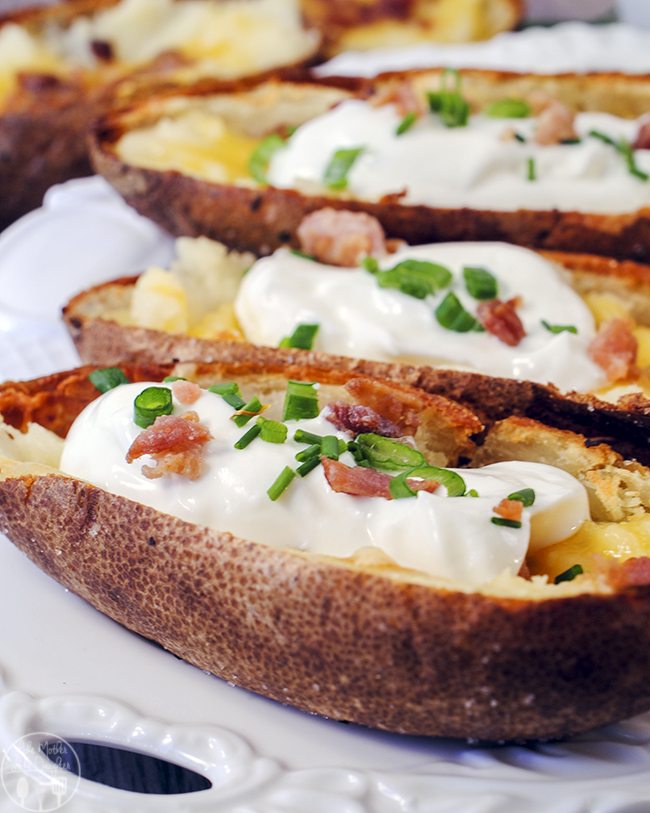 Loaded Potato Skins
Ingredients
3 Russet (baker) potatoes - scrubbed clean
2 - 3 TBS olive oil
2 tsp sea salt (divided)
½ tsp pepper
6 slices bacon - cooked and crumbled (or bacon bits)
1½ cups shredded cheddar cheese
¼ cup butter
1 cup sour cream (divided)
3 green onions - minced (or 3 TBS minced chives)
Instructions
Preheat oven to 425 degrees
Scrub the potatoes clean and prick each 3 times with a fork
In a small bowl combine olive oil, 1 tsp salt, and pepper. Rub ½ of mixture all over potatoes.
Bake potatoes for 1 hour or until fork tender.
While potatoes are baking cook bacon slices if you are not using precooked bacon bits. Crumble.
Grate cheese. Mince onions or chives or use both.
Once potatoes are tender remove from oven, cut each in half, scoop out most of the potato and put in a bowl; leaving about ¼ inch of potato in skin.
Mash potatoes, ¼ cup butter, ½ cup sour cream together.
Combine in ¾ cup grated cheese and 1 tsp salt.
Slater olive oil mixture all over the inside and outside of the potato skin.
Set on cooking tray skin side up to roast for 10 more minutes, turn over and roast for 10 more minutes.
Load each potato skin with 1 to 2 large spoonfuls of mashed potatoes but don't fill the skin completely. Make an indentation in the potato to add more toppings later.
Top with the remaining shredded cheese and roast potatoes for 5 more minutes in oven to melt cheese.
Serve topped with bacon bits, green onions, chives, more cheese or sour cream.
What is your favorite baked potato topping?