Monster cookie dough dip cheeseball is a delicious peanut butter dessert dip that tastes like monster peanut butter cookies and peanut butter cookie dough. Its perfect served with pretzels, graham crackers, and other cookies!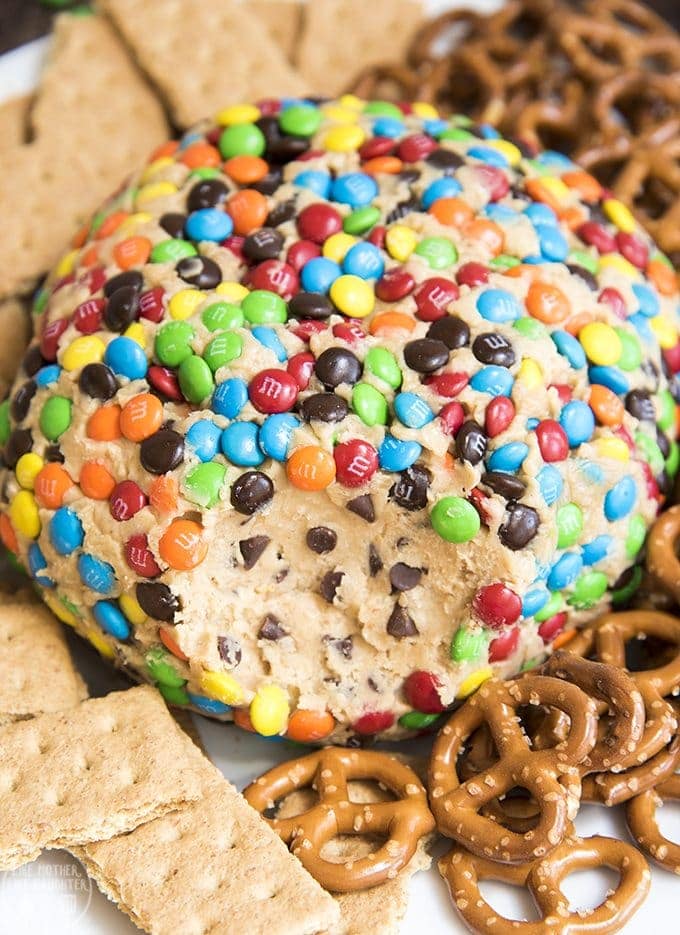 You know what's funny, I've actually only made "monster cookies" once or twice, but I love the combination of flavors that comes together with the peanut butter, oats, m&ms and chocolate chips. This delicious monster cookie dough dip is loaded with those same ingredients for the same great taste!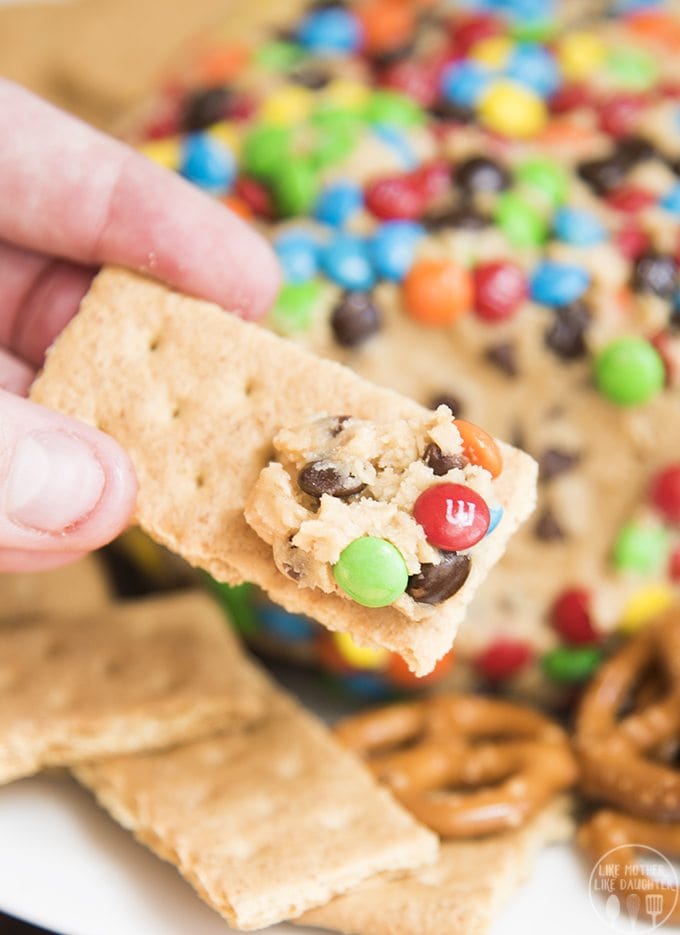 The dip combines these flavors and it all comes together and tastes a lot like cookie dough without the flour or eggs!
One of my favorite treats that I've made over and over again is my monster cookie granola bar bites. And now this monster cookie dough dip is a new favorite as well!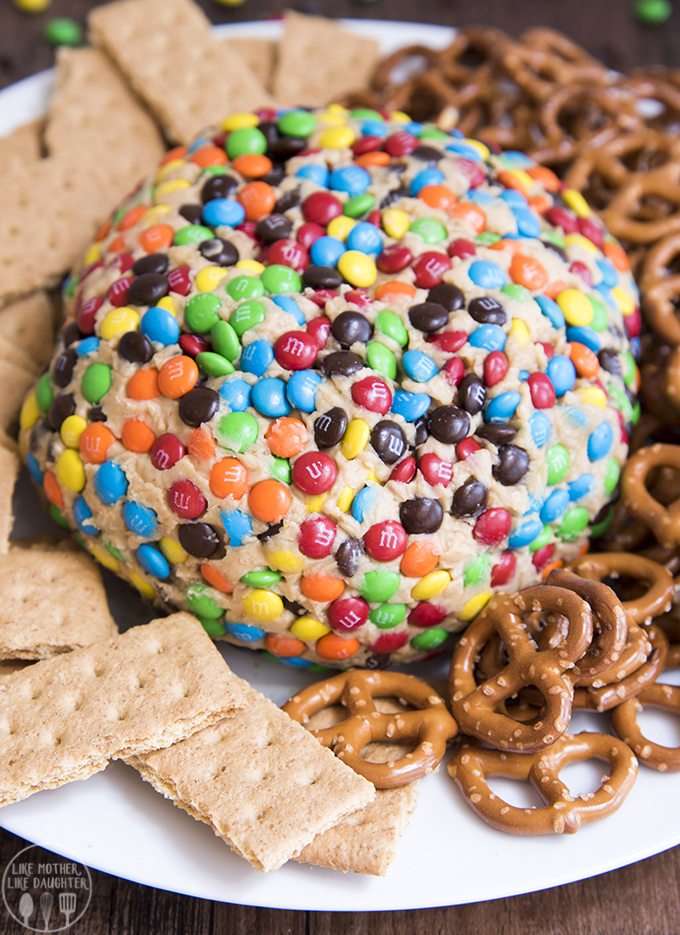 This dip is delicious served up as a "cheeseball" though if you're like my husband just the name of calling it a cheeseball is strange to him, and he thinks I should just call it a monster cookie peanut butter dessert dip. You can serve it up as a dip in a bowl, instead of shaped like a ball as well, just mix in the m&ms with the chocolate chips instead of putting them all around the outside of the ball.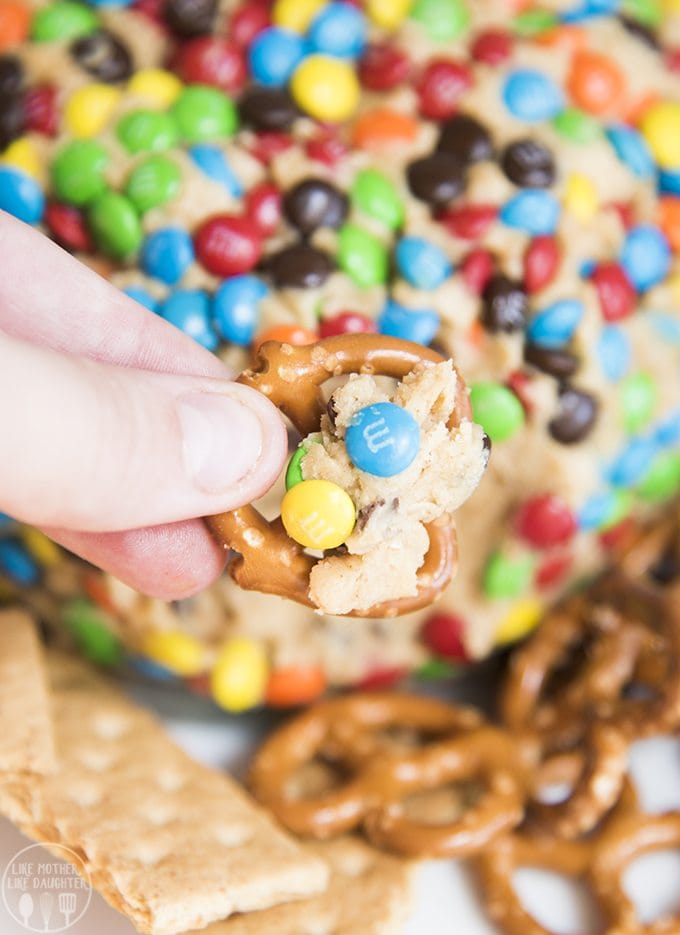 It's perfect served up with pretzels for a sweet and salty treat, with graham crackers, chocolate chip cookies, or any of your other favorite cookies.

Monster Cookie Dough Dip (Cheeseball)
Monster Cookie Dough Dip (Cheeseball)
Ingredients
8 oz softened cream cheese
¼ cup softened butter (1/2 stick)
1 cup peanut butter
¼ cup brown sugar
½ tsp vanilla extract
1 cup quick oats
2 cups powdered sugar
½ cup mini chocolate chips
1 cup mini m&ms
Instructions
Beat your cream cheese until it is smooth and creamy.
Add in the butter and peanut butter and mix till smooth.
Mix in the brown sugar, vanilla, oats, and powdered sugar.
Fold in the mini chocolate chips.
Scoop the mixture into the middle of a piece of plastic wrap.
Roll mixture into a ball and completely cover in plastic wrap.
Place into the fridge for about 1 hour until somewhat firm.
Dump m&ms onto a flat plate.
Remove ball from plastic wrap and roll in the m&ms. Press m&ms into empty spots as necessary.
Place ball into the fridge for at least another 1 to 2 hours (or overnight).
Serve with graham crackers, pretzels, cookies, etc.
Recipe is inspired by
this cheeseball
, but adapted from my
peanut butter cheeseball
recipe.