With how many desserts I make every week, its lucky that Nate has a team of men that he works with who like to eat treats because I send Nate to work with all the delicious cookies, brownies, cupcakes, or whatever that I make and they just gobble them up in a few minutes. Sometimes he takes the treats the next day after I made them in the morning with him, or sometimes Colby and I drive up and see him for a little bit on his lunch break and take the treat with us then. Like we did with these Peanut Butter Cup Cookies. And per usual his team gobbled these up just minutes after Nate returned to work. But, I promise, even if you're not a ravenous man you'll still love these cookies. I mean, as long as you love chocolate and peanut butter.
Save these Peanut Butter Cup Cookies for Later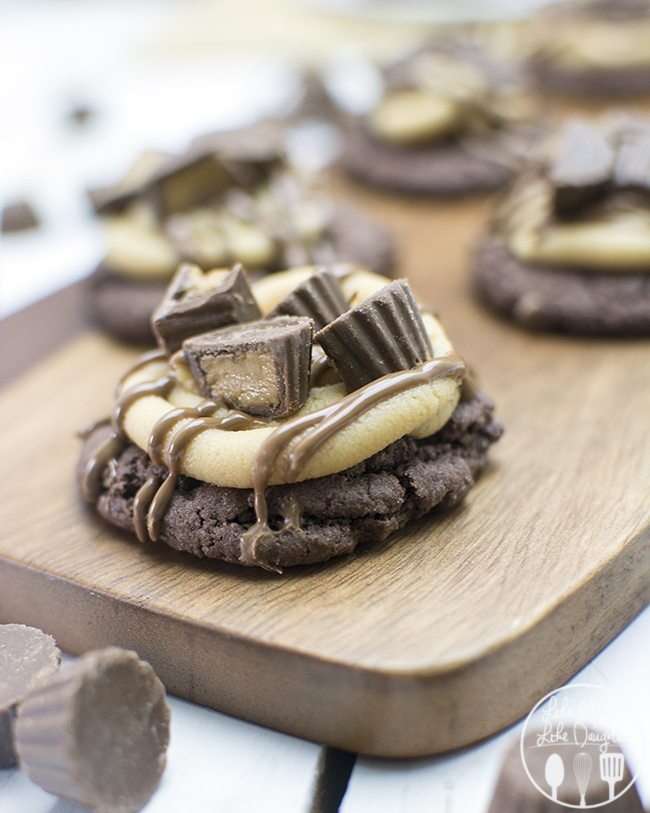 The base for these cookies is easy to make, starting with a devil's food cake cake mix, just the same as these delicious Rolo cookies. Then you top them with a simple homemade peanut butter buttercream frosting, drizzled with a peanut butter chocolate ganache, and topped with some chopped up mini peanut butter cups.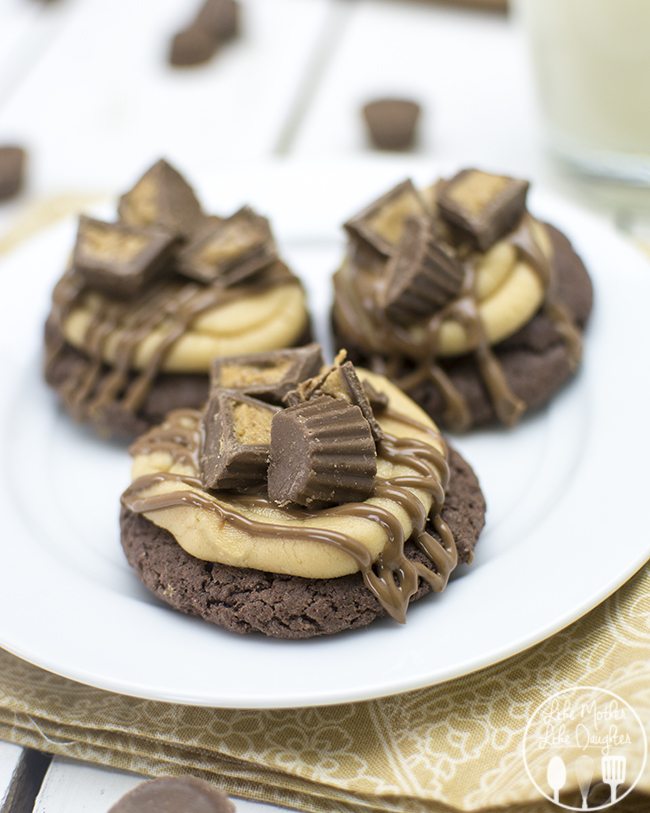 The chewy chocolatey cookie, topped with the smooth buttercream, topped with the rich ganache – I swear these might just be my new favorite cookies. And for all you peanut butter cup, or chocolate and peanut butter lovers out there, I think these might become your new favorites too!
These are adapted from this peanut butter brownie bite recipe from Your Cup of Cake.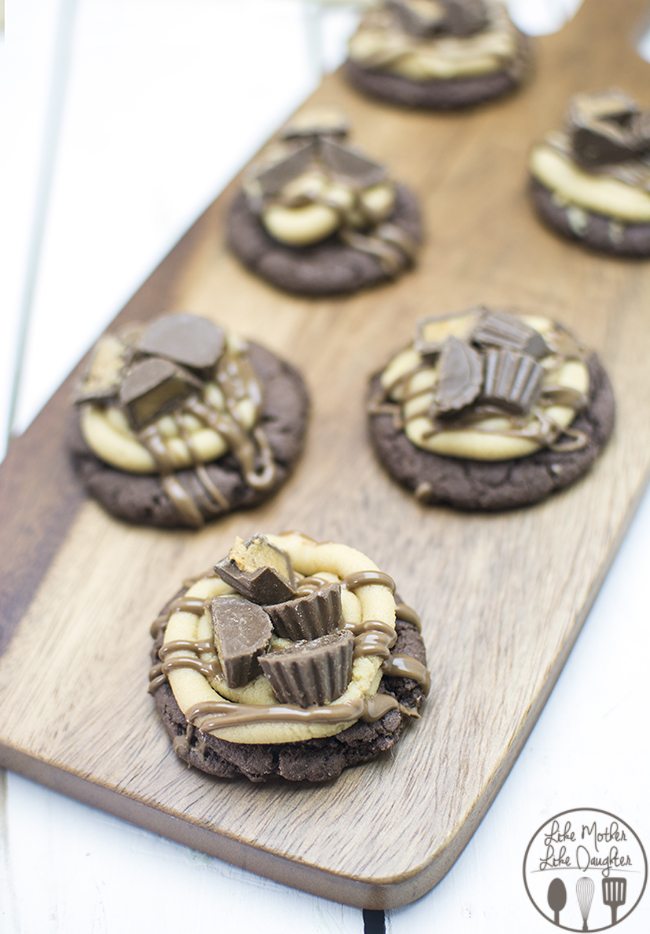 Peanut Butter Cup Cookies
Ingredients
For the Cookie Base:
1 box devil's food cake mix
2 eggs
½ cup vegetable oil (or canola or coconut)
For the Peanut Butter Buttercream:
½ cup butter, softened
½ cup creamy peanut butter
1 tsp vanilla extract
3 TBS milk
3 cups powdered sugar
For the Chocolate Peanut Butter Drizzle:
¼ cup chocolate chips
2 TBS creamy peanut butter
½ bag Reeses' minis
Instructions
Preheat your oven to 350 degrees.
In a large bowl, combine your cake mix, eggs and oil and stir until smooth.
Scoop 1 inch sized dough balls onto a cookie sheet lined with parchment paper or a silicone liner.
Bake for about 7 minutes.
Allow to cool completely.
Beat your butter and your peanut butter together until smooth.
Add in your vanilla extract, milk and powdered sugar and stir till smooth. Add in a little more milk or a little more powdered sugar to get the right consistency.
Spread your peanut butter buttercream over the top of your cookies.
In a small bowl, microwave your chocolate chips and peanut butter in 20 second increments, stirring in between till smooth and creamy.
Scoop your ganache into a small ziplock bag and clip a tiny bit of the corner off.
Drizzle the chocolate ganache over the top of each cookie.
Chop your mini peanut butter cups into halves or fourths.
Place a few pieces of mini peanut butter cups on the top of each cookie.
Allow cookie to rest till ganache is set.
Enjoy the amazing taste of peanut butter cup in these delicious cookies!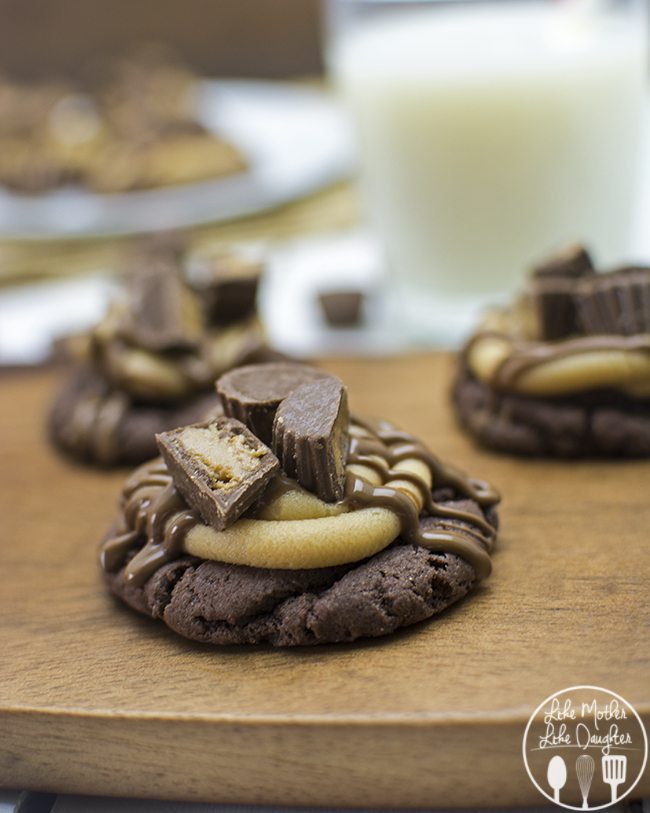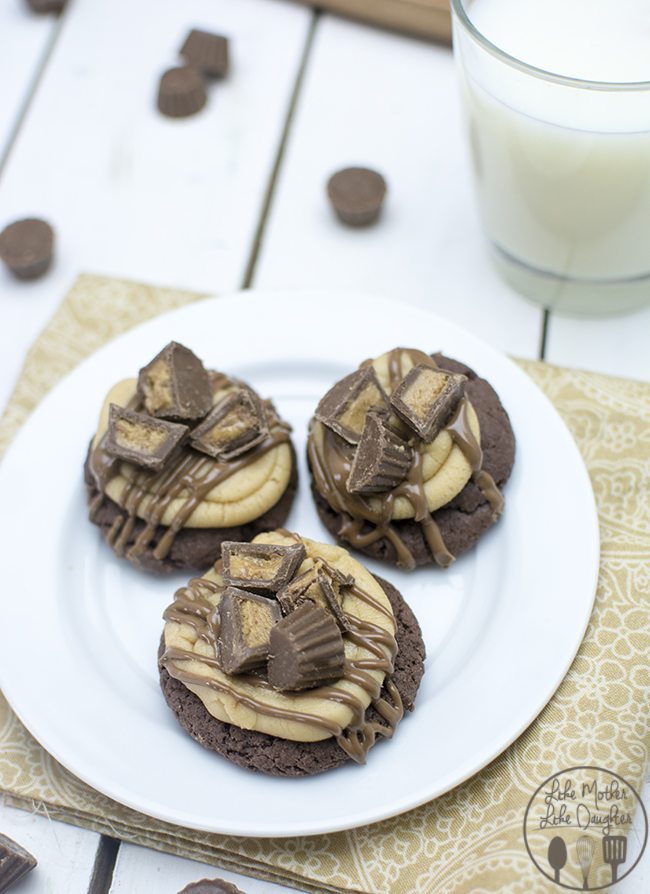 If you like these cookies, I think you'll like these recipes too:
Chocolate and Peanut Butter Swirl Cookies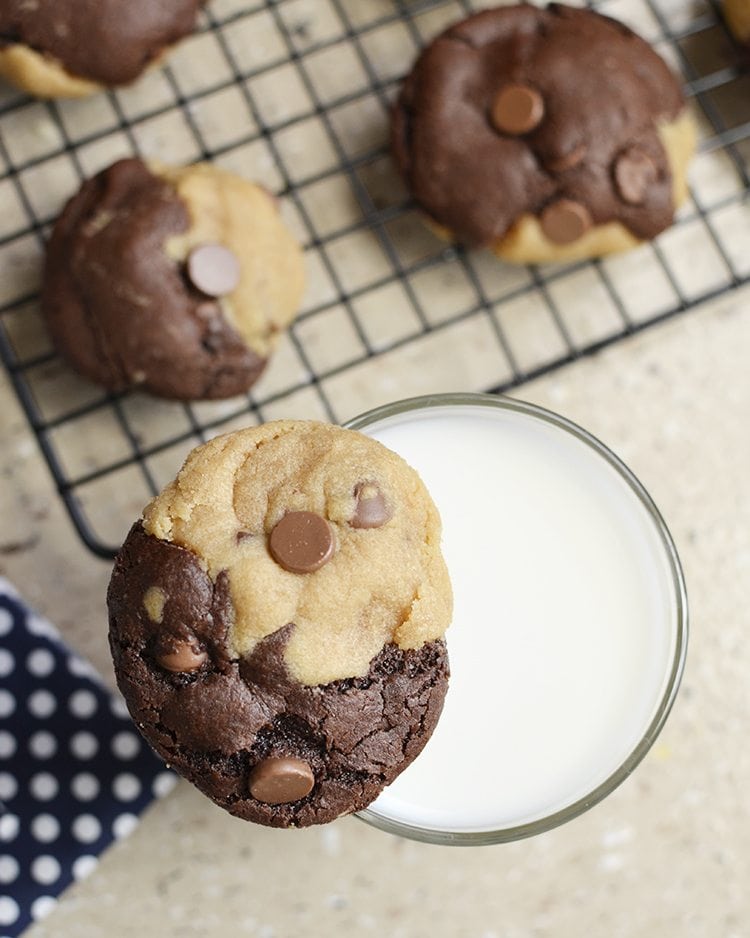 Peanut Butter Chocolate Chip Cookies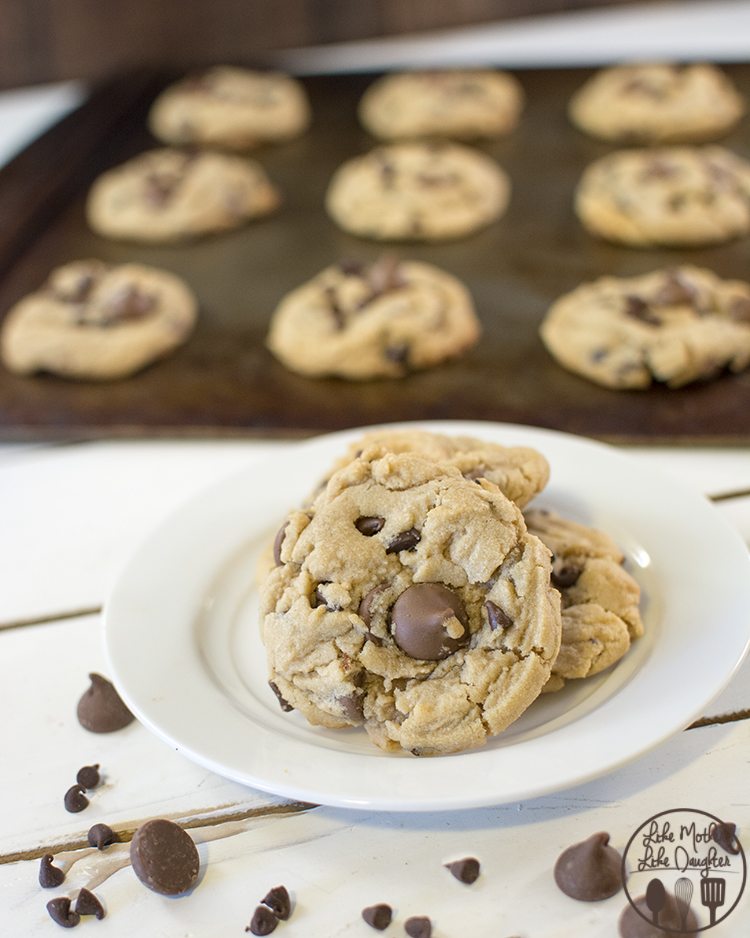 Chocolate Peanut Butter Bundt Cake