These chicken taco wonton cups have layers of crunchy wonton shells, salsa seasoned chicken, melty cheese, and are topped with a fresh pineapple, mango salsa.
Pin these pineapple chicken taco wonton cups for later!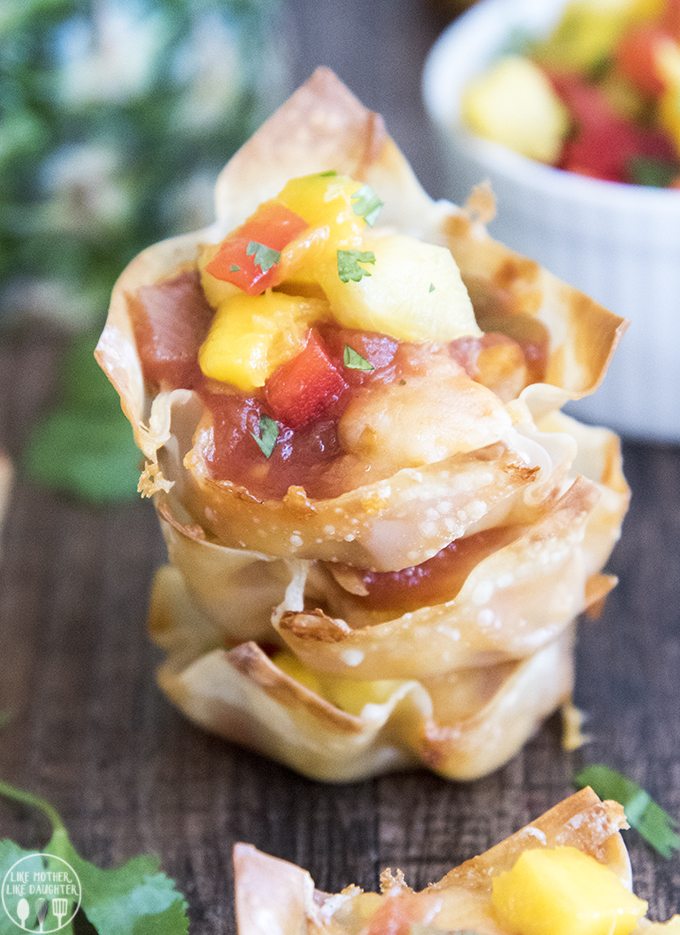 How fun are these chicken taco wonton cups? They are seriously delicious too. They're so many layers of goodness in a cute little cup! Great to eat one or two as a side dish or appetizer, or a few more as dinner.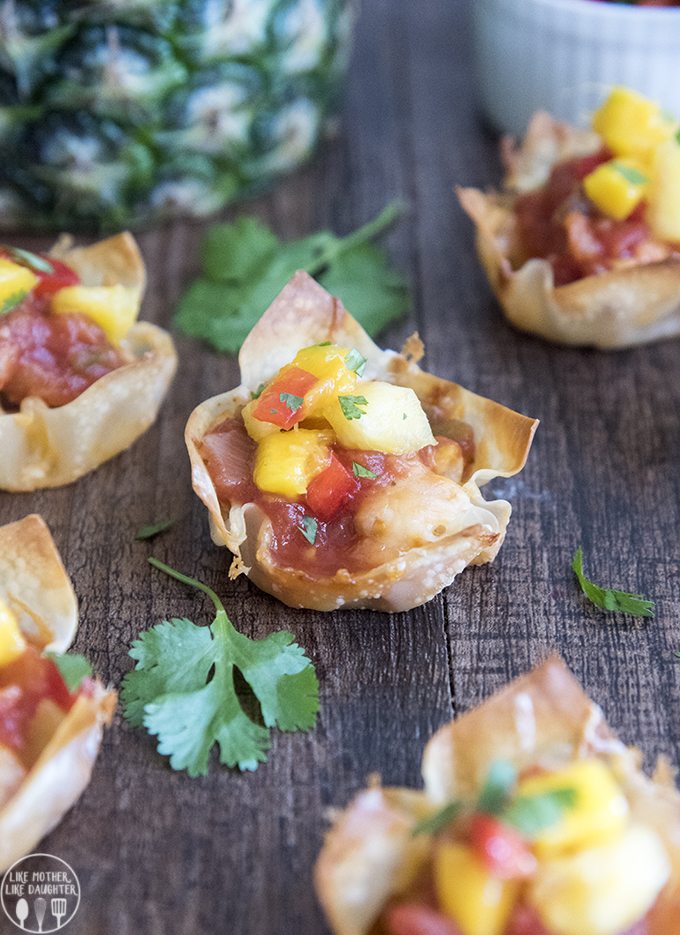 These cups are filled with so many layers of goodness. The base of the cup is a wonton wrapper baked up to make a crispy shell. Filled with cooked chicken, mixed with La Victoria Pineapple Salsa which adds a little sweet and spiciness to them. Top the chicken with shredded cheese and bake. Top each cup with a little more of the Pineapple Salsa, topped with a fresh pineapple and mango salsa.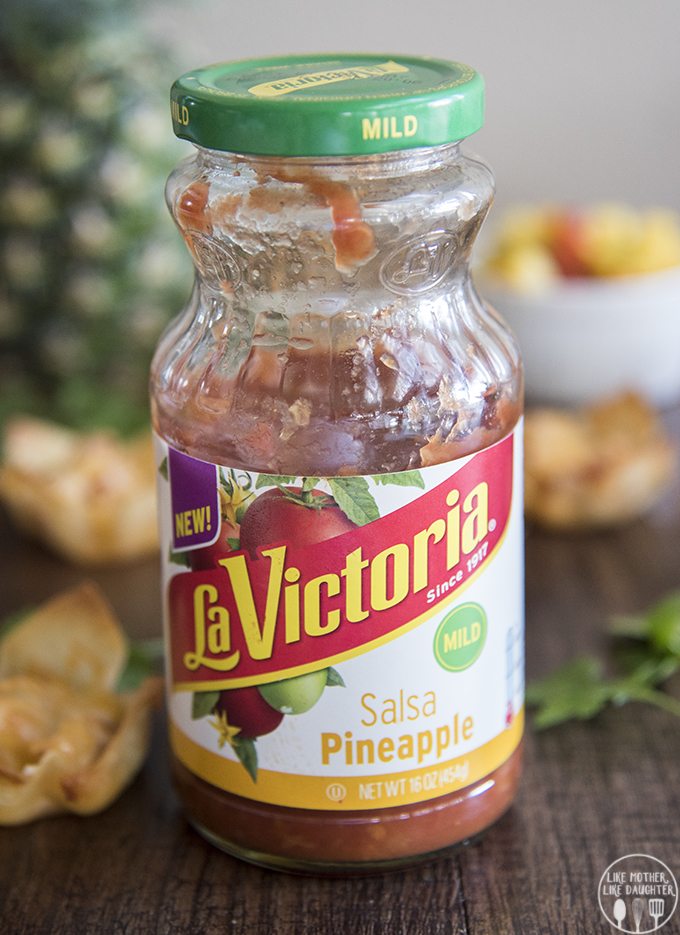 Each little bite sized cup is full of so much flavor! These are great in the summer, winter, whenever, and would be great for a party or game day too.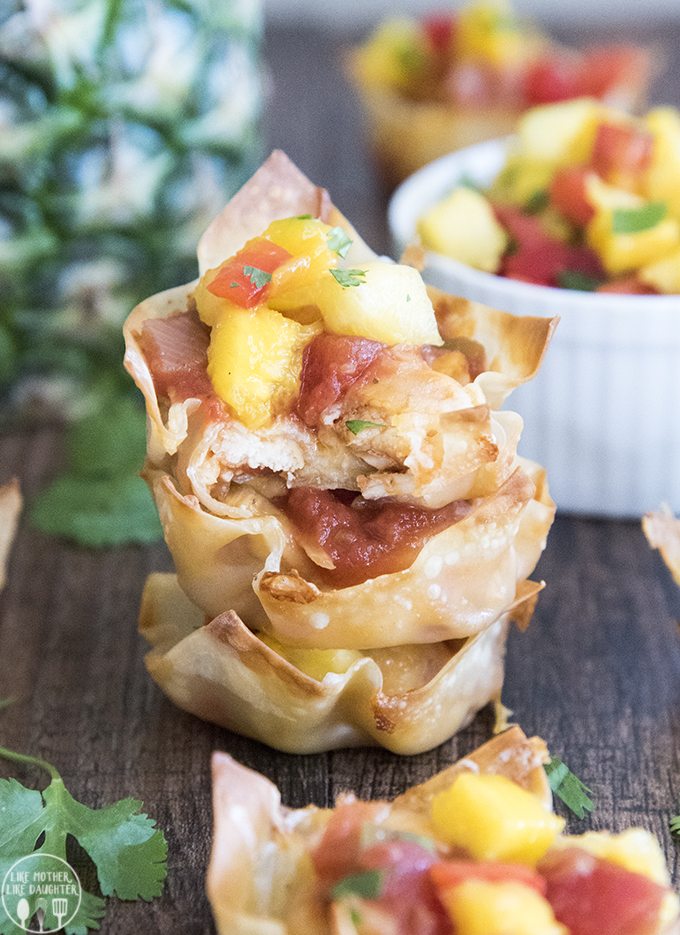 Serious goodness right there.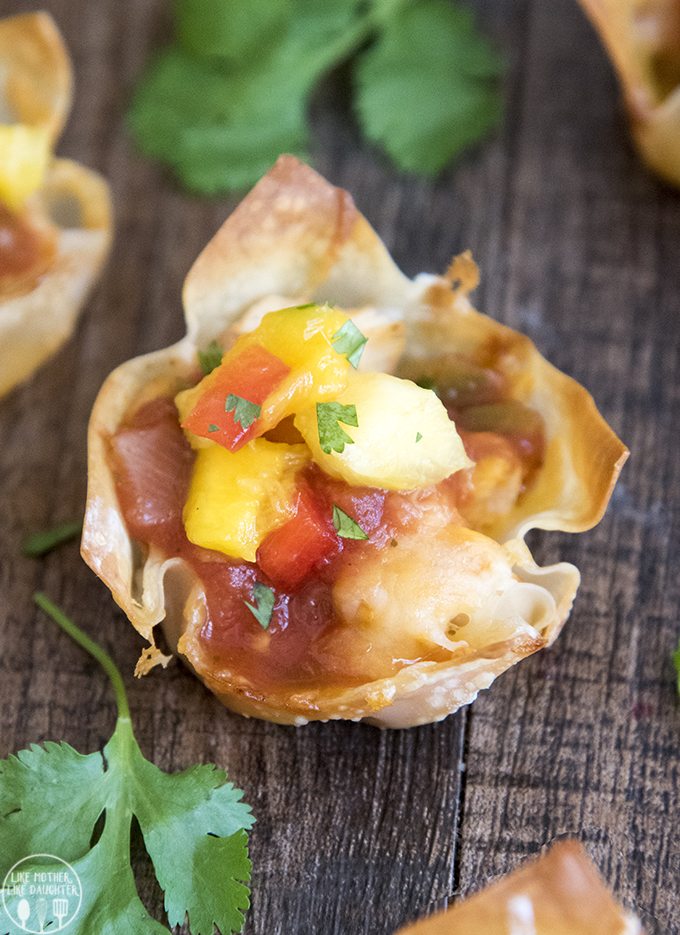 Pineapple Chicken Taco Wonton Cups
Ingredients
1 large chicken breast
¾ cup La Victoria Pineapple Salsa, divided
12-18 wonton wrappers
1 cup shredded cheddar cheese (or mexican blend)
Homemade Mango, Pineapple Salsa:
¼ cup diced fresh pineapple
¼ cup diced fresh mango
⅓ cup diced red pepper
2 TBS chopped fresh cilantro
Instructions
Preheat the oven to 375 degrees.
Spray a muffin pan with nonstick spray and set aside.
Cook your chicken in a large saute pan.
Shred, or chop chicken into small pieces.
Mix chicken with ¼-1/3 cup La Victoria Pineapple Salsa.
Press a wonton wrapper into each muffin tin spot.
Add about 1 TBS of seasoned chicken into each cup.
Top each cup with about 1 TBS of shredded cheese.
Bake in the oven for 12-14 minutes until the wonton wrappers are browned and crispy and the cheese is melted.
Meanwhile mix your fresh pineapple, mango, red pepper and cilantro in a small bowl.
Top each cup with additional La Victoria Salsa and a small spoonful of fresh mango pineapple salsa and serve hot.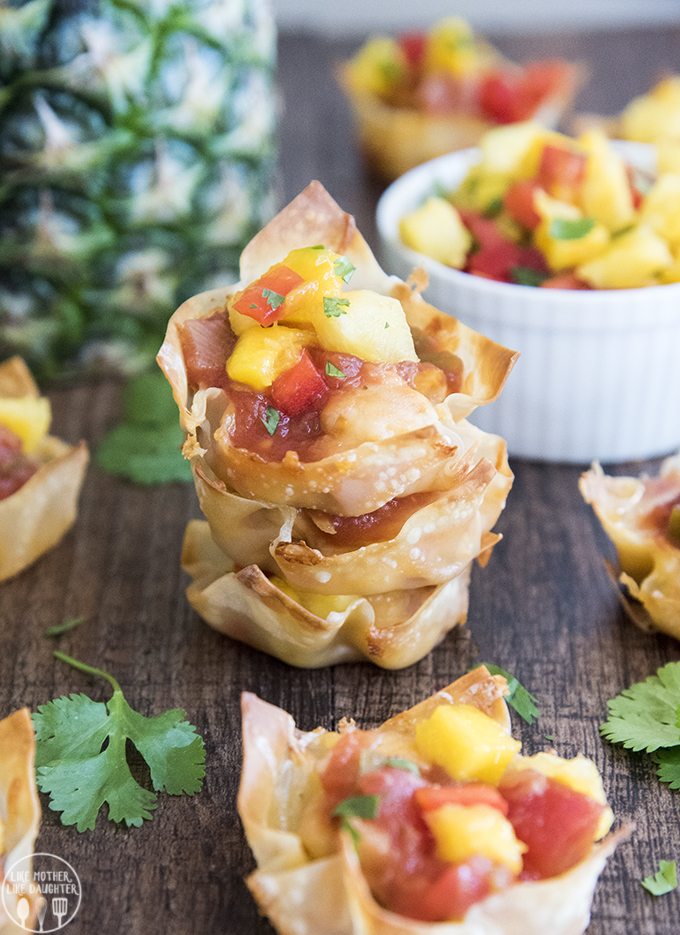 La Victoria brand is giving away a trip to San Diego for two, and I would LOVE for one of our readers to win! San Diego is near my home town and it's such a fun place to visit. I wish I could go on this trip! All you have to do is share where you seek out fresh summer flavor and share a photo of it on instagram or facebook and tag @LaVictoriaBrand. For more giveaway info, click here.