These mini wonton taco cups have layers of crunchy wonton shells, seasoned beef and melty cheese. Top them with everyone's favorite toppings for a great appetizer or dinner!
Pin these wonton taco cups for later.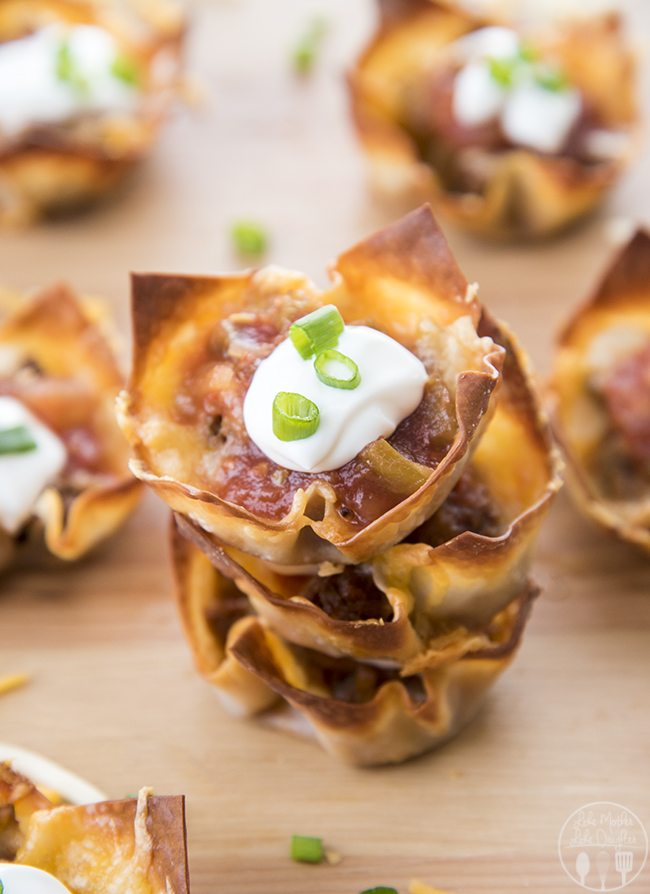 How adorable are these wonton taco cups? And I promise they are delicious too! They're crispy little wonton shells filled with delicious seasoned beef, and melty cheese on top. Top them with your favorite taco toppings – some I can recommend are salsa, sour cream, green onions, or cilantro (all delicious, I might add).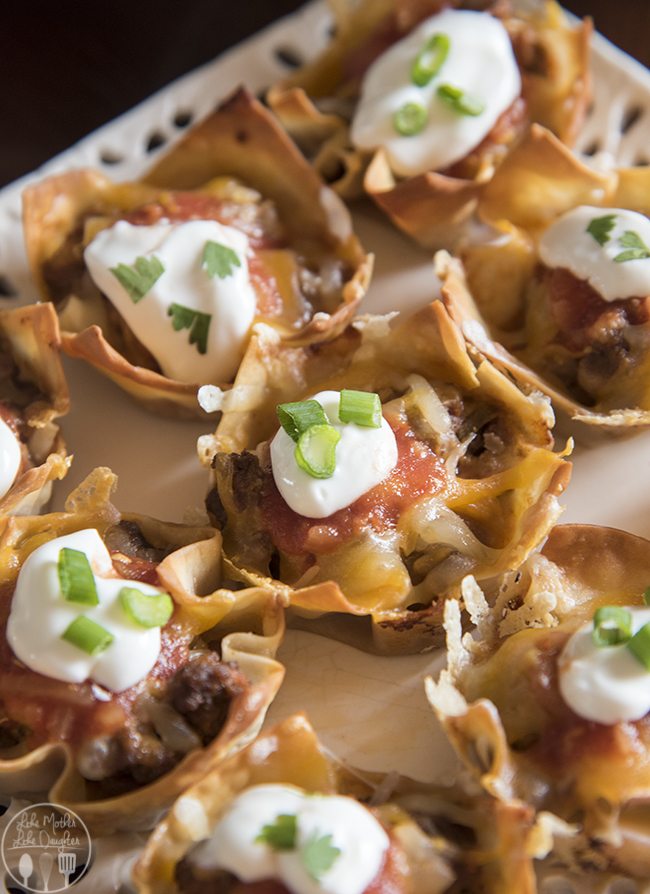 Just look at all those layers of deliciousness.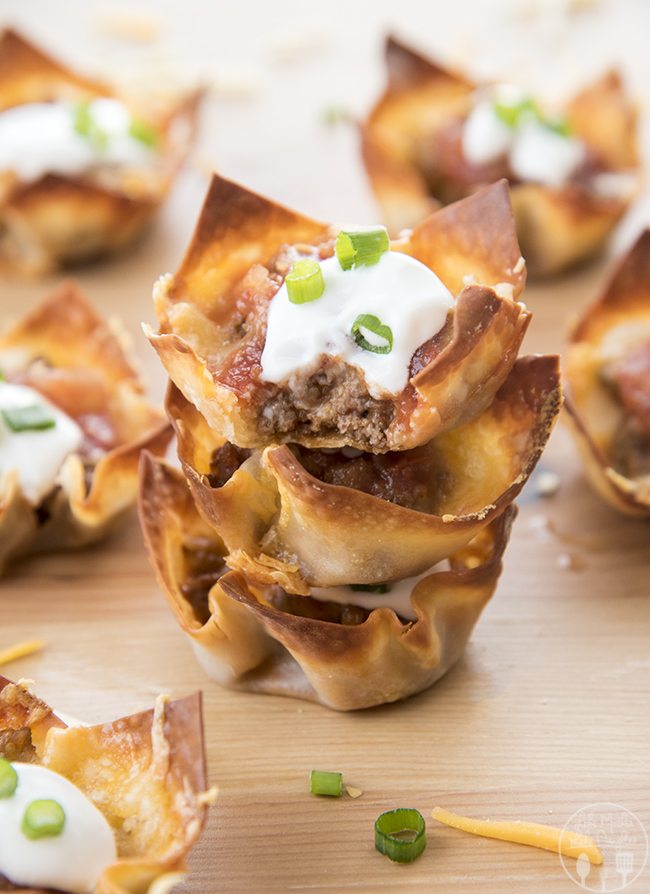 These mini taco cups are perfect as an appetizer (they'd be great for watching sports – because lets be honest the best thing about sports is the sports food!) or they'd be great for dinner too, with a salad, or corn as a side!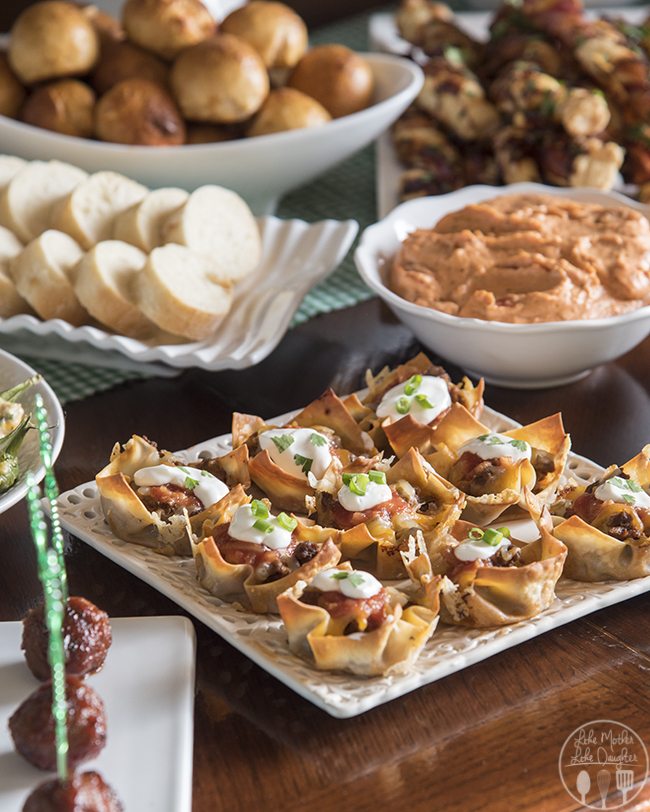 Luckily for you they are so easy to make too. You'll cook up some ground beef (don't forget to drain the grease!) mix it with some taco seasoning, salsa (or tomato sauce, or diced tomatoes). Press a wonton wrapper into each spot of a standard sized muffin tin (sprayed with nonstick spray first). Add 1-2 tablespoons of taco meat to each cup, top with a hearty helping (about 1 tablespoon) or cheese and place in your oven to bake for about 12-14 minutes until the wonton wrapper edges are nice and brown and crispy and the cheese is melty on top. Serve immediately. Allow everyone to top their own with their favorite taco toppings (like I listed above) and voila.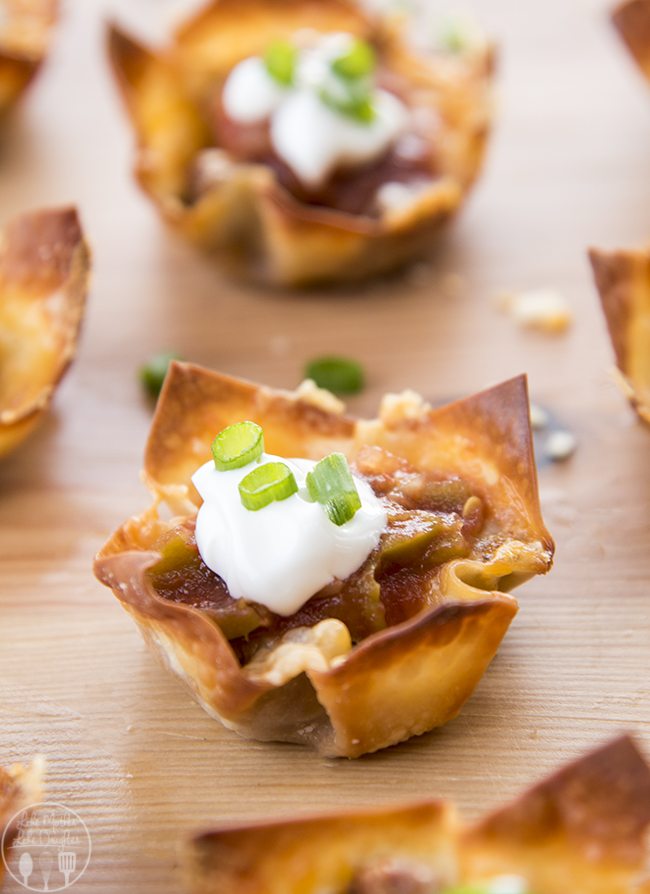 Wonton Taco Cups
Ingredients
1 lb ground beef
2 TBS taco seasoning
½ cup salsa
24 wonton wrappers
2 cups shredded cheese (or mexican blend)
taco toppings
Instructions
Preheat your oven to 375 degrees.
Spray a muffin tin with nonstick spray. Set aside.
Cook your ground beef in a large saute pan. Drain grease from ground beef.
Mix your taco seasoning, and salsa in with your ground beef.
Line each muffin tin spot with a wonton wrapper.
Add about 1 TBS of taco meat to each cup.
Top each cup with 1 TBS shredded cheese
Bake for 12-14 minutes until the wonton wrappers are browned and crispy and cheese is melted!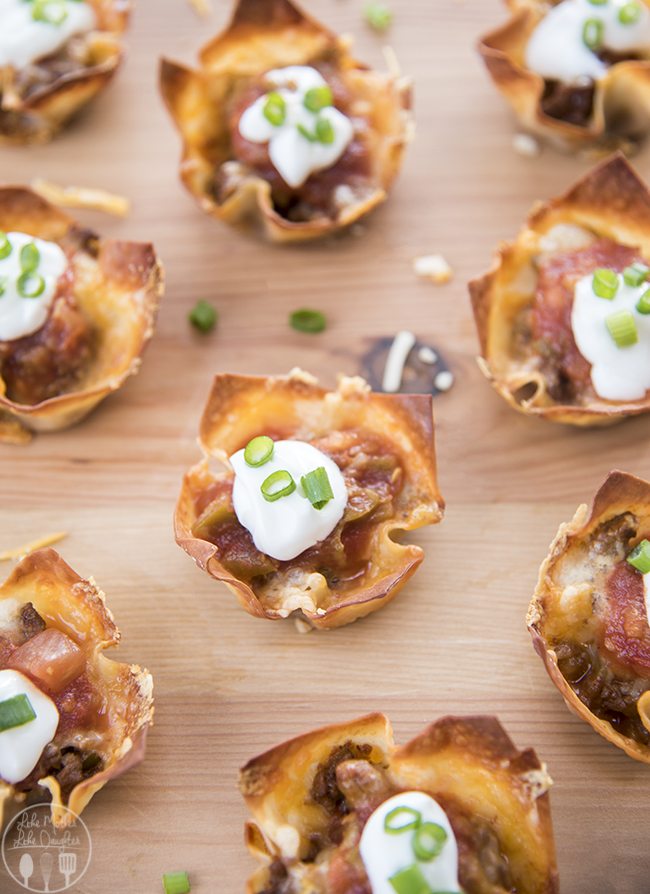 MAKE THESE AMAZING WONTON TACO CUPS WITH THESE GREAT KITCHEN TOOLS AND INGREDIENTS: