This homemade raspberry lemonade is perfectly refreshing and flavorful. Its the perfect thirst quenching drink for spring and summer!
Pin this amazing refreshing Raspberry Lemonade for later!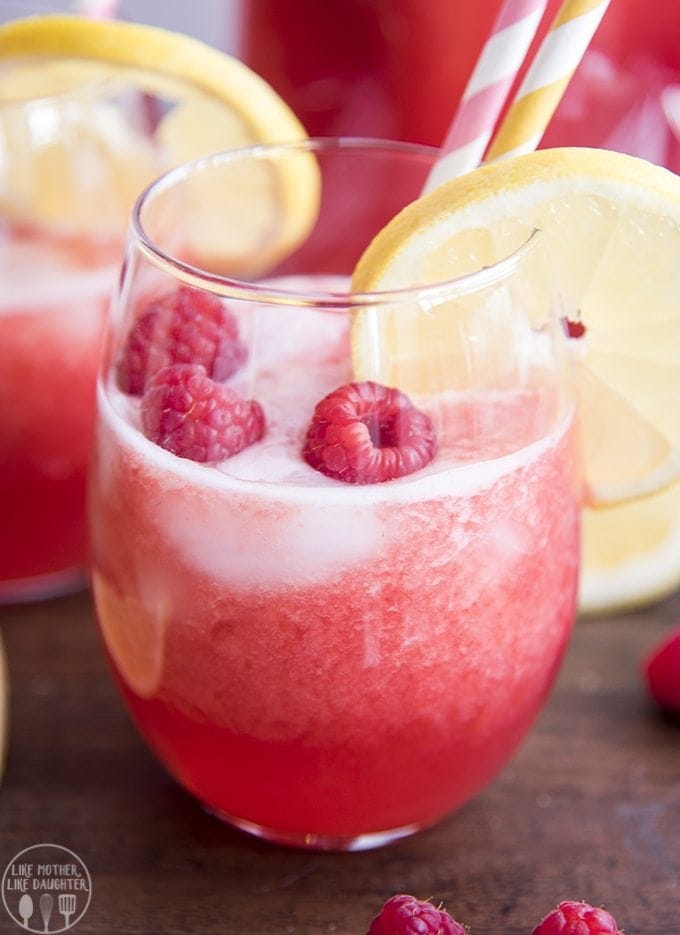 When we go out to eat I don't often order a drink, I'll usually just get a cup of ice water. But every once in a while I'll splurge a little, and my favorite thing to get is a flavored lemonade. Especially a place like Red Robin or Winger's that you know puts the real fruit syrup into the strawberry lemonade instead of just giving you Minute Maid.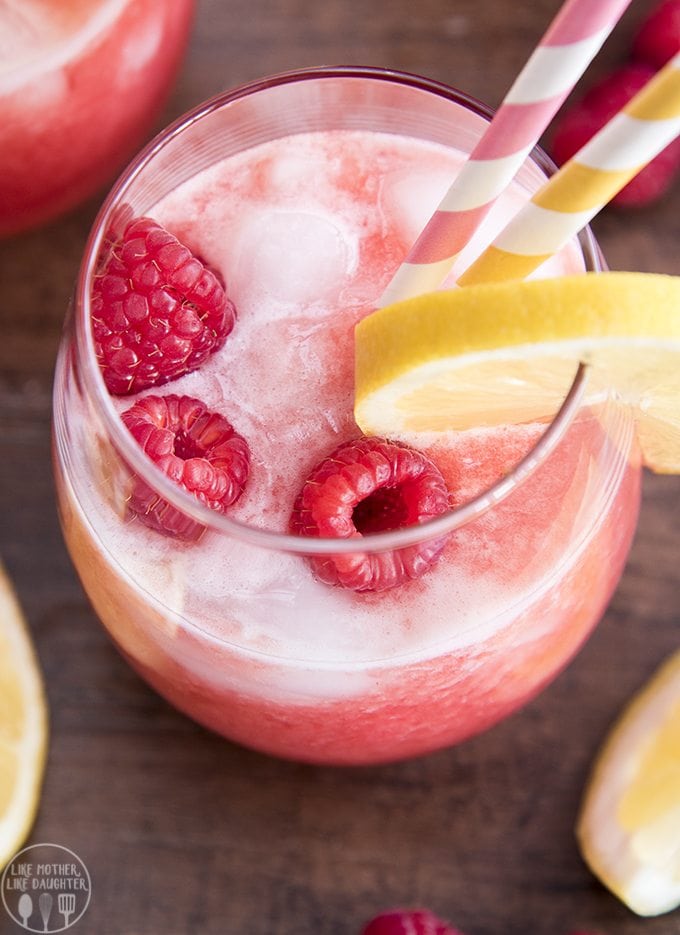 One of my favorite lemonade flavors is raspberry lemonade. I just love fresh raspberries all year long, but especially in the summer when I used to be able to go and pick one or two off of our raspberry plants.
This raspberry lemonade is incredible. Its got the perfect flavor of fresh raspberries bursting throughout, and the tanginess of the lemonade. It might be my new favorite drink, and its so easy to make at home too.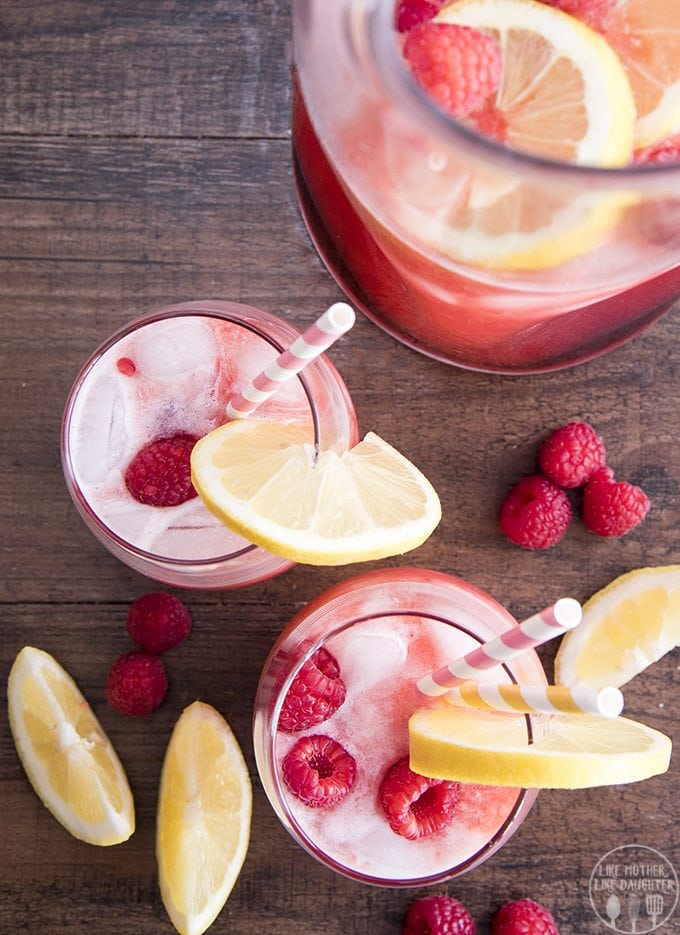 All you need is 2 cups of fresh raspberries, sugar, water, and fresh squeezed lemon juice. You'll puree the raspberries and push them through a fine mesh strainer to get the seeds out. You'll make a simple syrup with a cup of sugar and a cup of water, and you'll of course squeeze your lemons.
Mix together the simple syrup, raspberry puree, lemon juice and a little more water and voila. Pour into your cups with a little ice and you've got the most refreshing and delicious drink ever. You can thank me later.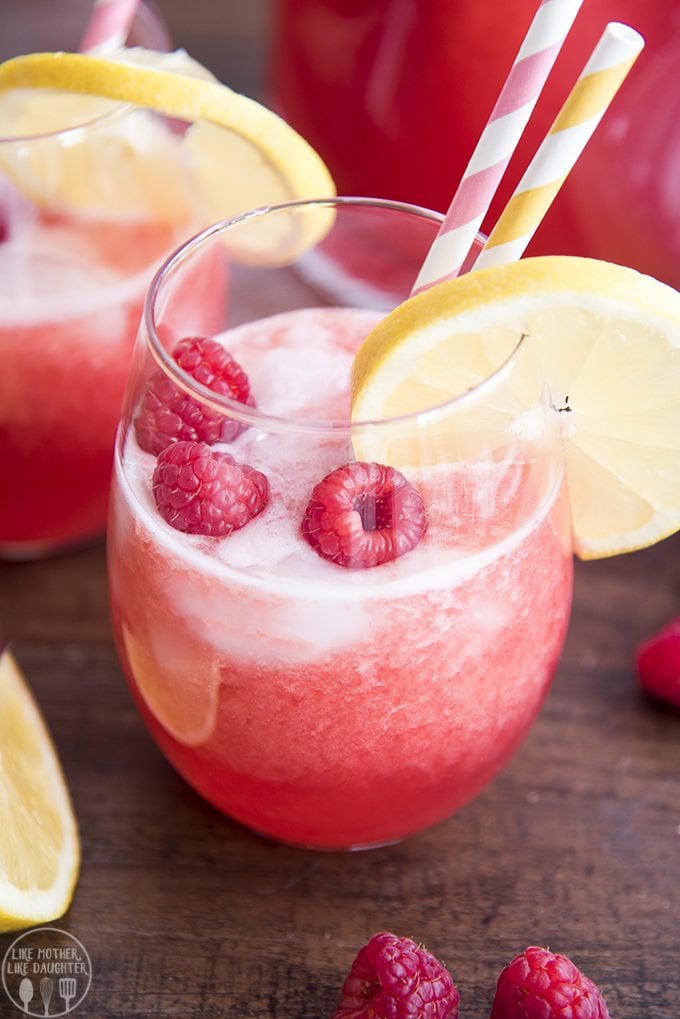 This post contains affiliate links.
Raspberry Lemonade
Raspberry Lemonade Serves: 6
Ingredients
2 cups fresh raspberries
1 cup sugar
5 cups water, divided
1¼ cups fresh squeezed lemon juice
Instructions
Puree raspberries using a food processor or blender until smooth. (Add in a little water if needed depending on the power of your blender).
Squeeze raspberry puree through a fine mesh strainer to remove any pulp and seeds and pour into a large pitcher.
Combine sugar and 1 cup of water in a small sauce pan.
Cook over medium heat until the sugar is completely dissolved.
Pour simple syrup into the pitcher.
Pour remaining water and lemon juice into the pitcher. Stir together.
Serve over ice.
Things you might need for this recipe: