There's never a bad reason to have cheesecake, and these red white and blue mini cheesecakes are perfect any day of the year, but especially right now as you're planning out your fourth of July barbecues and picnics. These mini cheesecakes are super simple to make and they couldn't be any more adorable and perfect for the Fourth of July.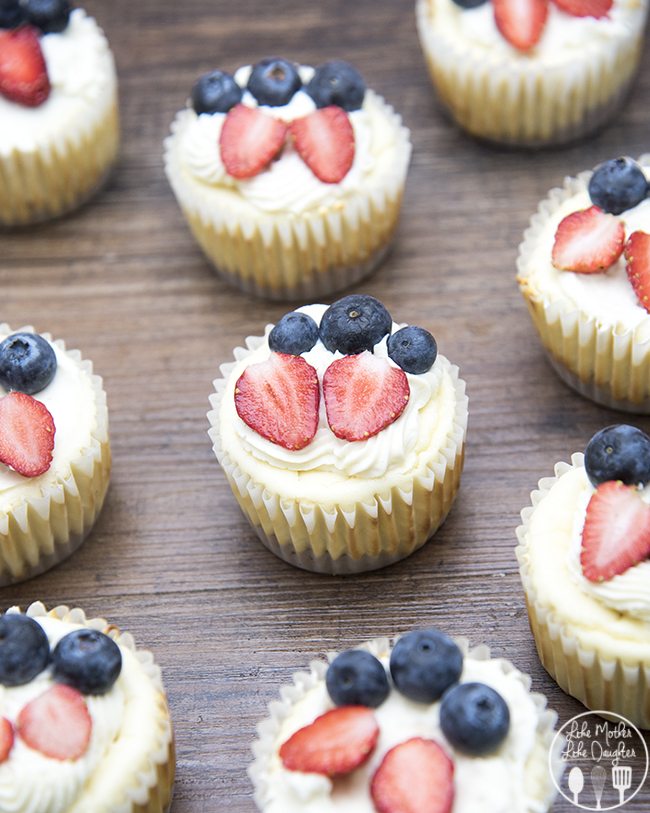 You could leave the fruit off, or change the fruit for different occasions as well, but I just love the cute strawberries and blueberries on top, the perfect summer berries, and the perfect red and blue color for these cheesecakes. The strawberries on my cheesecakes are exceptionally tiny because they're from my own garden! But that means they're extra sweet and filled with love too, right?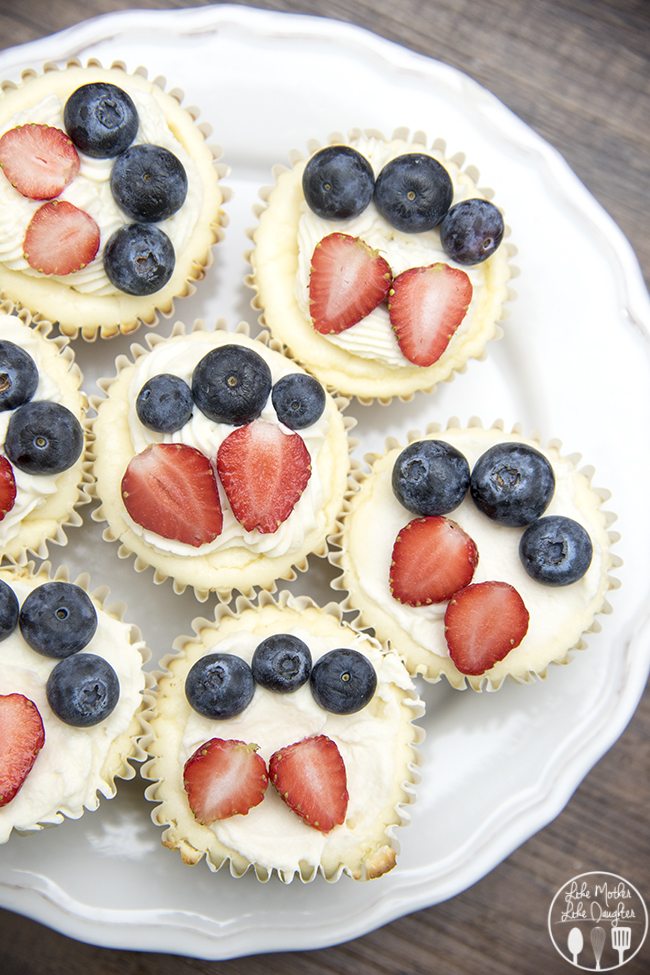 These mini cheesecakes are the same cheesecake base as my salted caramel apple mini cheesecakes. They start with a simple graham cracker crust, a delicious and creamy cheesecake filling, then for a little extra sweetness they're topped with a quick homemade whipped cream and of course your fresh strawberries and blueberries on top.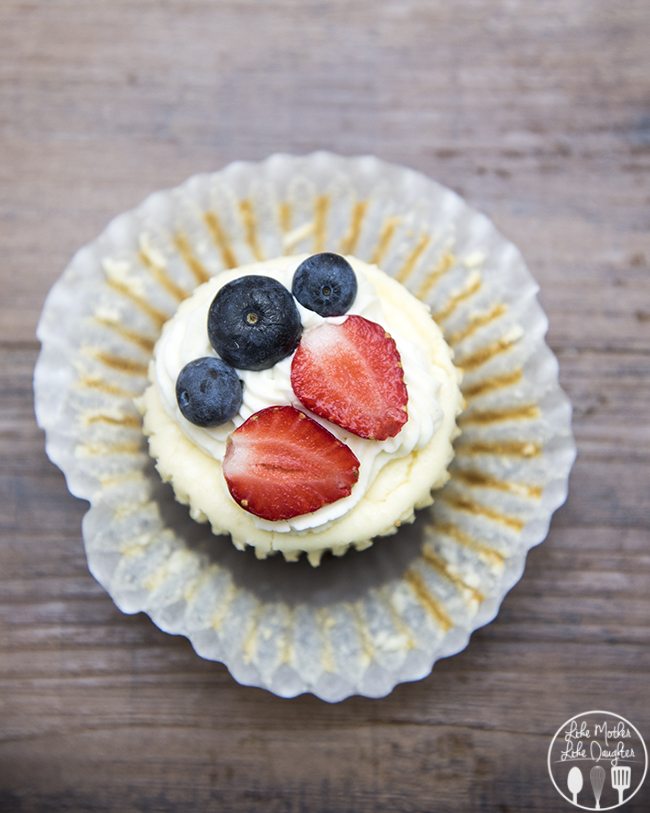 I promise you need to have these mini cheesecakes as one of your desserts at your Fourth of July barbecue. You won't regret it!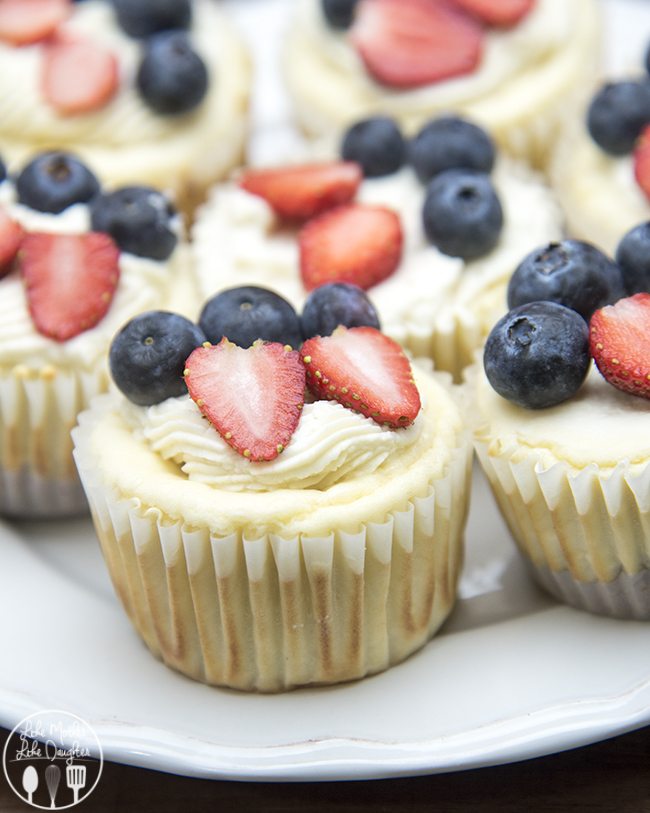 Red, White, and Blue Mini Cheesecakes
Ingredients
For the Crust:
8 graham cracker cookies
1½ TBS sugar
3 TBS melted butter
For the Cheesecake Filling:
2 8oz packages cream cheese
¾ cup sugar
¼ cup heavy cream
¼ cup sour cream
½ TBS vanilla
2 eggs
¼ tsp salt
2 TBS flour
For the Whipped Cream:
1 cup heavy cream
1 TBS sugar
½ tsp vanilla
For the Fruit Topping:
Instructions
Preheat your oven to 350 degrees.
Pulse your graham cracker crumbs and your sugar in a blender or food processor until the graham cracker is fine crumbs.
Pour your melted butter over your graham cracker crumbs and mix with a fork.
Scoop about 1 TBS crumb mixture into 6 different prepared cupcake liners. And press crust down with a spoon.
Bake your crust in your preheated oven for 6 minutes.
Allow your crust to cool for a few minutes when done.
In a large bowl mix together your cream cheese, sugar, heavy cream and sour cream for about 2 minutes till combined.
Add in your vanilla and stir in. Then add in your egg and mix till combined.
Toss in your flour and salt and stir till just combined.
Pour your cream cheese mixture over your prepared graham cracker crust.
Place cheesecakes in oven and bake for about 20 minutes. Cheesecake will still be slightly jiggly in the middle.
Allow cheesecakes to cool on counter for 1 hour. Then place in fridge and chill for another hour.
Combine your whipping cream, sugar and vanilla extract in a small bowl and whisk (with a mixer is preferred) until stiff peaks form.
Scoop a small spoonful onto the top of each cheesecake and spread out (or spread with a pastry bag and tip).
Top each cheesecake with 2 or 3 strawberry slices and 2 or 3 blueberries.