Ever since I discovered you could roast tomatoes, I have been in tomato heaven.  I have already roasted 5 pans of tomatoes.  And amazing enough all of the tomatoes were from my garden.  I planted about 10 tomato plants this year but the most prolific were the Roma tomatoes.  Romas make perfect roasted tomatoes because they are so meaty, uniform in shape, and easy to work with.   I have roasted my heirloom tomatoes and early girl tomatoes too.
Right now it is warm, well actually down right hot in southern California.  When it comes to roasting tomatoes your kitchen gets even hotter.  For this reason I have chosen to do my roasting at night when it is just a little cooler and I can open my windows.  So far this has worked for me.  I also roasted my first 3 batches at the same time.  My oven can work as a convention oven which distributes the heat evenly and I rotated my trays every 15 minutes.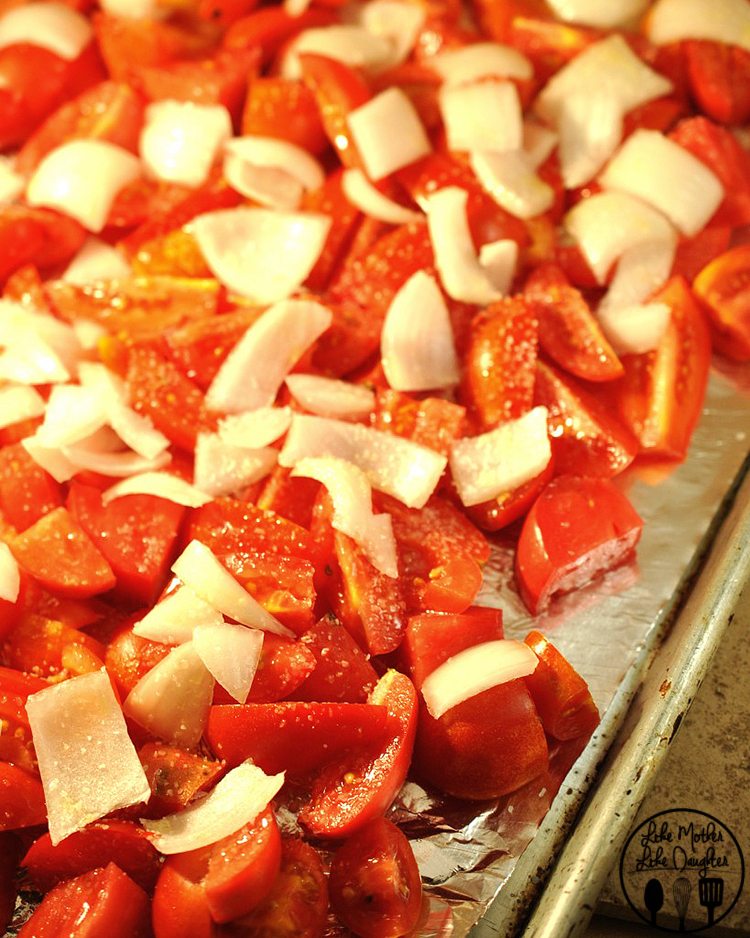 You might also wonder how I got so many tomatoes ripe at the same time.  I picked half of my tomatoes early because the plants got some fungi on them or infested with some caterpillar.  To save the rest of my crops I destroyed the bad plants after rescuing the good but pulled the  green tomatoes off the plants.  I just spread them out on my counter top and let them ripen on their own inside.  It seems to me they ripen a little faster off the vine.  But if you have healthy plants I would let them grown in the garden to complete ripeness.
Roasted Tomatoes
Ingredients
Medium bowl full of ripe tomatoes - rinsed and stems removed
½ large yellow onion
1 to 2 Tbs Kosher salt
olive oil spray
Instructions
Preheat your oven to 450 degrees
Line a cookie sheet with foil (this protects your cookie sheet and makes cleanup easier but some tomato juices still ran under the foil - I soaked my cookie sheets overnight to help with cleaning)
Spray your foil with olive oil
Cut each tomato in half and quarters - you mostly want your tomato pieces as uniform as you can
Spread all over your cookie sheet
Cut your onion into pieces as close to the tomato size as possible
Spread your onions all over the tomatoes
Sprinkle with your Kosher salt
Place in oven and roast for 45 minutes
Remove from oven and let cool
Once cool you can use them or eat them
If storing, store in a baggie in the fridge or freezer for longer storage
Enjoy these roasted tomatoes straight from the pan as a snack, or in some other upcoming recipes we have for you!