This post is sponsored by USA Dry Pea and Lentil Council, but all opinions are strictly my own.  #splitpeasoupweek

When I was approached about preparing a recipe using split peas I was all over this.  I love a good split pea soup, maybe because green peas are my favorite cooked vegetable.  But if you mention green split pea soup to some people they are thinking "no way", I mean let's be honest here.  Now you and I know they are missing out, but I wanted to create a recipe that would change that "no"  to "yes, more please" and I hope I have done it here for you with my roasted yellow split pea tortilla soup. The roasted yellow split peas add a zip to the recipe tossed in and a crunch as a garnish.
Did you know that split peas come in green and yellow, that was a new insight to me.  I also discovered that lentils come in multiple colors; green, brown, yellow, red, and black.  Both of these along with chickpeas are called pulses, that was a new classification for me, I believe most of us would classify these three as legumes.  Split peas are high in protein, fiber, and potassium, while low in fat.  Pulses are a perfect addition to a vegetarian's diet for protein along with great taste.  Even my roasted yellow split pea tortilla soup could be made vegetarian if you leave out the ground beef and it would be just as tasty and healthy for you.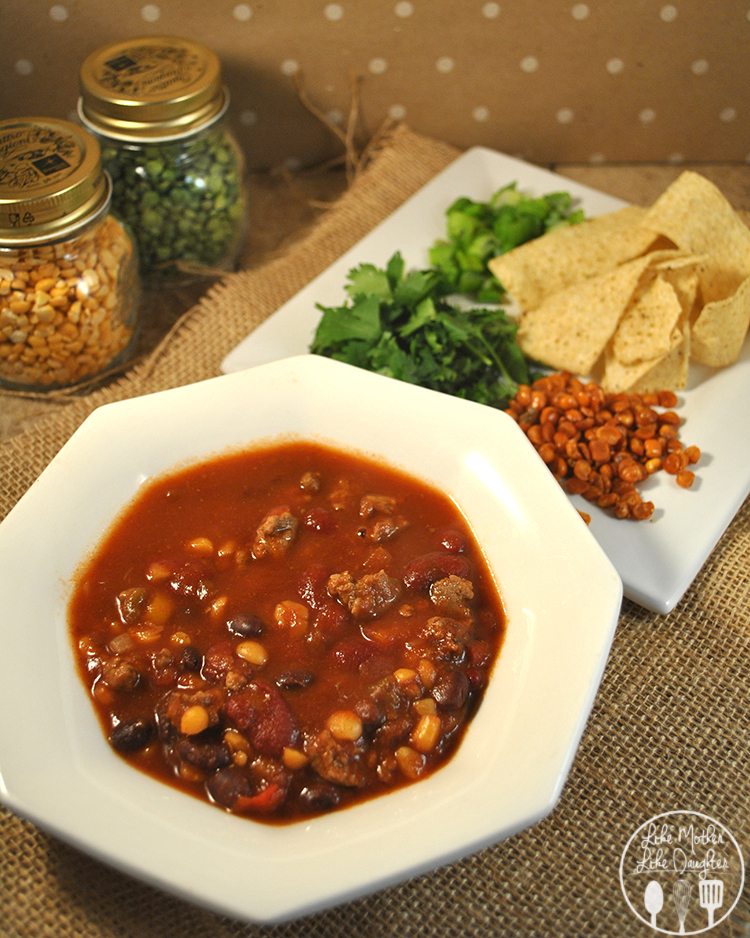 Pulses are easy to cook with (most recipes do not require presoaking), cook usually in about 30 to 40 minutes, are filling, healthy, and taste good.  I have been cooking with split peas and lentils for years and my favorite addition at a salad bar – chickpeas. Plus let's admit we all love hummus!  I found some pretty awesome recipes at Cooking with Pulses and can't wait to try them.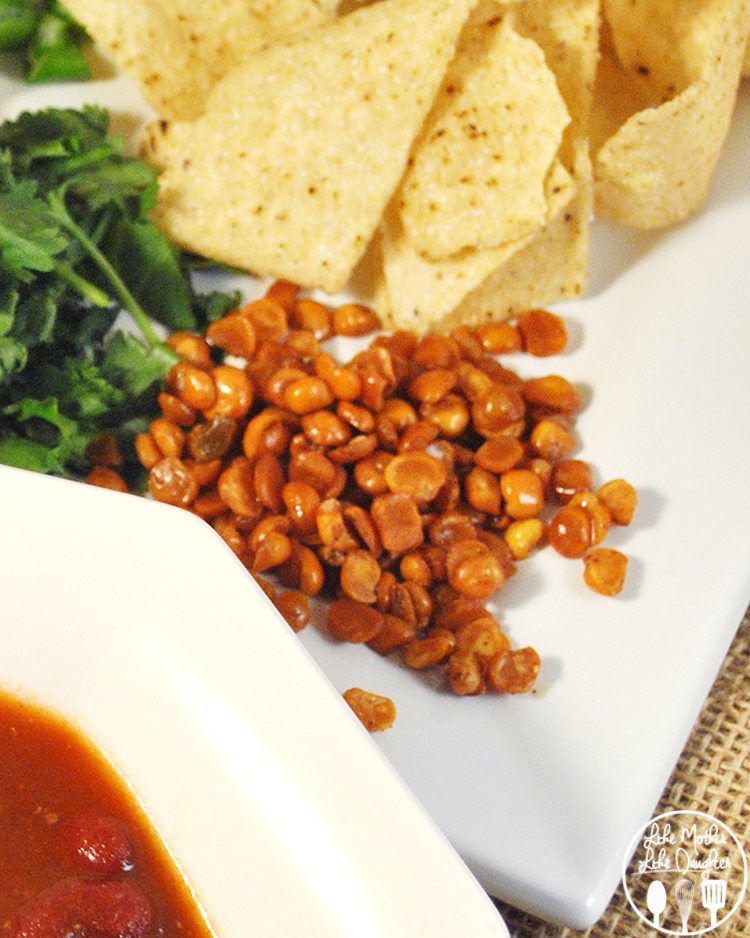 Have I intrigued you enough?  If not I am sure these two recipes, (yes – you have a bonus recipe) Roasted Yellow Split Peas and Roasted Yellow Split Pea Tortilla Soup will.

Roasted Yellow Split Pea Tortilla Soup
Ingredients
½ lb ground beef
½ cup onion (chopped)
½ cup peppers (chopped - yellow or green)
2 cans 15 oz tomato sauce
1 can 15 oz diced tomatoes
1 can 15 oz black beans (undrained)
1 can 15 oz kidney beans (undrained)
1 cup salsa (your favorite)
1 cup yellow split peas (there is no need to soak ahead of time)
¼ cup roasted split peas*
2 tsp salt (or to taste)
2 tsp chili powder (or to taste)
2 tsp cumin (or to taste)
Garnishes: roasted split yellow peas*, chopped cilantro, grated cheese, sour cream, chopped green onions, tortilla chips
For the ROASTED YELLOW SPLIT PEAS:
1 cup split yellow peas
2 TBS olive oil
½ tsp salt
⅛ tsp pepper
¼ tsp cumin
¼ tsp chili powder
⅛ tsp cayenne pepper
Instructions
Brown ground beef along with your chopped onions and chopped peppers, continue until ground beef is cooked thoroughly and onions are translucent.
To a large pot add your tomato sauce, diced tomatoes, canned beans, salsa, split peas - both roasted and dried, and spices.
Add your ground beef with onions and peppers.
Simmer until split peas are tender about 30 to 40 minutes.
Serve with garnishes.
For the ROASTED YELLOW SPLIT PEAS:
Pour 1 cup split peas into a large bowl
Cover with about 3 cups of water, but enough to cover the peas plus about ¾ more, cover bowl
Soak for a minimum of 6 hours but up to overnight
Preheat oven to 400 degrees and line a cookie sheet with parchment paper
Drain and rinse the split peas
Pat dry with a paper towel
Return split peas to bowl and add the olive oil, stir
Add all the spices and stir to coat the peas completely
Spread the peas over the parchment paper and put into the oven to roast
Stir after 10 minutes
Stir every 5 minutes for another 10 to 20 minutes of roasting
Check consistency after 15 minutes for amount of crunch you want, the longer you roast the crunchier the peas become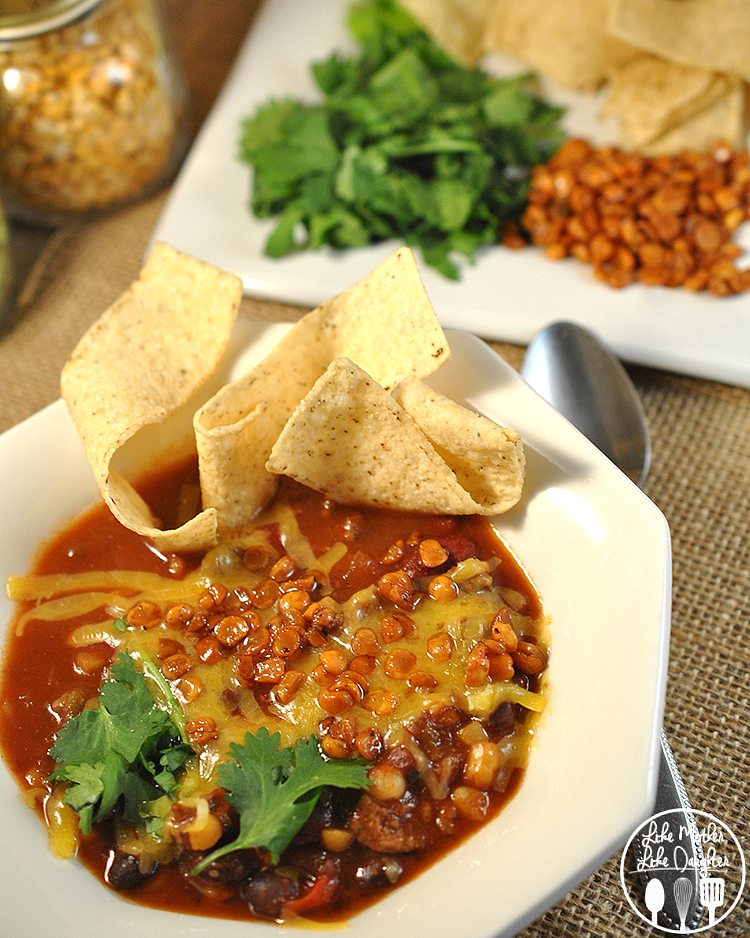 I loved the extra zest and spice that came from the roasted yellow split peas.  Throwing them into the pot while it is simmering really makes the soup, but we enjoyed them on top as a garnish along with the cilantro, cheese, and tortilla chips.  I will admit I have not perfected the right amount of roasting time for the yellow split peas – shorter might be better – and please note the roasted split peas require soaking from 6 hours minimum to overnight, I encourage the longer time. They have a crunch and consistency like corn nuts, but the flavor is amazing and is wonderful in the roasted yellow split pea tortilla soup.