These deliciously flavored pork carnitas are cooked to perfection in the slow cooker for several hours. Then cooked on the skillet to get that perfect crunch while keeping the meat juicy!
**These delicious slow cooker pork carnitas are sponsored by the National Pork Board as part of their Porksgiving program. I participated as a member of One2One Network. I received compensation but all opinions are my own.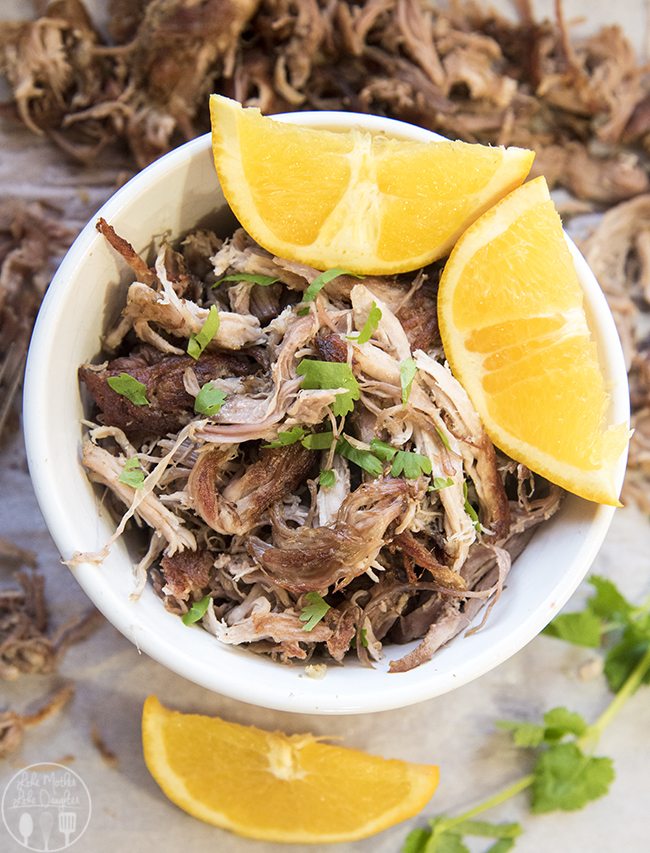 Nate and I are in the process of moving, so we've been busy, stressed and our house is a mess. That's when I remembered my favorite type of cooking – in the slow cooker! These slow cooker pork carnitas are so simple to make, with only a few minutes or prep time and a few hours later you've got a delicious hot dish ready to go!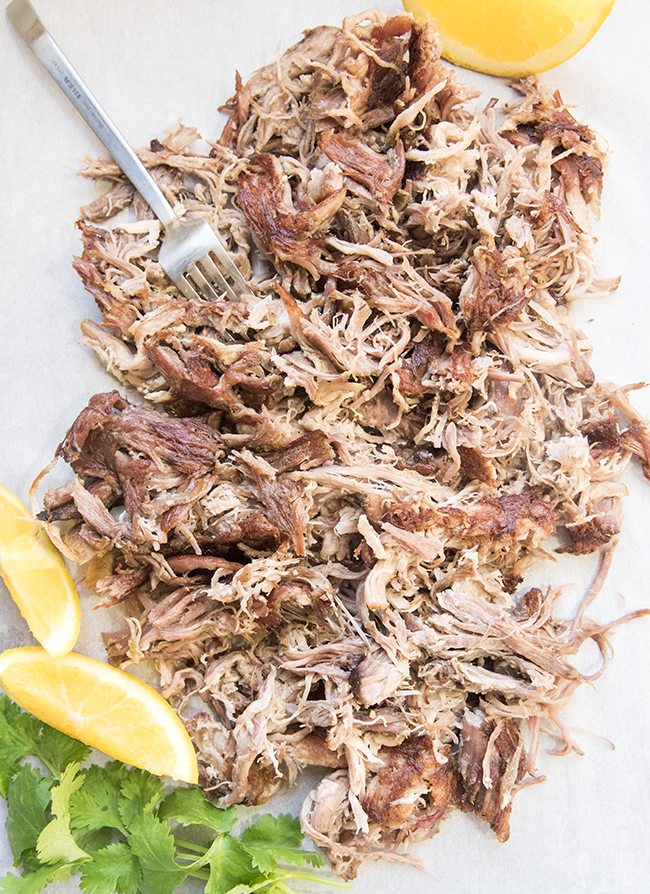 These slow cooker pork carnitas would be perfect for serving at a holiday party too. Easy dishes like this, that make a lot are perfect for a dinner party or Christmas party!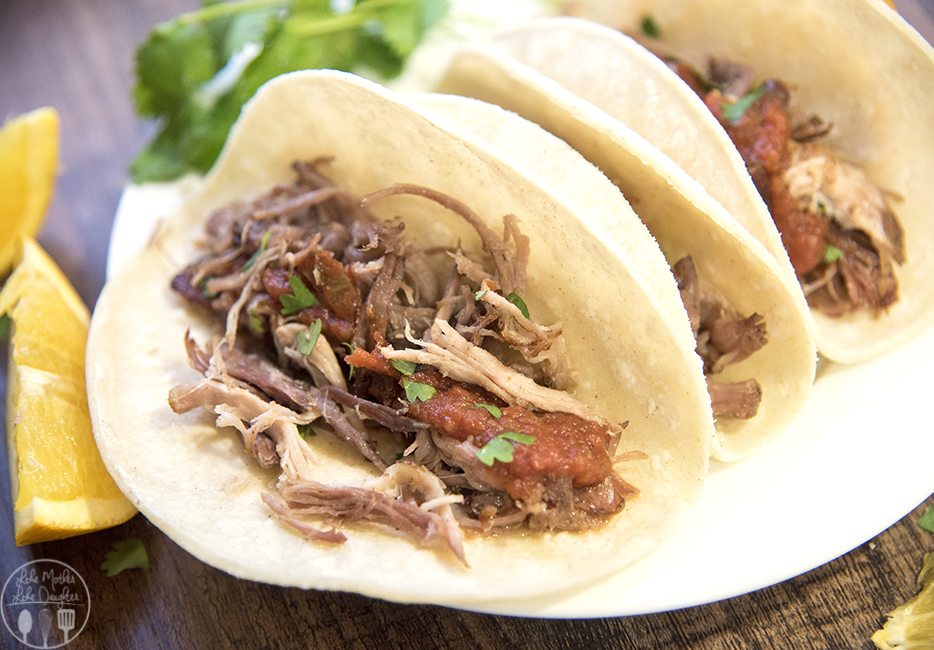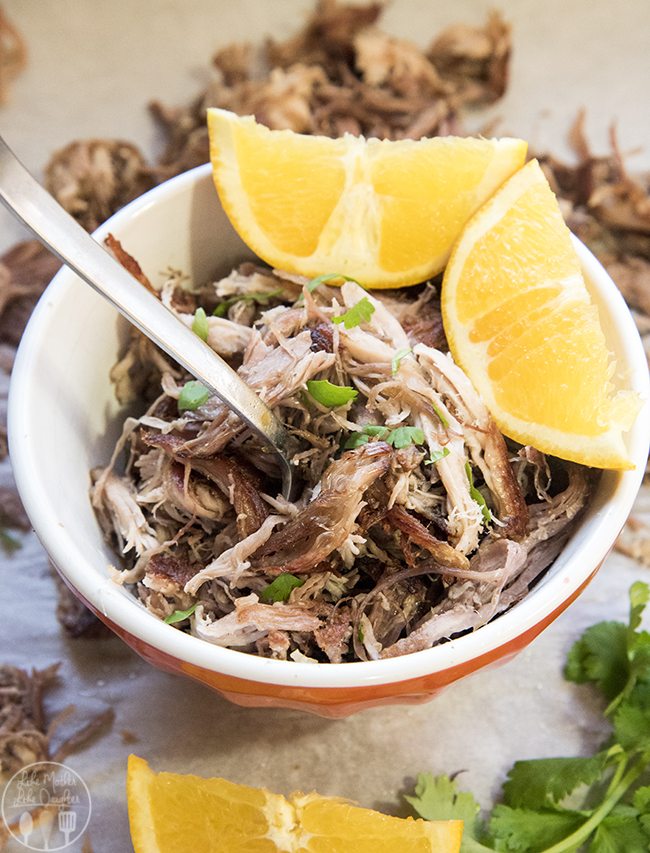 These pork carnitas are also great because they only require a few ingredients, most of which you'll probably have in your kitchen pantry already! You'll need a three to four pound pork shoulder roast, olive oil, salt and pepper, cumin, oregano, fresh squeezed orange juice, minced garlic, diced onion and diced green chiles.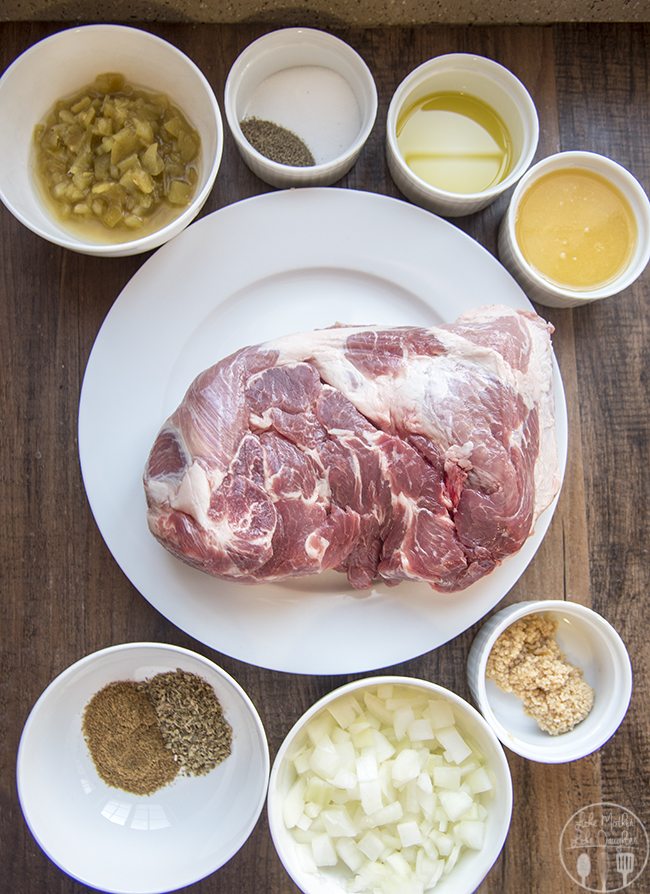 To make the carnitas, you'll coat your pork roast in the olive oil, then rub it with your salt, pepper, oregano and cumin. Put it in your slow cooker. Then you'll pour your orange juice, minced garlic, diced onion and green chiles over the top of your pork roast.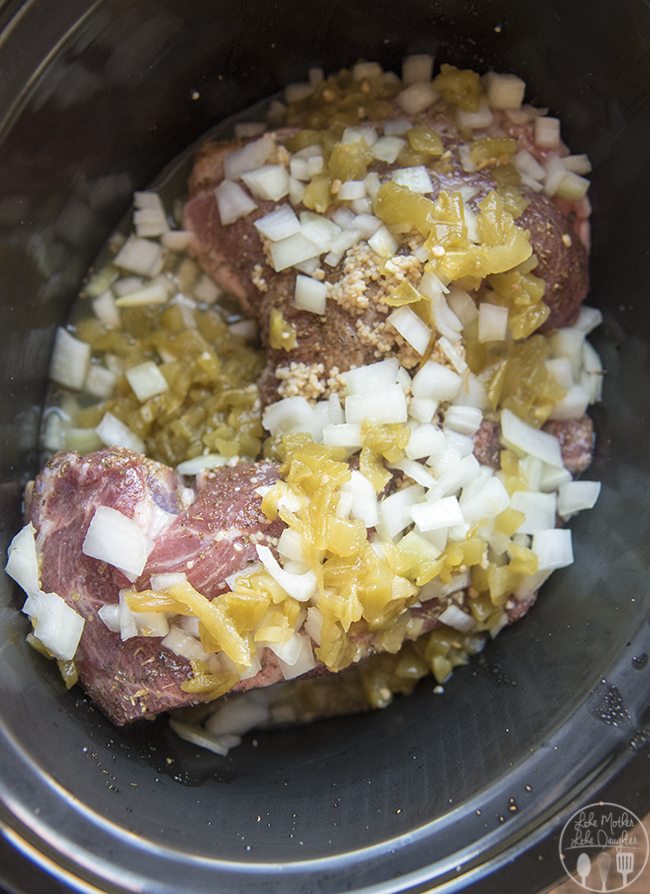 Cover your slow cooker and set it to low. You'll cook it on low for 7-8 hours, or on high for 5-6 hours.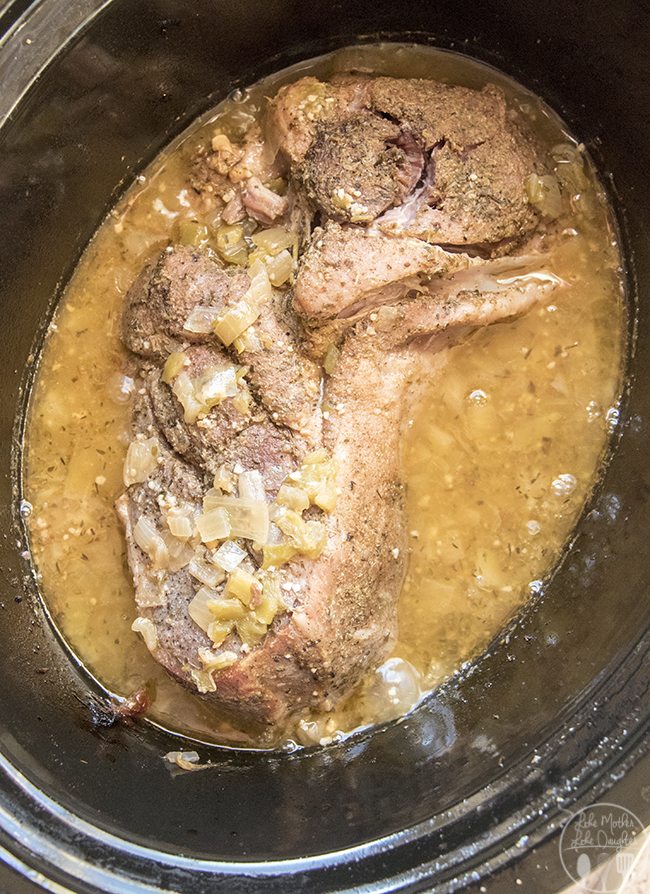 Then you'll shred your roast up with two forks. Heat up some vegetable oil in a large saute pan over medium high heat and add your pork roast to the pan. Allow to cook until the bottom side/pieces of the pork are nice and crispy. (This will keep your pork moist, but give it nice texture throughout)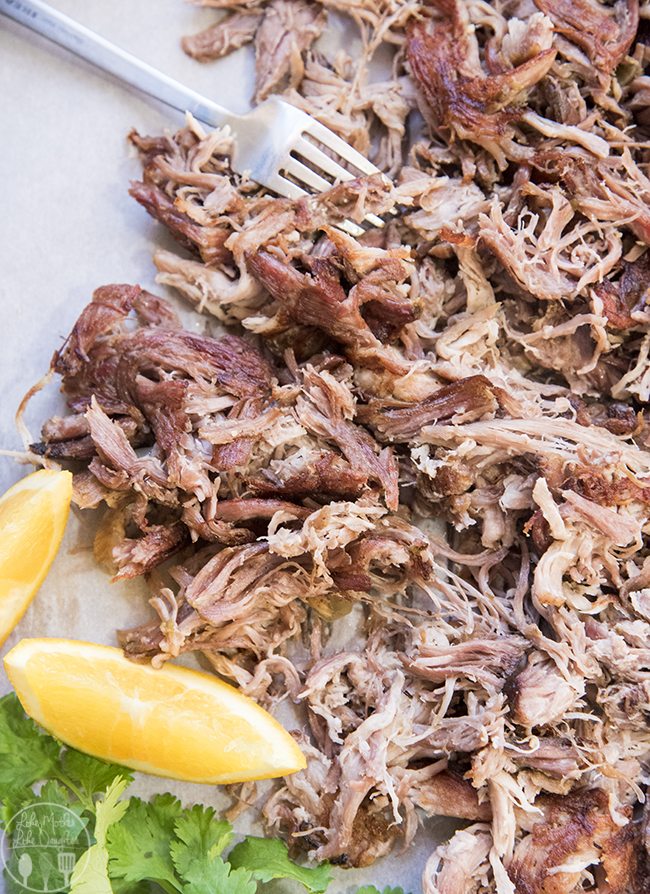 These carnitas are delicious on their own, or wrapped up in a tortilla. I like mine with a little cilantro and salsa. But the carnitas are so good I snuck a few bites before serving it for dinner!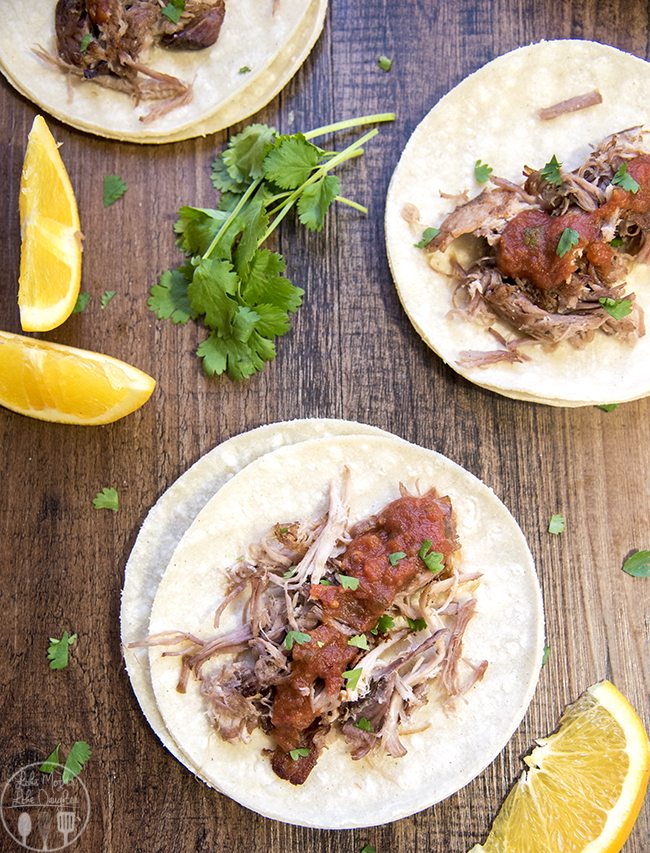 Slow Cooker Pork Carnitas
Ingredients
3-4 lb Blade Pork Roast, boneless (pork shoulder)
1 TBS olive oil
1 TBS table salt
1 tsp black pepper
1 TBS cumin
1 TBS oregano
juice of 2 oranges
1 cup diced onions
2 TBS minced garlic
1 can diced green chiles
1 TBS vegetable oil
Optional Taco Ingredients:
Small tortillas
cilantro
salsa
Instructions
Pat your pork roast dry with paper towels.
Rub your pork down with your olive oil.
Then coat pork roast with salt, pepper, cumin and oregano.
Place your pork roast in your slow cooker.
Pour your orange juice over the top of your roast.
Spread onions, garlic and green chiles over the top of the roast.
Cover slow cooker and cook on low for 7-8 hours, or high for 5-6 hours.
Remove pork from slow cooker and shred with 2 forks. (Remove big pieces of fat and discard)
In a large saute pan, heat your vegetable oil over medium high heat.
Add your shredded pork and cook until the bottoms of your pork and nice and crispy.
Serve immediately.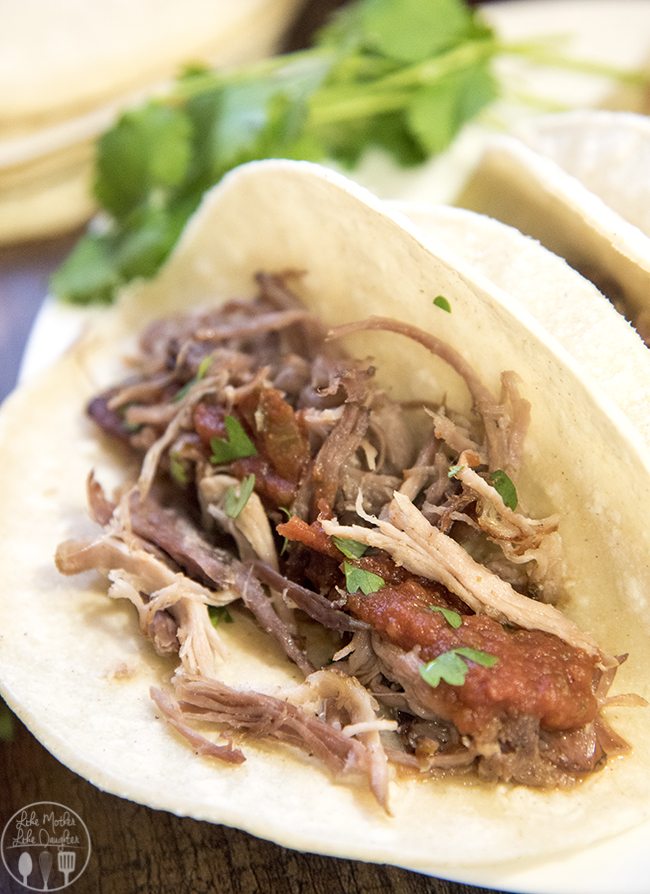 Be sure to check out the National Pork Board's porksgiving site for more delicious pork recipes to celebrate with this holiday season! Check them out on pinterest, twitter, facebook, instagram and youtube for more great ideas too!