Thick and soft sugar cookie bars topped with whipped cream and strawberries for a delicious and easy treat like a strawberry shortcake in sugar cookie bar form!
Pin these strawberry shortcake sugar cookie bars!
If you haven't tried sugar cookie bars yet, you need to change that asap. These strawberry shortcake sugar cookie bars are a good place to start. They start with the same soft and thick sugar cookie dough as my traditional sugar cookie bars, but instead of being topped with frosting, their topped with whipped cream and chopped up strawberries just like a strawberry shortcake would be.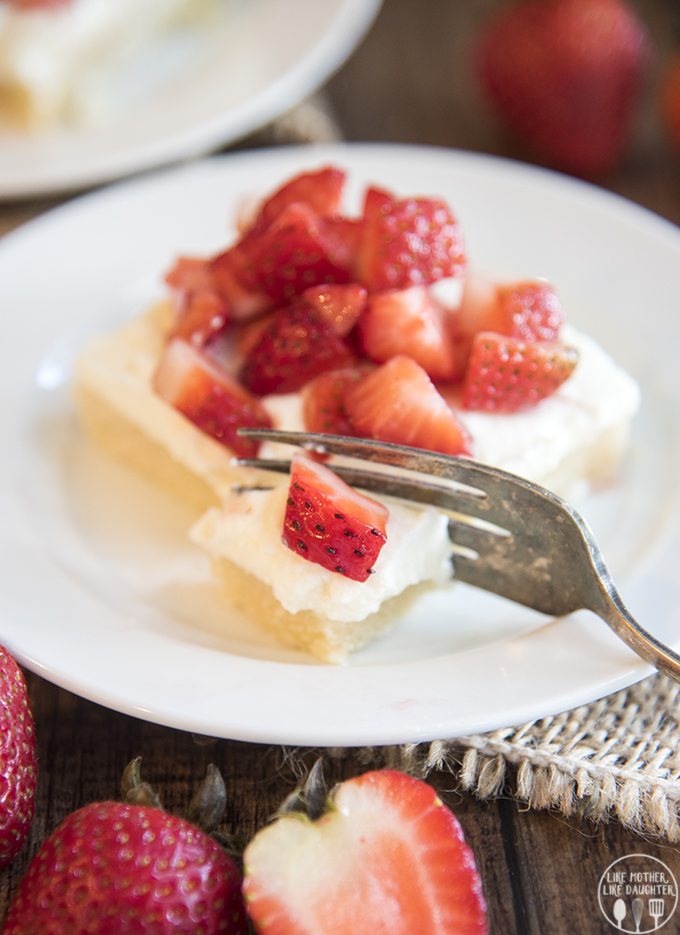 I used cool whip for these bars, since its a stabilized whipped cream and stays put a little better on top of the sugar cookie bars. You can use fresh whipped cream as well, just make sure to make it right before you are serving the bars, so you can spread it on and slice it up right away. Or you probably could keep them in the fridge for an hour or two, but put them in the fridge right away too!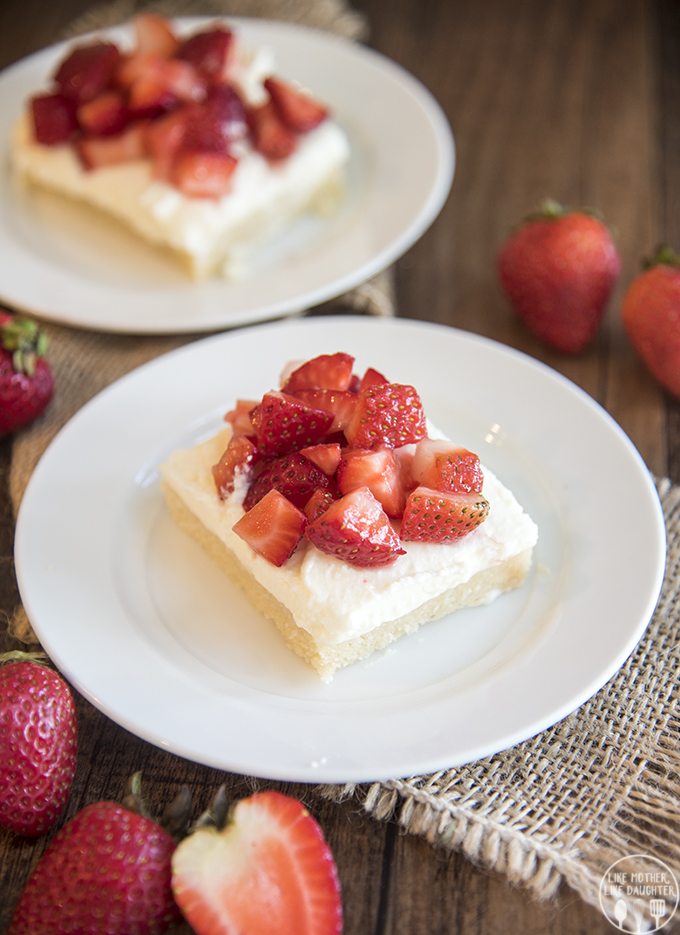 Strawberry Shortcake Sugar Cookie Bars
Ingredients
For the Sugar Cookie Bars:
2½ cups flour
½ tsp baking powder
½ tsp salt
½ cup unsalted butter, softened
1 cup white sugar
1 large egg
2 TBS sour cream (or greek yogurt)
1 tsp vanilla extract
For the topping:
2 cups (or 8 oz) cool whip
2 cups chopped strawberries
¼ cup white sugar
Instructions
For the Sugar Cookie Bars:
Preheat your oven to 375 degrees.
In a medium sized bowl, combine your flour, baking powder and salt. Set aside.
In a large mixing bowl, cream together your butter and sugar for about 3 minutes until light and fluffy.
Add in your egg, sour cream and vanilla and mix till combined.
Slowly add in your flour mixture while stirring until everything is combined. (The dough will be crumbly)
Press the batter into a greased 9×13 baking dish and spread it out evenly with your hands or a rubber spatula.
Bake for 15-17 minutes or until edges just barely start to turn golden.
Allow to cool completely.
Top with cool whip.
Mix chopped strawberries and sugar.
Put strawberries over the cool whip and slice and serve.