After making a few different varieties of sugar cookie bars, I don't think I'll ever stop. They're one of my favorite easy to make desserts now and so much better than a traditional sugar cookie. No having to worry about chilling the dough, or rolling the dough out to just the right thickness, or cut it into little cookies. But the same great delicious sugar cookie taste. These strawberry frosted sugar cookie bars rival the original with this fresh, flavorful and delicious strawberry frosting!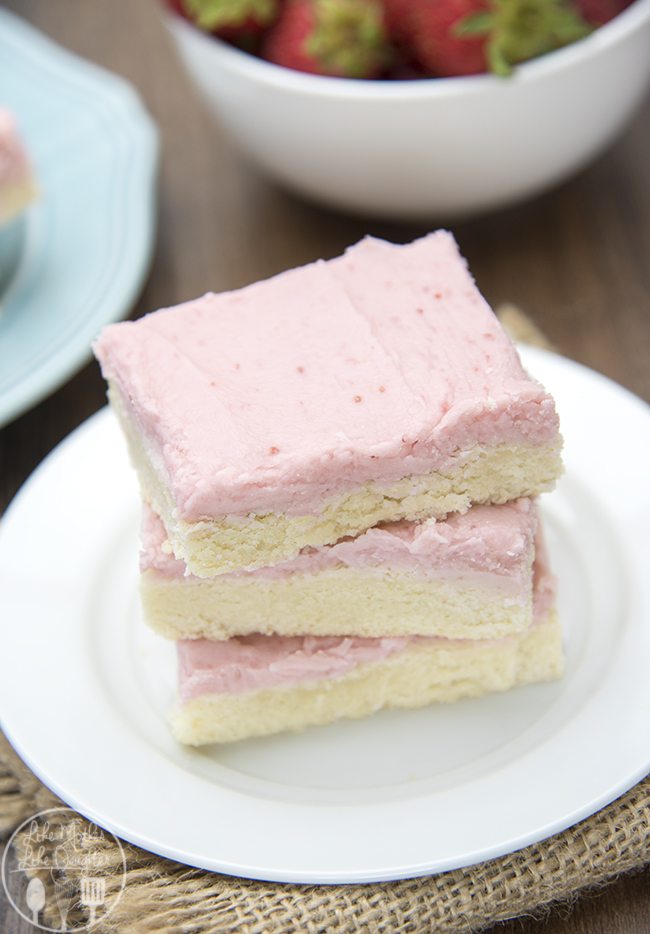 These sugar cookie bars are so thick and chewy, but don't over cook them because they'll be dry – you want them just barely starting to get brown on the edges. And then while they cool you'll make the amazing strawberry frosting to go on top. Its seriously divine, with just the perfect strawberry flavor.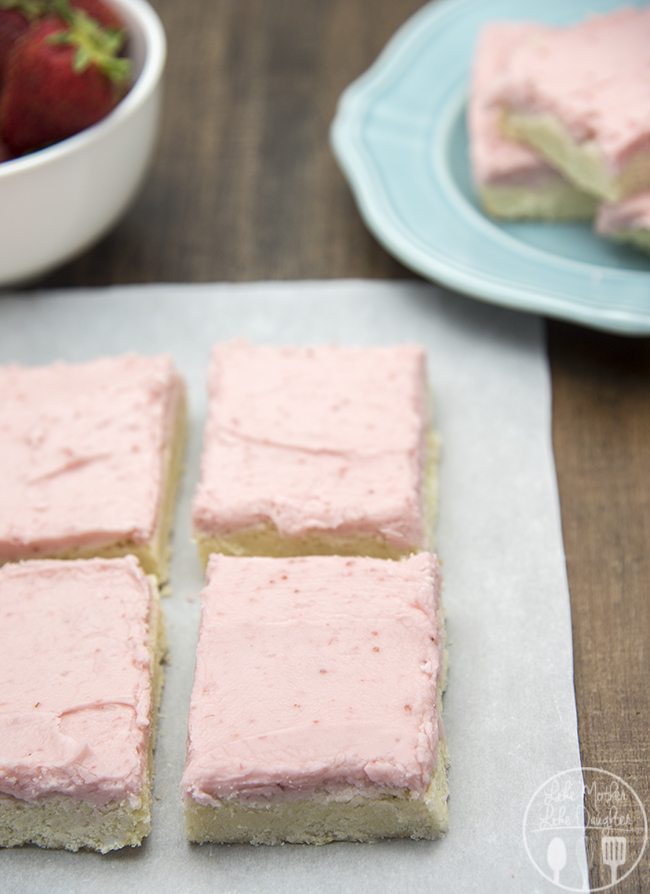 To make the frosting you'll make a quick strawberry puree by blending up some berries. Then you need to heat up, the puree to thicken it and concentrate the flavor. Then you'll mix everything all up, the puree, powdered sugar, butter, a little vanilla extract and voila. Spread it on the bars. Slice them up and enjoy.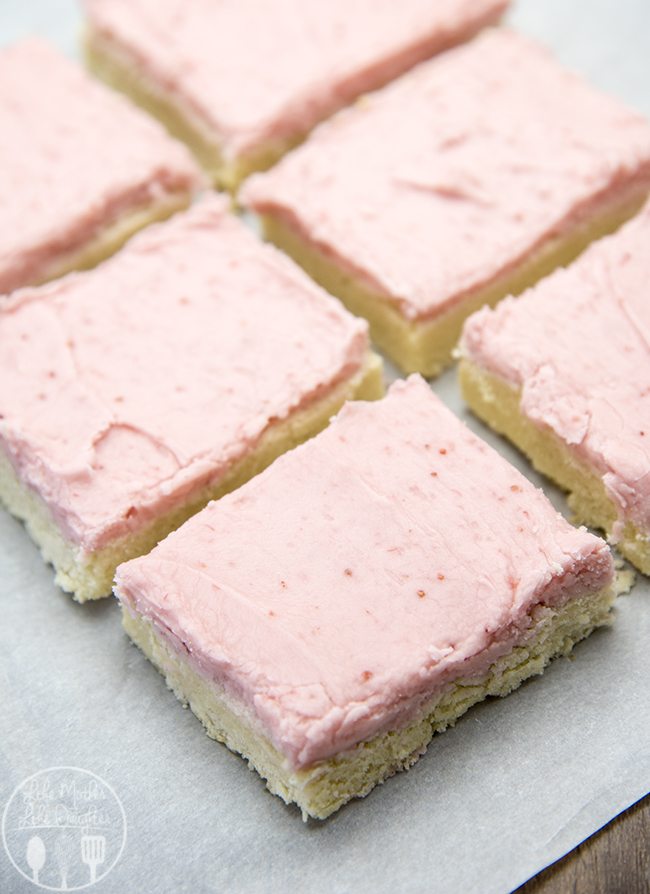 Seriously, these are so good, I'm ready to go grab another one, or three, to munch on while I write this post up.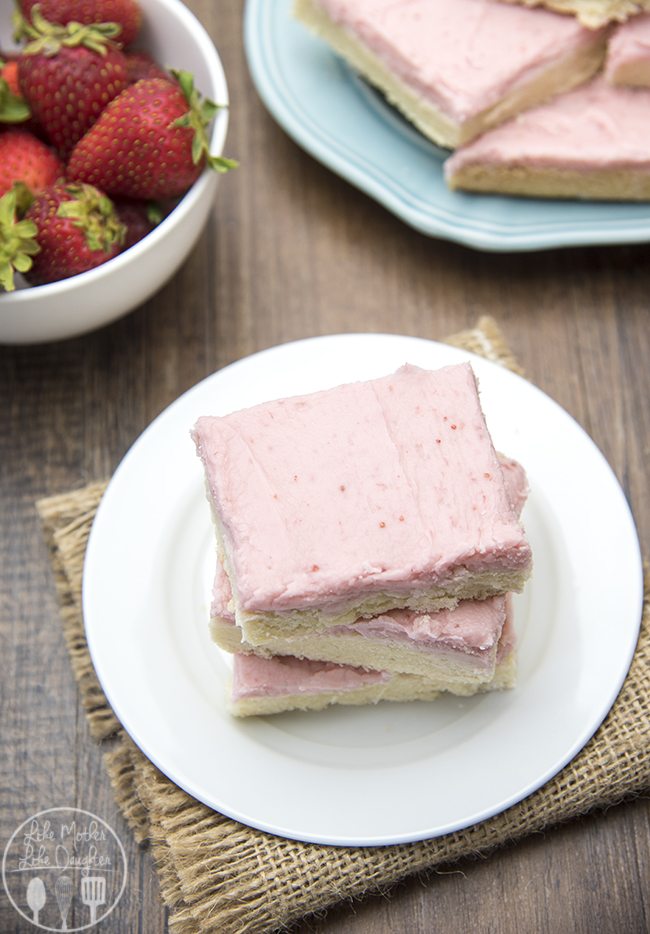 Did you know that October is National Breast Cancer awareness month! That's why I'm sharing these PINK frosted sugar cookie bars with you today. (And don't forget to scroll to the bottom of this post for more pink recipes to bring awareness).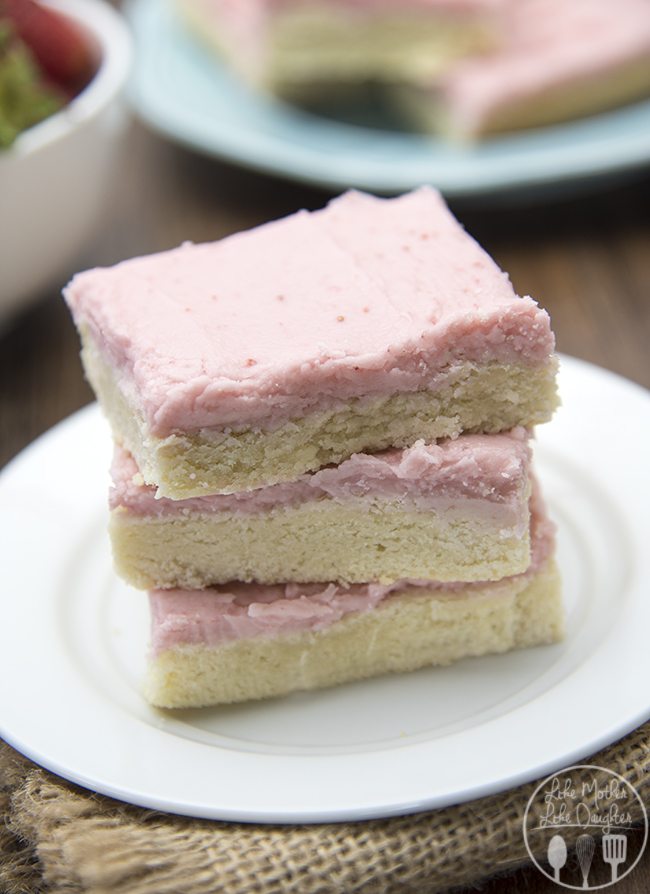 Strawberry Frosted Sugar Cookie Bars
Ingredients
For the Sugar Cookie Bars:
2½ cups flour
½ tsp baking powder
½ tsp salt
½ cup unsalted butter, softened
1 cup sugar
1 large egg
2 TBS sour cream
1 tsp vanilla extract
For the Strawberry Frosting:
½ cup pureed strawberries
5 TBS butter, softened
4 cups powdered sugar
1 TBS milk
½ tsp vanilla
Instructions
Preheat your oven to 375 degrees.
In a medium sized bowl, combine your flour, baking powder and salt. Set aside.
In a large mixing bowl, cream together your butter and sugar for about 3 minutes until light and fluffy.
Add in your egg, sour cream and vanilla and mix till combined.
Slowly add in your flour mixture while stirring until everything is combined. (The dough will be crumbly)
Press the batter into a greased 9×13 baking dish and spread it out evenly with your hands or a rubber spatula.
Bake for 14-16 minutes or until edges just barely start to turn golden.
Allow to cool completely.
Meanwhile, puree your strawberries. Heat puree over medium low heat in a small sauce pan for about 15 minutes, or however long it takes the puree to condense half way. (So you'll want to end up with ¼ cup)
Place in your freezer and allow to cool for a few minutes.
Mix together your strawberry puree and your butter.
Add in your powdered sugar, milk and vanilla extract and mix everything together till smooth. (Add a little more milk or a little more powdered sugar if needed till you get a spreadable consistency).
Spread frosting evenly over cooled sugar cookie bars.
Cut into squares and serve.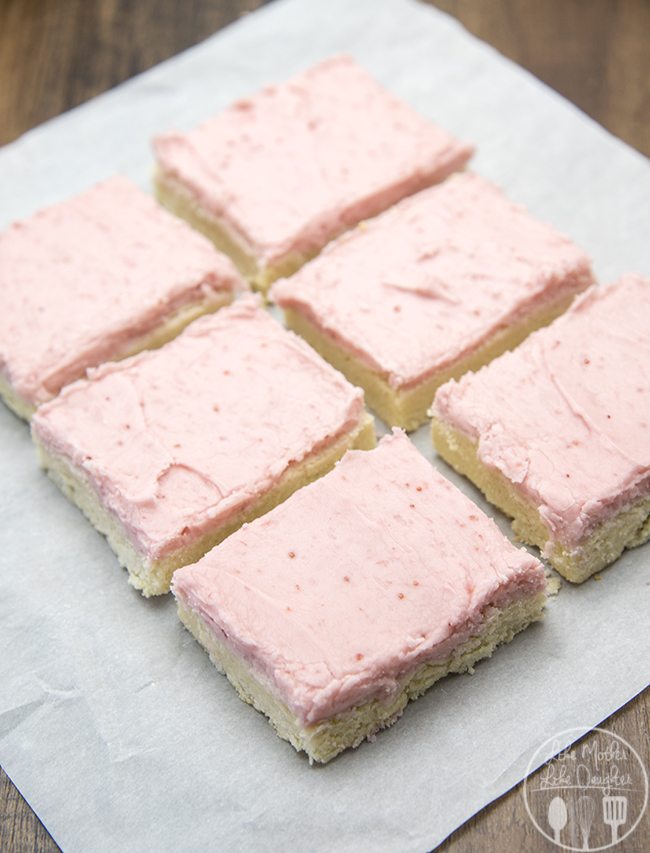 Don't forget to take the steps you need to be able to detect breast cancer in its early stages. PLEASE.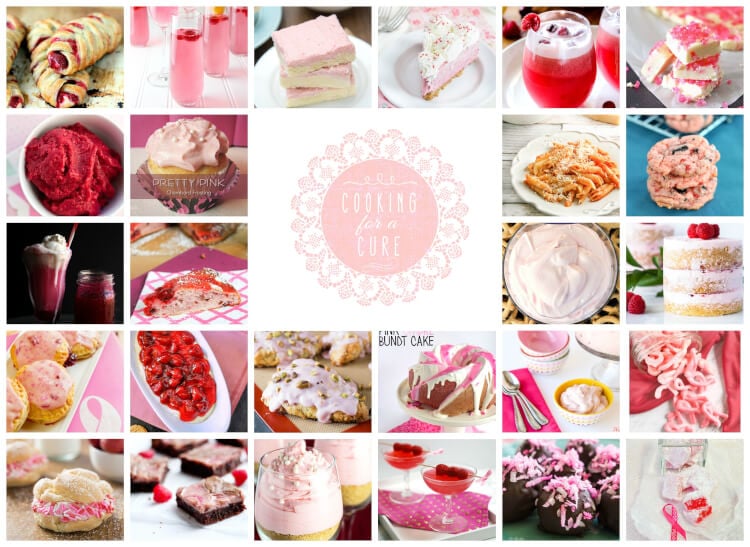 Strawberries & Cream Pastries by Domestic Superhero / Drink Pink Mocktail by Love Bakes Good Cakes / Strawberry Frosted Sugar Cookie Bars by Like Mother, Like Daughter / No Bake Raspberry Cheesecake by Sugar & Soul / Cranberry Raspberry Punch by Carlsbad Cravings / Pink Rock Candy Fudge by Kleinworth & Co. / Raspberry Sorbet by Food, Folks, Fun / Pretty Pink Chambord Frosting by Who Needs A Cape? / Lightened up Pink Vodka Sauce by A Dish of Daily Life / Strawberry Oreo Cake Mix Cookies by Just Us Four / Prickly Pear Soda Floats by Club Narwhal / Cherry Pie Scones by The Bitter Side of Sweet / Pink Fluff Dip by Mamal Diane / Pretty Pink Raspberry Vanilla Mini Cakes by Liv for Cake / Pink Pop Tarts by Life Currents / Strawberry Cheesecake Dip by The Love Nerds / Glazed Cherry Buttermilk Scones by Tastes of Lizzy T / Raspberry Vanilla Pink Ombre Bundt Cake by Cookie Dough and Oven Mitt / Berry Bliss by 365(ish) Days of Pinterest / Meringue Cookies by Mamma Loves Food / Cream Puffs with Strawberry Filling by Cooking on the Front Burner / Raspberry Cheesecake Brownies by Culinary Couture / No Bake Pink Lemonade Cheesecake Parfaits by Homemade Hooplah / Vanilla Berry Cocktail by Twin Stripe / Snowball Truffles by House of Yumm / Turkish Delight by With a Blast