Do you dream about food?  I dream about food!  I think about food all the time.  I talk about food all the time. I suppose it has something to do with having a food blog. I believe it has a lot to do with being a recipe developer.  I just have food on my brain.  But one of the great things about thinking and practically breathing food is I learn about new produce and food ingredients all the time.  Like Hatch chiles.  Seriously I had never known or at least paid attention to Hatch chiles before this year.  And then mention of them were popping up all over.  And boy am I glad.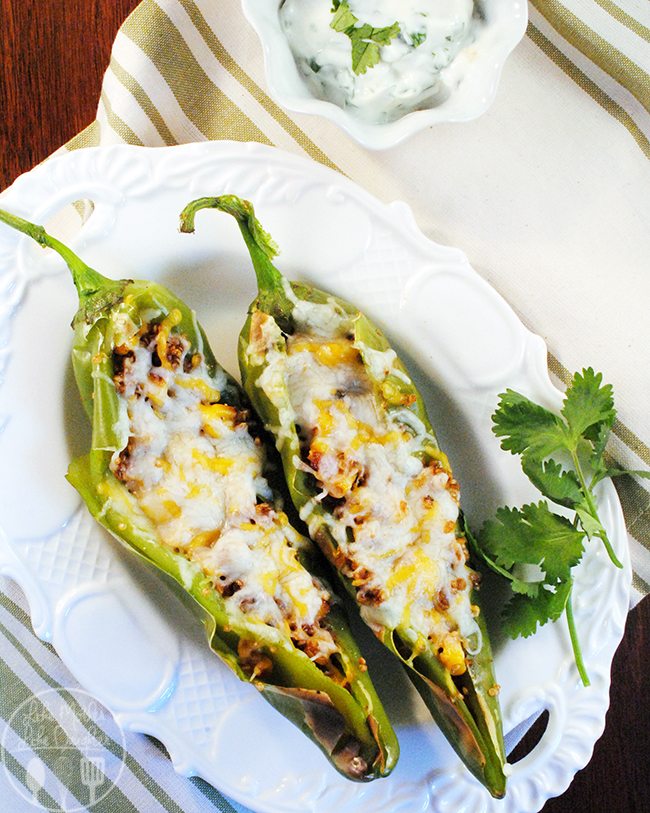 I grabbed a few from my neighborhood market because, well, it was the thing to do.  And then I went searching for a recipe to development using these "famous" Hatch chiles.  And I found a good one, not just a good one, a great one –  Stuffed Hatch Chiles!  Now these stuffed hatch chiles have onion, corn, quinoa, and lots of sweet and spicy flavors all topped with cheese and a cilantro lemon honey yogurt sauce.  Boy is that a mouthful.
I really loved the combination of sweet corn with savory onions, lots of spices – like cumin, chipotle pepper, smoked paprika, garlic powder, and oregano – along with the sweetness of brown sugar.  I can't explain how well they all come together with the medium hot Hatch chiles.  My mouth was tingling a bit but a good tingle, a tasty delicious tingle.  You can make the stuffed Hatch chiles hotter by leaving the seeds in but I scraped them out after broiling.  They were hot enough for me and for Craig.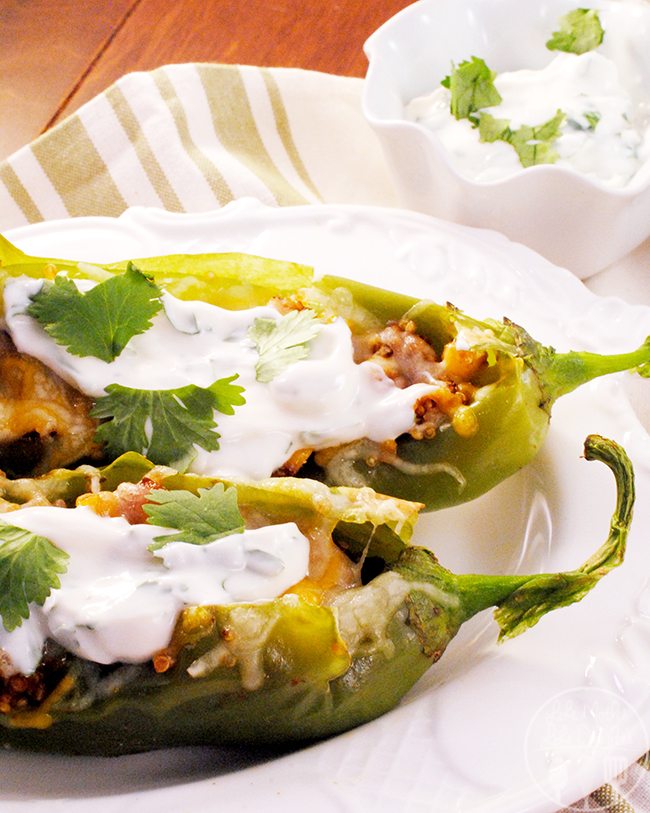 The cilantro lemon honey yogurt sauce was the perfect topper too, it tempered the heat just right. Plus it added just a little more sweetness to make an even more burst of sweet spicy flavor.  I really wish I would have bought more.  I hope you love these stuffed Hatch chiles as much as I do!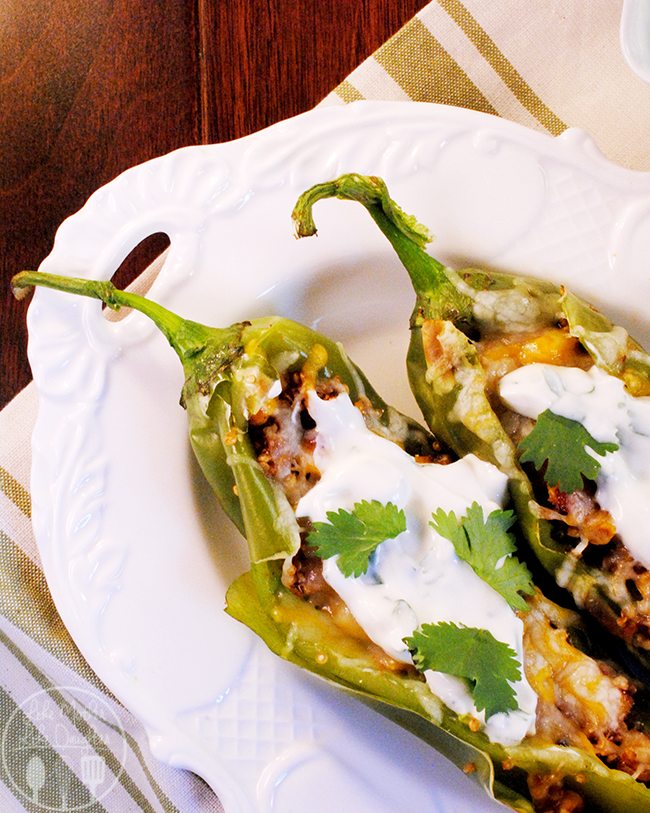 Stuffed Hatch Chiles
A spicy sweet stuffed Hatch chile with quinoa and corn topped with cheese and served with a cilantro yogurt honey sauce that will awaken your taste buds.
Ingredients
4 Hatch Chiles
1 TBS olive oil
¼ cup diced red onions
1 cup frozen corn
1 tsp smoked paprika
½ dried oregano
¼ tsp garlic powder
¼ tsp cumin powder
¼ tsp chipotle chile powder
¼ tsp black pepper
½ tsp sea salt
1 TBS brown sugar
¼ cup water
1 cup cooked quinoa
¾ cup shredded Fiesta Blend Cheese
For the cilantro lemon honey yogurt sauce:
¼ cup plain Greek yogurt
1 TBS lemon juice
2 TBS minced cilantro
2 tsp honey
Instructions
Cook the quinoa according to the directions on the package, I used chicken broth instead of plain water to add some flavor.
Preheat broiler on high and place the Hatch Chiles on a roasting pan or cooking sheet.
Place under the broiler for 2 to 4 minutes until chiles are blistering. Watch carefully, mine blistered about 3 minutes.
Remove from oven and let cool.
In a medium sauce pan, heat the olive oil on medium heat.
Add the onions and saute until translucent about 5 to 6 minutes.
Add the corn and saute an additional 3 to 4 minutes.
In a small bowl, add all the spices, pepper, salt, and brown sugar, stir in the water.
Pour the spices and water in with the onions and corn and stir to mix.
Cook for a minute or two, the water will be absorbed by the corn and onions
Add the cooked quinoa and heat an additional 2 minutes until it is hot.
Slice the length of the Hatch chiles to open and scrape away the seeds with a small spoon.
Stuff each chile with ¼ of the onion/corn/quinoa mixture.
Top with ¼ of the shredded cheese.
Set under the broiler for 1 to 2 minutes to melt cheese.
For the cilantro lemon honey yogurt sauce:
In a small bowl, add the Greek yogurt, lemon juice, cilantro, and honey.
Stir to mix.
Serve with the stuffed chiles.
Have you cooked with Hatch chiles before?  What is your favorite recipe?