Mexican stuffed shells are a delicious combination of Mexican flavors and pasta, with seasoned ground beef and gooey cheese, its a dinner everyone will love!
These Mexican stuffed shells are a fun twist off of traditional Italian style stuffed shells, usually filled with a mixture of cheeses and topped with marinara sauce and again with mozzarella cheese. Instead these shells are filled with a ground beef and cream cheese mixture, cooked in a bath of enchilada sauce and salsa topped with cheddar cheese.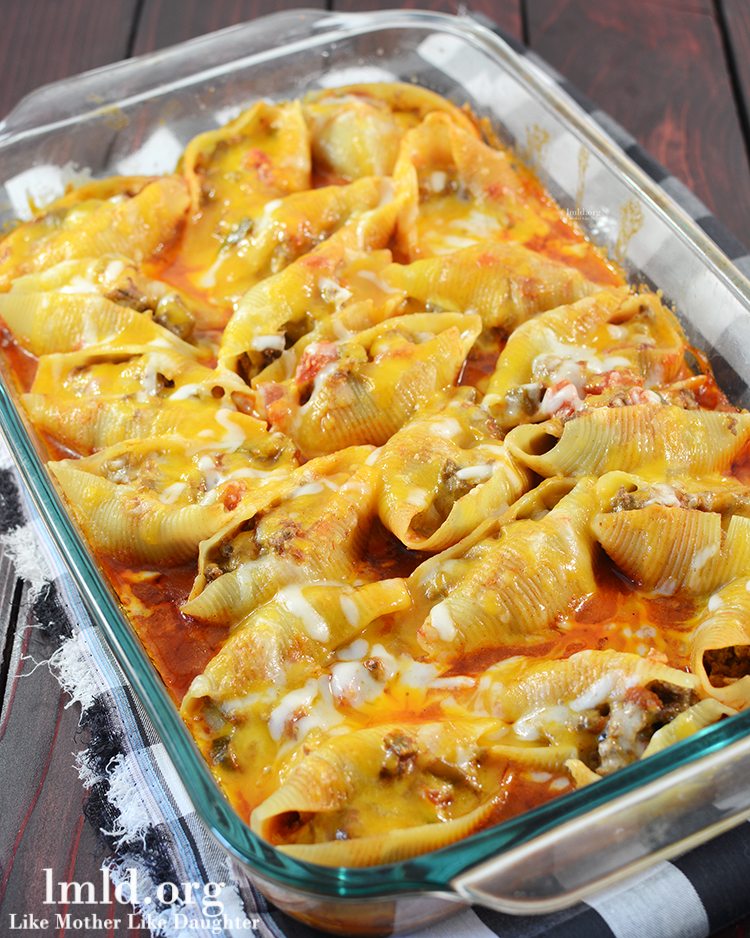 Its also fun and delicious to eat your taco styled meal inside pasta shells instead of the typical tortilla.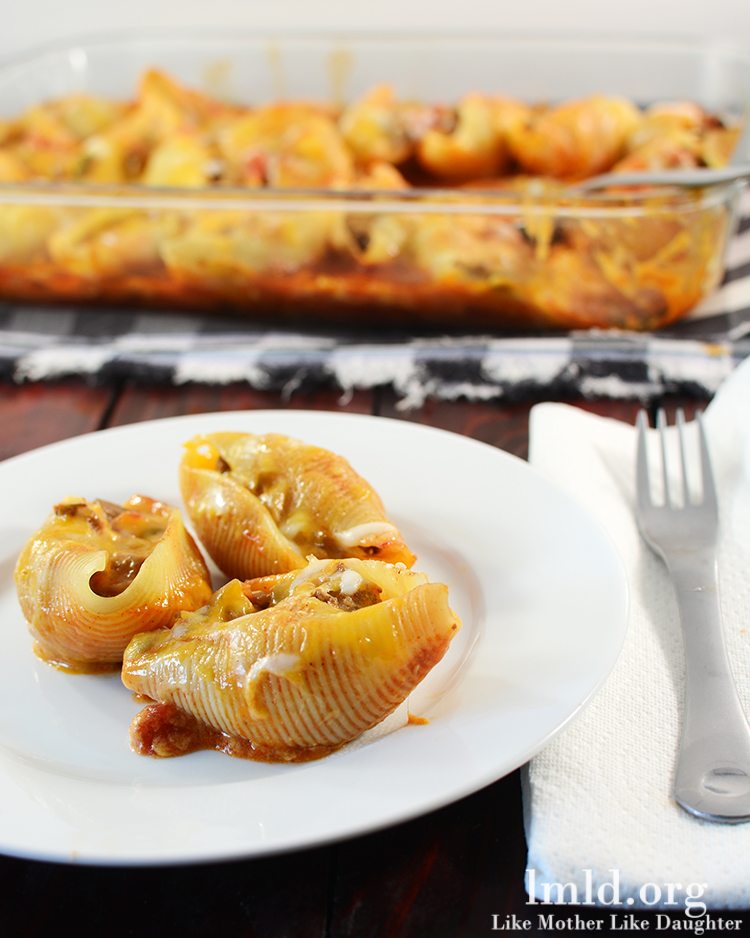 I know Nate and I both loved this meal because we both started with a few shells to eat and kept going back for one or two more probably another two or three times to enjoy their delicious flavors.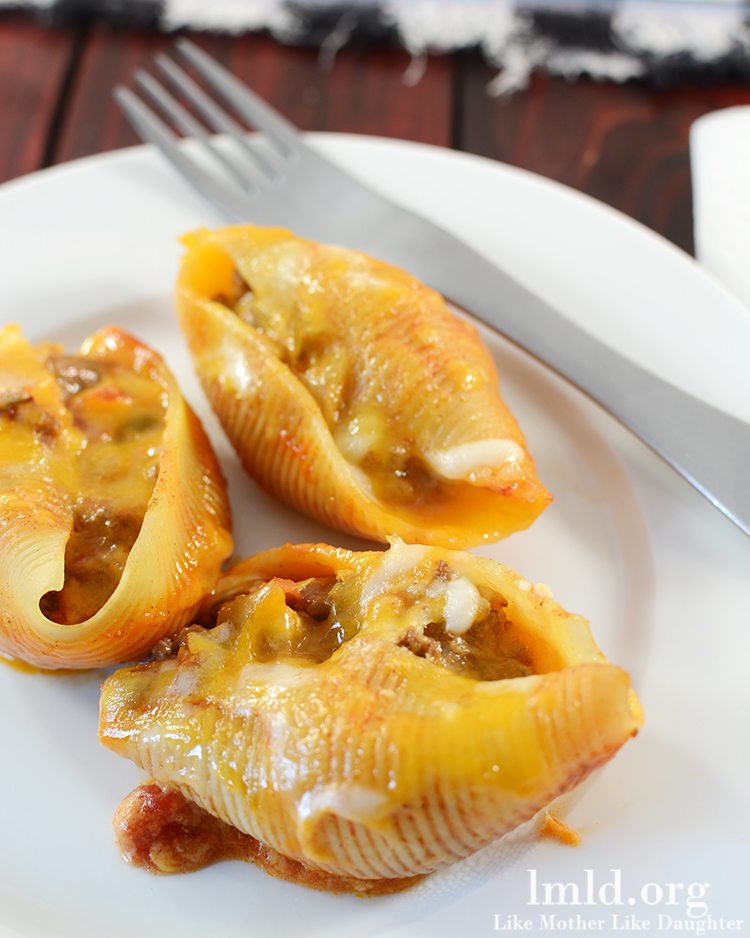 Mexican Stuffed Shells
Ingredients
1 pound ground beef
½ cup diced yellow onion
2 TBS taco seasoning
4 oz cream cheese
about 8 oz jumbo pasta shells (some may break - I used 21, but started with 25)
10 oz enchilada sauce
1 cup salsa
1¼ cup cheddar cheese
½ cup mozzarella cheese
Instructions
Bring a large pot of water to boil
Boil your pasta shells for about 10 minutes, or until cooked al dente according to package directions. Rinse shells when they're done cooking.
Preheat your oven to 350 degrees.
Meanwhile cook up your ground beef and onions over medium high heat until cooked thoroughly.
Drain excess grease from the pan. Add in the taco seasoning and stir to mix.
Mix in the cream cheese and cook until the cheese is melted throughout. Set aside.
Combine your enchilada sauce and salsa in a small bowl.
Pour about half of your enchilada sauce salsa mixture into the bottom a 9x13 pan and spread around to cover.
Fill each jumbo shell with a heaping 1 TBS of meat mixture and place into the pan with the sauce.
Repeat util all the shells or meat mixture is gone.
Pour the remaining enchilada sauce salsa mixture over the top of the shells.
Wrap pan in aluminum foil.
Bake for 30 minutes.
Remove foil and top with cheeses.
Return pan to oven and bake for an additional 15 minutes until cheese is melted and bubbly.
Enjoy this delicious twist of Mexican stuffed shells topped with sour cream!
GET SET TO MAKE THIS AMAZING MEXICAN PASTA DISH WITH THESE GREAT KITCHEN TOOLS and INGREDIENTS:
If you like these stuffed shells, you might also like these:
One Pot Chicken Enchilada Pasta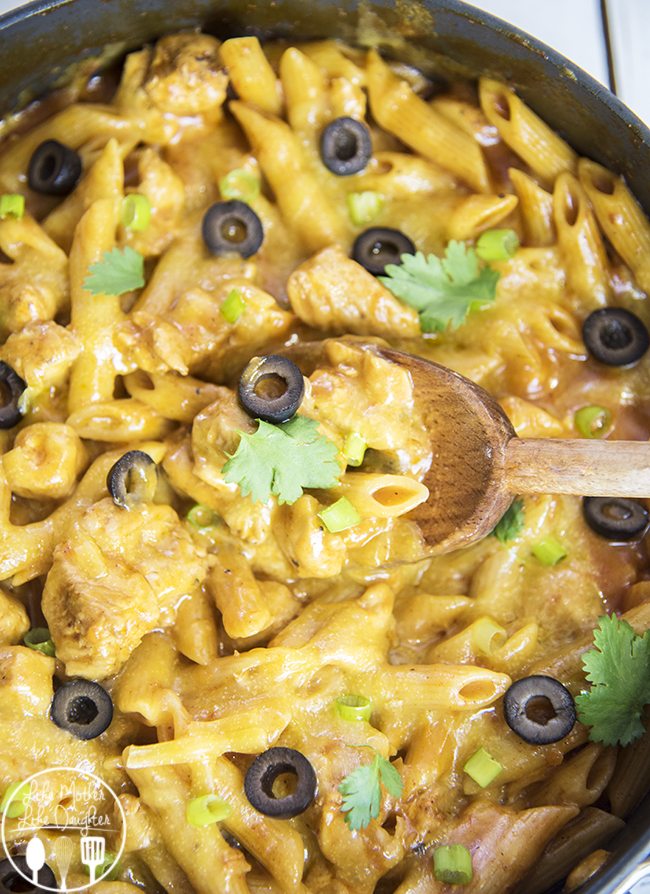 25 of Our Favorite Mexican Food Recipes