This beef queso dip is creamy cheesy goodness packed with a punch; with seasoned ground beef, velvety smooth cheese and packed full of flavor this dip is the perfect party appetizer!
Pin this Beef Queso Dip for later!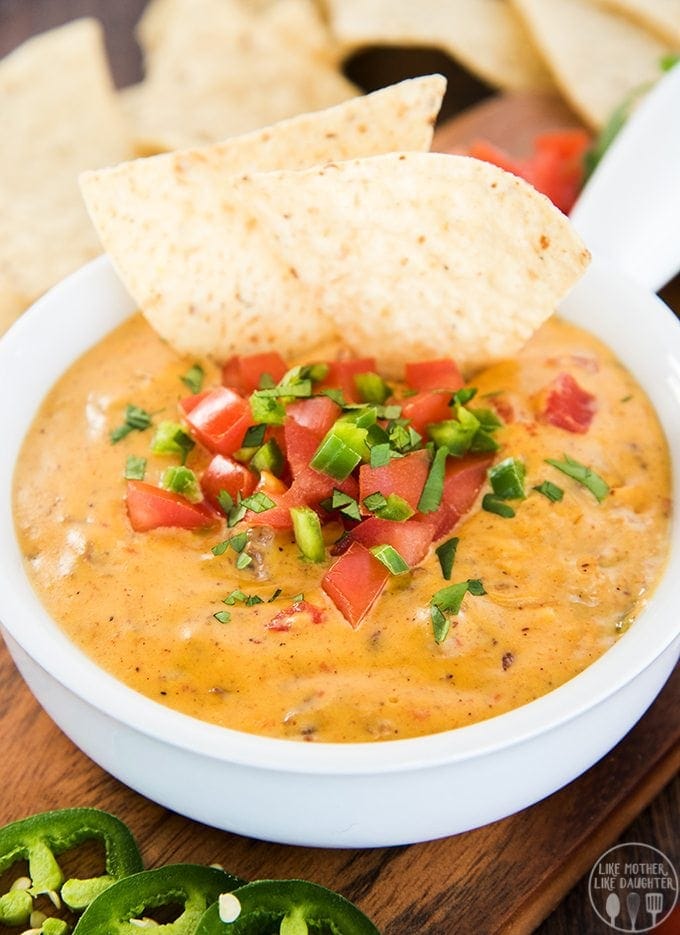 I hope you're not completely sick of unhealthy recipes, with the start of the new year. This dip is no where on the healthy scale, but it sure is delicious – and I'd love for you to save it as a new go to game day recipe, I know its my new favorite!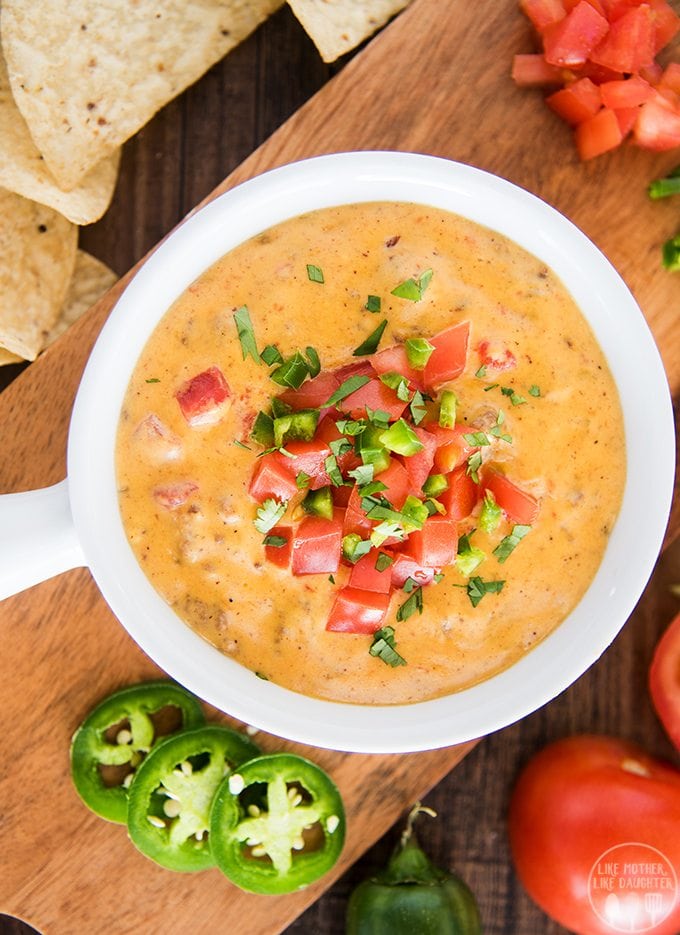 This dip beef queso dip is loaded with seasoned ground beef, creamy melty cheese, and is packed full of flavor! This dip is made in just minutes with only a few ingredients on your stove top, so you can have your new favorite party appetizer any time with hardly any work.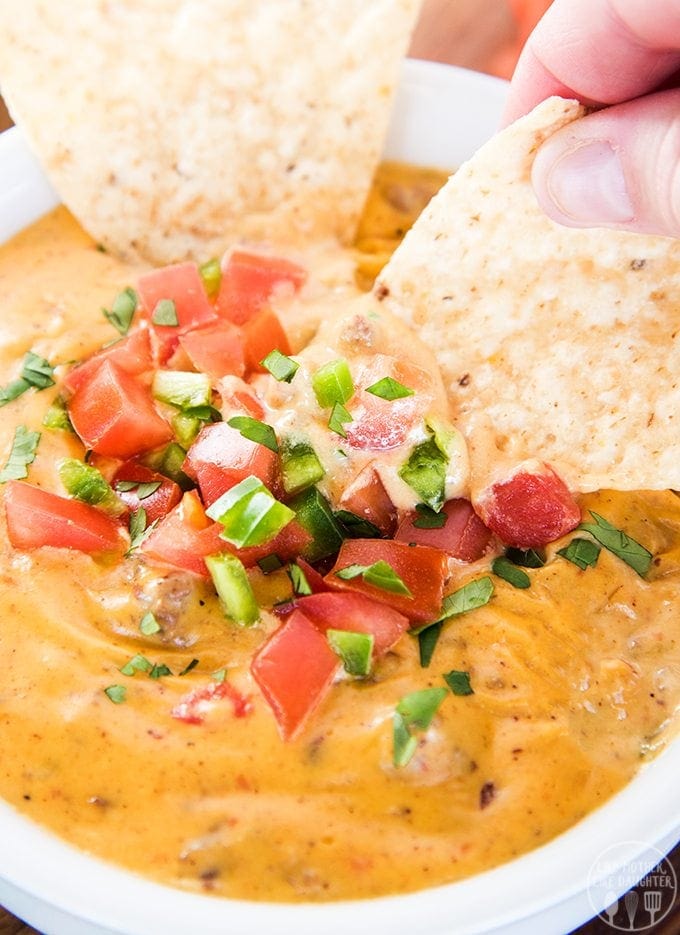 This dip is made with ground beef, taco seasoning (if you don't have any you can make "your own" for this with 1/2 tsp cumin, 1/2 tsp chili powder, 1/4 tsp ground corriander, 1/4 tsp garlic salt, and about 1/4 tsp paprika), diced tomatoes, diced green chiles, Velveeta cheese and a little milk. It all comes together to make this perfectly creamy and flavorful dip!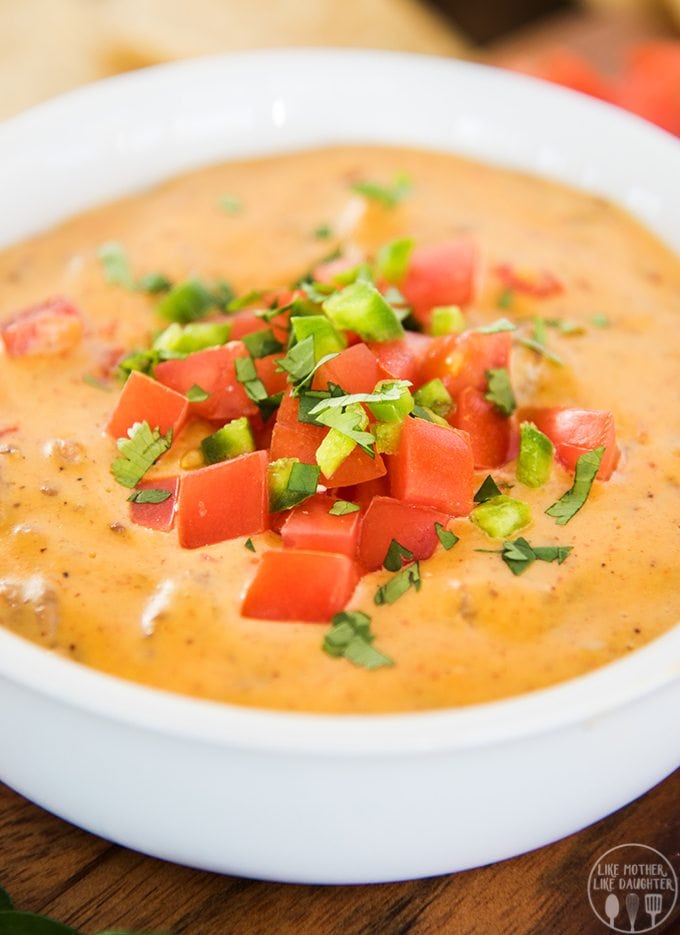 This dip is sure to be a crowd pleaser. Just make sure to bring lots of chips as everyone will be going back to dunk chip after chip into this luscious dip. They'll all love it so much will be asking you to make it again and again.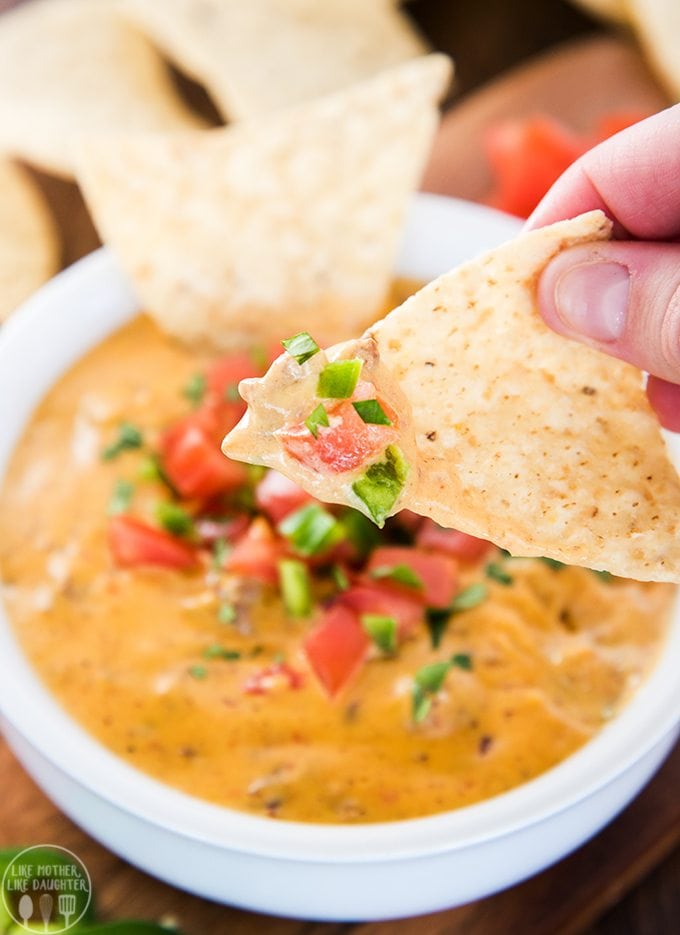 Beef Queso Dip
Ingredients
8 oz ground beef
2 tsp taco seasoning
½ cup canned diced tomatoes
¼ cup canned diced green chiles
16 oz Velveeta Cheese
½ cup milk
Optional Toppings:
one tomato, diced
one jalapeno, seeded and diced
chopped cilantro
Instructions
Cook your ground beef, topped with the taco seasoning, in a large pan until browned, about 4-5 minutes. Break up the beef into small pieces as it cooks.
Drain the excess grease from the beef.
Add the diced tomatoes, green chiles, velveeta, and milk and stir while everything melts together.
Top with diced tomatoes and cilantro, if desired.
Serve hot with lots of chips.