Are you sick and tired of me posting dessert recipes yet? I truly am sorry if you are. But I love making desserts, you see I love sweets, more than anything. But sometimes I like cooking other things too.
Actually, I always like cooking other things too. I really just wish I had enough time/money to cook all day long, but alas that is not the case. So sometimes I have to figure out quick and cheap meals that I can make, that stick to our budget and can be made in a short time after I get home from work. This is one of those recipes.
I've made this asian lettuce wraps recipe that my mom shared a few times before, with great results. But this time I forgot about a few of the ingredients and went with what I had on hand instead.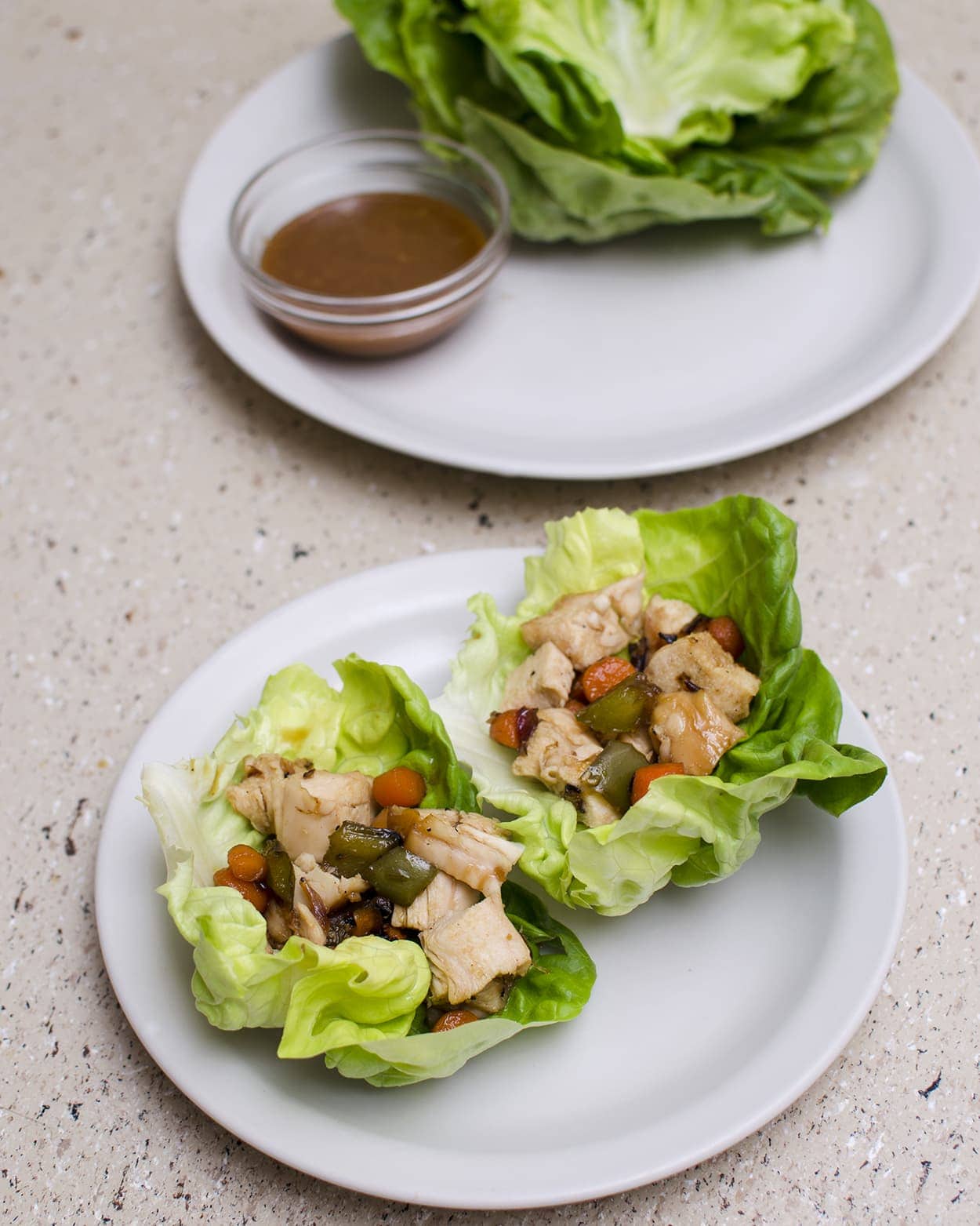 Chicken Lettuce Wraps
Makes about 10 lettuce wraps
3 chicken breasts, chopped into bite size pieces
yoshidas sauce
1/2 green pepper
16 baby carrots (or about 3/4 cup)
1/3 red or yellow onion
1 TBS minced garlic
1 head butter lettuce
Sauce

1/4 cup sugar
1/2 cup brown sugar
2 tsp rice wine vinegar
1 pinch red pepper flakes
1 1/2 TBS peanut butter
1/4 cup yoshidas sauce
1. Marinate chicken breast pieces in yoshidas sauce for 30 minutes up to over night (keep the chicken whole for overnight and cut up after).
2. Cook your chicken in the yoshidas sauce in a large skillet over medium high heat.
3. While your chicken is cooking, chop up your pepper, carrots and onion into about 1 centimeter sized pieces.
4. When chicken is done cooking, set it aside and put your chopped veggies and garlic in the pan with about 1 TBS olive oil or water and cook, stirring occasionally for about 15 minutes.
5. In a small sauce pan add all sauce ingredients and heat over medium until sugar is dissolved.
6. When your vegetables are done cooking, add your chicken and your sauce into the skillet and cook for another 1-2 minutes to incorporate.
7. Separate the leaves of lettuce from the head, and put some of the chicken veggie mixture into the lettuce and enjoy.