It is once again National Ice Cream Day today – It comes once a year on the 3rd Sunday in July and what a glorious food holiday it is. I mean, really who doesn't like ice cream? (Though I did have a friend growing up who liked to melt it in the microwave first).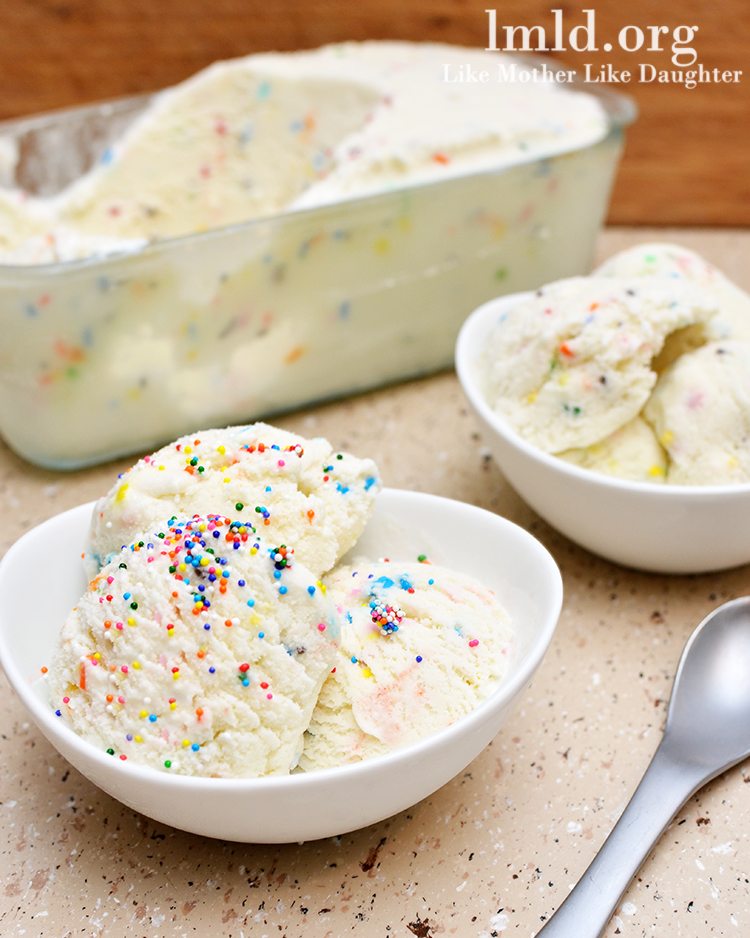 Anyway, as far as food holidays go, ice cream might be the best one, but in case you didn't know it was coming today, and don't have the necessary ingredients on hand – don't fret – the whole month of July is national ice cream month, so you've got 10 more days to make this ice cream. And really, lets be honest, ice cream is good any and every day, whether its the proper day to celebrate eating it or not.
And this ice cream is supreme. I will admit, I am one of those people who licks the bowl clean of batter after making a cake or brownies. So I knew Cake Batter Ice Cream was the one I wanted to share with you for this blessed food holiday.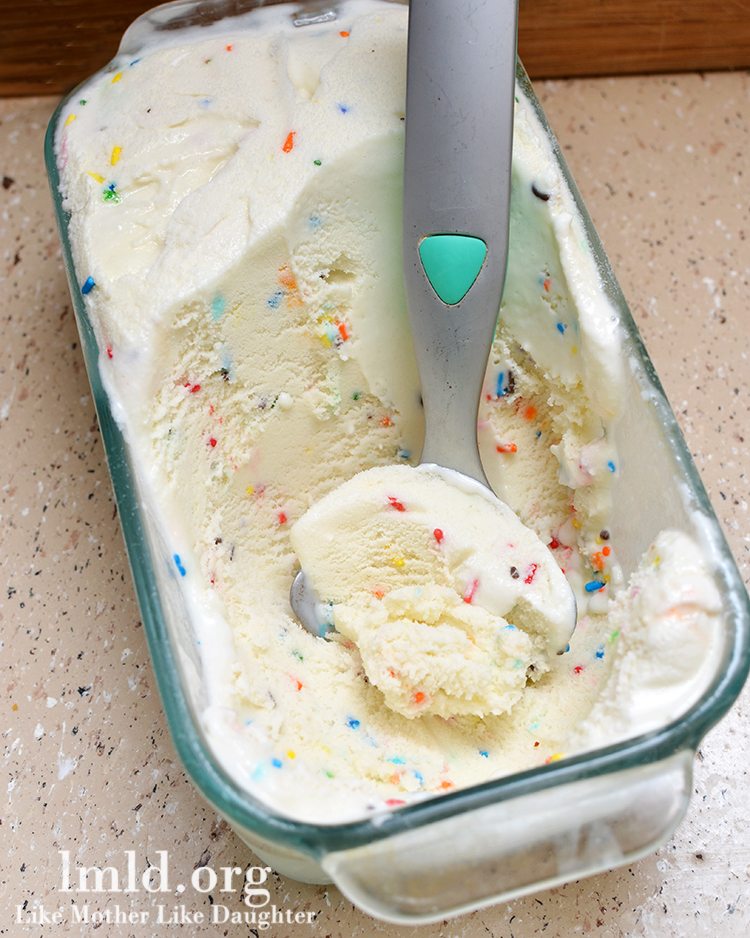 Nate does think the cake batter flavor is a little strong, but I think its beyond perfect. Nate says it tastes like funfetti frosting, but I think he's a little confused by the flavor, and you can always leave the sprinkles out. This cake batter ice cream tastes just like the batter I love licking out of the bowl, in ice cream form. And that's the way I like it. But you are welcome to try it with a little less cake mix added into the mix if you are afraid of it being too strong.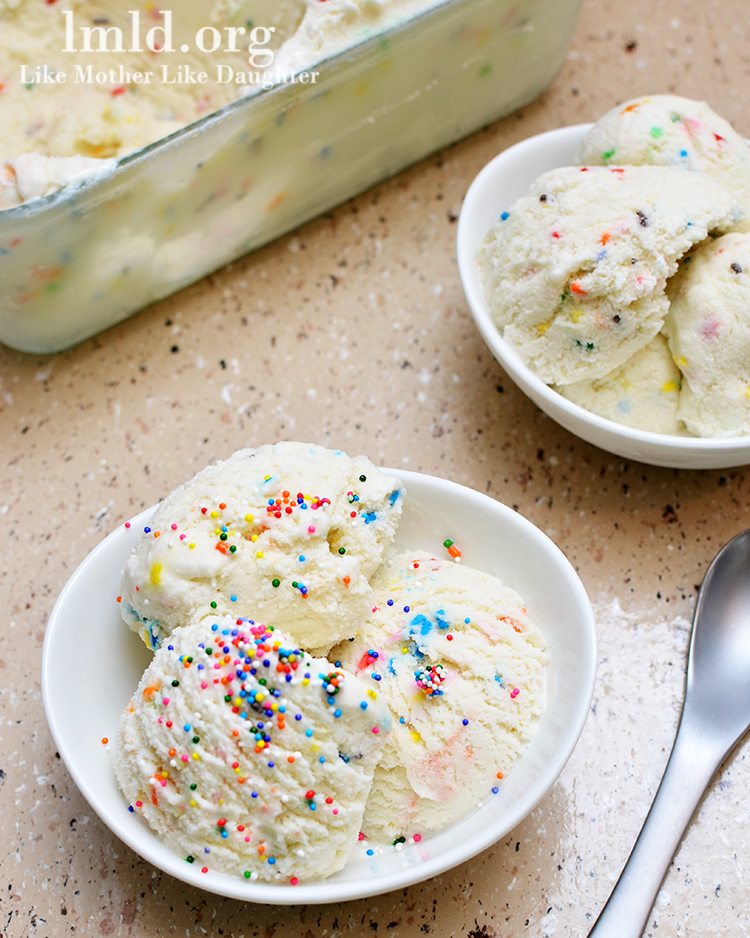 Ps. Its the perfect ice cream to celebrate this holiday with – its like cake and ice cream in one. Or its perfect for a birthday (hint hint – my bday is in one month). Or its perfect for celebrating any day, because its ice cream. And its delicious.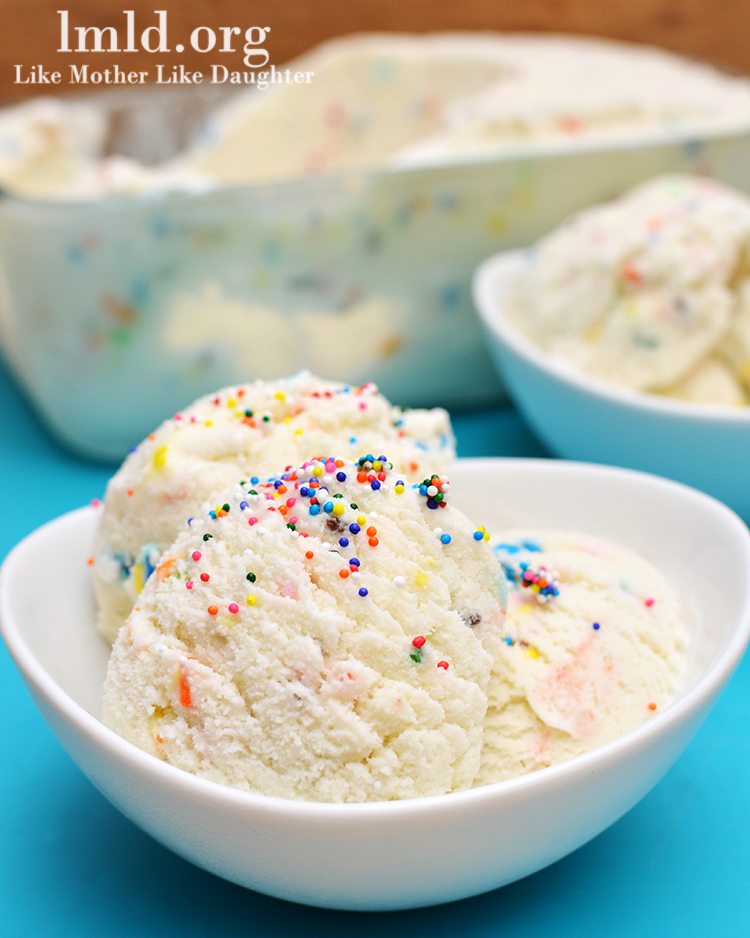 Cake Batter Ice Cream
Ingredients
1 cup milk
1 cup sugar
3 cups half and half
¼ tsp salt
¾ cup yellow cake mix
6 TBS rainbow sprinkles optional
Instructions
Combine milk and sugar in a small pot and heat over medium.
Heat for a few minutes, stirring occasionally until sugar is mostly dissolved.
In a mixing bowl, combine sugar milk, half and half, salt and cake mix. Stir well to combine.
Pour mixture into your ice cream maker (make sure you prepared your bowl in the freezer ahead of time). Follow manufactures instructions. I mixed mine for 30 minutes.
Add sprinkles and allow to mix for additional 5 minutes.
Remove ice cream from ice cream maker and put into a small glass bowl or container. Cover with lid or foil and freeze for additional 2 hours to overnight to get ice cream to harden more.
Enjoy this fun and festive ice cream for national ice cream day, month, a birthday or any occasion.