Funfetti Cake is so good but what if  you don't want to bake a cake because you will end up eating the whole thing and that blows the healthy eating life style you are trying to switch to.  Problem solved, make funfetti cake batter dip and share it at a pool party with teenage girls or boys (but this party happened to be a girl pool party).  Now not only are you able to eat your favorite cake (well maybe it's just my favorite cake) but you are having "fun" doing it and sharing makes it even more fun.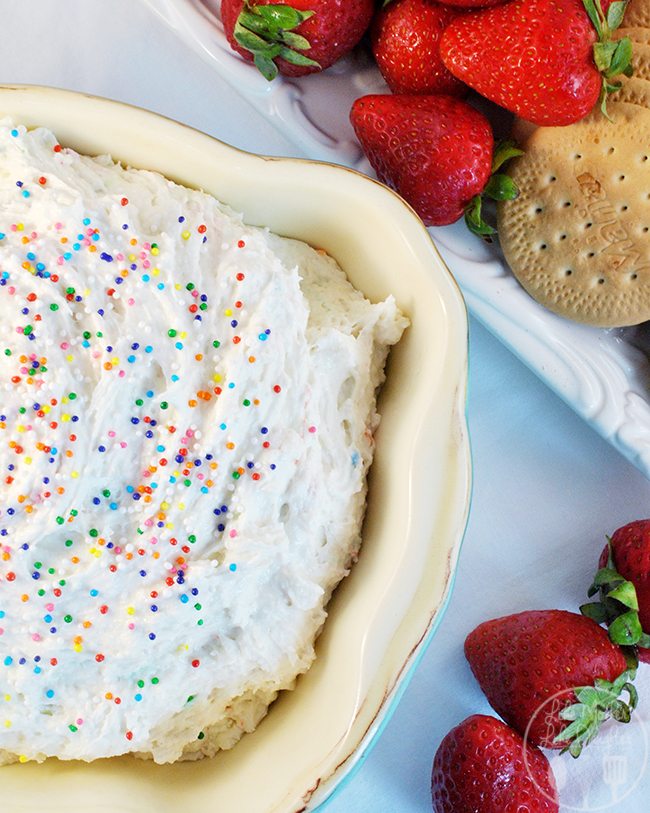 And about the healthy eating life style perhaps it stays healthy by choosing the "dippers" like pretzels, graham crackers, strawberries, etc that are on the upper end of healthy as far as snacks go.  At least they seem up there as compared to let's say "eating a whole cake by yourself!"  Which wouldn't ever happen if some people would eat their fair share, just saying.
Oh and just in case you are wondering I upped the game to a healthier funfetti cake batter dip by using lite whipped topping and neufchatel cream cheese.  I love the flavor of cream cheese and neufchatel cream cheese has less fat and calories but I personally think tastes the same, so good!  So perhaps my healthier eating is just that, not perfect with only whole grains (which I love ) and fruit and vegetables (which I love even more) but the occasional "fun" treat like funfetti cake batter dip.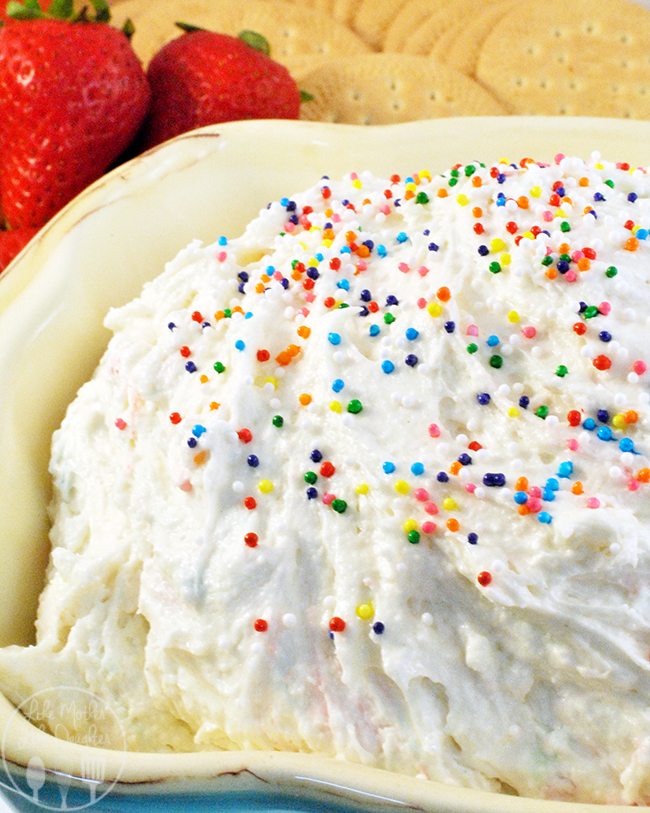 So let's get dipping.
Funfetti Cake Batter Dip
Let's make snacking even more fun with funfetti cake batter dip. Easy to make, tasty to eat, enjoy with your favorite dippers like pretzels or strawberries.
Recipe type:
Snack/Dessert
Ingredients
1 box Funfetti Cake mix
8 oz cream cheese
8 oz whipped topping
⅓ cup milk
sprinkles
dippers - pretzels, strawberries, graham crackers, cookies
Instructions
In a large bowl with a hand mixer beat the cream cheese and whipped topping until combined and smooth
Using a wooden spoon stir in cake mix and milk until well combined - it will be very thick (add more milk a TBS at a time if you want to make it a preferred consistency)
Transfer to serving bowl and add sprinkles on top
Serve with dippers, such as pretzels, strawberries, graham crackers, etc
So looking for more "healthy" dippers for my funfetti cake batter dip, what would you dip?