These rolo cookies are basically the best thing ever. They're like a delicious chocolate cookie stuffed with caramel and sprinkled with a little sea salt on top – for the perfect sweet and salty and chewy cookie, one of the best you've ever had.
Now, I've made rolo cookies a few times since I first made them a few years ago – every time I make them I wonder why I don't make them more often, they are seriously one of my favorite cookies.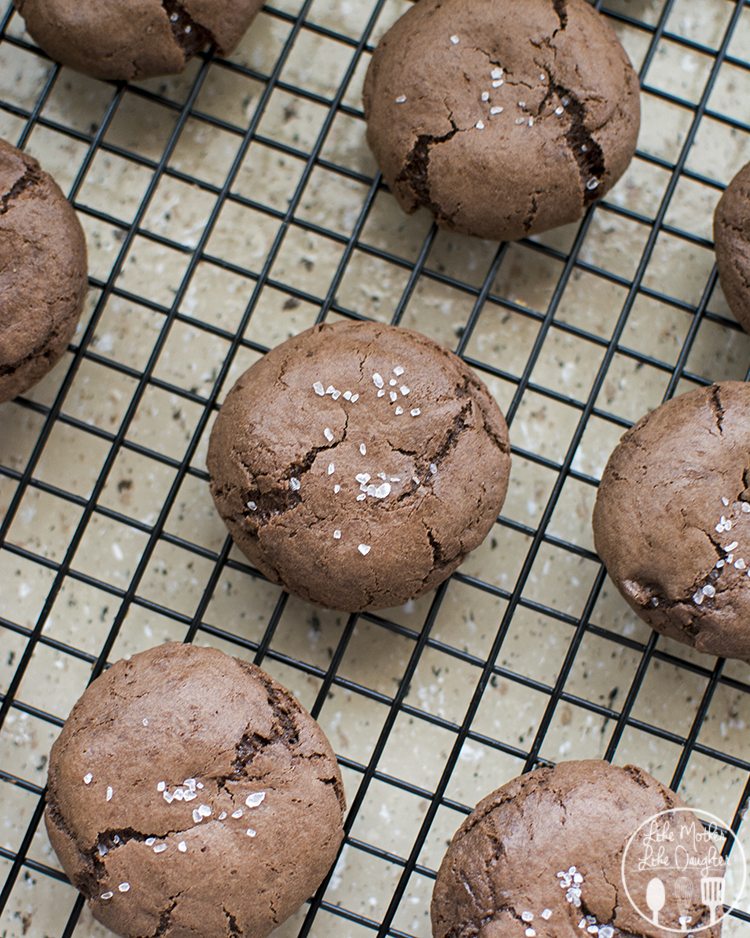 And maybe even better than these delicious cookies themselves – how easy it is to make them. You see, you start with a box of devil's food cake, you could probably use any chocolate cake mix, then add some oil, eggs and make a thick dough. Then roll a little dough around a delicious rolo and bake. And of course don't forget to sprinkle on my favorite part at the end, a little sea salt.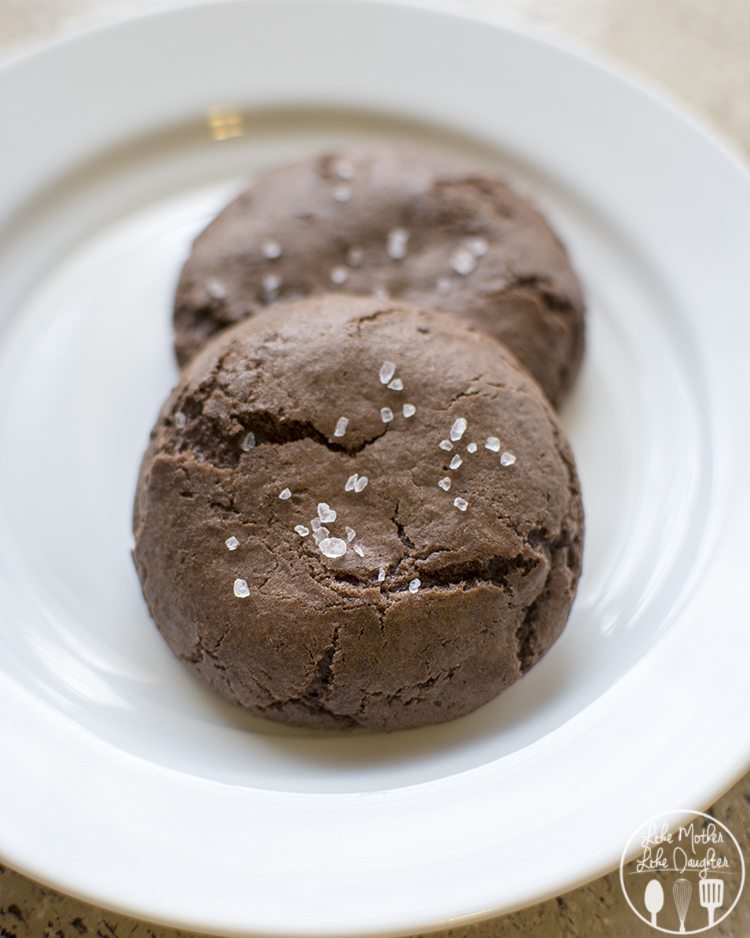 The sea salt adds almost a little crunch, but I just love the contrast it adds to the cookie. The saltiness brings out the sweetness of the caramel and the chocolate. Make sure to get coarse sea salt.  I press my cookie tops down every so slightly when they come out of the oven to help the sea salt stick a little better.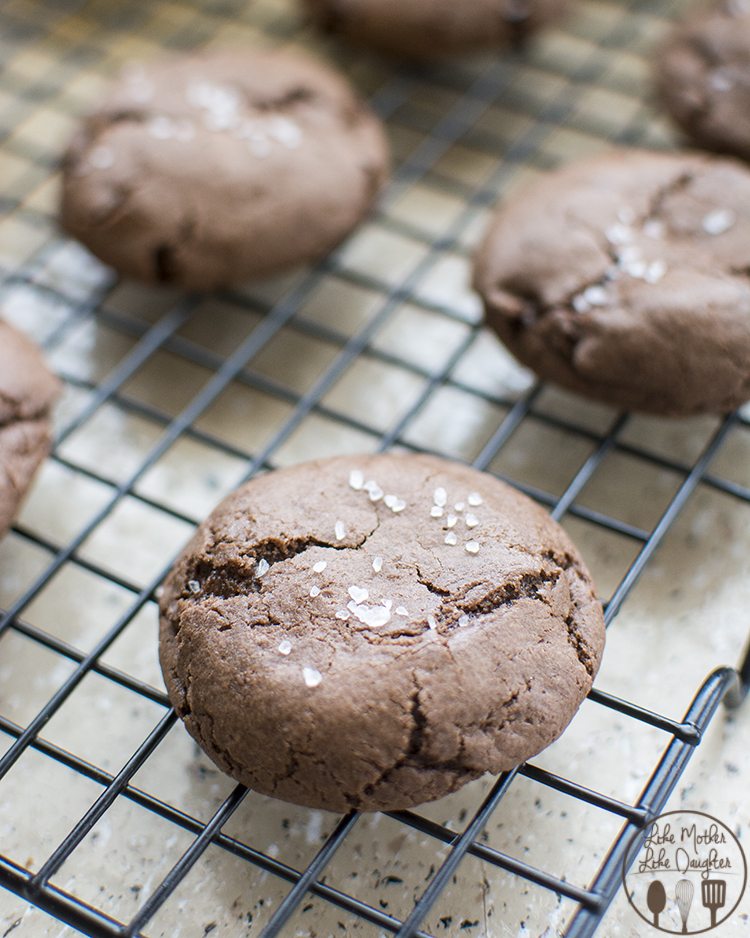 And now, another picture of the ooey gooey deliciousness of the caramel in the middle.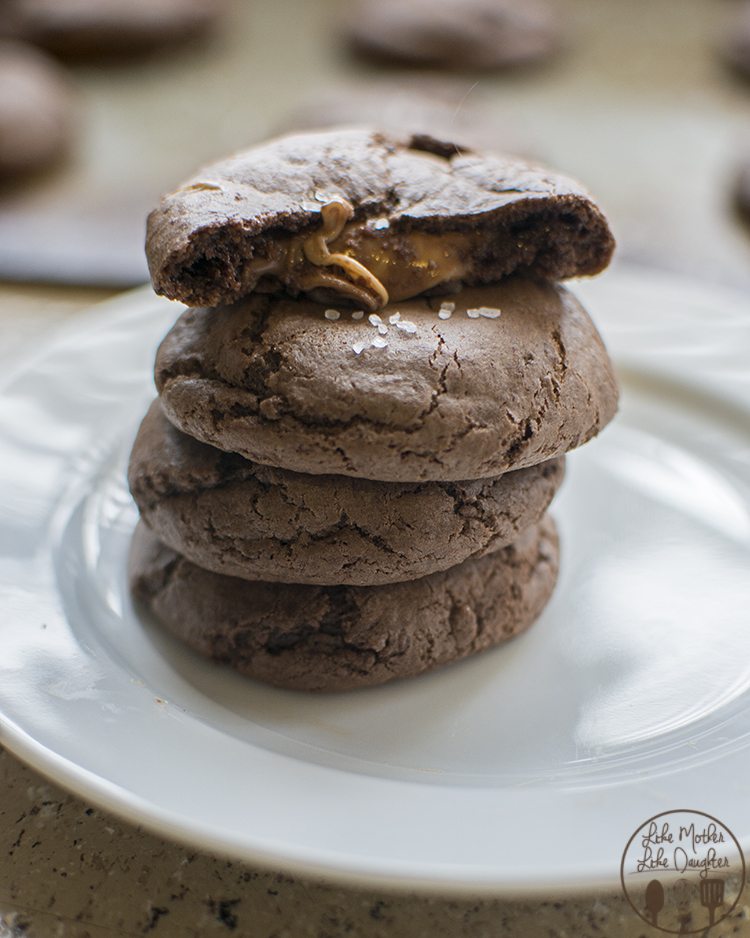 Rolo Cookies with Sea Salt
Ingredients
24-28 rolos
1 box devil's food cake mix
2 eggs
⅓ cup vegetable oil (or canola or coconut)
coarse sea salt.
Instructions
Preheat your oven to 350 degrees.
Unwrap all your rolos and set them aside in a small bowl, try not to eat any 😉
In a medium sized bowl combine your cake mix, eggs and vegetable oil and stir together to make a thick cookie batter.
Take a small bit of dough and flatten it in your hand and put 1 rolo in the middle. Fold the dough around the rolo and roll into a ball.
Place 12 cookies on a cookie sheet lined with parchment paper or a silicone liner.
Bake cookies for about 10 minutes, till the tops start to split and they look done.
Remove from oven and slightly flatten the tops of your cookies with your hand and sprinkle each cookie with just a little sea salt.
Enjoy these sweet and salty and easy cookies!