So pretty much everything is better with sea salt on top right? Well, at least these chocolate chip cookies are. I mean, this is pretty much identical to my favorite chocolate chip cookie recipe, the only difference is the addition of sea salt. But these chocolate chip cookies with sea salt are seriously so good, they deserve their own post.
Pin these chocolate chip cookies with sea salt for later!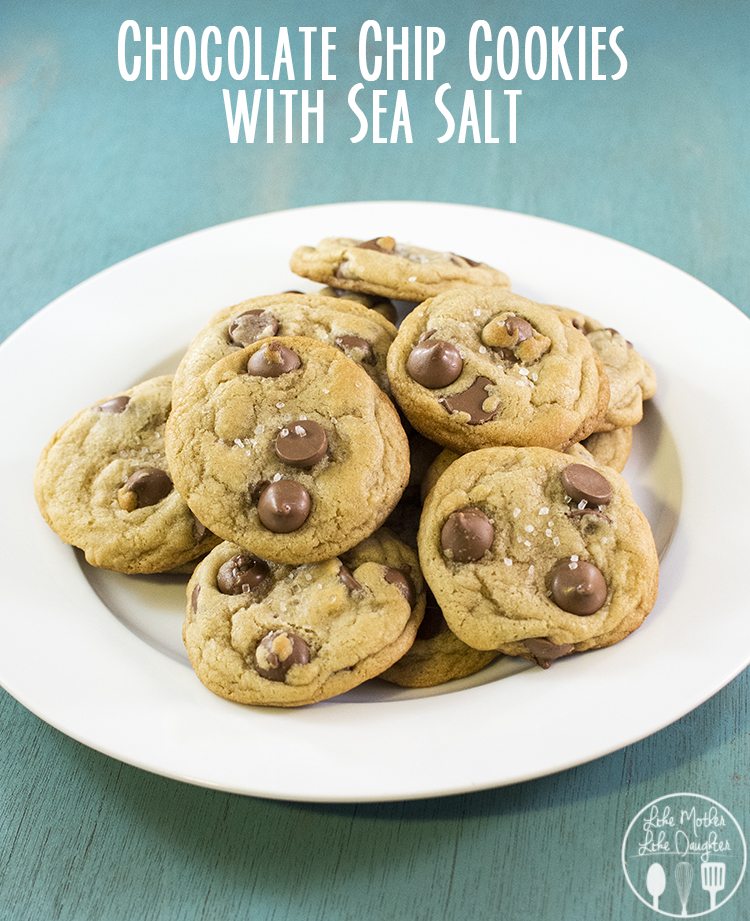 It takes these cookies to the next level and makes them even more amazing than they already are to start with. So if we're being honest, these chocolate chip cookies with sea salt are actually my favorite chocolate chip cookie.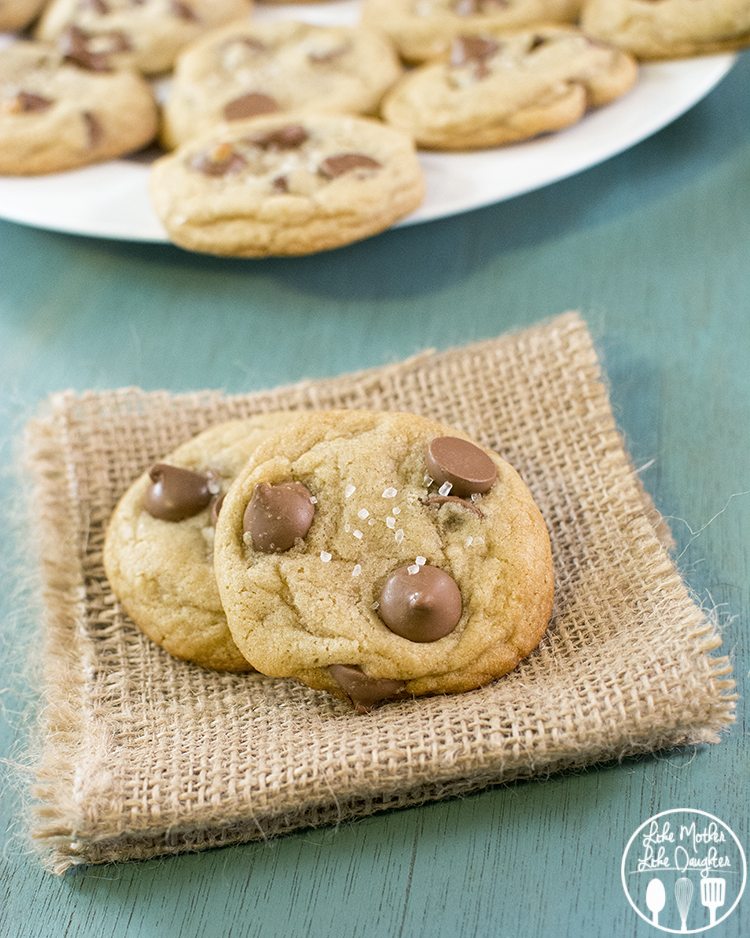 The combination of the chewy cookie with a slightly crisp edge, stuffed full of sweet creamy milk chocolate chips (Guittard is the best!), and then just a little bit of saltiness with the sea salt on top. The salt brings out the sweetness of the chocolate chips. Its perfection my friends. And you've gotta have the coarse sea salt to add just the teeniest bit of crunch to your cookie.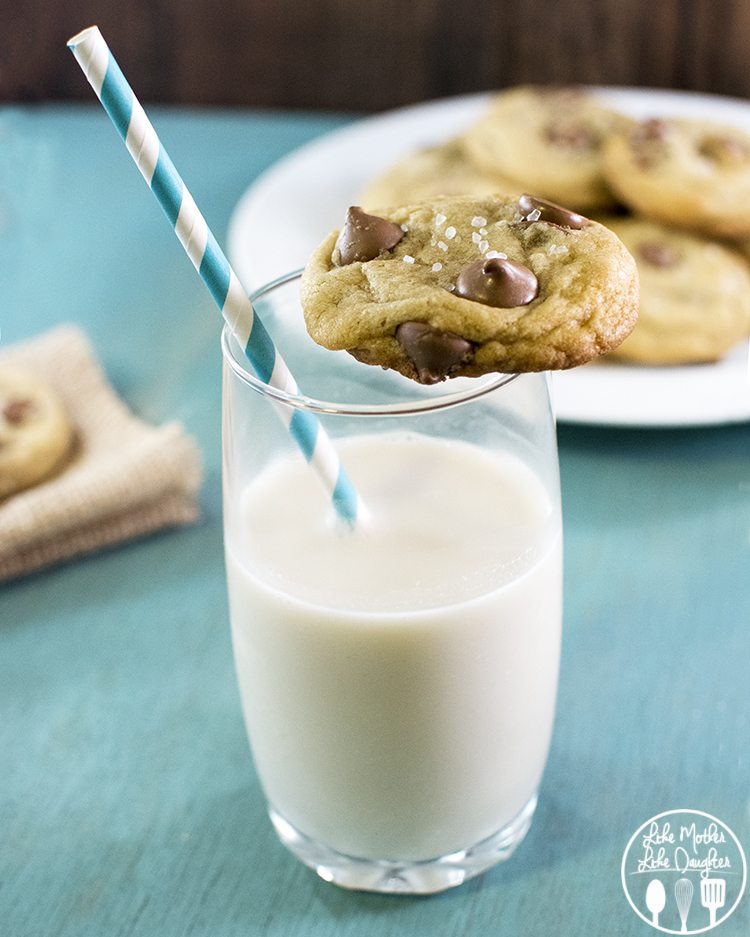 Don't forget to serve them with a huge glass of milk!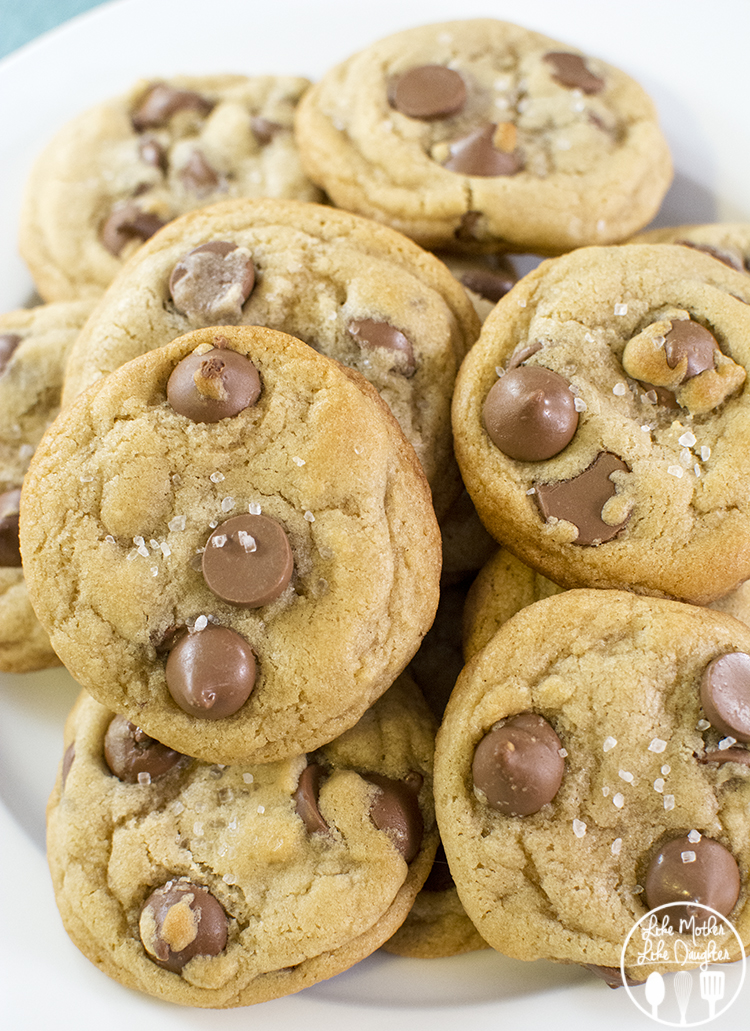 Chocolate Chip Cookies with Sea Salt
Ingredients
1 cup softened butter (2 sticks)
1 cup brown sugar
½ cup sugar
2 tsp vanilla
2 large eggs
2 tsp baking soda
1 tsp salt
2½ - 3 cups flour
2 cups chocolate chips
1 tsp sea salt
Instructions
Preheat your oven to 350 degrees.
Cream together your butter and your sugars in a large bowl.
Add in your egg and your vanilla and stir in.
In another bowl mix together your baking soda, salt and flour.
Add your dry ingredients to your wet ingredients and stir everything together till just combined.
Add in your chocolate chips and fold into the batter.
Scoop your cookie dough into large 2 TBS sized cookie balls.
Place cookie balls on a baking sheet lined with baking paper or sprayed with non stick spray.
Bake cookies for about 8-10 minutes until they start to turn golden.
Remove pan from oven, and drop pan onto the counter or stove top to give the cookies the perfect crinkle.
Sprinkle immediately with a little sea salt a top of each cookie.
Leave cookies on the baking sheet for a couple minutes to finish.
Remove cookies to cooling rack to cool completely.
Enjoy these delicious chewy cookies filled with creamy milk chocolate chips and topped with a little sea salt for the perfect cookie. Extra good with a large glass of milk!
Try these other sweet and salty treats: