This recipe makes just two blueberry custard crumb tarts that are perfectly delicious. They have a homemade crust, with a custard made from fresh blueberries, and are topped with a delicious cinnamon crumb topping.
Pin these Blueberry Custard Crumb Tarts for later!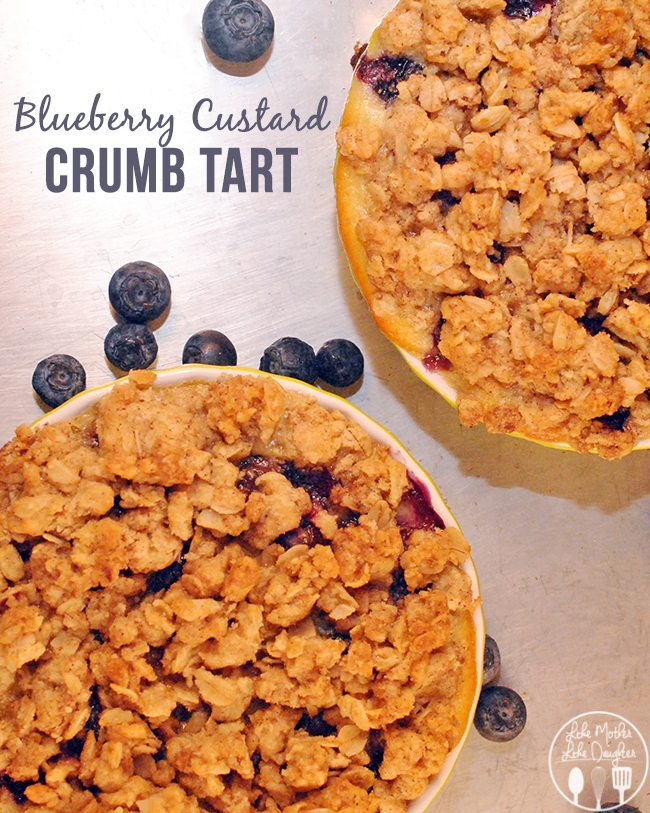 Cooking for Two.  That is where my life is currently, cooking for just Craig and I.  Sometimes it is hard to make just enough, not too much, and not too little, just the right amount.  Sometimes we feel like Goldilocks of the Three Bears fame.  This is too hot (or too much), this is too cold (or too little) and finally to be able to settle in on this is just right (just the right amount for two).
Craig and I started our life together 34 years ago and for the first 3 of those 34 years I had to learn how to cook for two.  I actually received a wonderful cookbook as a wedding gift that was all about cooking for two.  It has been 9 years since Aimee went away for college (gasp) but we have had a friend live with us, Marta – our Italian daughter by another mother – live with us, and my mom live with us during part of those 9 years.  So now I am back again trying to figure out how to cook for two.
Because of that I am often cutting recipes down and adjusting them for the two of us.  Sometimes you see them as is, but more often than not I write the recipe so it makes enough for a family.  I try really hard to share the accurate yield so you will know. But I decided if the recipe is just right for two, I am going to let you know since some of you, our loyal followers, could be in the same time of your life.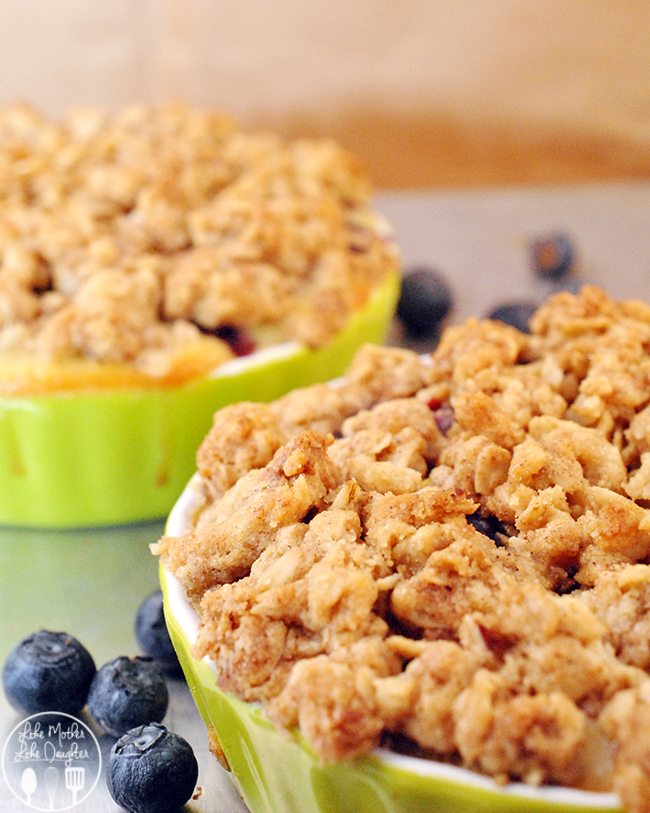 That said, let's get on to our first official "Cooking for Two" recipe.  These Blueberry Custard Crumb Tarts are just right or the perfect inauguratory recipe too.  It makes two perfectly delicious blueberry custard crumb tarts.  So perfectly delicious that I was wishing I doubled or tripled the recipe for blueberry custard crumb tarts all week long.  Awww…. the challenges.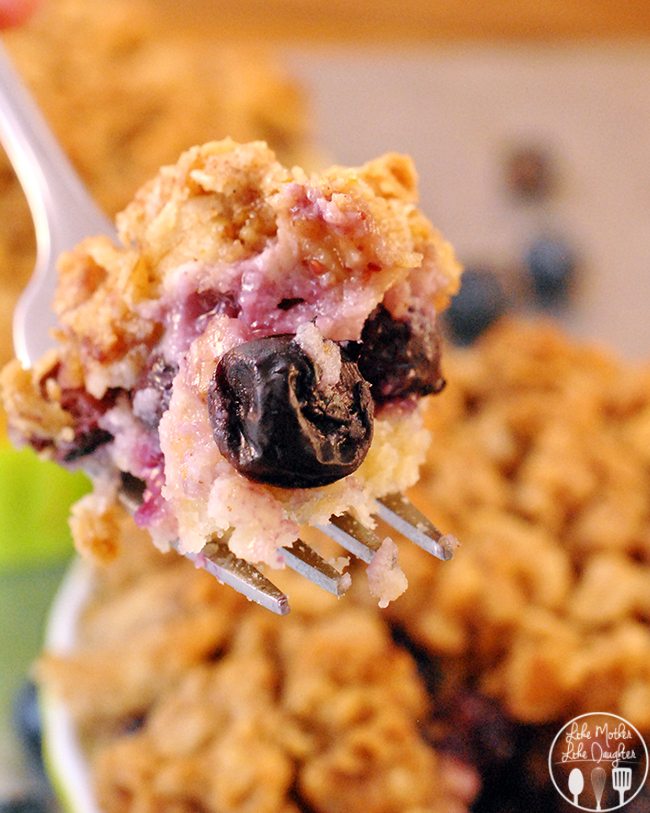 Blueberry Custard Crumb Tarts
Blueberry Custard Crumb Tarts, tasty sweet blueberries covered in a Greek yogurt custard filling topped with a wonderfully crisp, crunchy oatmeal crumb.
Ingredients
]For the Crust:
¾ cup all purpose flour
1½ TBS white sugar
1 tsp lemon zest
¼ tsp salt
¼ cup butter - melted and cooled slightly
For the Blueberry Greek Custard:
2 cups blueberries
½ cup white sugar
¼ cup all purpose flour
1 egg
½ tsp vanilla extract
½ cup non-fat plain Greek yogurt
For the Oat Crumb Topping:
½ cup old-fashioned oats
¼ cup all purpose flour
¼ cup brown sugar
1 tsp lemon zest
a pinch of salt
4 TBS butter - softened
1 tsp cinnamon
Instructions
]To Prepare the Crust:
In a large bowl, mix together the flour, sugar, lemon zest, and salt until combined
Stir in the melted butter, mixing with a fork until well combined
Divide into thirds and press each third into the bottom and up the sides of a tart pan
Cover with plastic wrap and place in fridge for 45 minutes
Preheat oven to 350 degrees
Place a piece of parchment paper over the crust and fill the crust with dried beans (about 1 cup each)
Bake for 20 minutes or until it is mostly baked
Remove from oven, remove parchment paper, and beans and let cool for 10 minutes
For the Blueberry Greek Custard Filling:
Wash and dry the blueberries very gently
In a medium mixing bowl; stir together the sugar, flour, eggs, vanilla, and Greek yogurt until well combined
Place your tart pans on a rimmed sheet (to catch any spills)
Divide the blueberries between the 3 tart pans
Pour ⅓ of the Greek Custard Filling over each tart
Bake for 10 minutes
Carefully remove from oven
For the Oat Crumb Topping:
In a medium mixing bowl; stir together oats, flour, brown sugar, salt, cinnamon, and lemon zest until well combined
Add the softened butter and cut in with a fork or use your fingers until well combined and crumbly
Top each tart with ⅓ of the oat crumb topping
Place in oven and bake for 10 minutes
Rotate and bake for another 10 minutes
Remove from oven and cool for 1 hour
Serve or refrigerate for until ready to serve
Keep covered in fridge up to 3 days
Notes
**Please read through this whole recipe before making; there are several steps with making and baking the crust ahead, filling and baking with the blueberries and custard filling, and finally baking with the crumb topping. Plus cooling to let the custard set. Plan accordingly. You can even prepare the day before and enjoy its deliciousness the next day - if you can wait.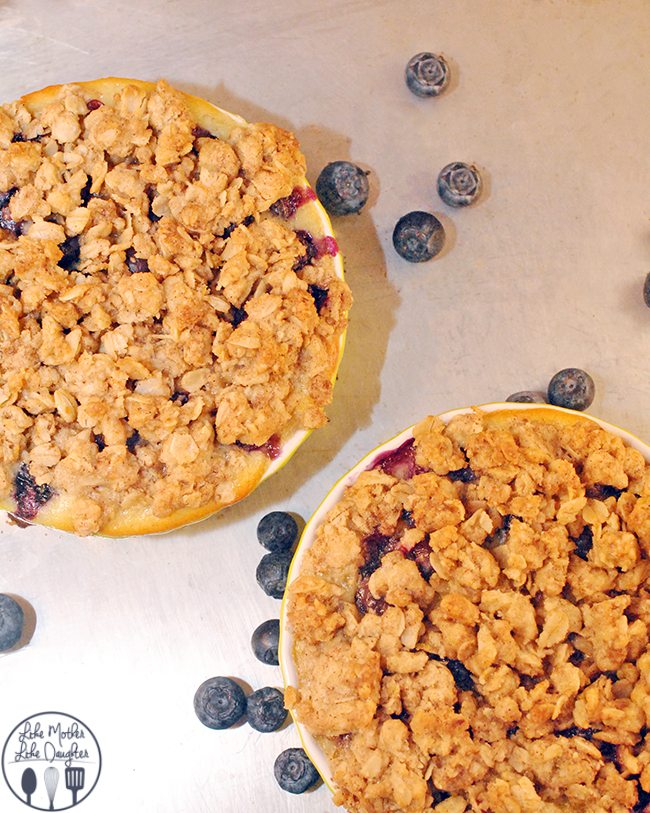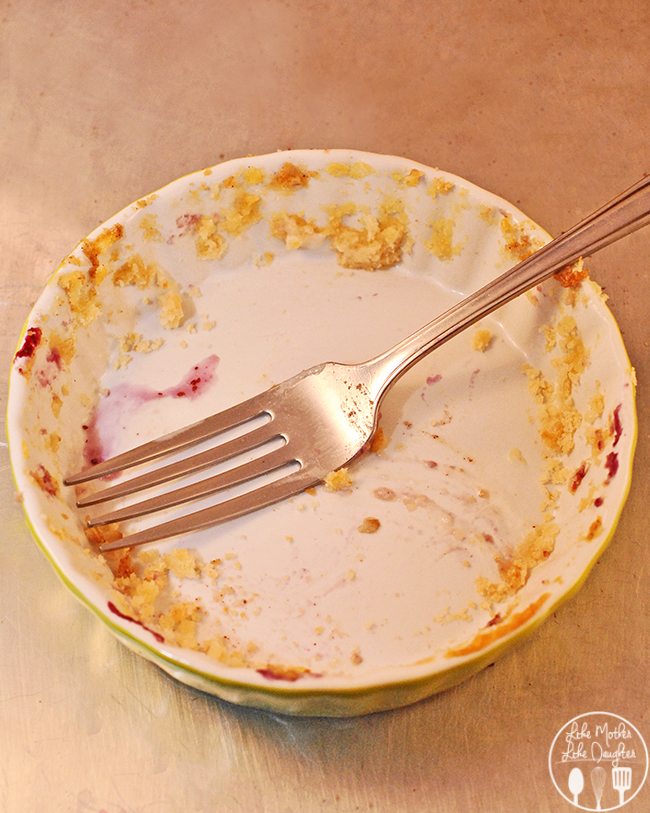 I couldn't wait!