This breakfast hash is a delicious combination of potatoes, peppers, onions, and sausage. Great for breakfast or dinner served with a fried egg on top!
Pin this breakfast hash for later.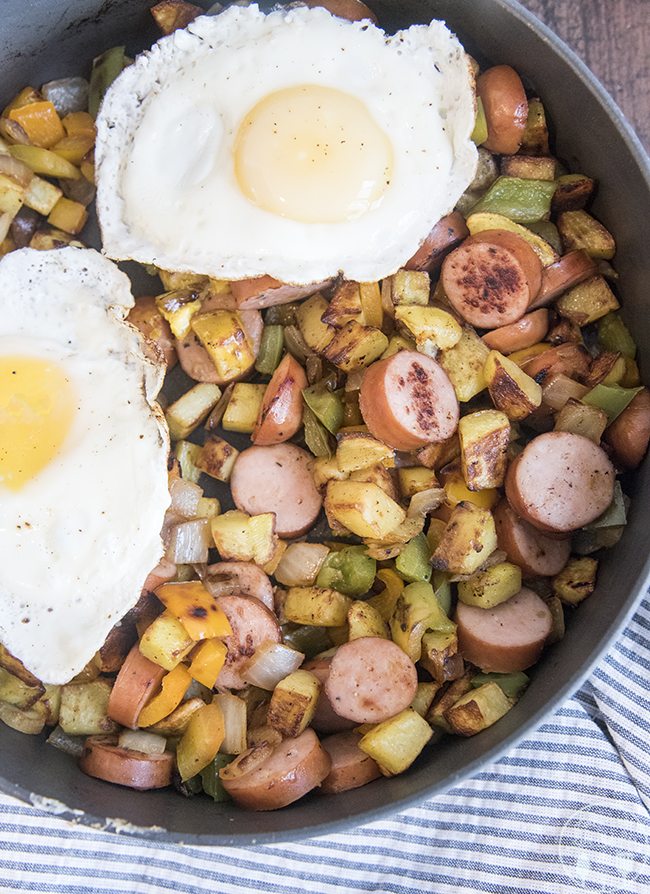 One of our favorite weekly dinners is breakfast of some sort. We usually have some sort of eggs, scrambled cooked up with veggies or egg in a hole are two of our favorites but this breakfast hash might join the mix!
This breakfast hash is full of skillet cooked potatoes, sliced up chicken sausage, sauteed green bell peppers and onions. The flavors all come together so good! And it's great served topped with a fried egg (or without) and with lots of ketchup for me 😉

Breakfast Hash
Ingredients
3 TBS olive oil
2 cups diced potatoes
1 cup diced green pepper
1 cup diced onion
2 cups sliced already cooked link sausage
salt and pepper, to taste
4 eggs, optional\
Instructions
In a large skillet, heat 2 TBS of olive oil over medium high heat.
Add the potatoes and cook for 10-15 minutes until they are cooked throughout and browned evenly. Season with salt and pepper.
In another large skillet, cook your green pepper and onion with 1 TBS of olive oil over medium high heat for about 5 minutes, until softened, stirring occasionally.
Add the vegetables, and sausage to your potatoes and and cook for a couple minutes till the sausage is warm and serve hot!
Cook eggs in a skillet till white is thoroughly cooked and serve on top of hash.