An easy chicken parmesan dish is a moist chicken breast coated in a crispy parmesan bread crumb coating, cooked in marinara sauce and topped with melty cheese! Great served with pasta for a delicious Italian style dish.
**This delicious chicken parmesan dish is made in partnership with Progresso Bread Crumbs and Tapinfluence. But all opinions are mine.
Pin this Chicken Parmesan for Later.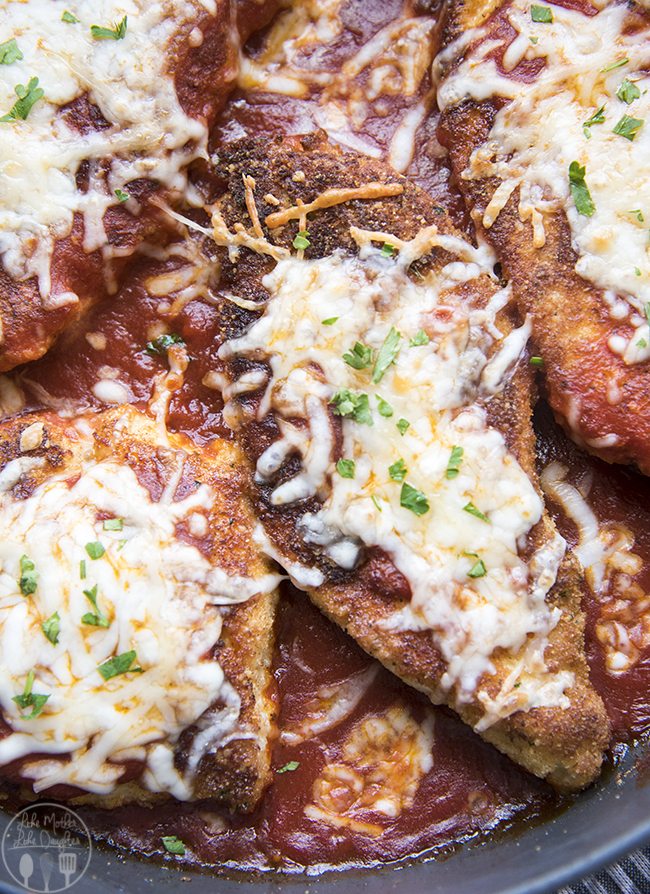 One of my favorite meals is chicken parmesan (or chicken parmigiana). I just love the crispy breaded chicken, topped with cheese, marinara sauce all served with noodles. Have I mentioned how much I love pasta? I love all Italian food, and chicken, and cheese. So its no wonder why this dish is in my top 3 faves! (But I'll be honest Italian style food in general is my favorite!! My dad served a two year mission for our church in southern Italy, so I grew up loving all things Italian food!! Except maybe polenta 😉
This chicken parmesan, or "chicky chicky parm parm" as Tom Haverford would say (any Parks and Rec fans out there?) is simple to make and so delicious! The chicken breast pieces are coated in an Italian breadcrumb mixture. I love Progresso™ Italian Bread Crumbs, which make this dish not only easy but delicious! (Just grab some Progresso™ Italian Bread Crumbs, chicken breast, marinara sauce and cheese from Walmart for an easy and delicious dinner!)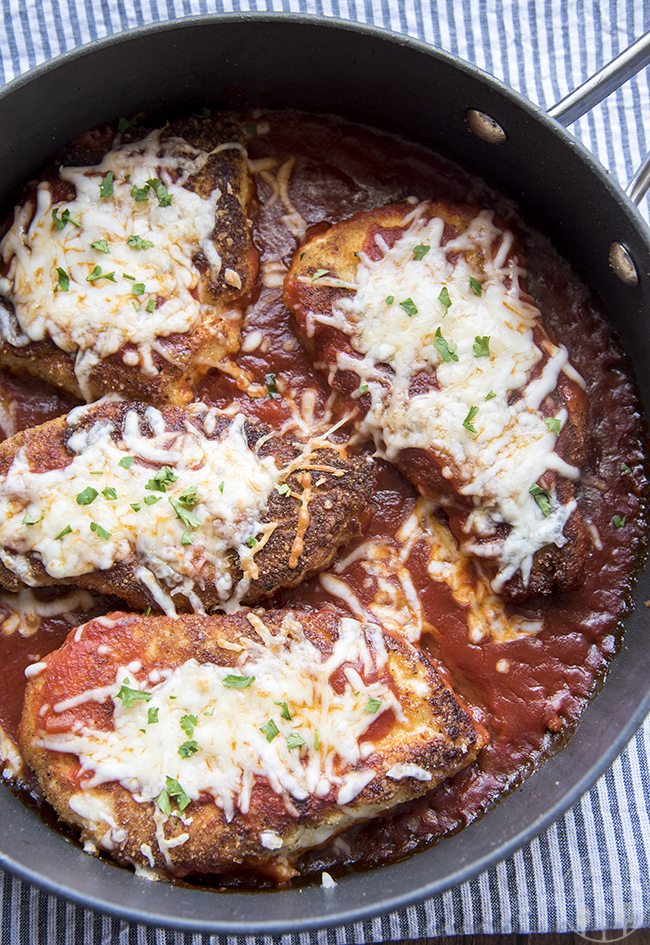 So first you'll pound your chicken breasts to about 1/2 inch or so thick. I cut each of my chicken breast pieces in half because they get quite large once they are pounded out. Cover them with plastic wrap and pound with a meat tenderizer. Dip one piece of chicken at a time on each side first in flour (mixed with salt and pepper), then in egg (whipped up really nice), and then in a mixture of Progresso™ Italian Bread Crumbs and Parmesan Cheese.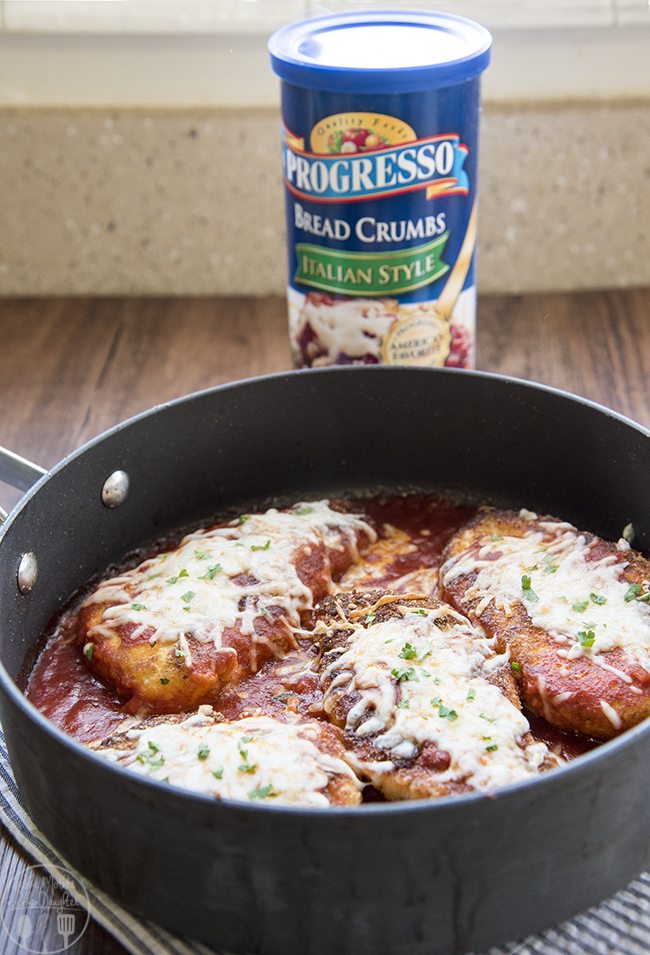 Heat up a large skillet with about 1 TBS of olive oil over medium heat. Add as many coated chicken breasts to the skillet as you can – mine fit 4 pieces at a time, so I cooked the chicken in two batches.  Remove the chicken from the pan when its been cooked on each side and then pour your marinara sauce into the skillet. Return your chicken to the top of the sauce. Sprinkle shredded mozzarella and Parmesan cheese on top of each chicken piece and place skillet into your oven. Turn your oven to broil and cook for 3-4 minutes until cheese is fully melted.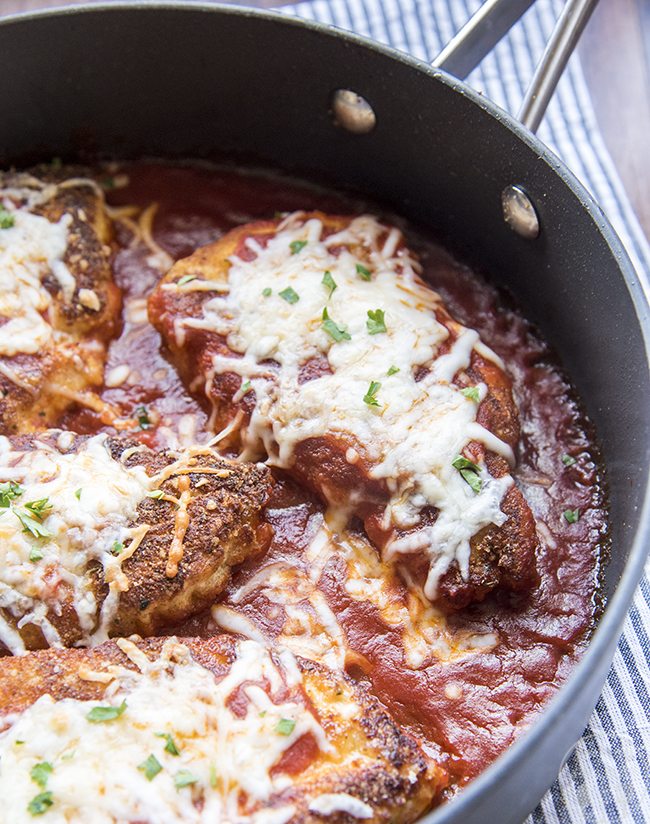 While this is all going on you should cook up some spaghetti noodles to serve your chicken with. Serve chicken, and sauce on top of your noodles immediately when everything is ready.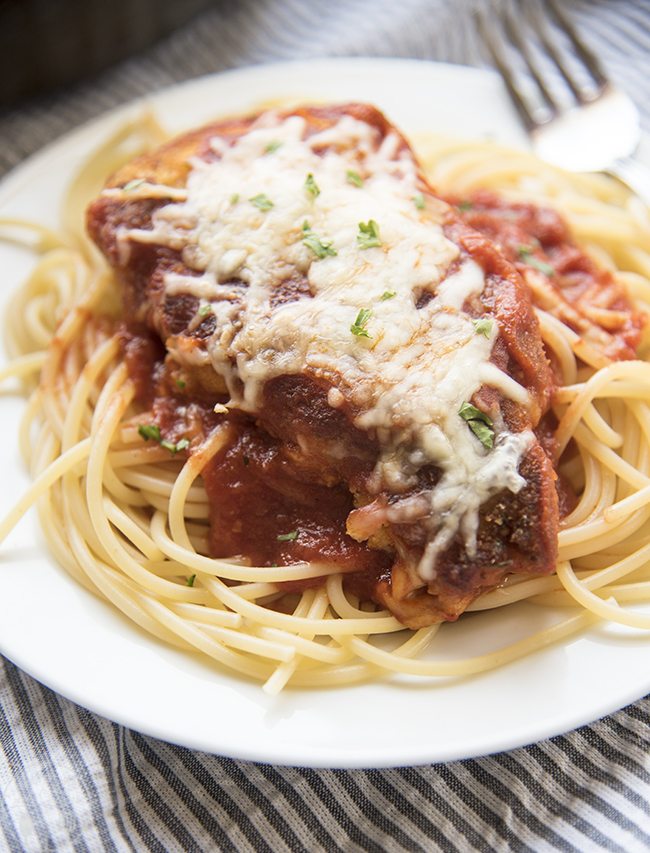 Chicken Parmesan
Ingredients
4 chicken breast
⅓ cup flour
½ tsp salt
¼ tsp black pepper
2 eggs
½ cup Progresso™ Italian Bread Crumbs
¼ cup grated Parmesan Cheese
2 TBS olive oil
1½ - 2 cups marinara sauce
1 cup shredded mozzarella
½ cup shredded Parmesan Cheese
Instructions
Cut each chicken breast in half.
Pound your chicken breasts to about ½ inch thick with a meat tenderizer (cover chicken with plastic wrap to avoid the mess)
Get 3 pie pans or shallow plates.
Put flour, salt and pepper in one.
Whip eggs and put them in another.
Combine Progresso™ Bread Crumbs and grated Parmesan cheese in the last.
Dip each chicken breast to fully coat first in flour, then egg, then bread crumbs. Set aside on a plate.
Heat 1 TBS of olive oil over medium heat in a large skillet.
Add the chicken (do it in batches to avoid over crowding the pan) and cook for about 3 minutes, until golden brown.
Flip to cook on additional side for about 3 minutes, until cooked through.
Repeat with additional chicken pieces (wipe skillet clean in between batches - and add fresh olive oil)
Remove chicken from skillet when down and pour pasta sauce onto the bottom of the skillet.
Lay chicken pieces on top.
Spoon a tablespoon of sauce over the top of each chicken piece.
Sprinkle about 2 TBS of mozzarella and 1 TBS of Parmesan over the top of each chicken breast.
Place in oven to broil for 3-4 minutes until cheese begins to turn golden brown.
Serve immediately with cooked noodles.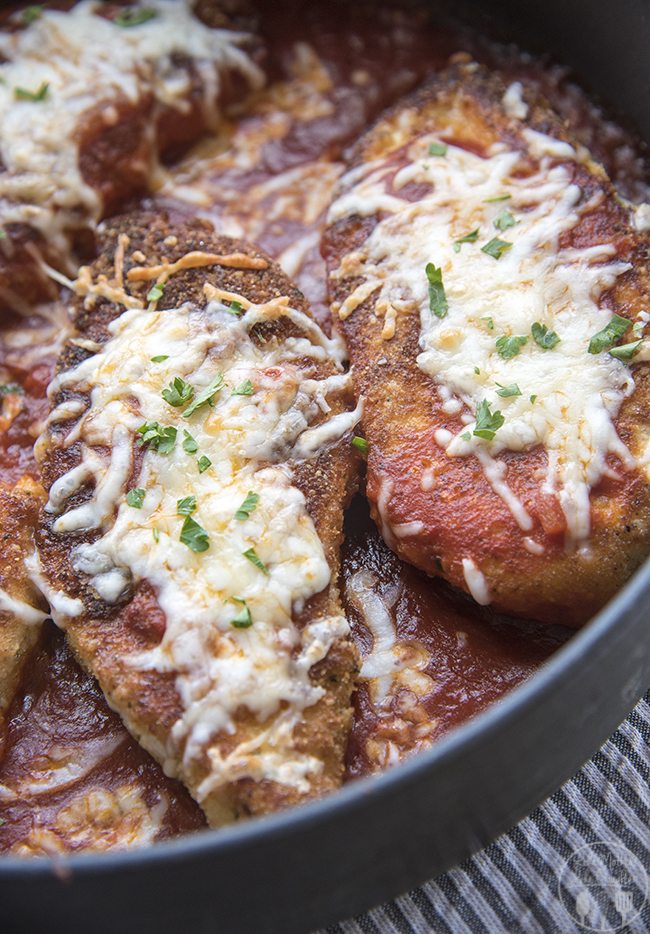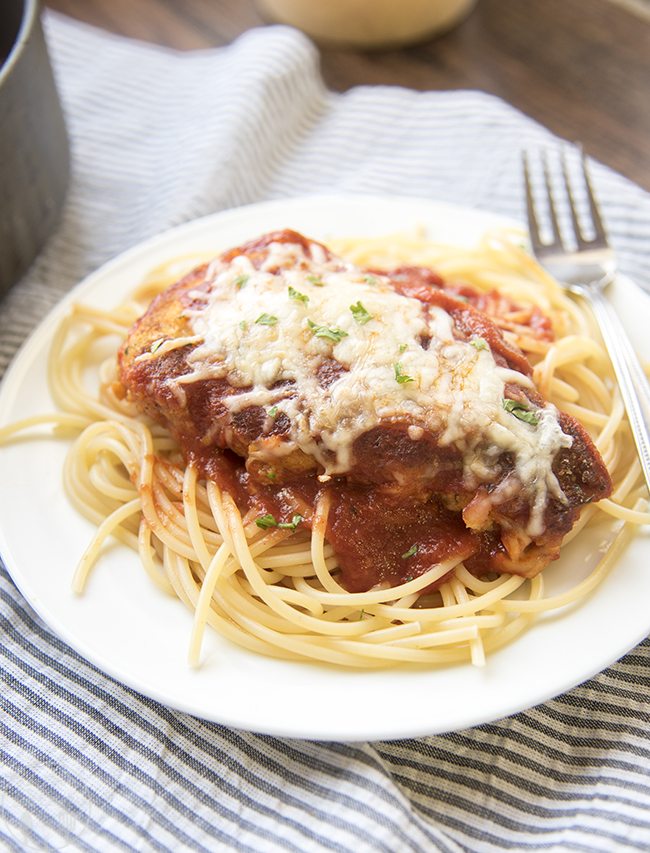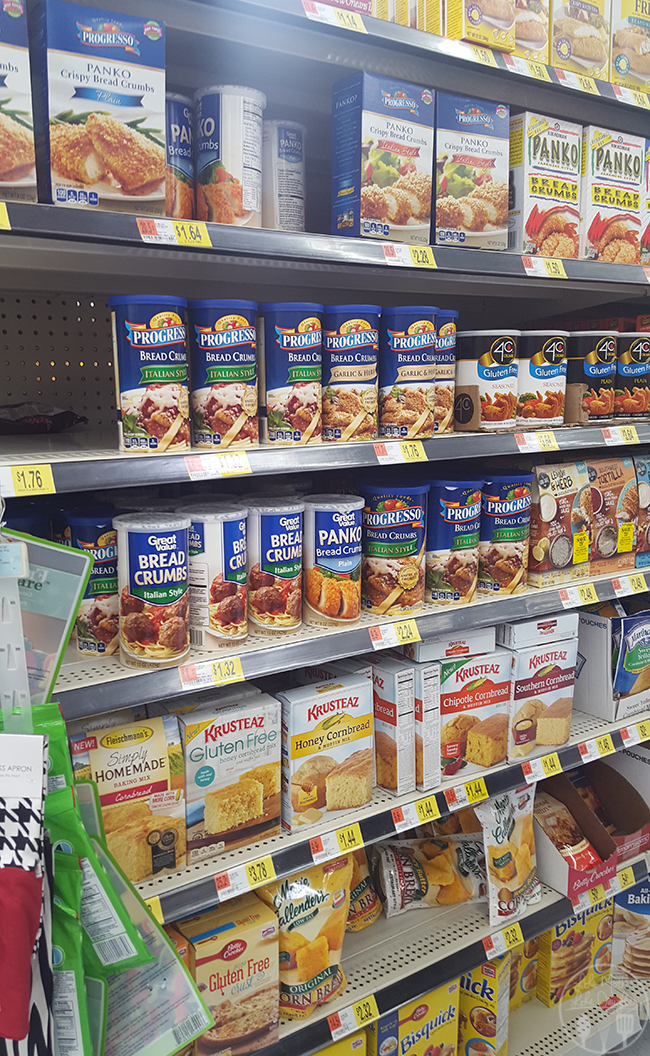 This is a sponsored conversation written by me on behalf of Progresso™ The opinions and text are all mine.